Why Most Amazon Sellers Don't Track FBA Issues Manually
It's getting to be the time of year when we could all use a little bit of extra money. Gift-giving and feast-eating are almost upon us. Fortunately, if you're an Amazon seller, there are ways to get extra money, and they don't require making additional sales. 
In this post, we're exploring the Amazon FBA issues that Amazon will reimburse you for so you can enjoy a higher level of profitability from the business that you already have. 
What Are the Common Amazon FBA Issues?
Some of the more common Amazon FBA issues include the following. These happen so frequently that they amount to the largest losses for sellers. 
Customer return not actually placed back in inventory

Damaged or lost inventory was never reimbursed to seller

Customer never returns an item and the seller is at a lost
Meanwhile, some of the most expensive Amazon FBA mistakes are the following. They're not as common, but they can cost sellers a ton. 
Overcharged fees for category commissions

Removal order never received

Overcharged dimension fees
How Do You File a Reimbursement Claim?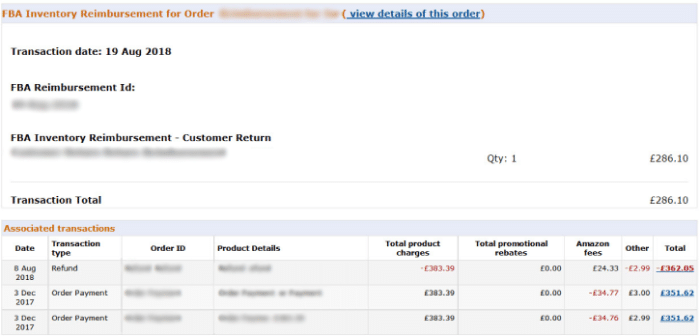 Amazon does pay sellers back for these issues. The exact rules depend on the type of issue you've discovered, but for most case types, you're eligible for a reimbursement as long as it's within 18 months of the error and you have proof. 
To file a reimbursement claim, all you need to do is send a message to Seller Central Support. Here's an example template you can use:
Hello, I am reconciling my seller account and found that [description of the issue].

I have removed any units that were already credited from my account and have waited 45 days or more since the day of each individual issue. However, there are still some units that [description of the issue].

I'm attaching a CSV file with the items that need to be reimbursed due to [description of the issue].

Can you please take a look at these and reimburse my account?

Thank you for your help,

[Your name]
Of course, the hard part isn't writing the message to support. The hard part is finding an issue in the first place. Below, we'll explore your options for tracking problems.
What Are the Options for Keeping Track of Amazon FBA Issues?
There are multiple options to keep track of Amazon FBA issues. Let's explore what these options are, as well as their pros and cons. 
1. Track issues manually yourself
What this means: If you take the DIY route, you'll need to scan your FBA account reports once or twice a month. Some of the reports you'll need to reconcile include Manage Orders, Inventory Adjustments, Inventory Event Detail, Removal Order Detail, Received Inventory, and Daily Inventory reports.
Pros: The good thing about this method is that there aren't any expenses. (However, there's a hidden cost with using your own time, because you can't allocate that time to business growth).
Cons: Even for sellers with relatively low or moderate monthly sales volume, reconciling reports takes an average of 8 to 12 hours per month. "I used to spend at least 4 or 5 hours every couple of weeks," says Amazon FBA seller Lisa Calestino.

If you have higher sales volume, this could turn into a full-time job!
2. Train an assistant or employee to track issues manually
What this means: Systemize your process for tracking Amazon FBA issues and then train an assistant for you, so you don't have to spend 8 to 12 hours per month doing it yourself. 
Pros: You're not spending your own time reconciling reports, so you can devote more time to growing your business. 
Cons: The bad thing with this method is that you're out the cost of your freelancer or employee. If they don't find any issues, you're at a loss. It's also a challenge to train someone in something you're not an expert in. Additionally, this is tedious work, and not many can stay motivated and detail-oriented enough to do it well. 
3. Hire a reimbursement service
What this means: You can hire an Amazon reimbursement service

to scan your account for you, so you don't have to spend your own time or train someone on your team to manage it.
Pros: These services can vary greatly (with most only offering automated reconciliation with no expert human touch), but in general, the pro that most share is that you don't have to pay upfront for the service, and you only pay a commission after they get money from Amazon FBA on your behalf. 
Cons: You have to pay the commission, but this is typically much less than you would pay to train and hire someone to manage this for you. 
Why Don't Most Sellers Track FBA Issues Manually?
Most sellers don't track FBA issues manually in house because it's simply too time consuming. It either takes away too much of their own time, or is too expensive to train and hire someone to do it well. 
Amazon seller Denise Craig explains the conundrum well:
"I spent a whole day every month just getting everything sorted and looked through and verified, to make sure I was submitting an accurate request for reimbursement. It needed to be done every month but I couldn't dedicate the time to do so I would always get behind. And then I would always lose track."
– Denise Craig
When sellers do it alone, they risk getting too busy, and not tracking their account at all.
What Should You Look for in an Amazon Reimbursement Service?
For the vast majority of successful Amazon sellers, the most affordable way to keep track of issues and file claims is to outsource it to a trusted vendor. 
One seller notes that within a very short period of time, he already received $1000 from using a service to track and file claims for Amazon issues. 
As mentioned before, these services don't all operate the same way.
Make sure to choose a service with the following features:
Use software to spot more errors in your account than the human eye alone

Uses human account auditors to validate the issue and file a claim on your behalf

Covers all major case types

Never uses software to file claims (this results in a high volume of low quality claims)

Has great reviews and has been in business for a while (you want to choose a service that will stick around not disappear)
Tracking Amazon FBA issues manually is a tedious process. Fortunately you don't have to.
About the author:
Dayana Mayfield is the head of content for Refunds Manager, the top-rated Amazon FBA reimbursement service that helps 9,000 US Amazon sellers get their money back. 
back to articles