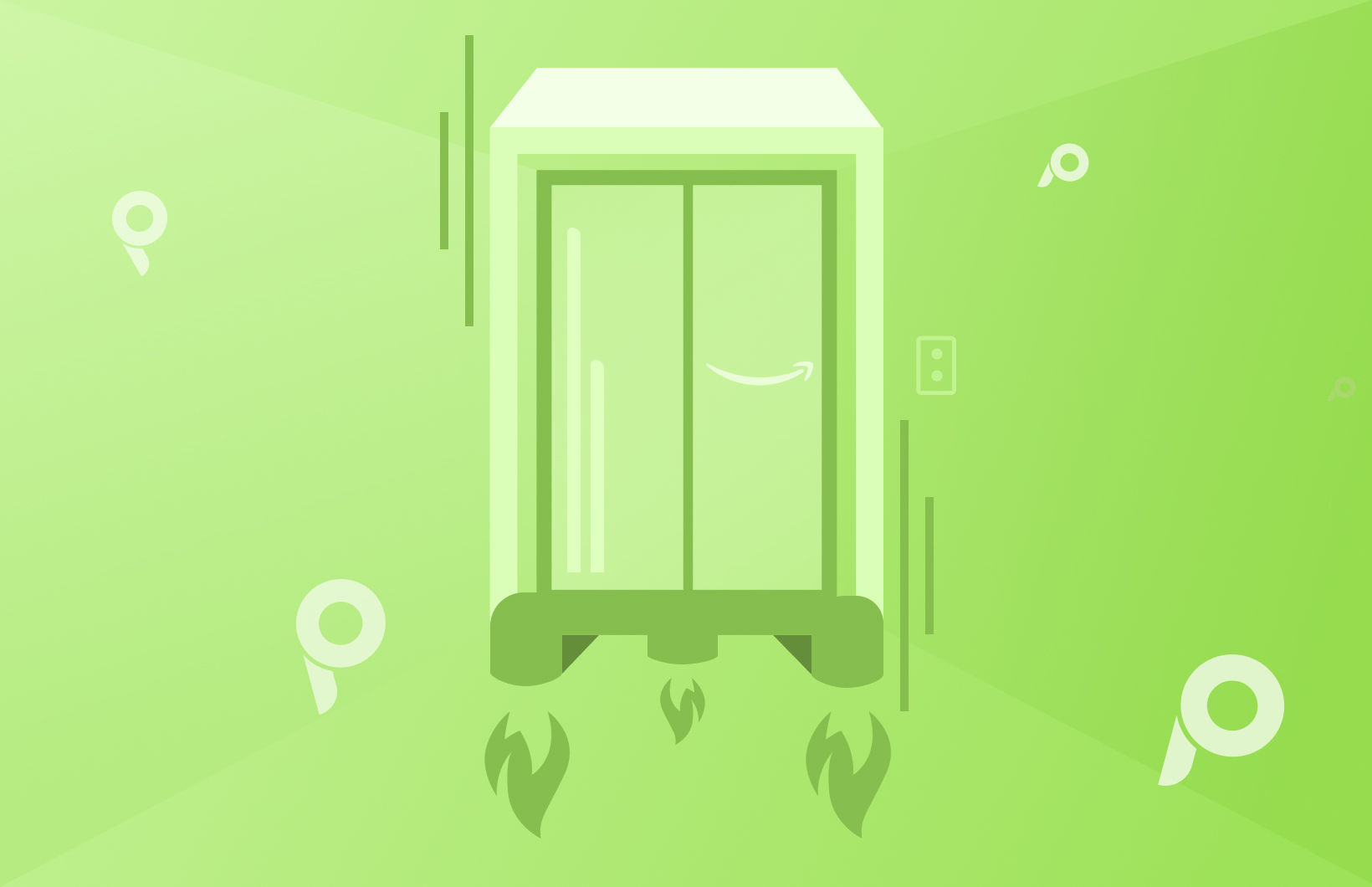 For a long time, Amazon and its sellers have been concerned about the issue of improving brand awareness. Many platform users are aware of advertising importance regarding brand and product advancement, but not everyone knows how crucial advanced advertising analysis knowledge is. 
One of the latest updates is Amazon Brand Lift. To see the actual value of Amazon Brand Lift study, let's find out what it is and how to utilize it.
What is Amazon Brand Lift?
Amazon Brand Lift is a tool available in the Amazon DSP console where advertisers can see the reports of advertising performance to learn how their campaigns interact with customers and influence their brands. 
Important to know:
Amazon Brand Lift is currently available only in the Beta version.

The tool is accessible only in the United States. 

To use Brand Lift, advertisers are required to have a DSP campaign at least for 30 days already. 

Advertisers need to have a budget of at least $50,000.

Amazon Brand Lift is a free tool.

The tool is powered by the

Amazon

Shopper Panel

and surveys at least 1,000 participants.
Brand Lift was released in October 2021 in order to collect the data so you could understand how customers percept your brand. The lucky owners of DSP advertising can measure brand awareness, ad recall and how close customers come to completing the purchase.
How to Set Up Amazon Brand Lift?
At the beginning of your Study creation, you can already see if you are eligible for using Amazon Brand Lift. As was mentioned above, advertisers must have at least $50,000 of the ad budget. Also, they need to have at least 30 days of flight duration and 5,000,000 impressions required. 

Source: Amazon Ads
To set up Amazon Brand Lift, advertisers need to follow the next steps:
Access DSP Console

to

start creating a study

within the confines of Amazon Brand Lift. Click on the button

'Create study'

.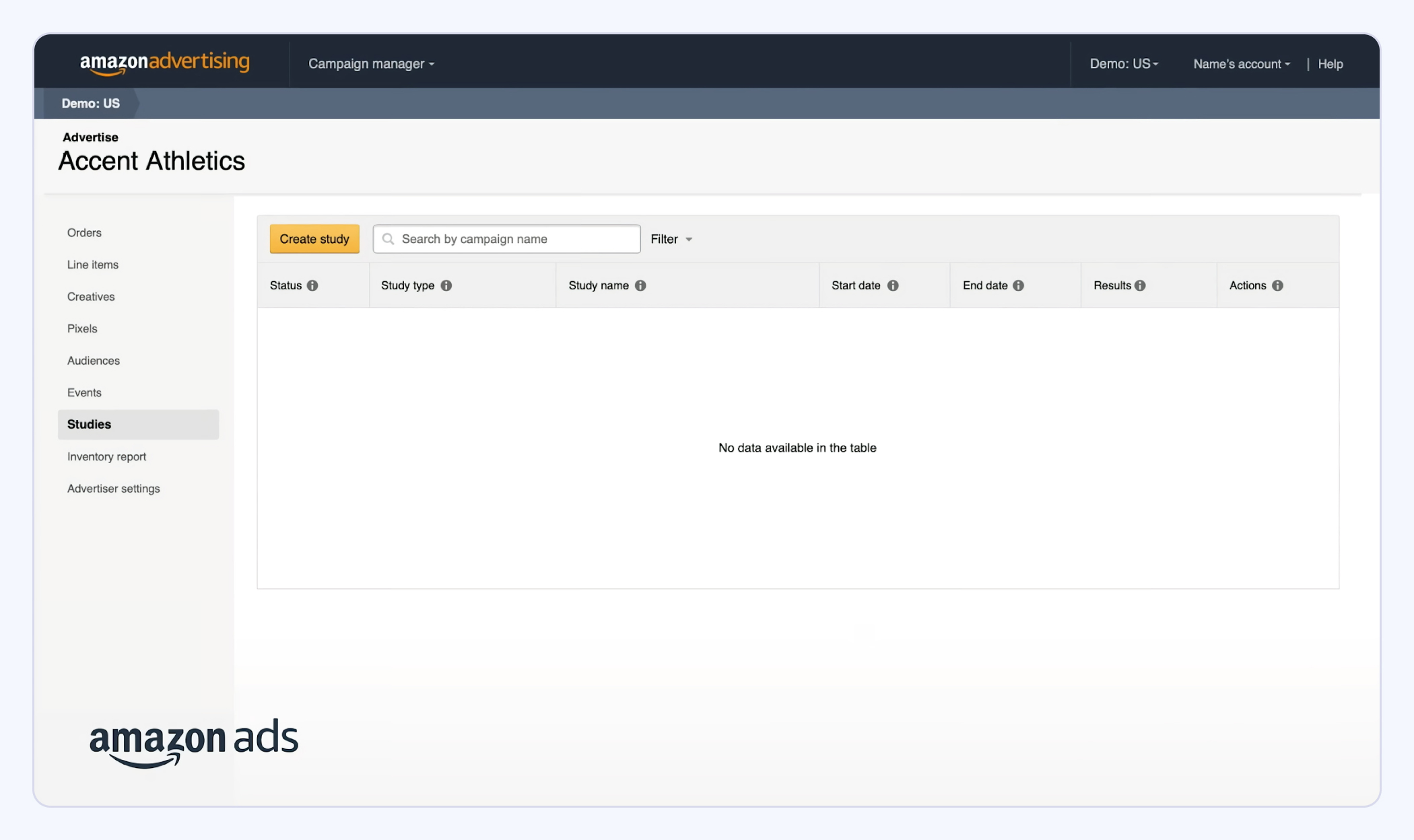 Source: Amazon Ads
On the

Choose Study page

click on

'Continue'

in the

Brand Lift

window.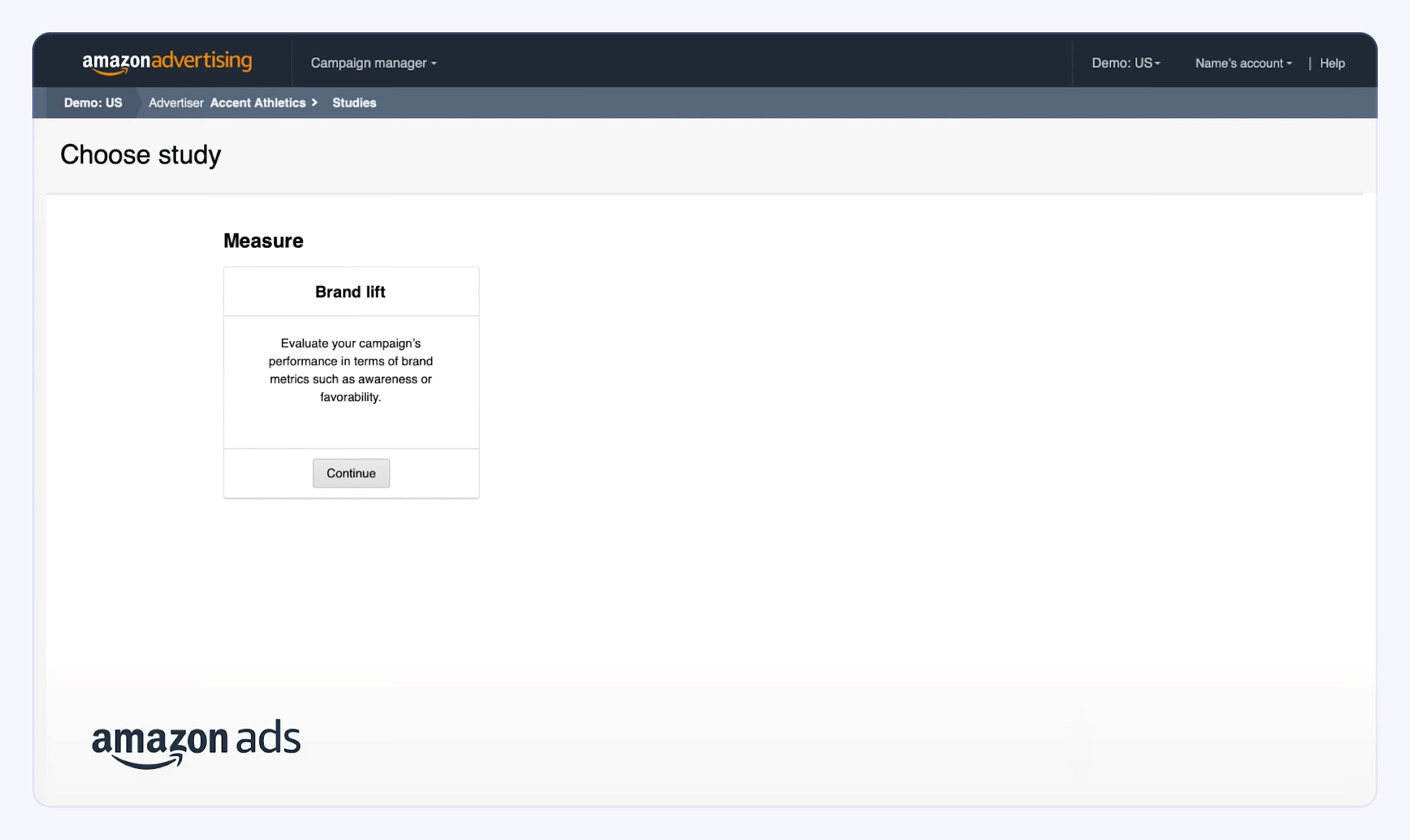 Source: Amazon Ads
Select

'Choose Orders'

under

'Orders'

and click

'Add'

once you decide which orders to include in the Study (advertisers can include up to 10 orders in 1 Study).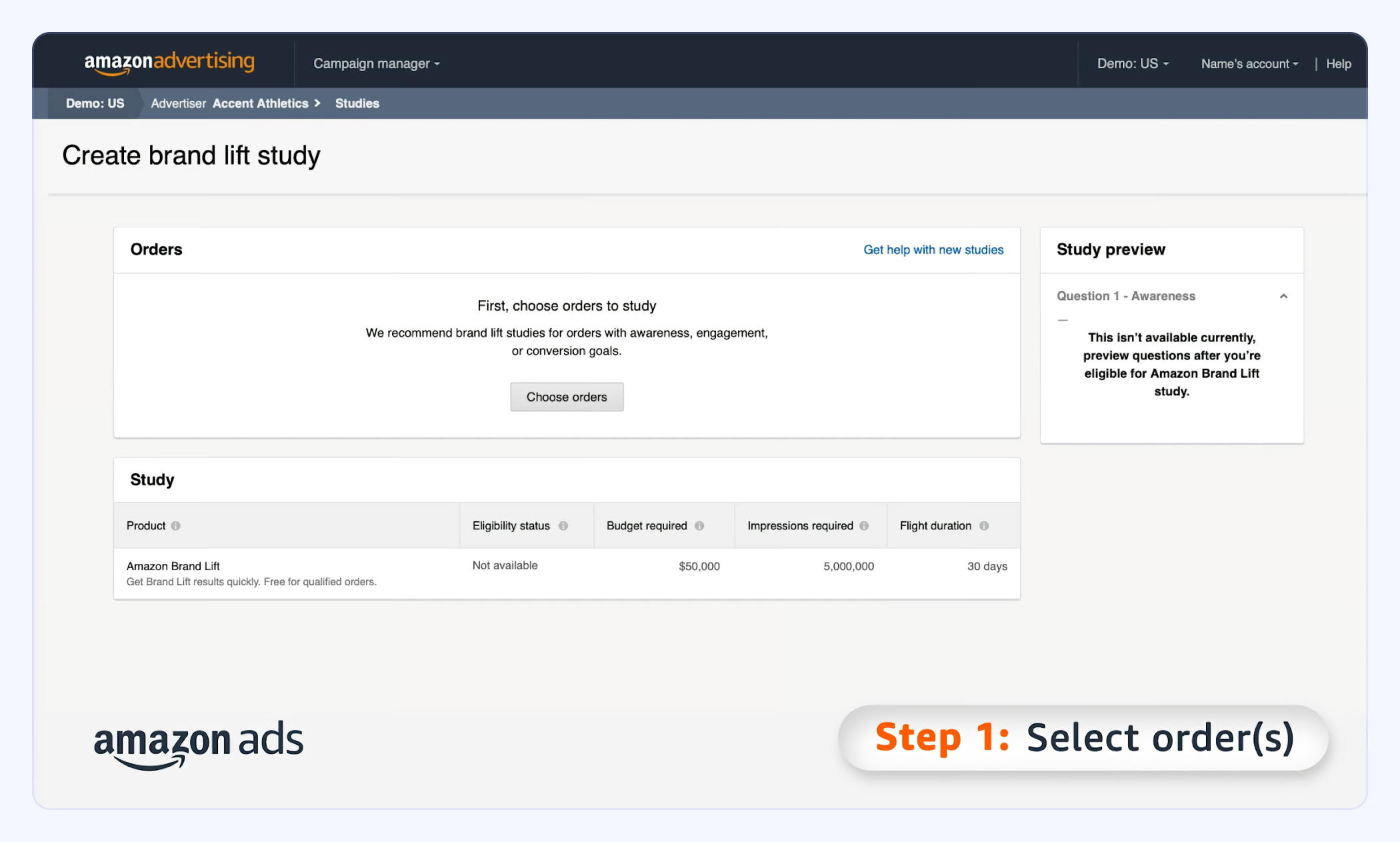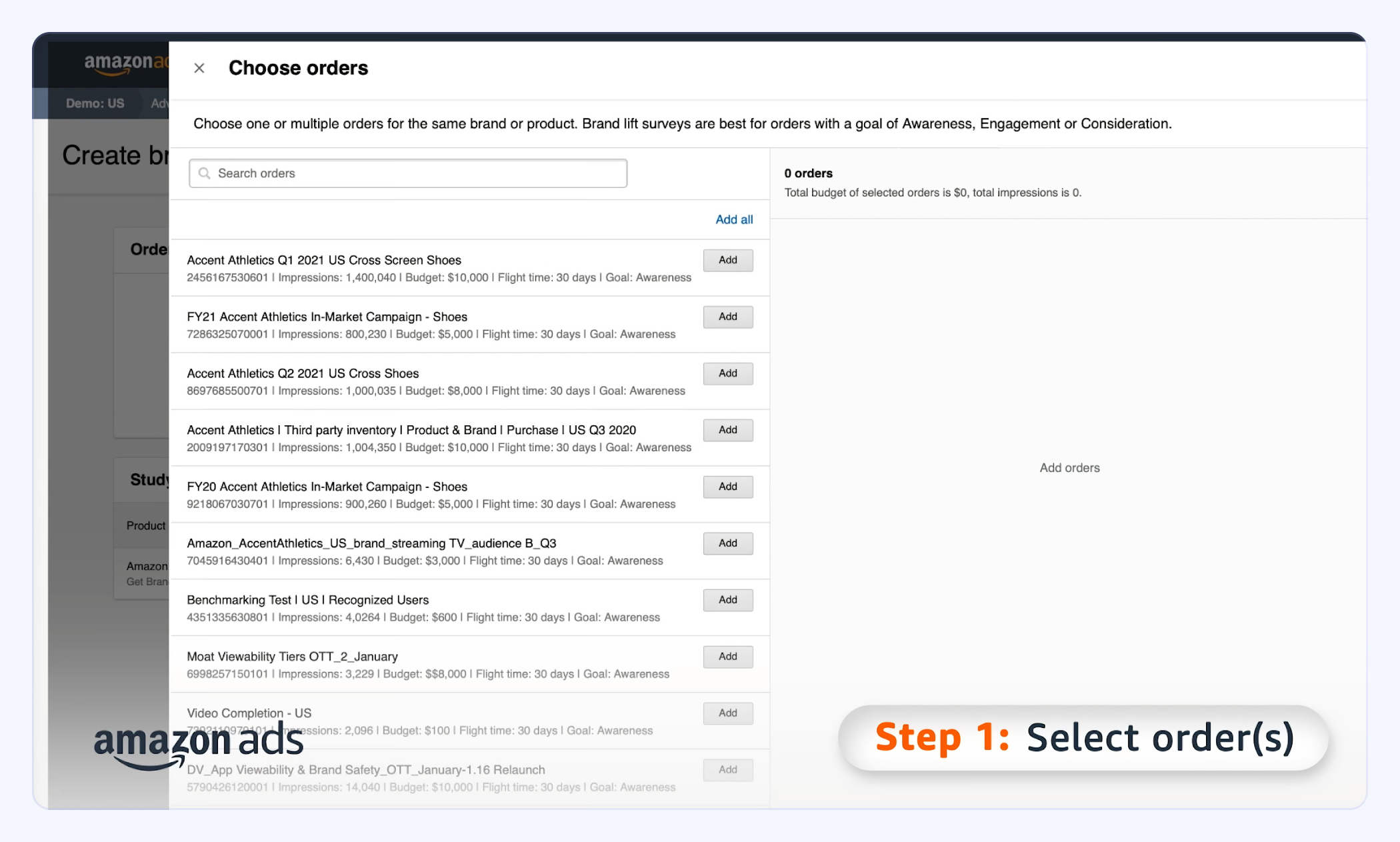 Source: Amazon Ads
After the Orders are chosen, click the '

Edit'

button

to add detail to your Study.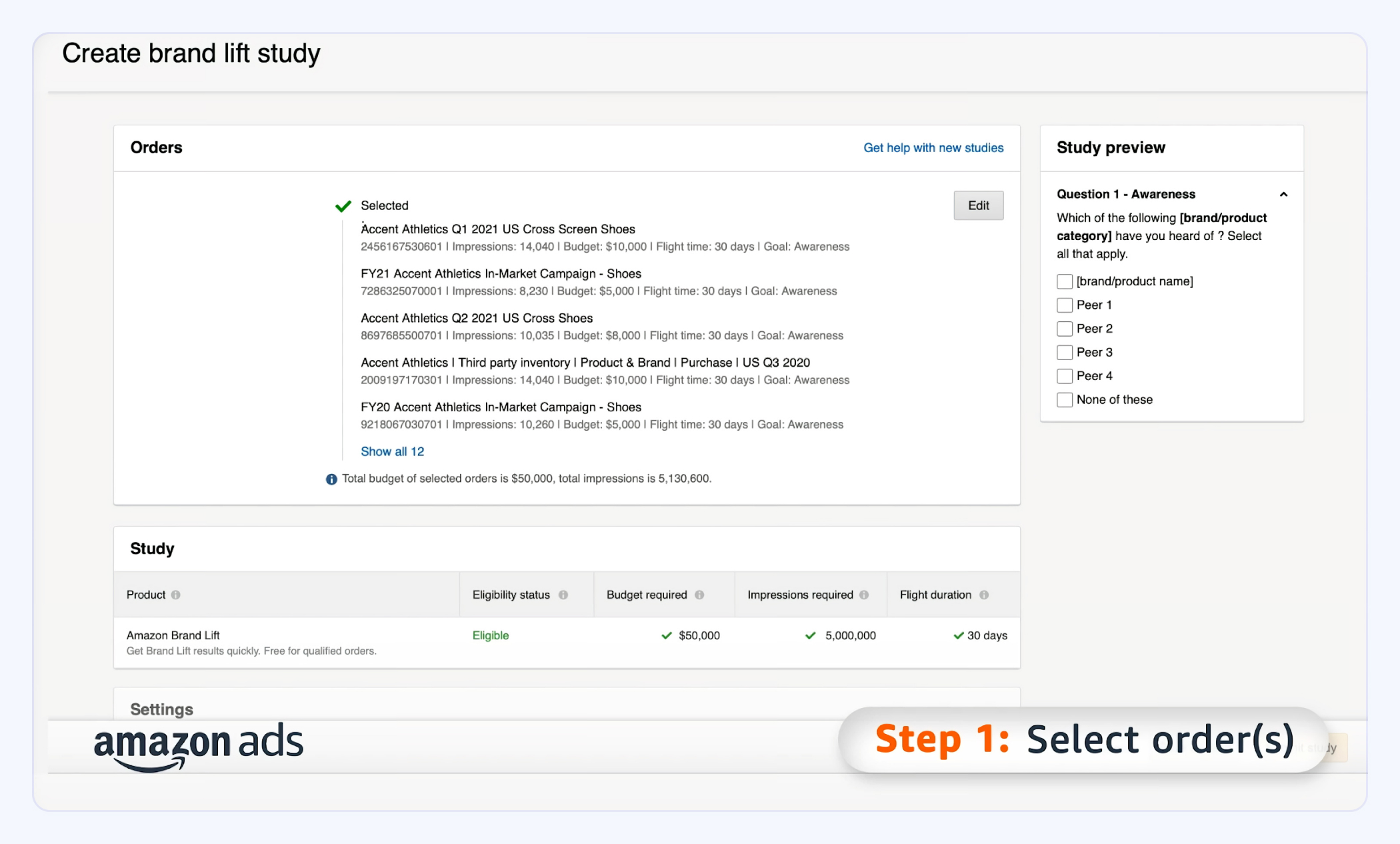 Source: Amazon Ads
Name your Study under

'Settings'

.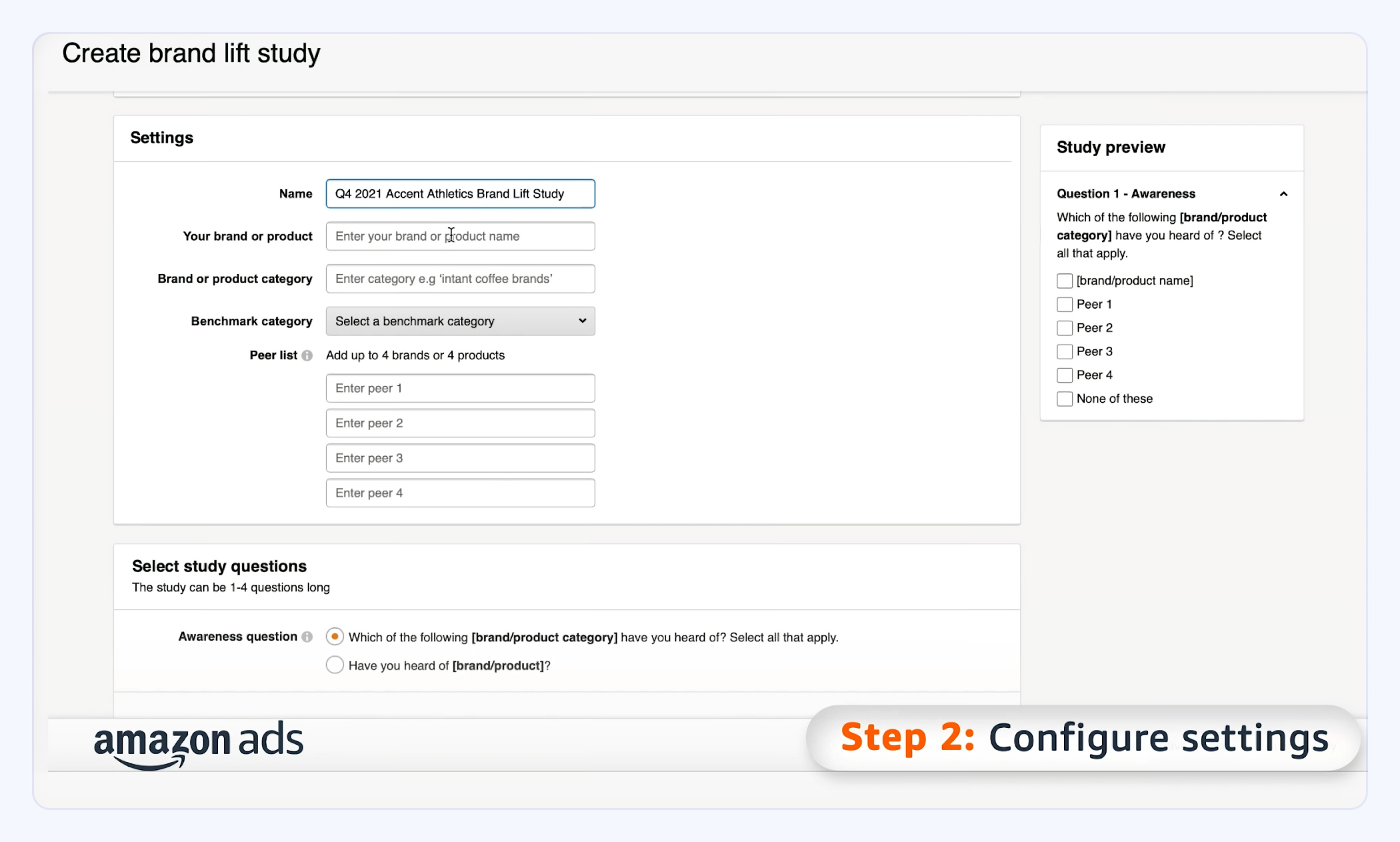 Source: Amazon Ads
Type in

brand

or

product name

.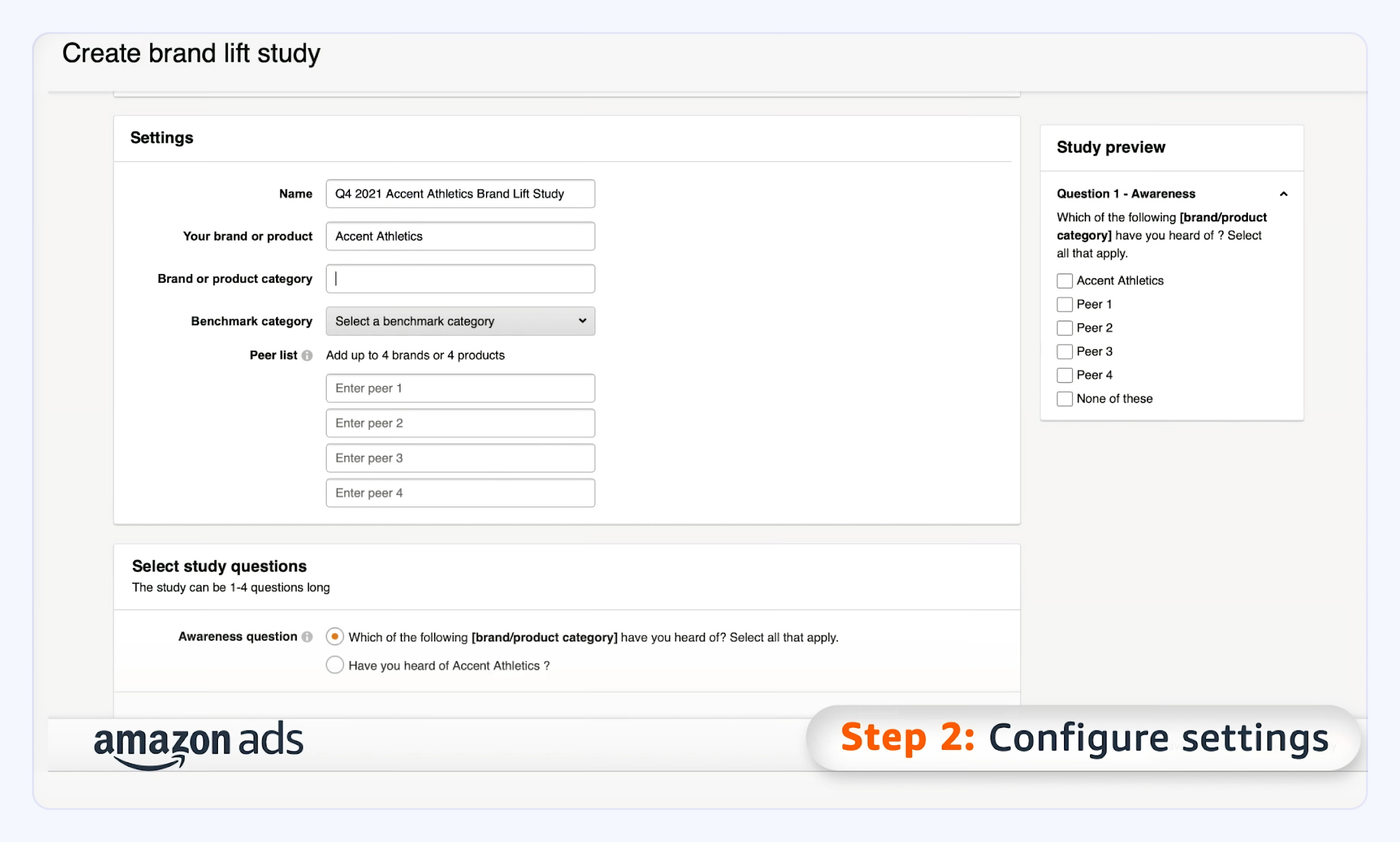 Source: Amazon Ads
Enter

brand

or

product category

.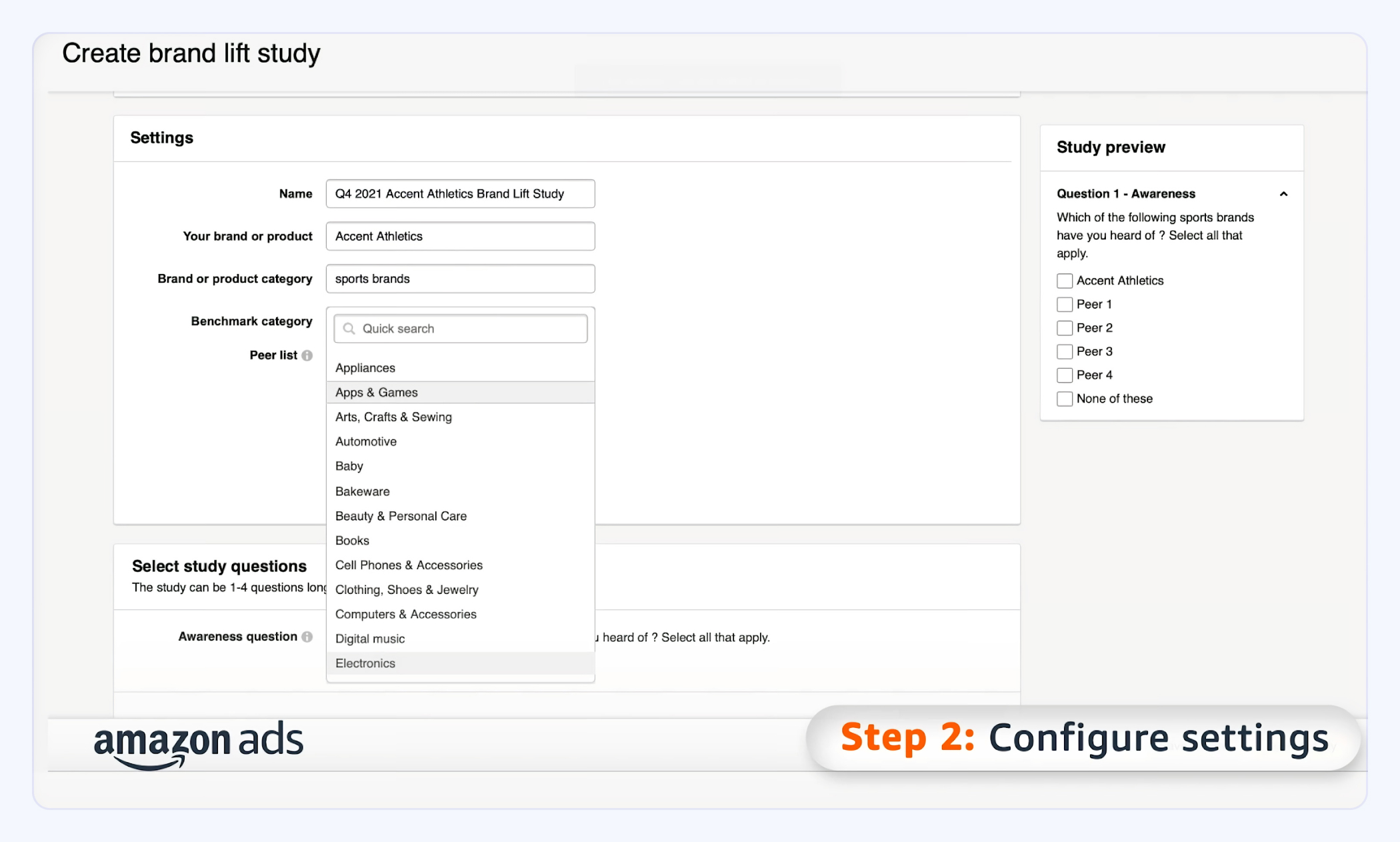 Source: Amazon Ads
Select the

benchmark category

to compare your campaign's results within the certain norms.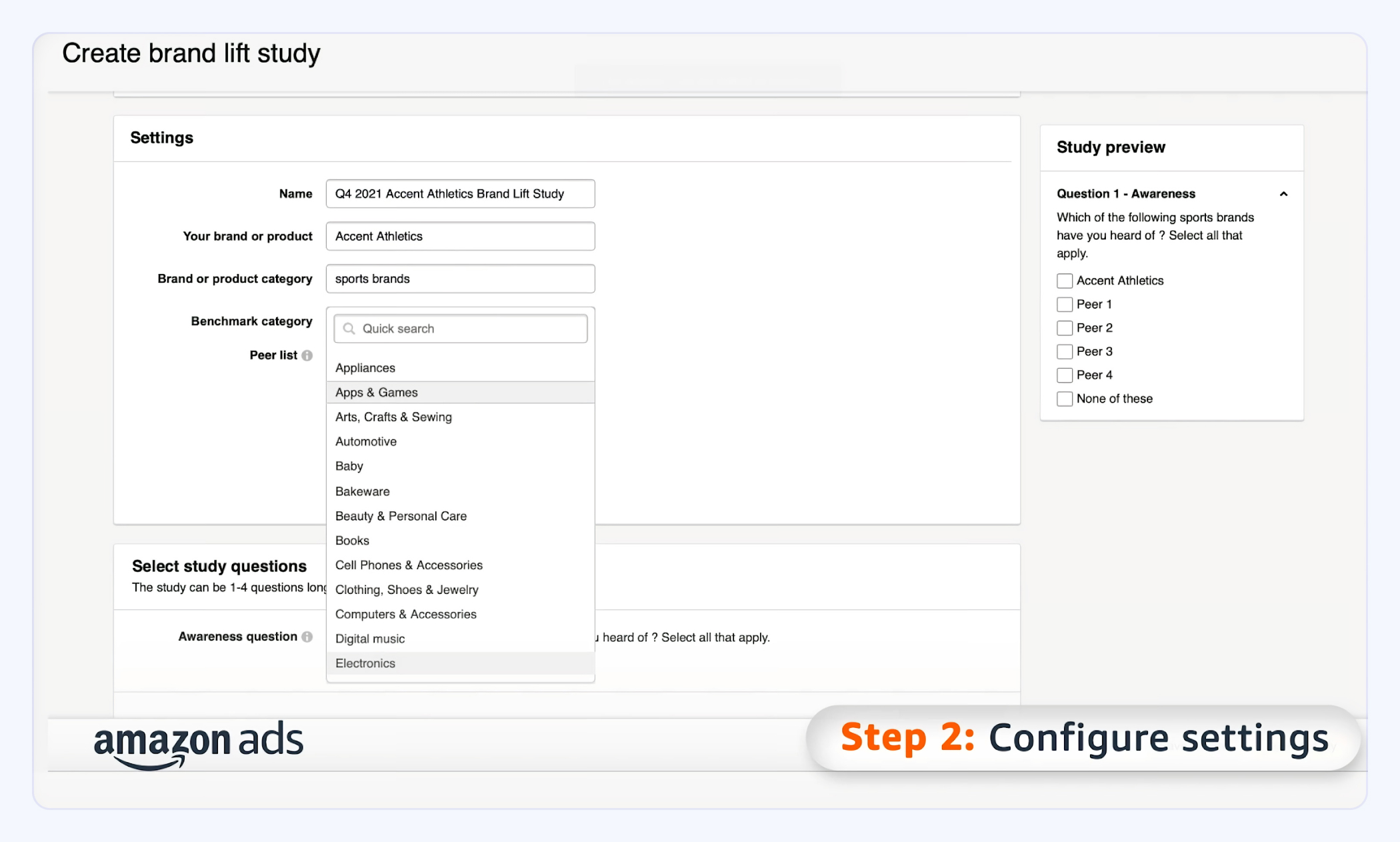 Source: Amazon Ads
In the

'Peers'

field, write 2, 3 or 4 names of products' or brands' names that likely will be considered together with yours.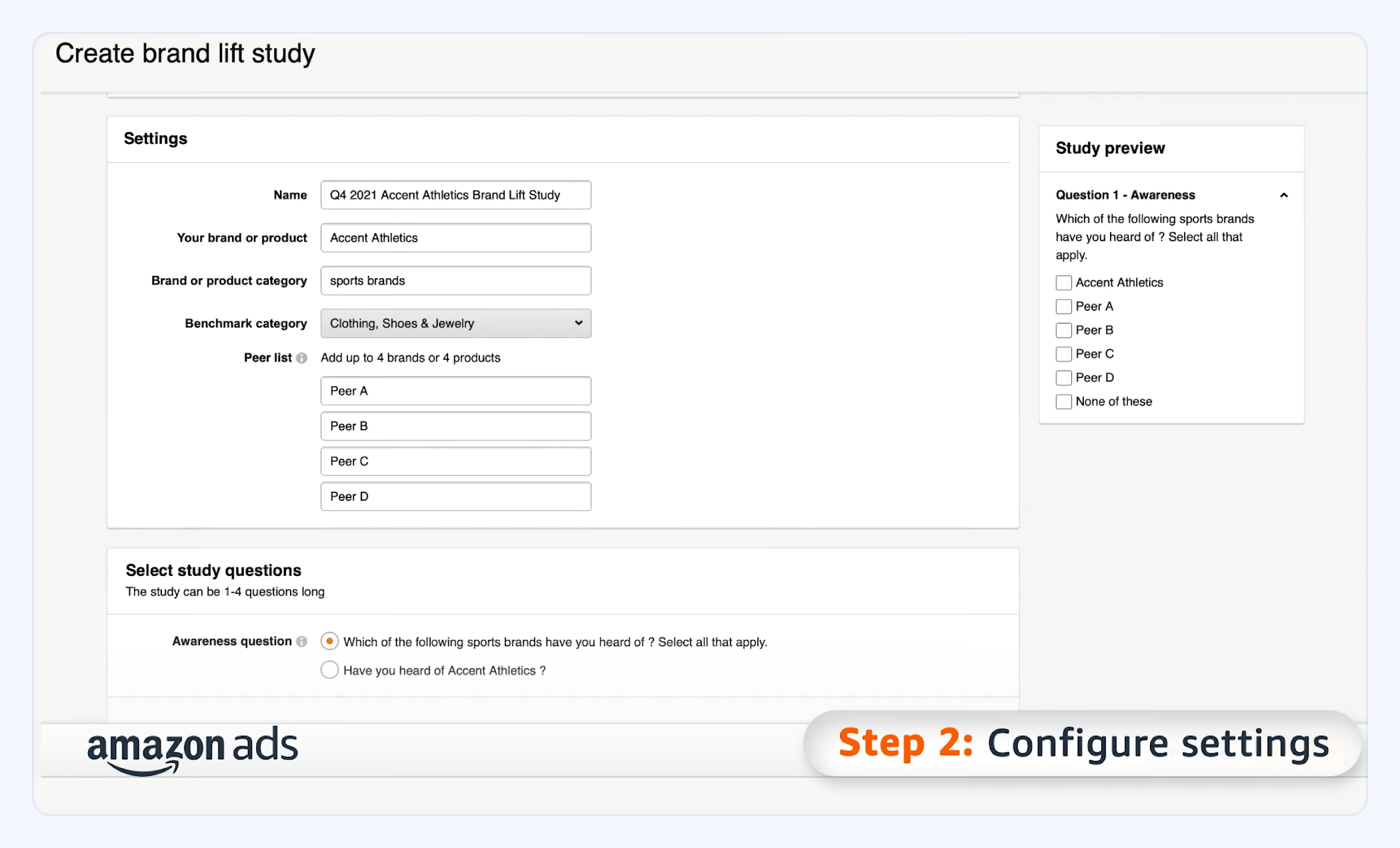 Source: Amazon Ads
Add

4 questions

to your Study, and don't forget to choose objectives for each of the questions (the objective of the first question is always Awareness).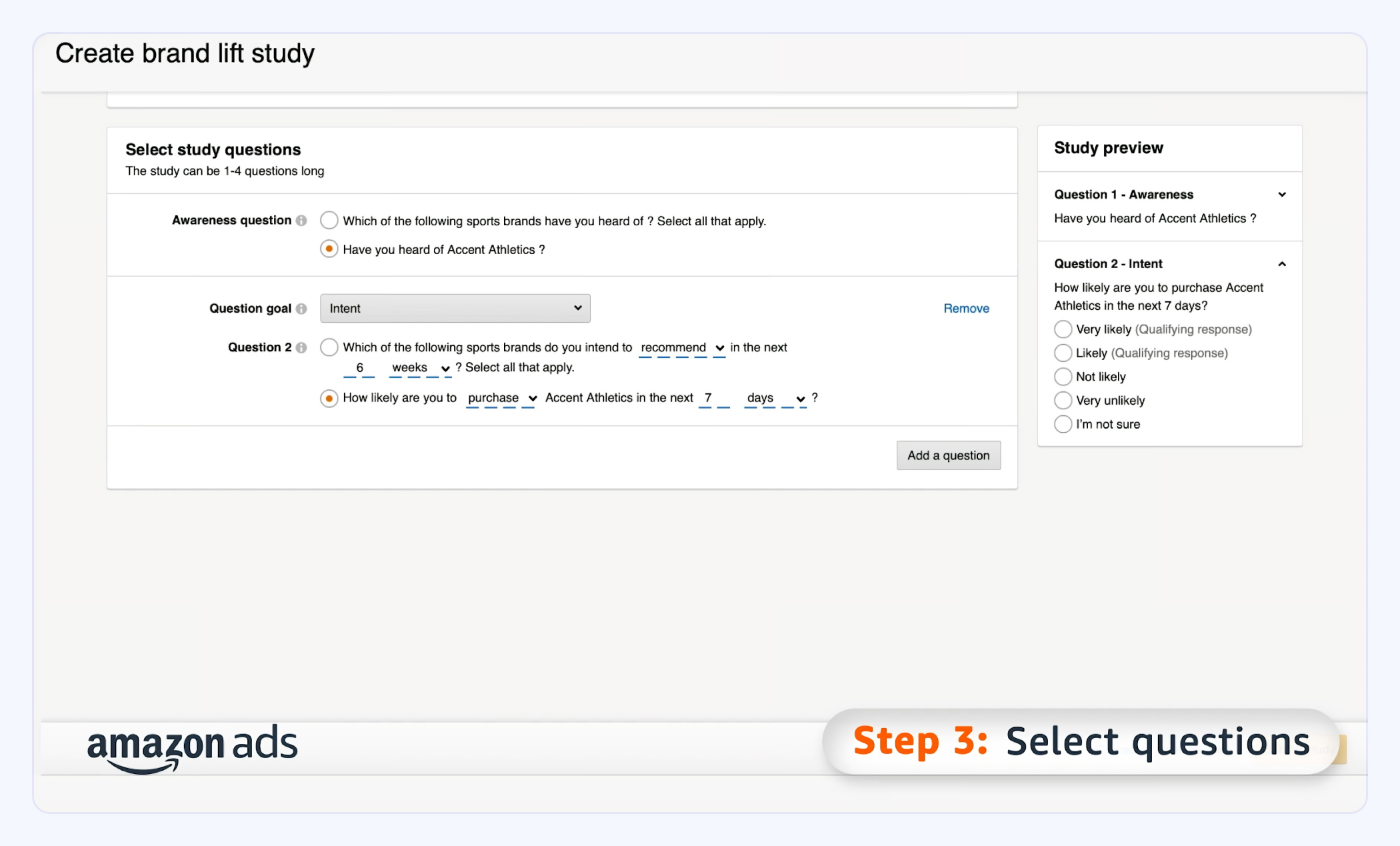 Source: Amazon Ads
Submit

your Amazon Brand Lift Study and wait for the approval.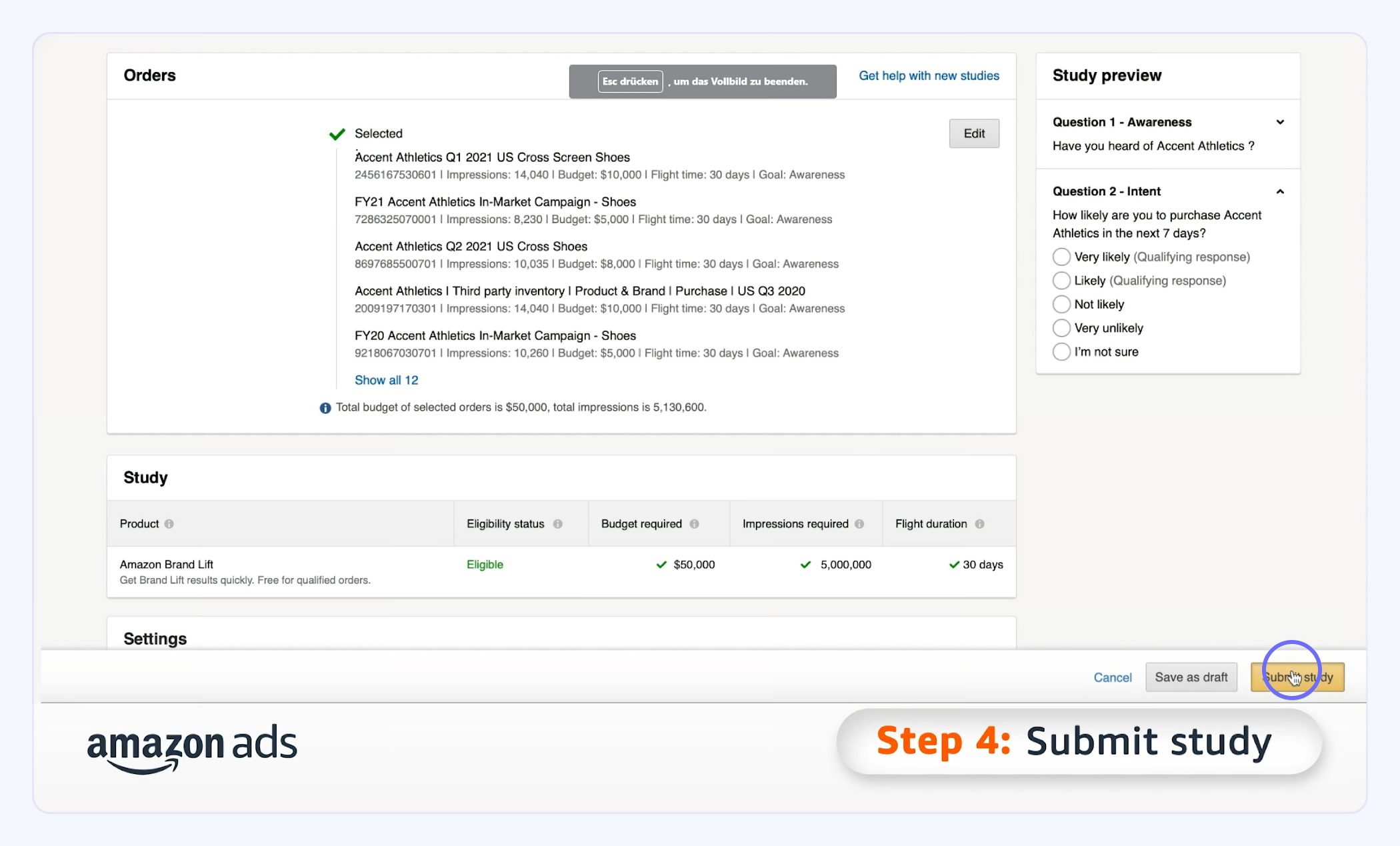 Source: Amazon Ads
There can be no changes made when your Study is already approved. Advertisers can check the status of the Study in Studies dashboard. Also, if your Study is denied, you can see why it couldn't be approved in the same dashboard. 
Once the survey is over, you can see the result bar charts, which represent the answers to each of your questions. Each graph has two bars: the control group bar and the ones exposed to your ads―the ad-exposed group bar.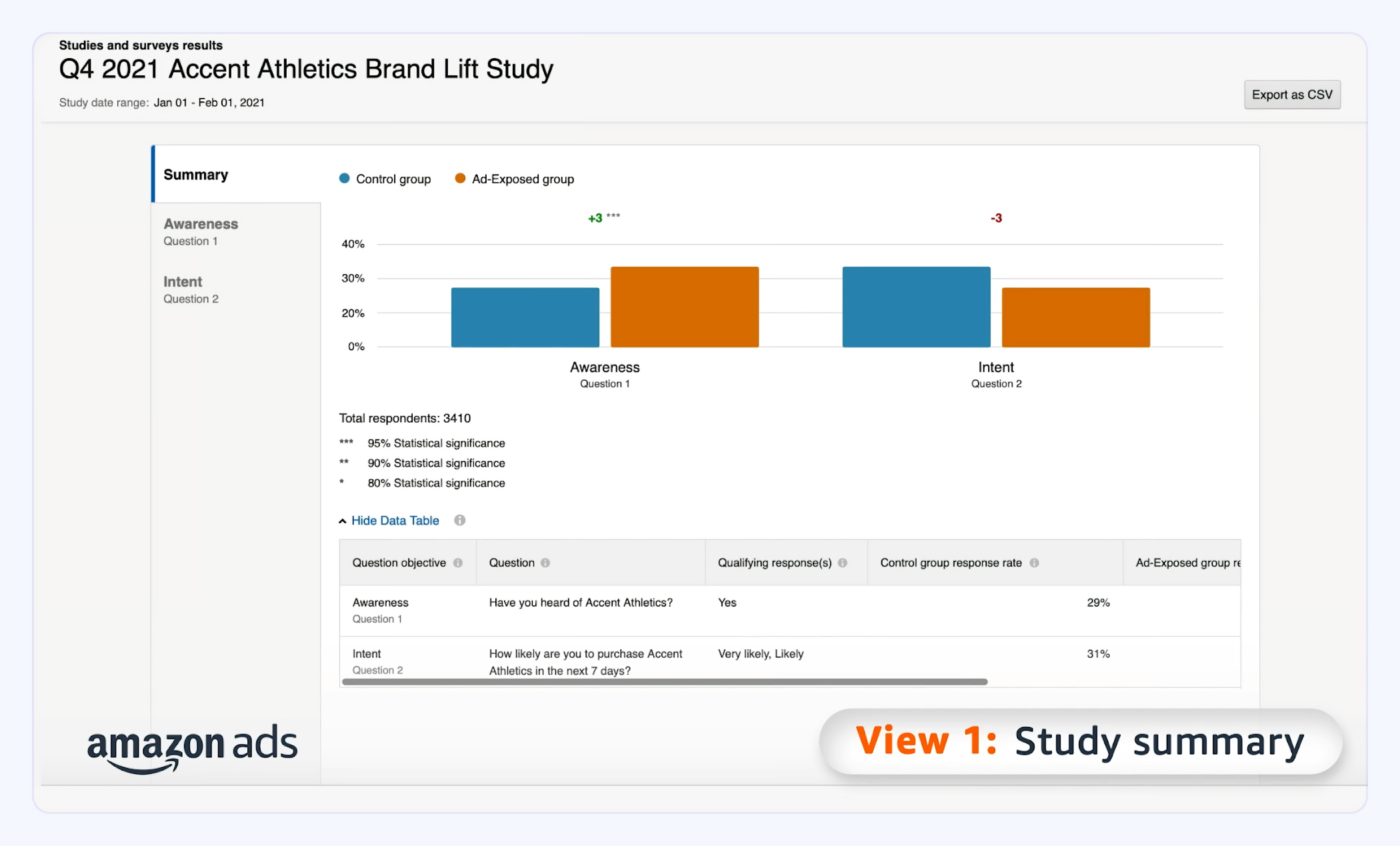 Source: Amazon Ads
How Can Amazon Brand Lift Study Help to Elevate Your Brand and DSP Ads?
Amazon Brand Lift is an insightful and privacy-safe tool powered by Amazon Shopper Panel, an invitation-only program. The participants of this program get monthly awards because of spending their time and answering the questions of the Studies. Such a system strongly increases the chances of getting more responses and that surveys will be taken seriously.
The objectives to the questions you choose guarantee systematized responses that will be put in order. On this basis, advertisers can count the percentage of respondents who, for example, don't know about your brand yet. The objectives you can choose are Awareness, Intent, Preference, Favorability, Attitudes, etc. 
Because of concrete measurements, brands get after the survey. Advertisers can clearly see what has to be changed in their advertising campaigns. How many respondents know about your brand already? If the percentage is low, that might mean your ads are irrelevant or not catchy enough.
You can find more latest Amazon Ads updates in this video
Final Word
Amazon Brand Lift can bring many benefits to advertisers when it's used properly. It doesn't always have to be intuition to serve sellers in need of improving brand awareness and learning customer behavior towards your brand. Amazon Brand Lift is a tool that can solve these issues partly. So choose questions for the survey correctly and utilize the results wisely!