Amazon PPC Campaign Structure in 2021
Amazon advertising was always one of the most effective ways to help customers find the products they are looking for. The progress of Amazon sales is developing every day, that is the reason to learn about ad campaign structure and all the changes in 2021.  
Amazon PPC Campaign is an obligatory top-level element of any Amazon Sponsored advertising setup. A campaign must include at least one ad group and have some unique attributes, like a daily budget cap, a set of negative keywords, etc.
Setting up an Amazon manual campaign
The most straightforward way to set up an Amazon ad campaign is via Amazon Seller Central Account -> Advertising -> Campaign Manager,  just by pressing the "Create Campaign" button and following the instructions. 
An average spend on Amazon advertising campaign

It is possible to get away with spending as little as $10/day on Sponsored Ads (e.g. on advertising a $5 military morale patch or $15 plastic bird spikes), or as much as $3000/day on promoting something like a dog barking collar. As long as the ACoS stays below a break-even percentage — it's still worth it to spend more and sell more of that product. 
In the end, it depends on four things:
How expensive are the clicks for keywords/ASINs relevant to the product

How sellable is the product without

 

Sponsored Ads

What profit margin can be afforded to spend on PPC advertising (what ACoS the product can tolerate)

The size of the market seller operates in
The 3 reasons to use the Amazon PPC Campaign Structure:
Clarity of results for a given strategy

. Depending on the current business objectives, the strategy is to direct the budget to the most effective type of campaigns and to observe how they perform.

Ease of maintenance. 

A clear-cut Amazon PPC campaign structure allows a manager to easily access any part of it and make quick checkups for optimization as needed.

Differentiating between marketing objectives. The idea behind it is using different PPC campaigns to do things like driving sales and searching for new keywords to defend the brand from competitor's advertising. 
A solid and workable Amazon advertising structure is a boon to any Seller's advertising and it takes time to build such campaigns. 
Amazon PPC Structure building blocks
In essence, there are 3 levels of elements within any Amazon Sponsored Ads:
Campaign level

Ad group level

Targeting/Product level
Ad groups are the fundamental level where all 3 keys meet. Here is the structure of ad groups:
product (ASIN) that will be advertised 

targeting assets: target keywords, categories, or competing ASINs

negative keywords or ASINs that refine the targeting
As a rule of thumb, the secret is to always make sure that every ad group contains either 1 or a few very similar products. They are accompanied by keywords and targeted ASINs that correspond perfectly to the first-mentioned products. 
Campaigns serve to bundle all similar ad groups together. Sellers need to apply a manual or an automated set of targeting options, assign them a budget, and apply placement bid adjustments as needed.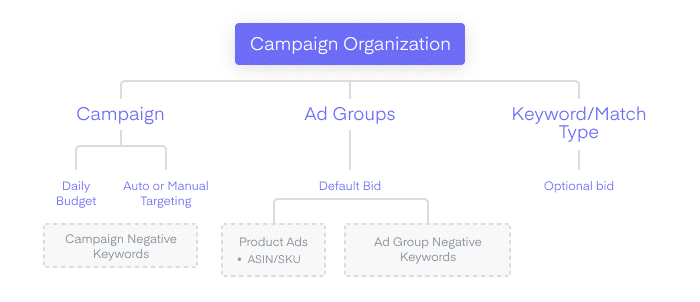 On the other side, not just one product or similar products should go into one ad group — it should be this way for campaigns too. 
If a seller also advertises a different product it might be useful to make a new separate set of campaigns for it.
This makes perfect sense when thinking about it from a business perspective: business objectives often differ for different products. And separate campaigns allow advertisers to meet these objectives with ease.
The more detailed information about keywords is in the article Amazon Keywords Research in 2021.
Useful insight:

Whenever Profit Whales has a request of setting parent-children ASINs, instead, comes a proposition to a client to advertise just one best-selling variation of them. The reason is better results in terms of ACoS.

The result established that such Sponsored Ads stimulate sales of ALL variations, not just the one being advertised. This is because customers can still browse the variation carousel at the product detail page to find a better-suited variation.
Also, the campaign-level placement bid adjustment instrument deserves a special mention.

Basically, it utilizes the notion that some products tend to do better when placed at the top of page 1 search results, while others sell better when directly compared to other products at Product Detail Pages. 
As the name suggests, sellers can adjust bids for all said placements at the campaign level. This impacts targeting assets en masse, essentially trading some extra budget for showing the products at more effective placement positions.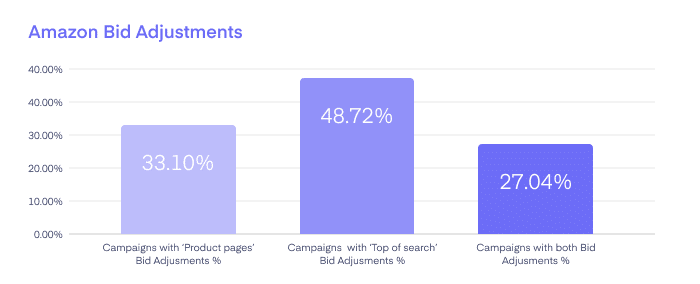 Well-structured Amazon PPC Campaigns save time
When the time comes to check up on how Sponsored Sales are doing, it is important to see that the bulk of sales are not generated uniformly by all targeting assets, but rather only from a handful of really strong keywords and/or ASINs/Categories.
A PPC Manager who knows where to find these targeting assets can be quick about checking on their performance and making necessary adjustments. The slow-performing assets do not require as much supervision and thus can wait for a monthly detailed review for optimization instead. 
Every campaign, especially manual Amazon campaigns, will benefit from the uniformity and order of a solid structure. 
A clean and repetitive PPC Structure that groups all similar assets into Campaigns and ad groups has saved our managers no less than ⅓  to ½  of their daily optimization time.
Amazon Structure amplifies selected Strategy
Amazon products can behave very differently in their respective markets. Some are just entering a blue-ocean market, while others are elbow-pushing for the Best Seller badge, while others still require a serious PPC boost only during high season.
PPC Structure incorporates all kinds of Campaigns and is reflective of priority advertising efforts. But if the seller looks at it the other way around, it turns out that every Amazon Advertising Strategy has some optimal PPC structure that boosts advertising performance best. 
Amazon PPC Strategy 1: Established Amazon product niche, dominated by a few top-sellers + Amazon Seller challenging them
An established niche with years of stable trading means that most of the customers are well aware of what kind of product they're in for. The same goes for most present brands too.
The strategy:
Challenging other sellers in bidding for all (or a selected few) top-selling keywords and having a special Campaign that allows careful targeting and control over it;

Leveraging ASINs of competitors with weaker products to generate extra sales of their product pages (since the product is perceived as the better option);

Having a special campaign to intercept brand searches of competitors and showing the product next to theirs in search results (if your product is as good or better);

Making a seasonal campaign and stuffing it with product-related keywords addressing the occasion of every major sale (X-mas, Mother's Day, Halloween, Valentine's Day, Thanksgiving, etc.). Activating it 3-4 weeks before the said occasion and getting some extra sales.
Here is more information about important sales occasions.
Amazon PPC Strategy 2: Established product niche, dominated by few top-sellers + selling
Unlike the previous situation, the business does not pursue the objective of ice-breaking the niche with a new product but instead decides to just keep selling. Meaning the seller is not required to make a costly frontal assault on the competitors over the top-performing keywords. 
In fact, the situation is the opposite: it is important to find the way around top-selling keywords, as top-of-search on them would be too expensive. 
The optimal Amazon Seller Ads Campaign structure will reflect this: 
Running a separate campaign for adding and testing new long-tail keywords that can generate occasional low-ACoS sales;

Running a campaign with top-performing keywords but on ultra-low bids. This can still generate sales from customers who are tenacious and like to study pages 2, 3, and 4 of search results in pursuit of best buy. 

Running a campaign targeting some product ASINs that are complementary to the selected one. For example, dog treat dispenser + dog food, or diving mask + diving fins, or gardening equipment + pest protection. It can be useful to target the best quality complimentary product that grabs lots of sales to be shown next to.
Amazon PPC Strategy 3: Established product niche, mainly small (usually non-Private Label) sellers + selling more
This situation is typical in market niches like home decor or low-priced equipment and spare parts for commonly available items. No clear market leaders and pages upon pages of competition.
The structure helps to:
Capitalize on a few exact-match keywords (accompanied by lots of negative keywords collected over time) that do represent the product effectively and step into battle for showing the Sponsored Ads at the top of the search for them;

Run ASIN-targeted campaigns to make sure the sister products are present in the carousel of own products and can be bought as a cross-sale;

Have low-bid, broad keyword campaigns that will harvest more future effective exact search terms;

Run a dedicated campaign for automated advertising on Category and/or other automated targets.
Amazon PPC Strategy 4: New or badly-established product niches with few or no direct competitors + driving more sales
And it's tougher than it looks when it comes to advertising. The strategy here must rely on display ads and Amazon's automation algorithms to get the ball rolling. 
And the PPC Structure should be reflective of this:
Brand name campaign. Product is rarely searched for by its characteristics, but customers do need to call it something. And chances are, it'll be the brand name. 

Target ASINs of complementary products that buyers do know about. Ideally, if that product is sold by Amazon itself. 

Running automated campaigns: all 4 types of them. This is probably the only time when a seller needs to entrust the advertising success to Amazon. These campaigns do make mistakes and can be ineffective, but they are bound to get some sales and get that BSR going.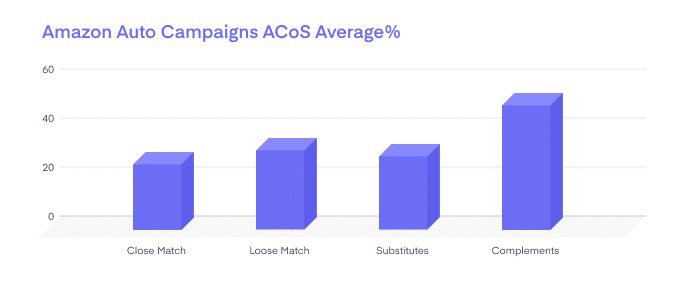 In conclusion, the PPC campaign structure always depends on the aim of the seller. The keywords and all other important parts of the advertising always should be under constant control because of the changes in the e-commerce world. A reasonable ad campaign system can not only save a lot of money and time but also open new opportunities which would not be possible with an irrational business plan.
back to articles