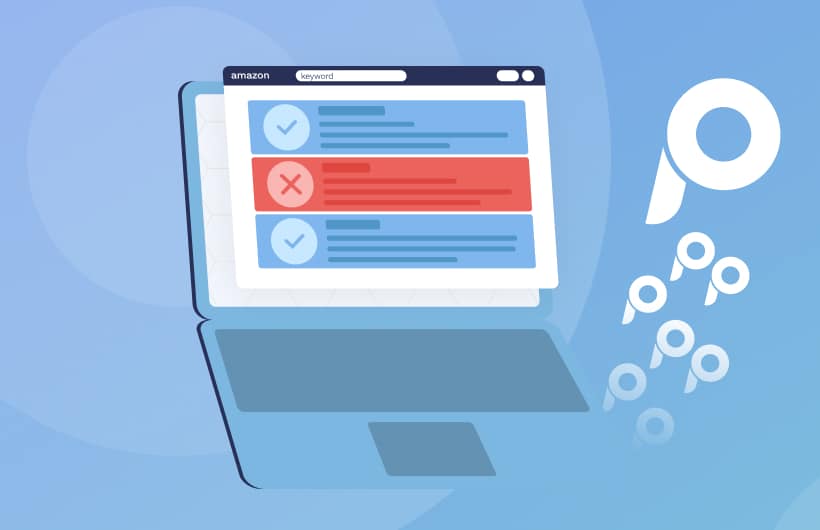 Amazon has a lot of ways to say no to your ads, but you also can tell Amazon not to display ads. Negative keywords eliminate irrelevant ads so your campaigns invest only in high-intent areas. They're a vital component of high-quality ad campaigns, so they're vital to your success. But they're complex to set up and difficult to test. That's why this post was created – to give you a step-by-step guide on what are negative keywords and how to find them in your Amazon Seller Central.
So, let's find out how you can turn Amazon negative keywords into opportunities.
Negative Keywords in Amazon Advertising
Most keyword research users assume that the keywords they add to their website will turn up in searches. But in many cases, keywords that are too specific or too competitive are not turning up in searches, which can hurt conversions. So, after you've found the keywords that you want to target, the next step is to add specific negative keywords on Amazon – those terms that you want Amazon to block from your ad listings. 
So, what are negative keywords after all?
Negative keywords are keywords that you don't want your ads to show up for. If you are running a PPC campaign on Amazon, you must start using negative keywords to avoid wasting money. Just running the keywords related to your product might not be enough. You need to determine what are the words that are most likely to cause you losses in the campaign.
Note: negative keywords can help advertisers refine the targeting. Identifying the right targeting keywords is crucial for a successful ad campaign. Neil Patel shared a useful illustration (see below) that very well explains why some targeted keywords work better than others.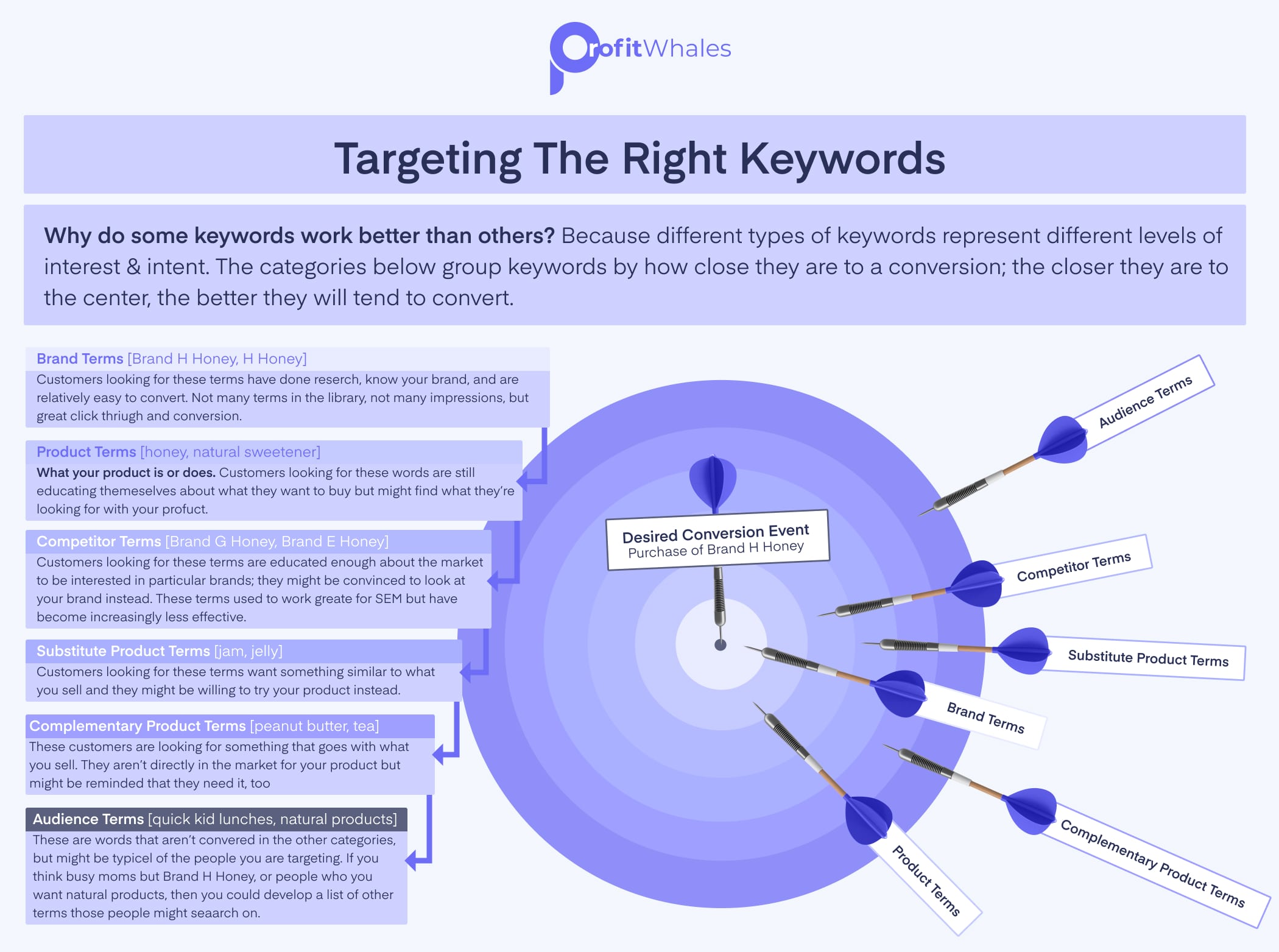 Let's analyze negative keywords examples. Let's say you sell fluorescent lamps, and you have a bid on the keyword "lamp". Your ad might appear in any search including this keyword. But not all consumers are looking for fluorescent lamps particularly. If a customer browses for "LED lamp," your ad might display in the search as well because it contains the keyword "lamp".
In this situation, the shopper might accidentally click on your ad. Despite the fact that a sale might not happen, you will still have to pay for this click. So, you don't want your ad to trigger keyword searches for other types of lamps, and you can use negative keywords to prevent this. 
Semrush posted a great example of relevant targeting: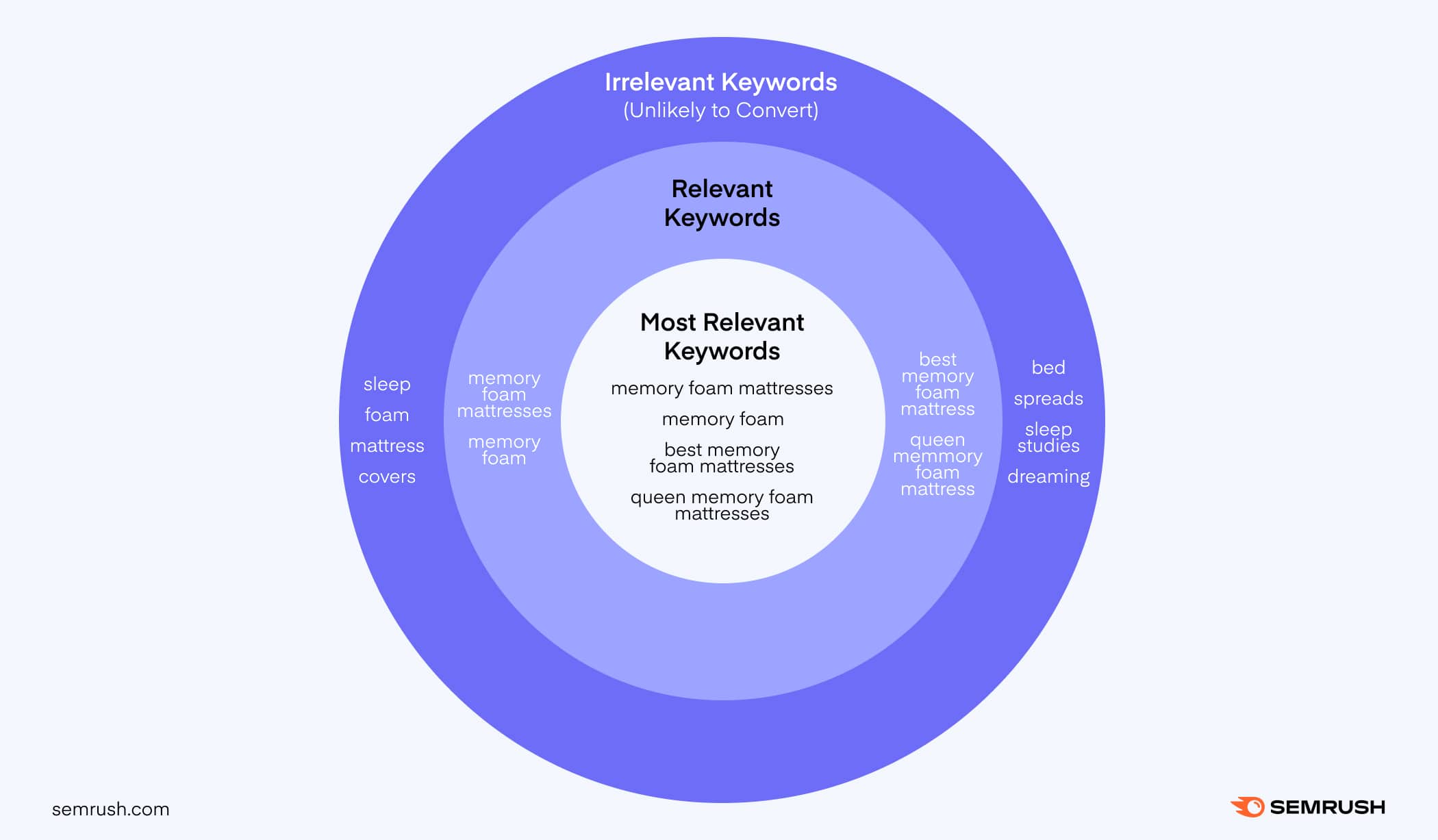 Amazon Negative Keywords vs. Regular Keywords
To fully understand what a negative word is, it is important to contrast it with a related positive word. For example, you should remember the following details about positive keywords:
When you include positive words and phrases in your listing description, Amazon will display your listing to searches every time customers use them.

The types of positive keywords are broad match, phrase match, and exact match.

Including positive keywords in your advertisements is a way to make your product appear when people are searching for it.
Now, let's overview the negative keywords on Amazon:
Negative keywords tell Amazon not to show your products when customers use them in their search.

While positive keywords are available in all types, negative keywords come in two variants: phrase match and exact match.

Negative keywords prevent your ads from displaying in searches.
For optimal Amazon keyword research, it's important to define the types of keyword-based searches your target audience performs. Utilizing these differentiators optimally increases your Amazon ranking.
Negative Keywords Types
There are two types of negative keywords: phrase match and exact match. 
Using a phrase match, you're preventing your ads from displaying in searches that include phrases specified by you. These are sets of words appearing in an indicated sequence that might contain plural values and spelling mistakes.
For better perception, let's analyze another negative keywords example. If you indicate "kids corduroy jacket" as a negative phrase, the following phrases will and will not show: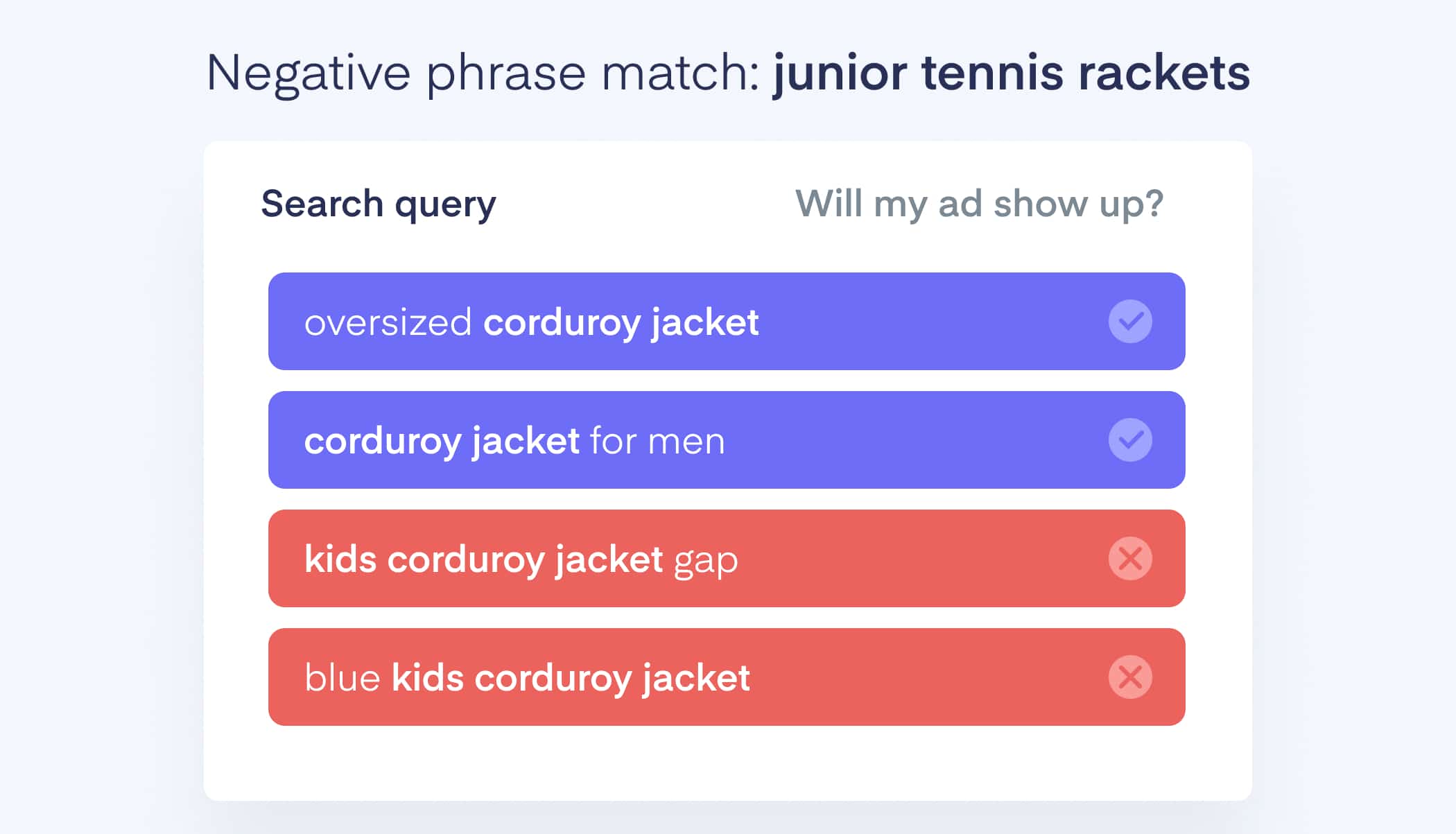 Using an exact match, you tell Amazon that the search query has to match your keyword exactly. 
Let's overview another negative keywords example. For instance, if "kids corduroy jacket" is your negative exact phrase, then phrases with spelling mistakes, like "kids cordiroy jacket", won't be appearing in search results.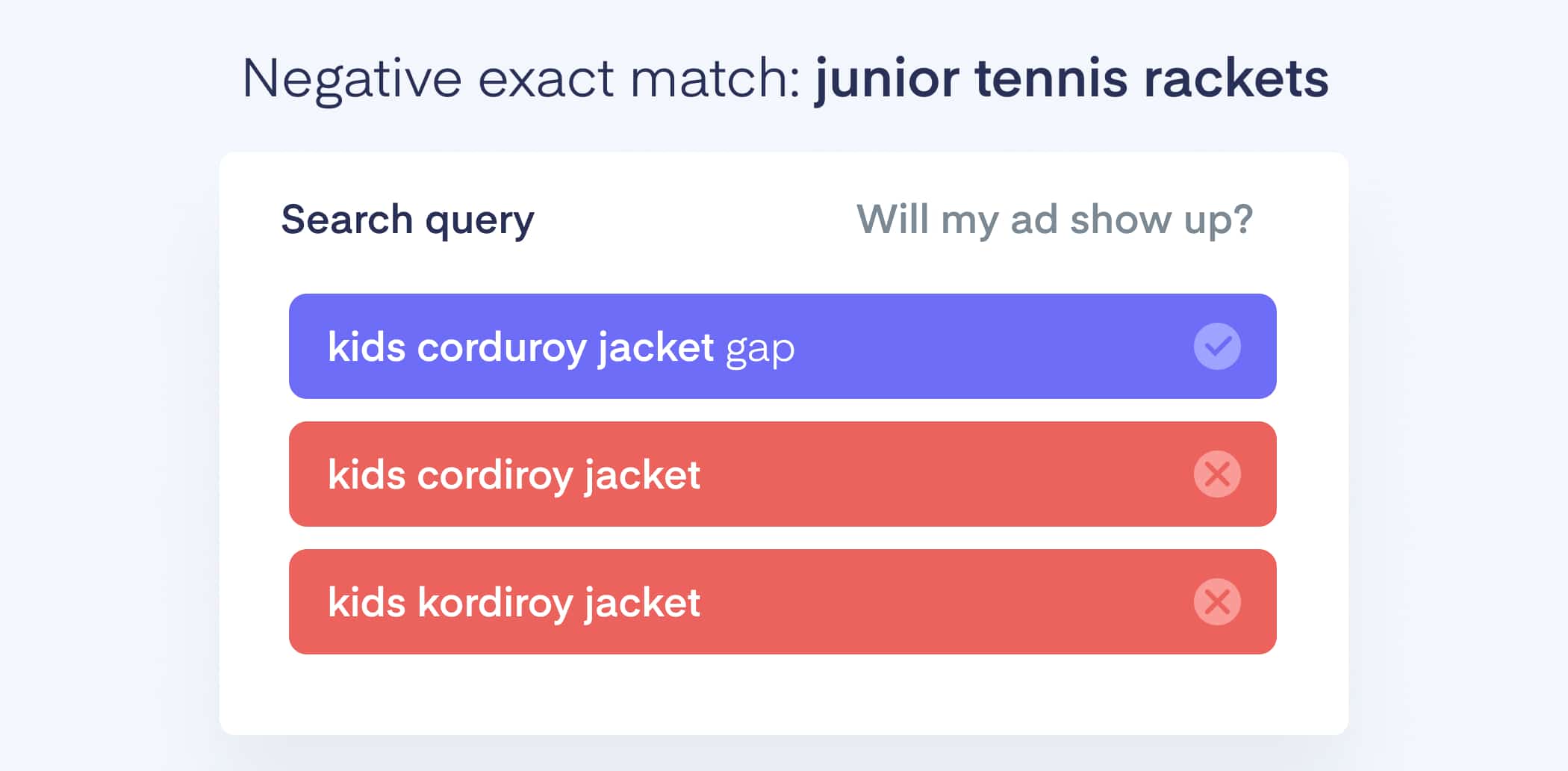 Advantages of Using Negative Keywords
Now that you know what negative keywords are, let's talk about their benefits. Negative keywords can be used to limit your targeting to ensure your ads only show up for relevant searches. This way, in addition to improving the relevancy of your campaigns, negative keywords can help boost the performance of your ads by reducing the overall cost of your campaigns.
Using negative keywords on Amazon also helps:
prevent ad campaigns from being over-budgeted and dominated by keywords that drive lots of impressions and clicks, but not enough conversion

drive traffic to your listings that are more likely to result in conversions

lower your ACoS as you won't be spending money on unnecessary clicks

result in higher values for your CTR, which makes your ads show up in higher ad placements

prevent a competitor from overriding the position you've spent days or weeks on.
Improved CTR
If you're selling on Amazon and not optimizing your negative keyword settings, you're missing out on huge opportunities to increase your click-through rates (CTRs). As a seller on Amazon, you want to stand out, which means sending traffic in your direction. This is easier to do by excluding people that aren't right for your product. 
Using negative keywords on Amazon is one of the best ways you can increase your rankings without any changes to your product listing on the Amazon store.
Enhanced Conversions
If your product or ad is too broad, you may be able to rank higher, but you'll also struggle to get noticed. If your keywords are too specific, Amazon's system may penalize your search volume and overall visibility. The best keywords are keywords that are relevant to your product, but they also make sense to customers. 
Meanwhile, negative keywords could be working their magic in your Amazon ads. When you use them, you attract only the desired audience.
Isolated Ad Campaigns
Are you trying to route all of your company's ad campaigns through a single Amazon channel? Watch out – there might be an internal campaign already competing for the same ad space. It's important to isolate your ad campaigns for optimal results. 
The purpose of negative keywords is to prevent your Amazon ad campaigns from appearing in search results for similar (yet irrelevant for you) product searches. This way your ad campaigns will be limited to a specific niche or targeted audience which gives you a chance for boosted ranking.
Boosted Product Ranking
Amazon product ranking is a complex and ever-changing algorithm. In order for your product to succeed on Amazon, you want to make sure to think about what words people might use to search for your product. The tricky thing about keywords is understanding how specificity affects product ranking on Amazon. Your Amazon ranking will be higher if the CTR for your products increases.
Reduced Ad Spend
Amazon has a few ways to trim your ad spending, but there's one trick with negative keywords that's stood out as a safer way to reduce your spending than banning them outright. What's more, advertisers can use negative keywords to create ad sets that meet their demand-creating objectives. 
The key factor in deterring irrelevant clicks is targeting a specific audience, which ensures that you only spend the budget you have on relevant clicks. The beauty of ads that are shown to only a specific audience is that you do not have to worry about the many wasted clicks on irrelevant ads.
How to Find Negative Keywords on Amazon?
Thanks to the Amazon Advertising data, it's quite straightforward to determine which search terms drag your ad campaign down. There are three things to look for to find negative keywords and prevent costly mistakes.
Low CTR Non-Converters
When you're simply not getting enough traffic coming to your site and low conversion rates don't seem to be on the horizon, your next thought is to figure out what you can do differently. That's where the search for low CTR non-converting keywords comes in. These are the keywords that aren't helping you drive sales: the absence of clicks is indicative of ad irrelevancy.
High-Click Non-Converters
High-click non-converting keywords are a false positive, showing a keyword drives many clicks but doesn't convert. See, the average conversion rate that is expected for Amazon ads is estimated to be about 10%. Industry-specific concerns are important to bear in mind. If you have a campaign that is driving a lot of clicks but isn't converting into any sales, it might be dead weight. 
If you are noticing this for every keyword, there are probably some problems on your product page, shipping rates, and reviews. If it is just one word, this indicates there might be a problem with relevance or target audience.
Note: finding the most effective keywords or phrases is a long-standing problem in digital marketing. There are many theories and models to predict the effectiveness of keywords, but they don't always work when real brands are involved. When selecting keywords, companies should be aware of how difficult or complex searches will be, how many conversions they'll need to make, and the difficulty they'll experience in targeting the audience they want.
High-Spend Low-Converters
This metric can be difficult to figure out, as it's more subjective and relates to your overall marketing budget. Though all keywords in the higher price brackets should be considered as possible landing spots, they warrant extra attention. If you are not seeing enough conversions from your ad campaign, consider removing or limiting your exposure to that term. These savings will help you keep your expenses low.
How to Add Negative Keywords in Your Amazon Seller Central
Let's overview the process of adding negative keywords on Amazon in your Seller Central.
First, navigate to "Campaign Manager" in the "Advertising" tab. Next, you should move to the campaign/ad group for which you wish to find negative keywords. Tap on the "Negative Targeting", then  – "Negative Keywords".
Depending on your ad campaign needs, pick "negative exact" or "negative phrase".


Add negative keywords, click "Add keywords" then "Save."
This manual campaign can only be created with keyword targeting or product targeting. So, you have two options: negative keyword targeting and negative product targeting.

Final Word
Negative keywords are important to understand in terms of your Amazon advertising budget. Everyone is clamoring to get their products on Amazon, so the competition is fierce. If you don't have your negative keywords, your ad may show up for someone that offers a similar product. This can be frustrating when your ad costs you an arm and a leg.
So before you make a big campaign that costs a ton of money, you should add negative keywords in your Amazon ads.
Have any questions about how to find negative keywords and what are negative keywords in PPC? Please, contact us and we'll help you optimize your spendings and increase conversions.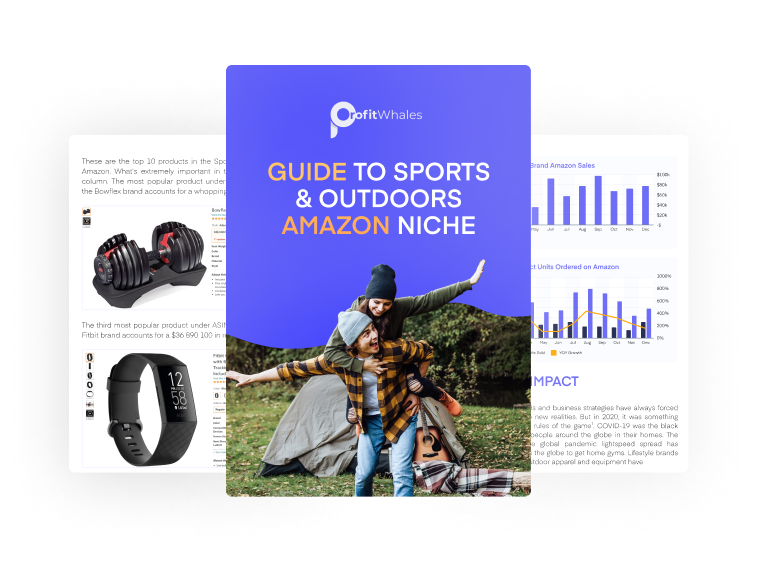 Dive into Sports and Outdoors Niche on Amazon
Data-based analysis that covers market trends, advertising, and marketing recommendations to adjust your path to success