Amazon Seller Central Ultimate Guide
Thinking about selling on Amazon? We've crafted a definitive guide about how to create an Amazon Seller Central account and start an Amazon business right now.
The e-commerce industry experienced remarkable surges in 2020, during which the global pandemic forced consumers to shift from in-store shopping to online. U.S. Department of Commerce states that consumers spent $791.70 billion online with U.S. merchants in 2020. According to Digital Commerce, eCommerce penetration accounts for 19.6% in 2020.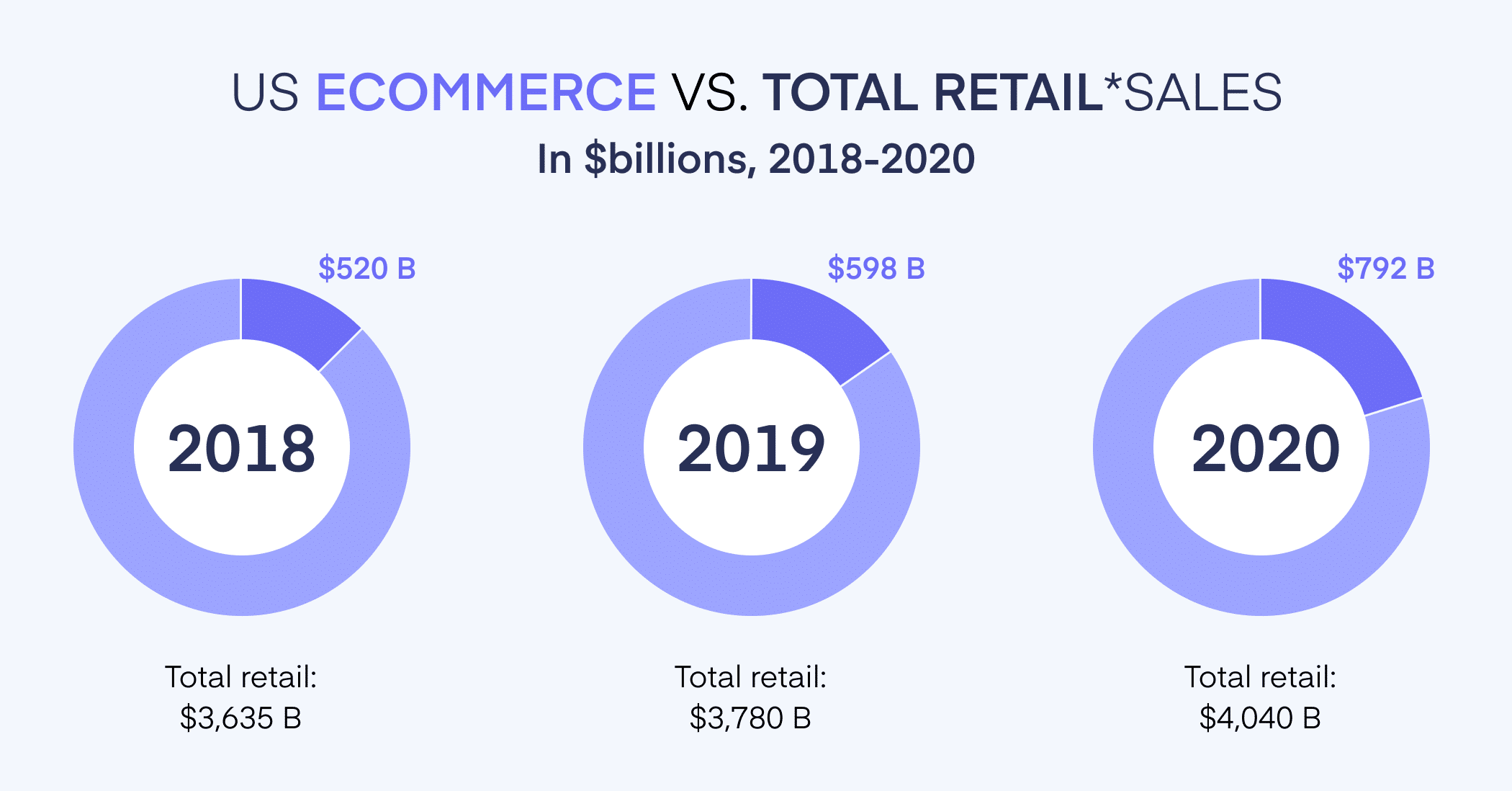 source: Digital Commerce 360
Why Sign Up with Amazon?
Amazon has fast become a premier e-commerce platform that can offer tons of opportunities for online retailers with its impressive growth. It tops the list of US retail leaders this year (just as it did in 2020).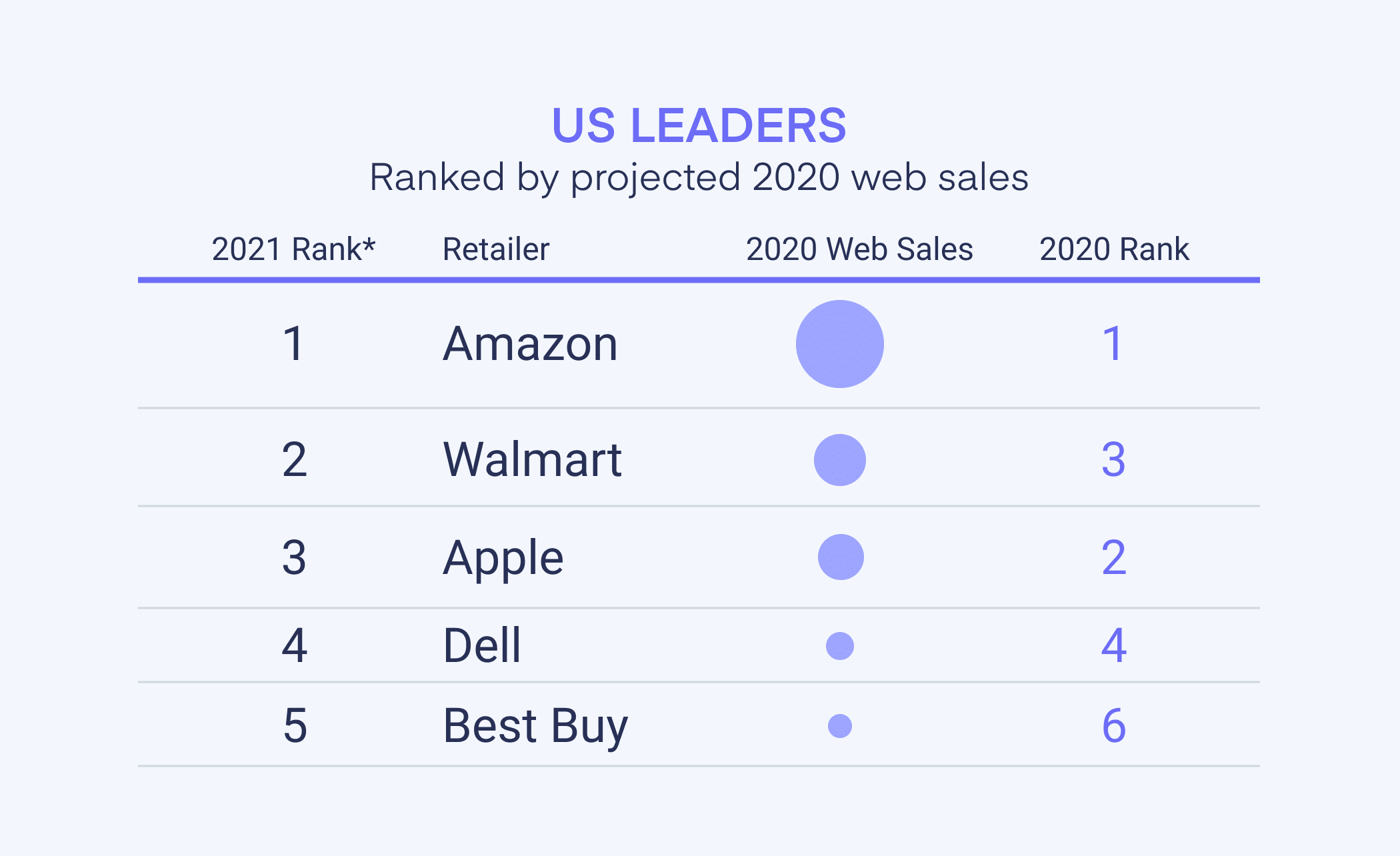 source: Digital Commerce 360
This means that it is high time to become an Amazon seller. Why? Because shoppers have first to discover a website before sellers can even encourage them to buy anything. This signifies that a lot of time and money has to be invested in SEO, advertising, and other marketing initiatives (that, in turn, don't necessarily guarantee a seller will receive the required amount of traffic).
One of the most important advantages of selling on Amazon is the fantastic possibility to sell directly on the world's largest marketplace, reaching millions of shoppers. The company has millions of Prime members, so there is no way people will not find the products advertised on the platform. Amazon also has an established name that people trust, so even if a seller is unknown, merchandising via this marketplace will evoke confidence in their products.
Long story short, to build a business quickly, the best thing to do is sell on Amazon. Let's review the step-by-step process to sell on Amazon.
How to Create Amazon Seller Account
To create an account on Amazon Seller Central, newbies have to head to https://services.amazon.com. This is where they will have to undergo a quick registration process.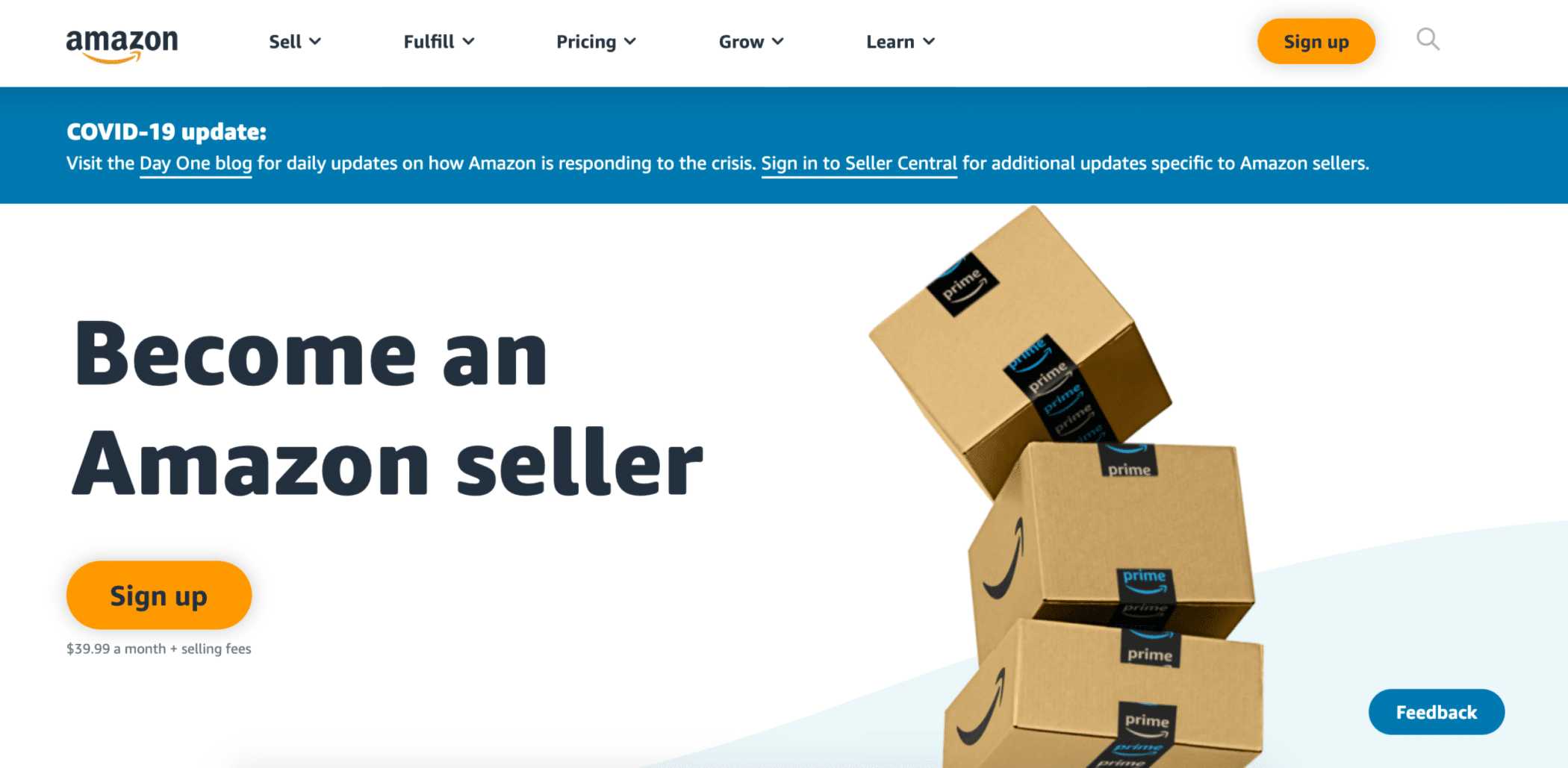 Amazon seller sign up occurs when a new member clicks on the "Sign up" button. Then the marketplace redirects a new user to the professional Amazon seller registration page. If they wish to create an individual account, they should scroll down and click the "See Pricing" link (located right beneath the "Make Money" header).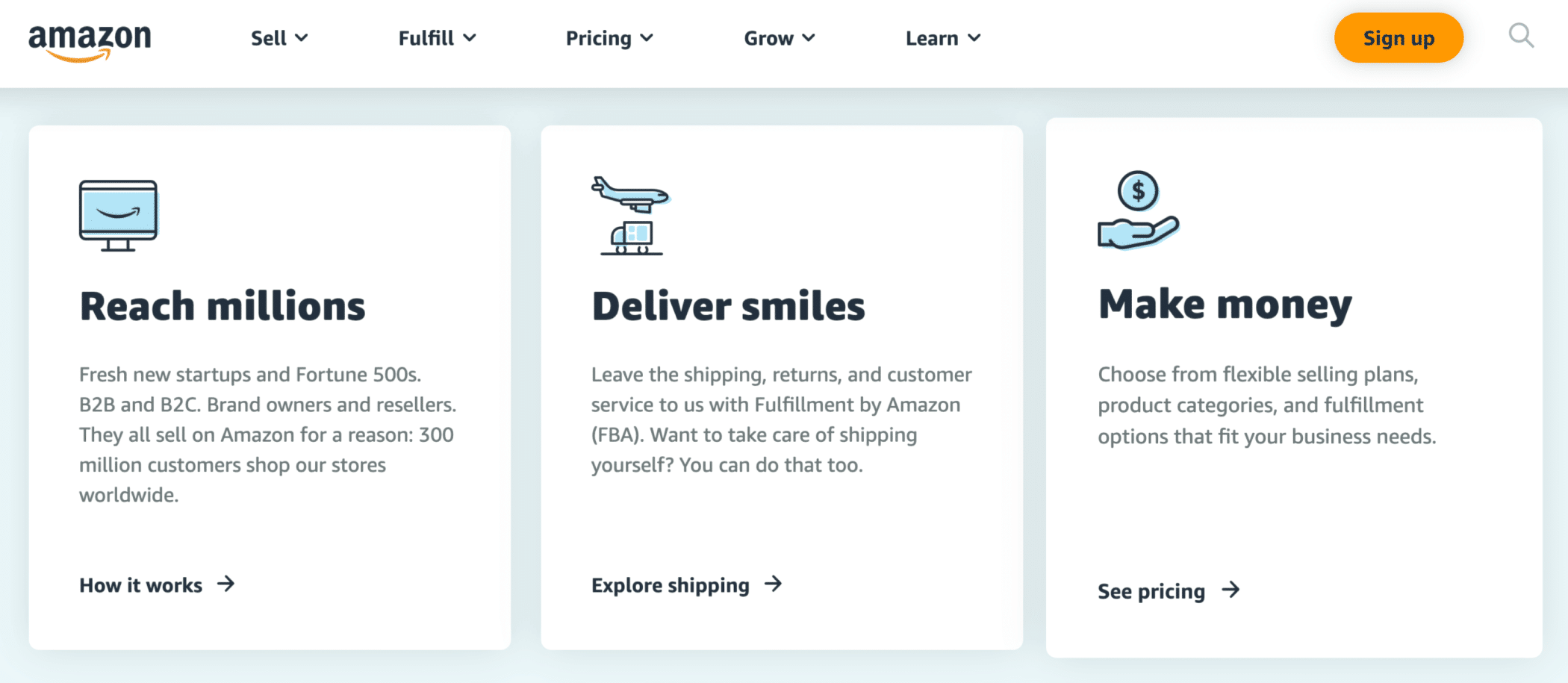 Amazon Professional Seller VS Individual
Let's clarify: if an Amazon seller plans to sell 40 items per month, they should sign "professional". Even if selling is their hobby, without professional connotations, they should still choose Amazon's professional seller plan, as it is a real money-saver. Amazon's individual seller plan is perfect for those interested in selling on a smaller scale.
A complete comparison of each plan's features is in the table below.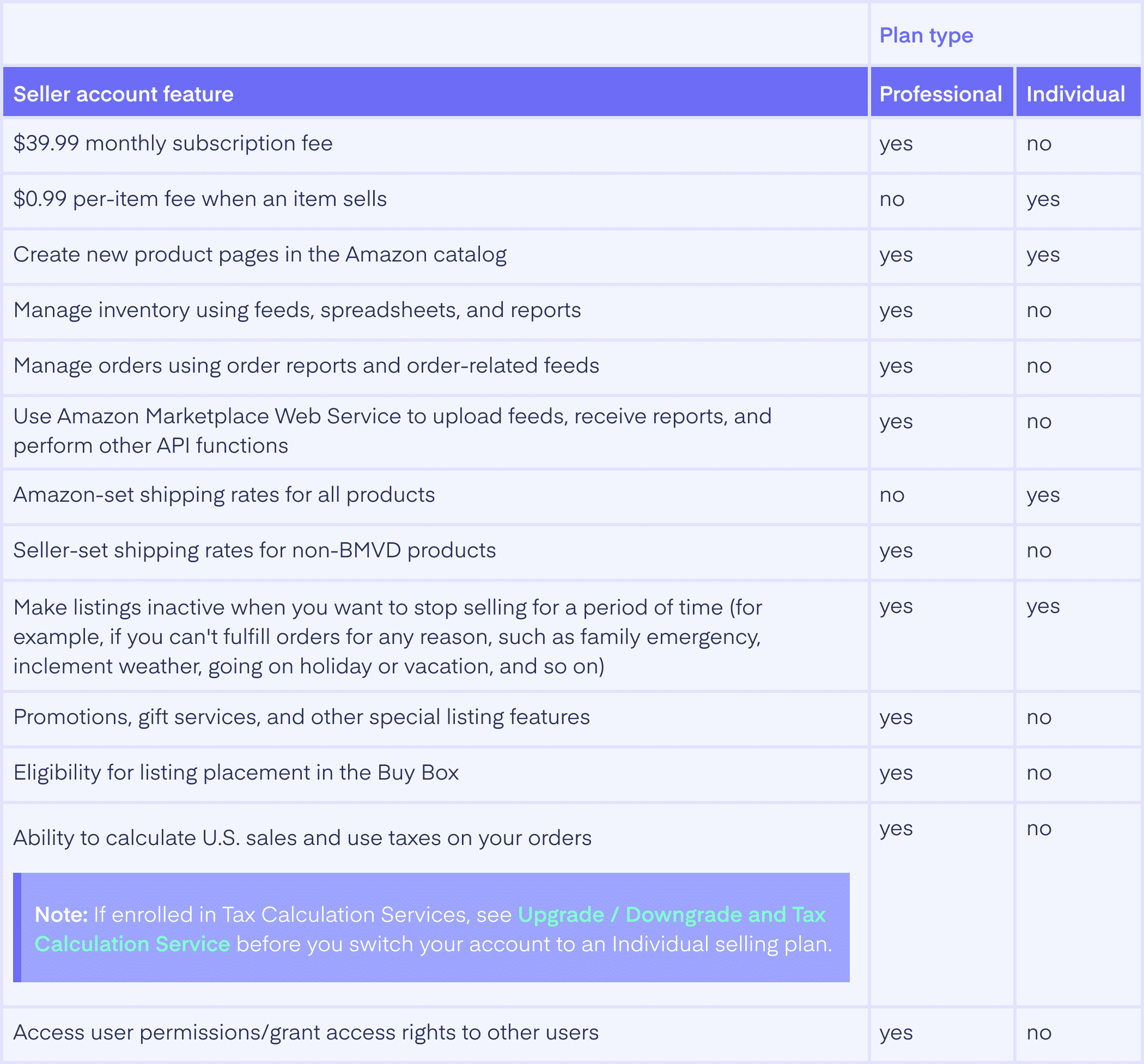 Information you Need to Provide to Sign Up
The next step is entering an email address and setting a password.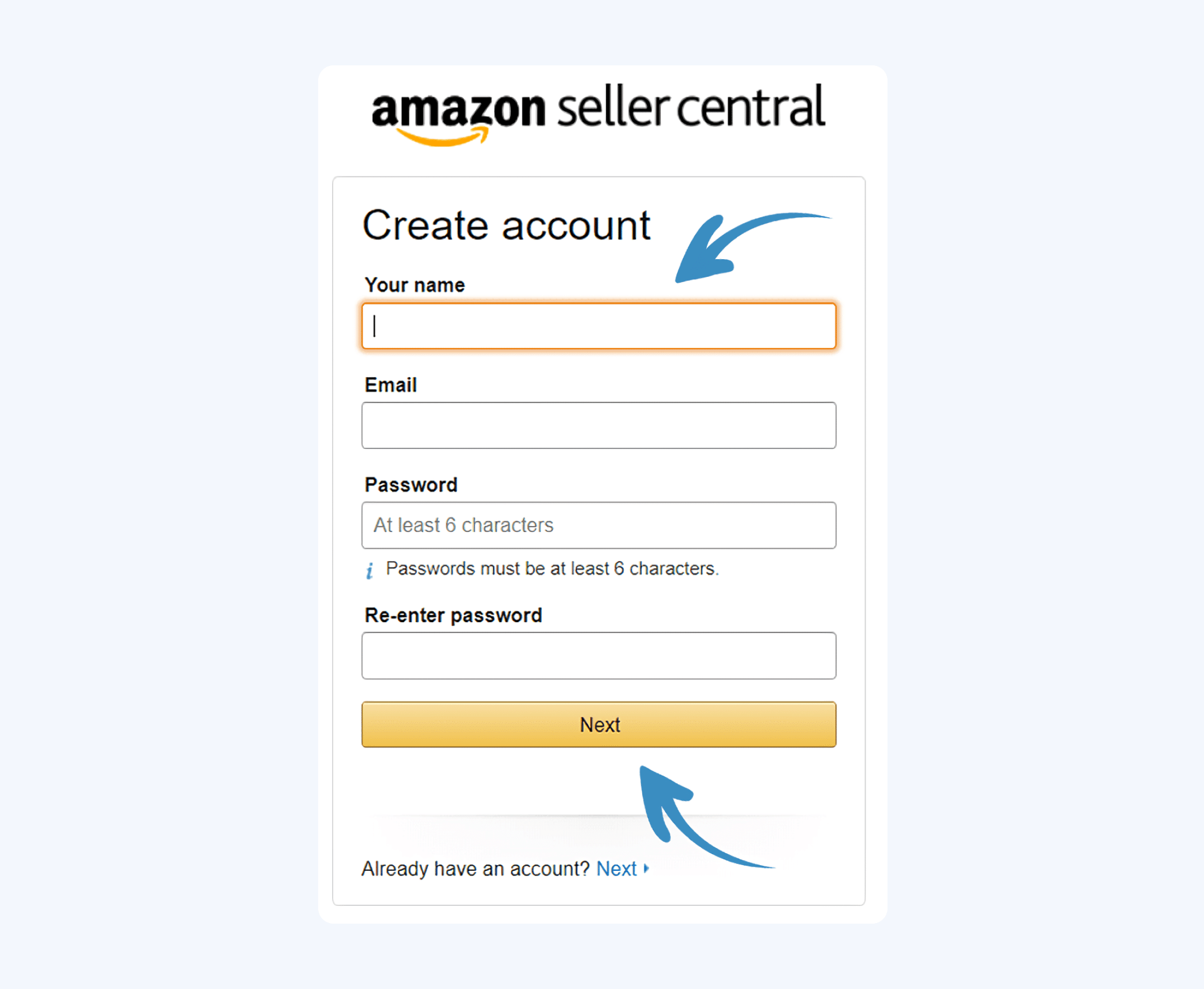 Email confirmation is carried out via an OTP.
Business Information
The next step is filling in the business information. Amazon Seller Central asks for business location data, meaning the location where the business is registered. If a seller doesn't have a business, they should enter the country of residence. It is also necessary to indicate the business type (for instance, individual).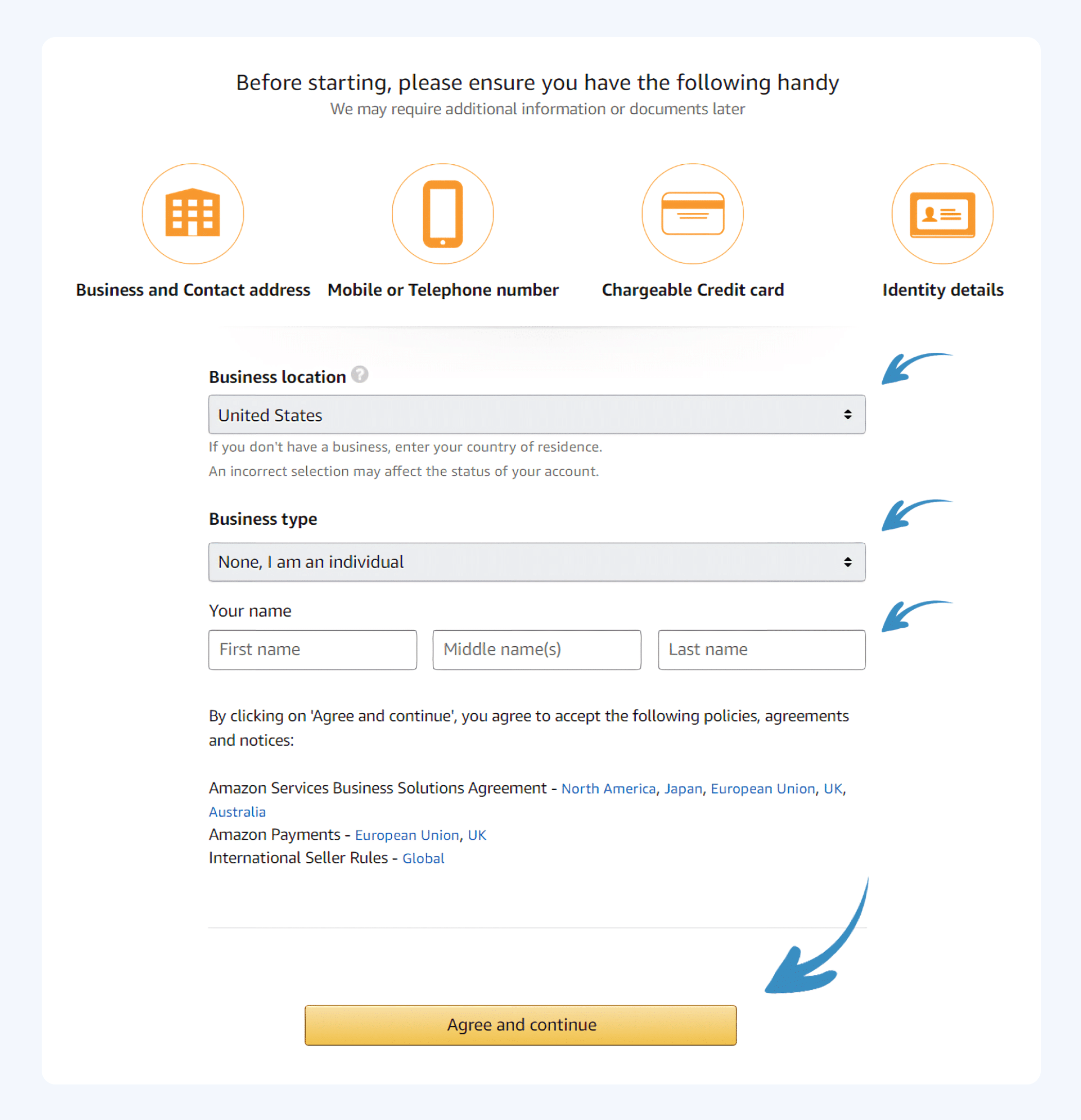 Billing Information
Moving on to the next step, Amazon asks for general billing data: credit card detail (number, holder's name) and billing address. This is the account credit card Amazon will use to charge for Amazon seller fees.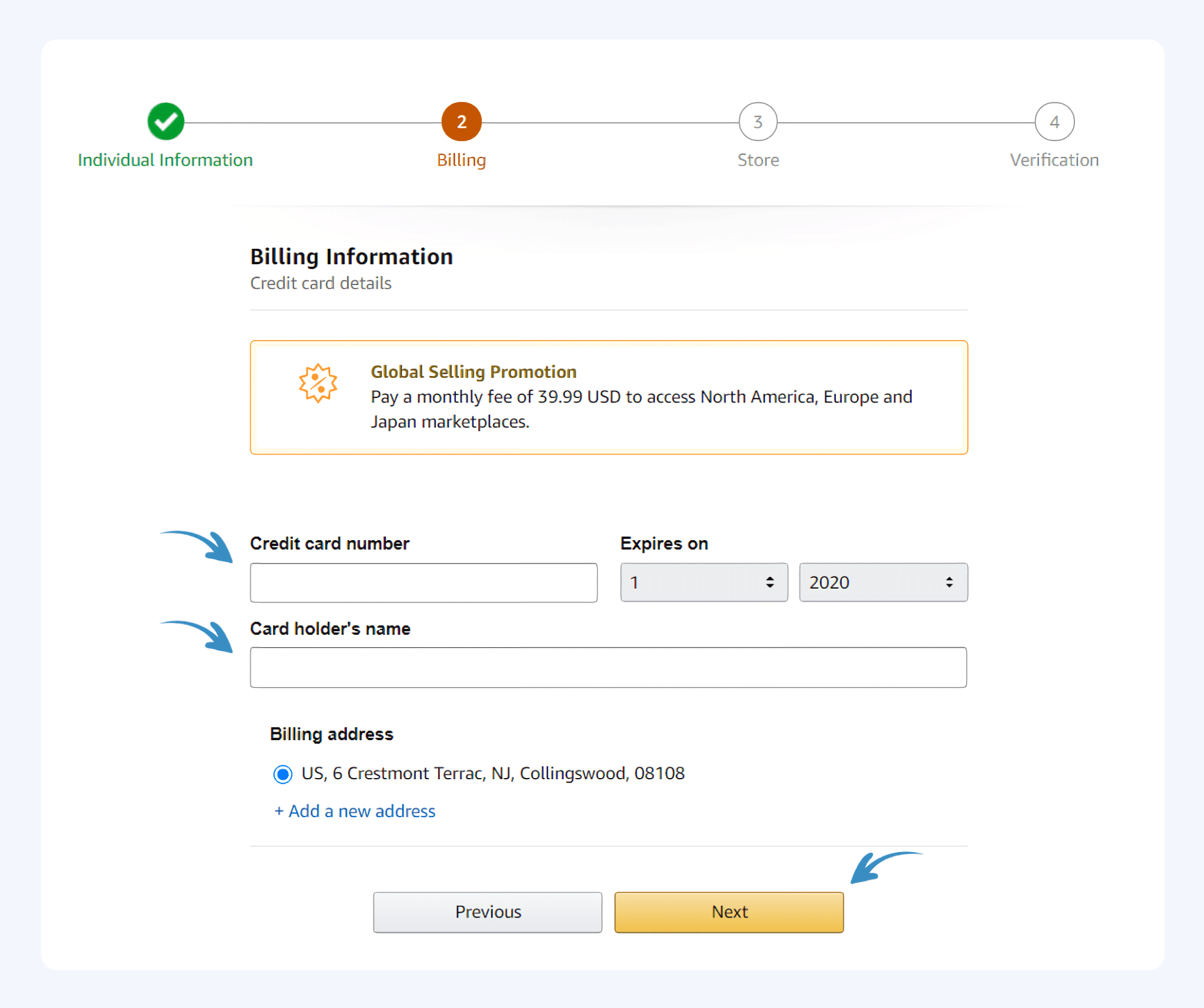 Store Creation
Choosing a name for a store is a critical step as it will be visible to all Amazon buyers. It has to be catchy, brand-related, but non-specific (to occupy multiple niches). Various tools on the Internet can help generate multiple versions of a store name.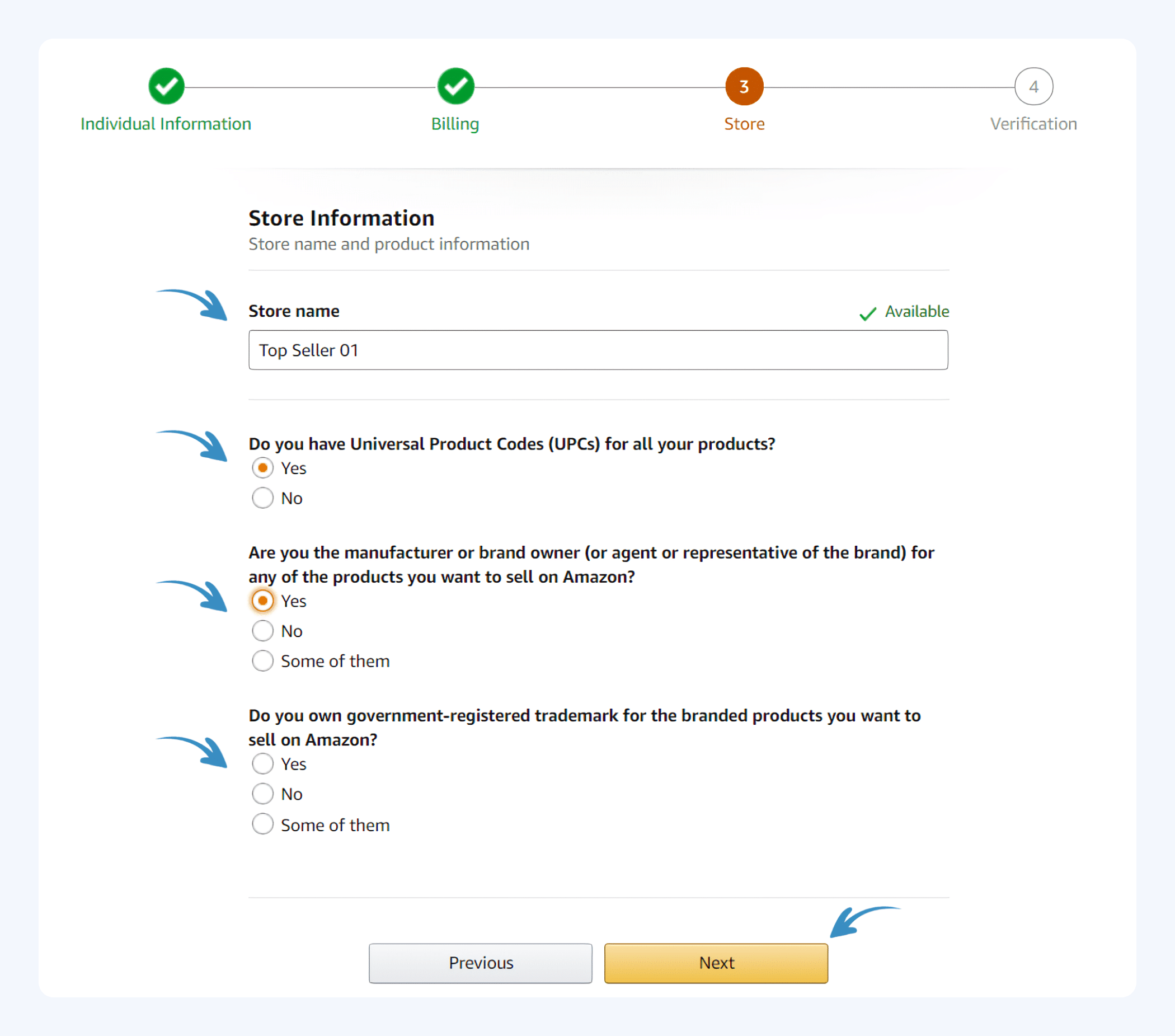 Amazon Seller Central will ask for store info and product details. For instance, whether a seller owns the brand for the products they wish to sell on Amazon, whether they have UPCs and trademarks.
Verification
The final step is checking the correctness of filled information and uploading Amazon seller required documents (like ID photo). Besides ID, Amazon also asks for an additional document, for instance, a bank account statement or a credit card statement.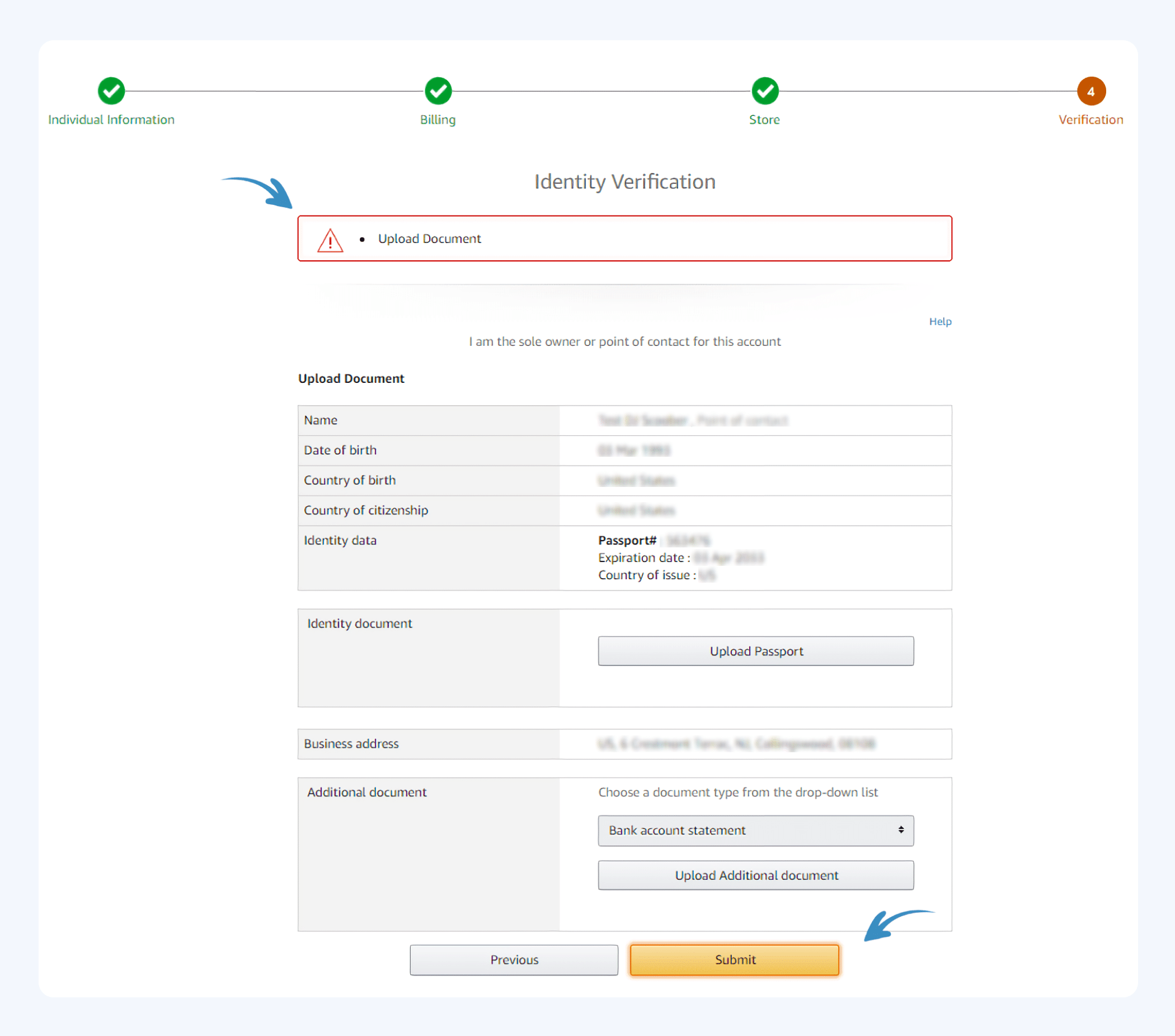 By tapping on the "Submit" button, a seller finishes the verification, and the application will undergo the Amazon Seller Central account review. In case there is an issue with any of the info a seller has provided, the marketplace will ask to edit it.
After all info is verified, a newly-registered member can log in to set up an Amazon seller account, start adding products and creating the listings.
Before You Start Selling
Once the account is ready, the next step is figuring out what and how to sell. Perhaps, it is best first to choose a sales model.
Choose a Sales Model
Deciding on the model for Amazon business, it's best to consider three of the most common ones:
Retail Arbitrage: this implies locating items that are on sale or on clearance at retail stores. If a seller manages to find products that sell for less than on Amazon, they make money by reselling them.

Wholesalers: for the best price per product, a seller will need to buy from wholesalers. They purchase directly from manufacturers to sell their products to retailers. Investment in this strategy usually requires a fairly large budget as sellers will have to buy in bulk.

Private Label: if a seller has a patented new product or an idea of how to refine an existing one, then they should choose the private label model. They can even create their own branded logo for the company by including it in the products description.
There are pros and cons with each type of strategy, thus it's important for businesses to conduct their own research and make a choice that best fits their business goals.
Find a Product to Sell
One of the many ways to find product ideas is to pick up on what is successful on Amazon. Consumer behavior directs the selection of potential goods to sell on the Internet. What consumers choose to buy or not buy online ultimately dictates what happens in the industry.
The easiest way to find a product to sell is to look through Amazon Best Sellers Category and check the Best Sellers in the necessary category. Certain Categories fit better for selling under a brand. Those are:
Kitchen & Dining

Sports & Outdoors

Patio, Lawn, & Garden

Pet Supplies
Regardless of which products a salesperson chooses for their business, an accurate sales estimate is one of the most important things to start with.
A Checklist for Growth
Amazon has a dedication to selling skills. Amazon Seller Central offers a unique combination of resources, inventory, and distribution, aimed at helping sellers to grow. But there's a set of skills sellers must work to master quickly to use the marketplace successfully.
Those are:
Excellent marketing content creation: to add products that are new to the Amazon catalog, sellers will need to come up with fresh content required to fill in the product titles, bullet points, product descriptions, and generic

keywords

fields. A photo of the product is a must.

Understanding of how to work with inventory: when a product sells well on Amazon, sellers need to be prepared to resupply swiftly to evade the trap of extensive stockout periods. As a seller's Amazon cash position increases, they should have well-defined processes for adding new inventory, including proper staffing and pricing theory to always maximizing revenues.

Advanced process for identifying and eliminating obsolete inventory: some products don't sell well initially. To convert inventory back into working capital, sellers need to liquidate or sell some of these products across other channels. Amazon Seller Central provides FBA sellers with tools to help research stale inventory. For the non-FBA Amazon sellers, this process comes to monitoring the inventory by SKU and figuring out they need to promote for sell faster.

Understanding basic cost structure: too many sellers who operate on Amazon have a very limited understanding of SKU-level profitability, giving rise to a slightly blurred estimate of their profit. A decisive grasp on which SKUs are generating what revenue, while also knowing which products are actually worth the money to sell on Amazon is crucial in maximizing profit.

Researching the same SKUs on Amazon: In too many cases, new Amazon sellers come to the realization that the competition is too high only after the listing has been created. So, before setting up an Amazon seller account, one should examine the intended catalog on Amazon as well as assess which price tiers are competitive on the marketplace.
Final Word
Amazon seller registration is the first and easiest step to building a business. Selling on Amazon requires hard work, persistence, and being patient. New sellers won't find themselves unsure about what to do to get started using these fundamental strategies. There's no universal get-rich-quick scheme, but those who are thorough and accurate with their job are more likely to reach success and earn high profits.
back to articles