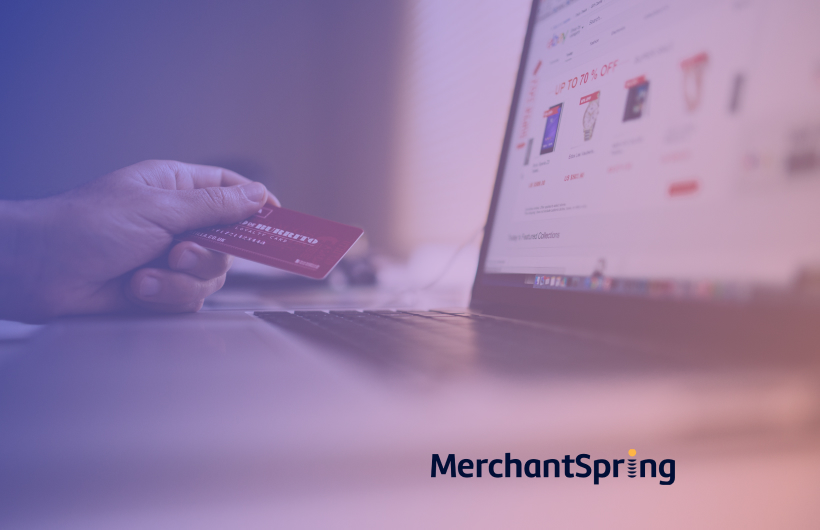 Amazon has become a globally recognized name, with 14 country-specific marketplaces, 175+ fulfillment centers across the world, and active shoppers in over 180 countries. Millions of third-party merchants are selling their products on Amazon. There is no doubt that sellers know that the online platform seems to be the goose that lays the golden eggs. However, in the age where the world economy has been changed by international expansion, selling only on Amazon can be detrimental for the brand. 
That is why more and more eCommerce sellers are diversifying the marketplaces they use beyond Amazon. Diversification is not gaining popularity for no reason: it boosts and diversifies sales for businesses. 
Welcome to the world of cross-border and cross-platform selling. The speed at which sellers have been selling globally on multiple marketplaces has accelerated over time. Because this topic is straight up-to-date, we will dig into it more profoundly in this article.
Sellers Trade on Amazon in Multiple Regions Simultaneously
Better prices and more affordable shipping are big drivers of cross-border eCommerce, and this trend shows no sign of slowing down. Nowadays, it is not uncommon for customers to buy a product from another country at a lower price than they can find in their country, even when shipping is factored in. It is especially true within Europe but also in markets such as China and the United States. The only thing customers usually have to put up with is longer shipping times. Even this barrier, however, is being eroded as sellers begin to store inventory in local markets. 
By properly opening up to the international market, sellers will introduce their products to millions of new buyers. Potentially, it's products they can't get or products at prices they can't find in their home country.
Amazon has made it simple to reach people worldwide thanks to its ever-growing customer base and vast international logistical capabilities. A recent 2021 report on the state of Amazon sellers finds that many sellers operate in multiple global marketplaces simultaneously with:
More than half (54%) of Amazon sellers sell on several platforms

32% of marketplace sellers in the United States also trade in Canada, and 16% in Mexico

About half of U.K.-based Amazon sellers also operate in neighboring German and French marketplaces

The chart shows that selling cross-border on Amazon is highly possible, and more and more sellers are accustomed to it. Amazon itself is making a push for sellers on its platform to sell their products into other countries, setting the stage for greater competition with rival marketplaces. Amazon does so by providing sellers with Amazon Global Selling and FBA program. Once seller has signed up for Amazon Global Selling and FBA, then Amazon handles all shipping, including returns and refunds, as well as product stocking in Amazon's warehouses, picking and packing, and other services, no matter where the seller is .
To sell in any of the regions, Amazon users need a seller's account for each country. The only exceptions are the marketplaces in North America and Europe, where sellers will have automatic access to all of the countries' marketplaces included in a "Unified Account."
Some advantages of selling cross-border on Amazon include:
FBA makes shipping and delivery simple.

 Seller reaches a much larger audience. 

If a seller's business is already successful in their home market, Amazon makes global expansion easier by reducing the need to build a brand.

Some of the most significant sales occur during holiday seasons such as Christmas, as well as special sales days such as Black Friday and Cyber Monday. These days, global sales can yield a massive profit.

 

Amazon ensures that sellers receive their funds on time, and deposit them into their bank accounts in their local currency.
In addition, taking advantage of Amazon's global selling program is extremely valuable for maximizing seller profits. Particularly, because 85 percent of the world's purchasing power is held by countries other than the United States, including global spending superpowers such as the United Kingdom, Germany, China, and Japan.
Pursuing to sell cross-border on a top channel like Amazon is important to reach a broader range of customers, promote the brand, and increase sales. Apart from Amazon's already established global selling and FBA program, there is other multi-channel marketplace software out there that will make the process of selling cross-border even more seamless.
Sellers Operate on Different Platforms Simultaneously
While many sellers pursue a top channel like Amazon to sell their products, it is also crucial to diversify across multiple marketplaces to expand and protect business from relying on a single marketplace. 
The expanding market for Amazon sellers is not always domestic. It means, business owners choose multi-channel platforms to sell on different marketplaces in the different countries. Multi-channel platforms, because they make selling in other countries much simpler.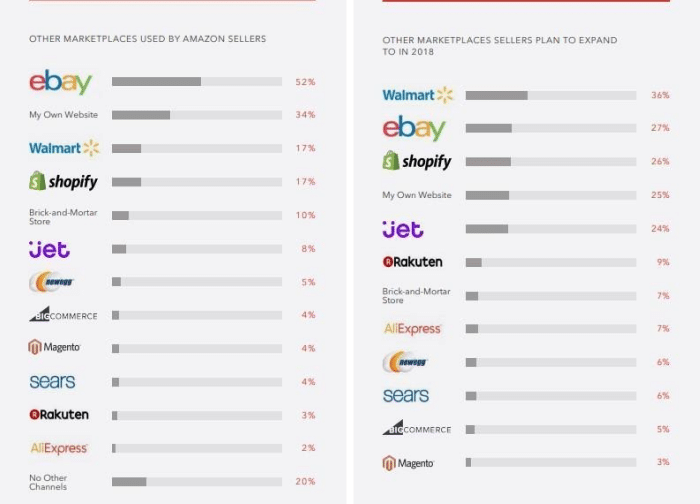 In April 2019, intelligence platform Feedvisor asked US Amazon marketplace sellers what their business goals for the year would be. Although expanding an existing product line was the most common response (65%), more than a third (35%) said they wanted to diversify to other platforms, a significantly higher percentage than those who tried to go direct-to-consumer (D2C) and launch their own eCommerce website (12%).
This demonstrates that multi-channel selling is highly appealing to eCommerce sellers because increased marketplace exposure provides the opportunity for increased revenue and brand recognition. As third-party sellers gain prominence on Amazon's marketplace, many want to expand to other platforms, including eBay, Walmart, and others. 
There are several clear benefits to multi-channel selling: 
Sell to the customers where they already shop.

Gain access to new markets without making a significant initial investment.

Increase product visibility and brand awareness.

Sell more products to generate more revenue.
Selling across multiple channels will bring more benefits, although it requires additional work and more investment. Sellers today must be agile and adaptable in terms of how, where, when, and even why they sell through multiple channels. Luckily once again, sellers can utilize multi-channel listing software to make the process of selling on different channels more manageable.
Conclusion
Cross-border and multi-channel marketplace selling is changing the face of what it means to run the business in the twenty-first century. That is why it is vital for all Amazon sellers out there to consider selling the products across Amazon regions and on several different marketplaces. 
MerchantSpring is a seller's trusted partner to expand globally. MerchantSpring helps online retailers and sellers turn e-commerce marketplaces, such as Amazon, eBay, Etsy, Walmart, Lazada, Zalora, Newegg, TheMarket, Google Shopping, and any other hundreds in this category into viable sales channels. MerchantSpring simplifies the process of tracking daily sales without having to log in to several different platforms. Sign up for a Free MerchantSpring account today or talk to one of their experts.