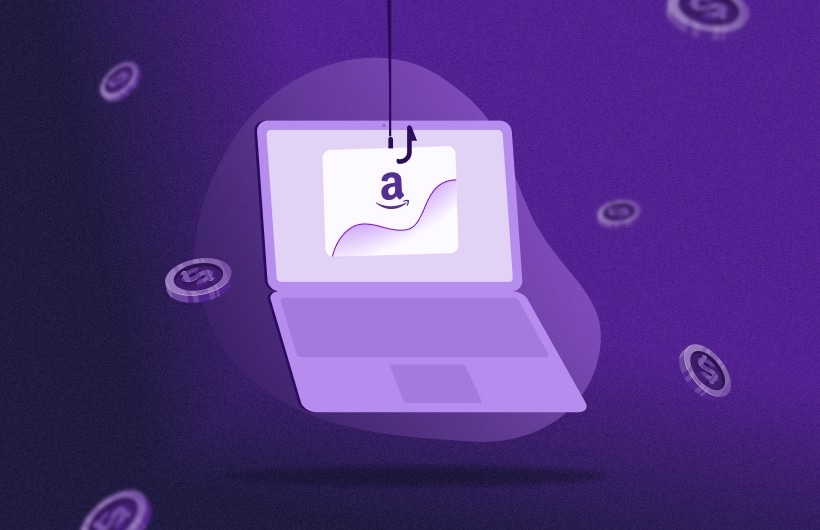 Who does not want to make maximum profit with minimum effort? Almost everyone, with Amazon sellers being no exception. You must have heard of the Amazon automation business, which promises 6-figure profit as a passive income. All you need is to make a significant initial investment, after which everything will spin like a rollercoaster.
So is that a real chance to get rich or just another scam? Let's figure it out in our Amazon automation review.
Table of content:
What is Amazon Store Automation?
At first glance, it may seem that we are talking about automating business processes, for example, automatic stock tracking or synchronizing data from different software. But that is not the point.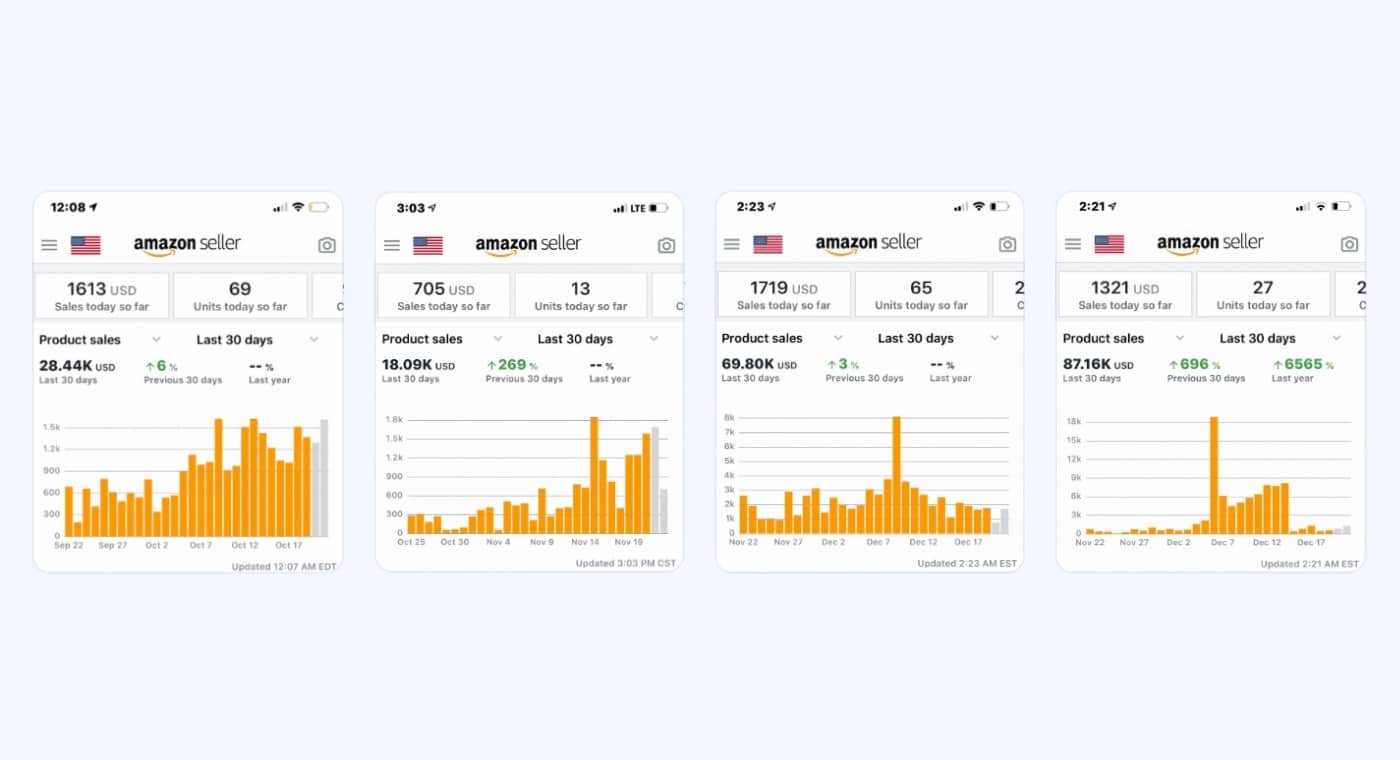 Amazon store automation gurus are full-service agencies that set up businesses for clients' money and run them with a profit percentage. How does it look in real life without an alluring marketing picture described in ads? Let's find it out.
For example, you want to open a restaurant. Perhaps you love cooking or just enjoy haute (or not) cuisine. You know nothing about the restaurant business, its legal basis, marketing, staff management, and other nuances.
And then you accidentally run across a person who promises to do all the "dirty" work for you:
Register your business
Find a space and a design studio
Obtain all necessary permits and licenses
Determine pricing policy
Find a chef, bartender, and other staff
Sign a contract with a security company
Organize a promotion
You fund all start-up expenses, including your new friend's labor costs. As soon as everything is ready, he becomes the company manager and receives 20% of your profit.
At some point, you may have a question, why is it not easier for your friend to take a loan for all these expenses and open his own business to receive 100% profit? The answer is: why take risks?
Amazon Business Automation
Let's recap the essentials.
You hire an agency that creates an Amazon store for you.
As the owner, you pay all associated costs.
Once the store is up and running, you pay the agency a percentage of your profit or turnover.
Turnover and profit also depend on the agency because it deals with all issues.
So, your Amazon store is not entirely yours.
Suppose everything goes well, and you hardly notice the percentage you need to give away to the agency. But what if the store does not work as expected? You will simply lose much money on Amazon automation investment.
Amazon Process Automation
Real automated Amazon business is about using software to reduce routine tasks and manual intervention in processes. You can try several solutions from different developers, choose tariffs that are suitable for you, and at the same time, no one has access to your profit and company management.
Such automation is helpful for those who want to start a business the right way and those who already have a successful Amazon store that needs scaling or optimization.
And this is what Profit Whales PPC experts think about process automation:
One of the crucial processes sellers want to automate and optimize is promotion. It makes sense when the product organically already has a pretty good conversion rate and a good amount of traffic to work with.

What is essential to pay attention to? Looking for automation software or agency, you should understand what data is used for optimization and whether it is tied to a unique structure. Make sure that someone is monitoring everything; otherwise, it will all fall on your shoulders. For example, in Profit Whales, 3 to 8 specialists are linked to each project in addition to software.

Remember that only a machine and human symbiosis can lead to success.
– Dmitrii Glybin, PPC Team Lead at Profit Whales
At the same time, Profit Whales' CEO compares methods of process automation:
Choosing between an agency and software, define your business goals. If you want to scale your business and need help with how to do it right, find the agency. On the other hand, if your business is doing well, you have a PPC team, and want to reach the next level, try a specific software to automate your processes. And remember that the more volumes you have, the harder you feel without automation.
– Alex Nyezhnyk, Co-Founder & CEO at Profit Whales
Is Amazon Automation a Scam?
Why do many sellers say that automation on Amazon is a scam? There are several reasons:
1. Sellers have invested a considerable amount for future profit, disproportionate to the final income.
2. No profit exists, but you still need to pay the agency.
3. An Amazon account can be blocked due to dubious actions, and no one will answer for this.
To summarize, the automation agency is the only party guaranteed to make a profit. The seller can also make a profit, and not a bad one.
Is that a scam? Rather no than yes. Amazon automation scam is about lying and hiding terms, but if you think the business model is unfair, it is more of a bad deal.
Is Amazon Automation Illegal?
Is Amazon automation legit? Generally, it is legal until the agency guarantees you huge profits. The Federal Trade Commission (FTC) is dealing with such issues, trying to bring scammers to justice.
Is Amazon Automation Right for You?
Amazon automation is great for people who:
Have no time or desire to delve into aspects of working with Amazon but are looking for a passive income.
Have been planning and preparing for a long time but do not dare to start a business on Amazon.
Have failed on Amazon and want to take revenge.
At the same time, Amazon automation is unsuitable for:
Passionate entrepreneurs who want to be actively involved and control all processes.
Future sellers who do not have at least $100k — for independent work, you need about $10k-20k.
Pros of Automated Amazon Store
What benefits does Amazon automation bring?
The only expenses that Amazon automatization involves are cash. This is your payment for taking care of all business processes. Since you have much free time, you can devote it to work on other projects.
At the start of a business, customer service can be challenging. The automation agency knows how to lead clients, increasing customer loyalty and repetitive sales.
If you choose a private label model, you can scale quickly and even sell your business with a significant profit of up to 3-5 times its annual sales.
Cons of Amazon Automation Store
Amazon automation agencies usually tell you about all the great marketing opportunities. We want to talk about the risks for your business.
Any business needs an initial investment. But are you willing to risk putting a large sum in the hands of an agency with no control over what is happening?
Read the contract carefully to ensure you do not have to pay the agency even when you do not earn money from your business.
Violation of Amazon Policy
Amazon has strict terms & conditions regarding various business schemes, including dropshipping. For example, packing lists and invoices must not include names other than yours. An agency may unintentionally violate Amazon's terms of service, resulting in product removal, store suspension, or closure.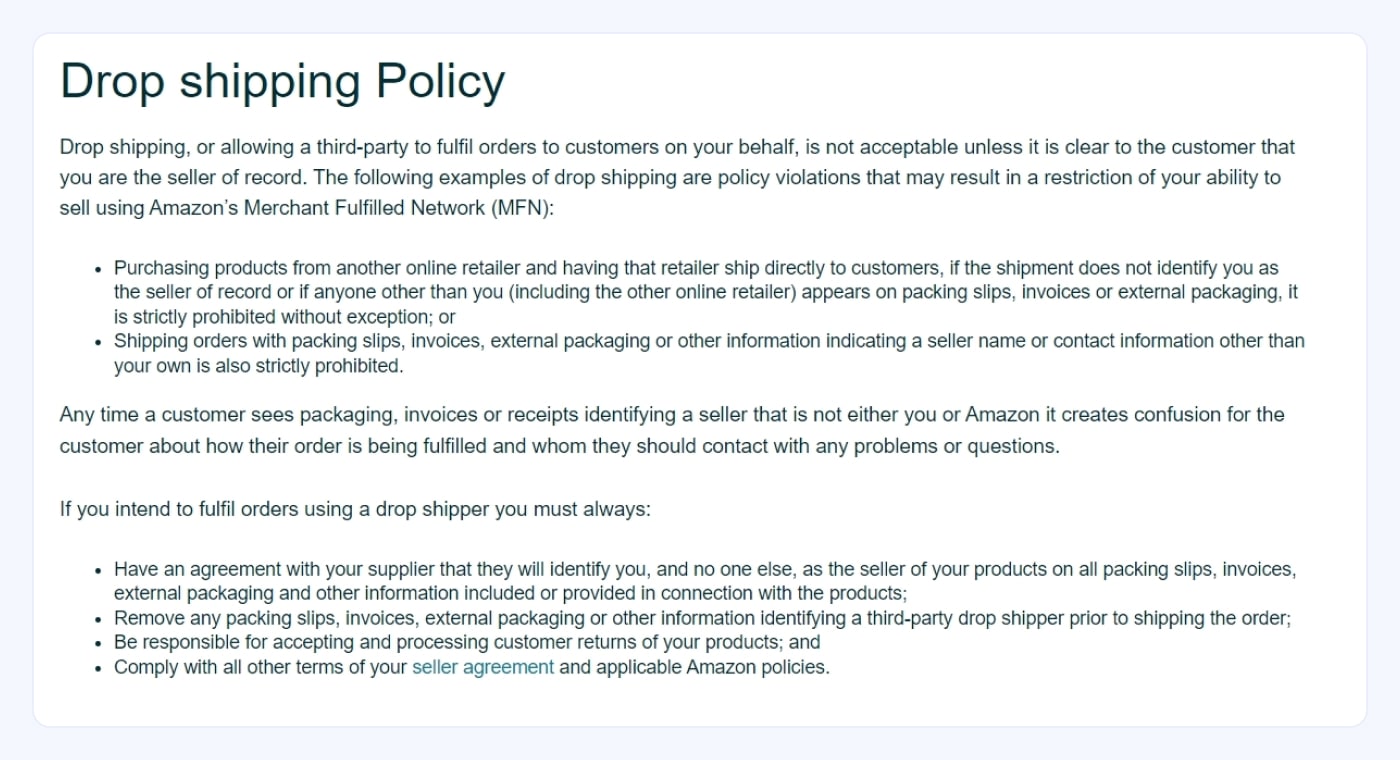 Fulfilled by Merchant (FBM) through the Amazon automation program has drawbacks. It is more difficult for you to win the Buy Box and move up in the organic ranking, and fulfillment costs may be greater than Amazon FBA fees.
Lack of Control over the Business
The danger is that you do not always know precisely what is happening with your Amazon automated store. As long as everything is going well, this does not bother you, but if some problems emerge, you will not be able to fix them yourself.
Profit Whales' Co-Founder also highlights the importance of personal experience:
You should do everything yourself as it is the only way to learn all the Amazon business processes. Only through personal experience you understand how everything works and how to outsource tasks, controlling their timing and results.
– Ihor Dubovetskyi, Co-Founder & CMO at Profit Whales
Amazon Automation Review: How to Spot a Scam
We have already discussed the risks of working with an automation agency. What else is worth considering?
Lake of Expertise
We have already mentioned that no agency can guarantee speedy and high results. But the truth is, some agencies are not more expert than you. By falling for such "experts," you only splash out for what you could do yourself. Pay attention to how long the company has been operating and its experience.
Fake Testimonials
Do not believe everything you read, as automation agencies are unlikely to post negative reviews about themselves. Of course, some Amazon automation reviews can be based on facts, but it does not help to form a complete and correct opinion about the service. Check Facebook, Reddit, and Twitter to see if your potential agency is scamming.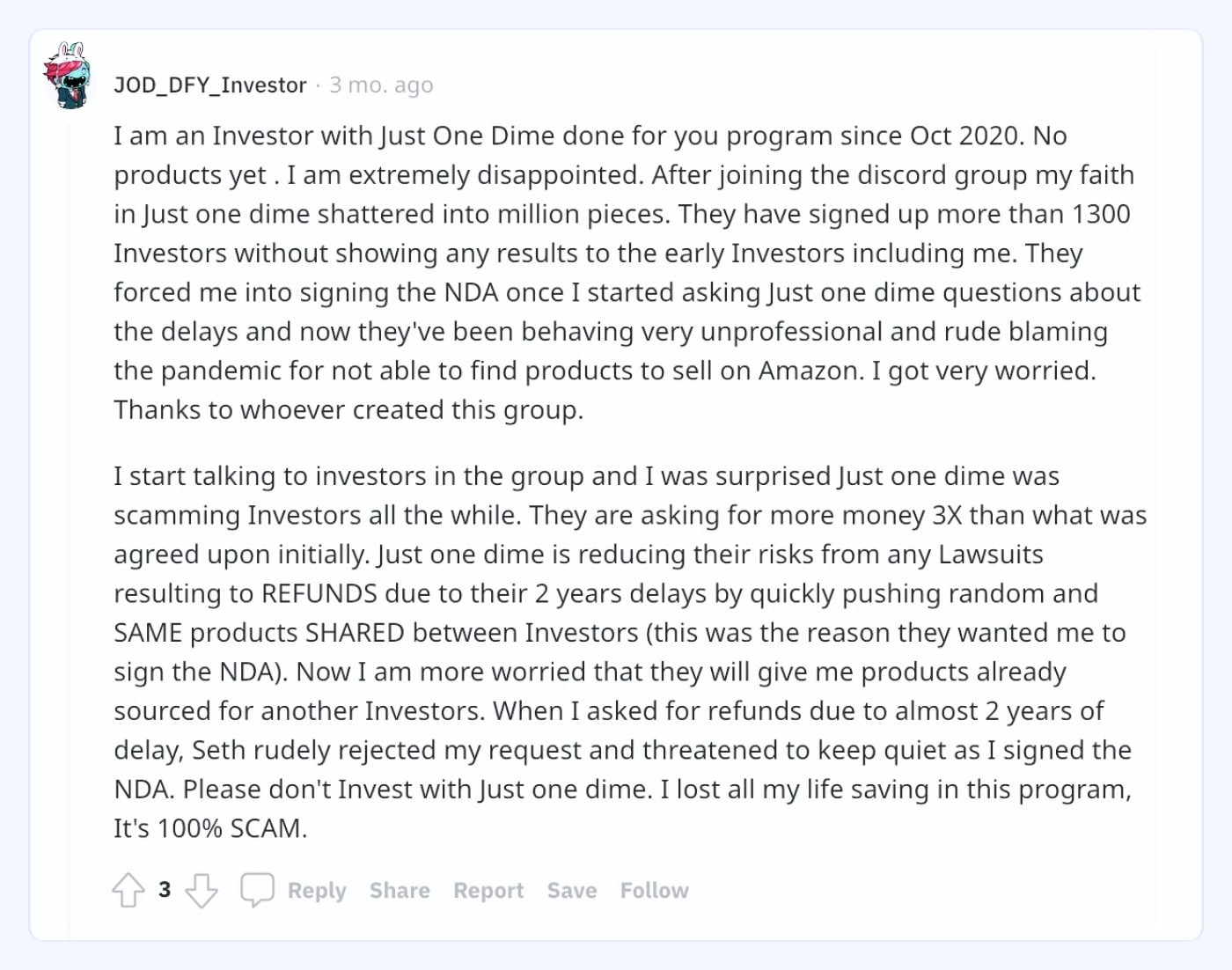 NDA Risks
While some Amazon automation companies require signing an NDA to protect their intellectual property, others use it to make holding them accountable impossible. As a result, sellers, terrified of NDA violation fines, remain silent about how they were scammed. Carefully read the terms of the contract before signing it.
Questions to Amazon Automation Companies
What questions should you ask Amazon automation agency before partnering with them? We have prepared a small list that would be helpful for each seller:
Previous experience
What Amazon automation stores have you created last year?
Can you provide financial statements for the stores you manage? I am interested in the balance sheet, cash flow statement, and profit and loss.
Conditions
Until what date do you guarantee the store will open? What happens if you do not comply with the conditions?
How exactly is the profit distributed? Can you show an example of an existing company? What happens if expenses exceed profits?
Are there any buyout options if someday I want to manage the company personally and not share the profits?
What happens if Amazon blocks my store?
Other
Who has access to my seller account?
Can you teach me business processes?
Whose GS1 barcodes are being used?
Can we expand to other channels?
Final word
Is Amazon automation a scam? Depends on conditions and promises. Remember that if something sounds too good to be true, it probably is. Be prepared that your Amazon automation investments will pay off in at least 6-8 months, and you will have to pay back the profit percentage even when the agency's work becomes less and less.
Healthy alternatives to Amazon automation agency include:
Amazon FBA model suggests fulfillment automation;
Services for optimizing business processes;
Amazon marketing agencies that help you promote your store and its listings.
Contact us if you like to actively participate in the company's activity and use FBA but need some help with advertising. We do not require a share in your company, only a fair payment for the provided promo services.
We Have a Solution
to Scale Your Brand