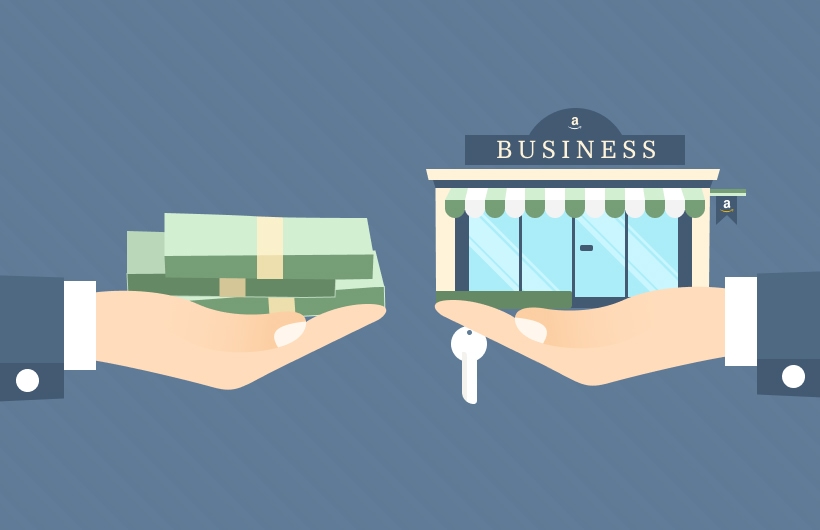 There is often not much thought given to selling your Amazon business when you first launch your Amazon store. Even though the common notion is that B2C and B2B stores are the only options for making money on Amazon, there are other outlets. Many Amazon companies sell their stores to FBA aggregators as this is a quick and easy source of income.
Do you want to sell your Amazon business? Good, you're in the right place because, in this article, we will outline the main steps that lead to the best offer.
How Much is My Amazon FBA Worth?
The first thing to do is to calculate the figures. Defining how much your business is worth can help you figure out whether you should sell it right away or perhaps put a little more effort into increasing its valuation. The trailing twelve months of net profit and the multiple applied to that number are the most essential things to know. Potential buyers will utilize multiple of your annual net profit to form a proposal for your store.
SDE calculates the net profit, an important metric for the valuation of your business.

Sellers should first figure out whether or not your business should be sold before making the first steps into the process. There are free tools on the Internet that a seller can use to estimate their business's worth, basing on revenue, average monthly profit, age of business, and the number of hours spent to keep the business working. In addition, those tools provide comparison tables and data withdrawal from other cases similar to yours.
How Can I Increase the Value of My FBA Business?
As we stated above, monthly profit and revenue are among the most important factors that a client considers before buying an Amazon business. But there are other things to consider, like accurate accounting and having the right processes in place.
Keep your books neat: to have all the right numbers in place to showcase your potential buyers, maintain accounting books accurately. Those books can prove that your business is profitable and clearly portray the revenue streams which is vital for a transparent acquiring process. Moreover, neat and books can even help you put a bigger price selling your Amazon business. 

Optimize listings: thinking about listings, there's usually one thought that pops in sellers' minds – keep them optimized according to inventory. But making them appealing is no less vital. Make sure they are filled with relevant keywords, quality photographs, and videos of your product in use. Pulling out great content and answering consumer questions (and feedbacks) is a must. 

Maintain supplier relationships: suppliers are the central thing of your business. Without the provision of products, your business is doomed to fail. And it isn't just important to build strong supplier relationships – it's important to ensure you are partnered with a reliable supplier who provides high-quality products right on time. 

Sell cross channels: do you sell exclusively on Amazon or list your products on other marketplaces like eBay or Etsy? Selling on additional marketplaces is important as it can help to grow your revenue and profitability and increase the valuation of your store. Your eCommerce storefront, international Amazon marketplaces, or even Walmart can help increase the financial value of your business.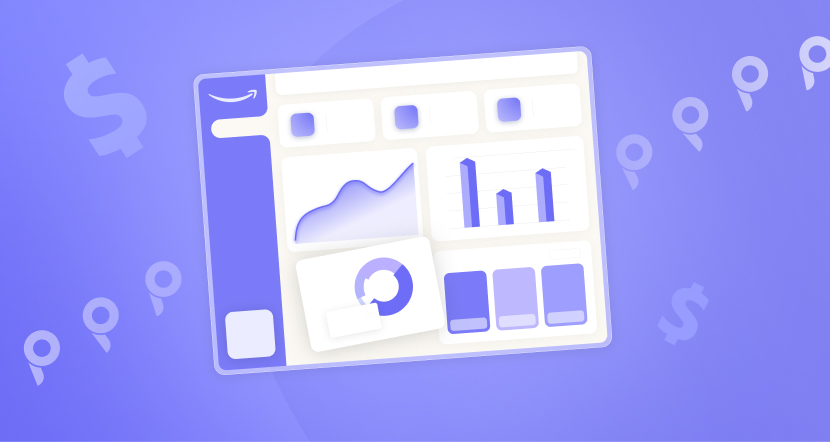 Read about our experience of helping a pet brand raise EBITDA from 4X to 6X before the exit.
Should I Sell My FBA Business Now or Later?
After figuring your business worth, you may now be wondering which option, to sell now or wait, makes the most sense for you.
You should consider a number of things before making the decision to sell:
Do you have a plan for future activities that can bring profit?

Do you think running a business is a burden?

Can you transfer capital from a sale to a new venture?
If you answered yes to one or more of these questions, now might be a good time to sell your Amazon business. If you feel ready to exit, but your business's profit has dropped lately, then it is better to wait and take steps towards maximizing your sales. Make sure you fix any issues and are ready to get the best deal for your business.
Increasing each value pillar is essential to get a maximum price! Check out the guide to make your brand more attractive!
Types of Buyers of FBA Business Buyers
The competition to buy an Amazon seller account is fierce. Take a look at the eye-popping numbers showcasing cumulative capital raised by Amazon acquirers: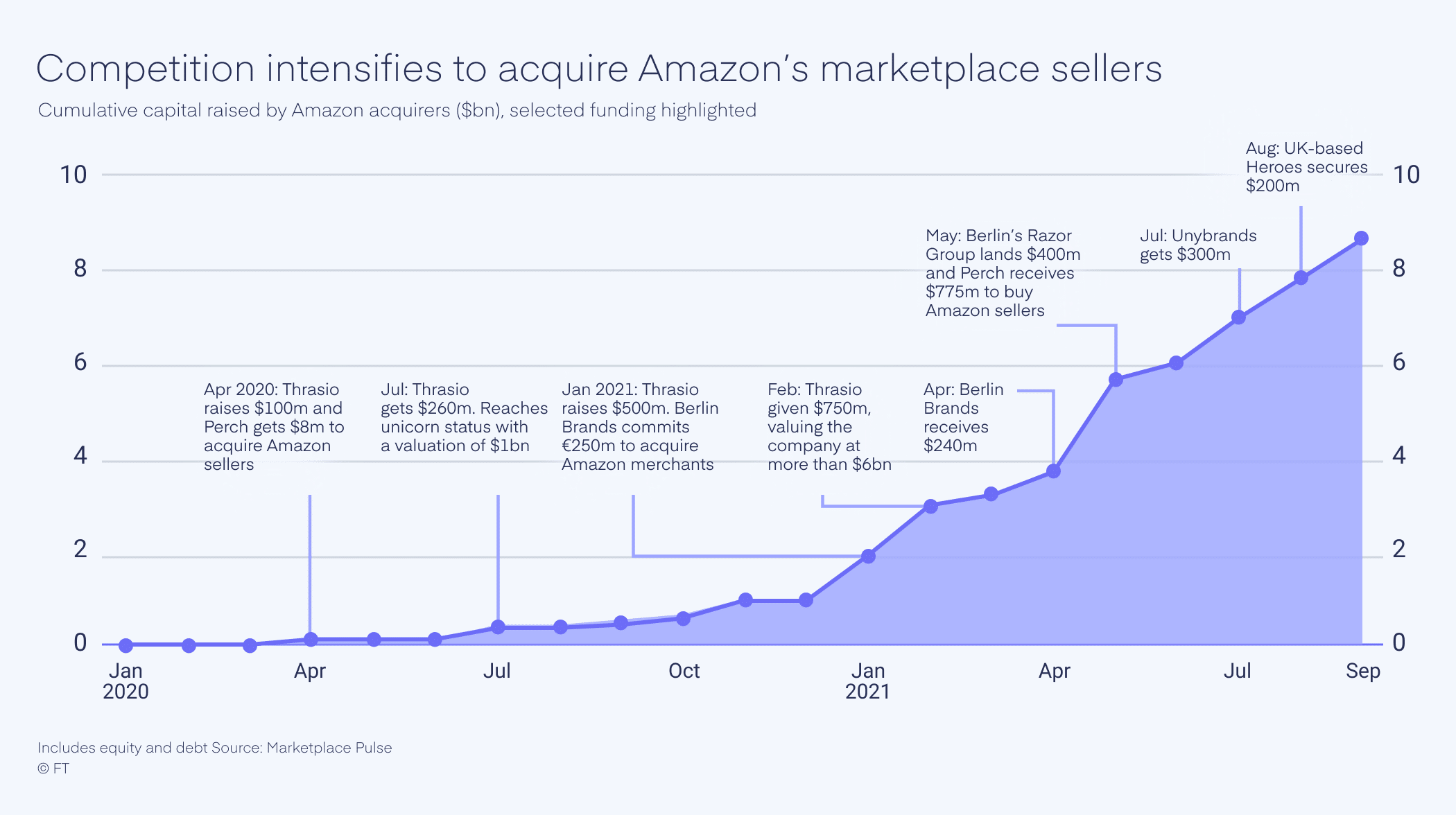 There are several types of buyers, but we make a general distinction between them.
Individual buyers
Individual buyers might be corporate employees, online entrepreneurs seeking to grow their portfolio adding new businesses to it, or traditional businesses willing to shift into the online space. For individual buyers, loss aversion is the main motivator.
Business development is important, but because they tend to use their own money, the key is how much risk they take. Individual buyers tend to place their focus on buying an income stream. Executing self-running is their objective.
Companies/private equity
Things are different when selling an Amazon business that is valued at over $2 million. Companies will often seek to acquire their competitors, suppliers, or other strategic ventures that can generate value in the future. Their key concerns are finding synergies, how they can use the pooled business resources they want to acquire, enter new markets and position the brand within that market.
In contrast, the mandate for private equity is to provide a return on equity to shareholders. They seek for selling Amazon businesses that are producing revenue, so they can provide investors with more than just idle cash.
Ways of Selling an Amazon FBA Business
There are four ways to sell your Amazon business. Let's take a deeper look at each of them.
Marketplace
Marketplaces are usually overflowing with thousands of listings. If your Amazon FBA business for sale isn't distinct from the masses, it might be difficult to find people who are interested in purchasing it. In addition, it takes time and expertise to run a listing. These factors make marketplaces not the best method for approach if you are a very busy person or have no experience in selling a business.
Auction
Auction sites such as Flippa are excellent for selling businesses valued at less than $5,000. Buyers who search these auctions are seeking a 0.5- 1.5x earnings multiple in their deals. Not every buyer on an auction is a standup businessman, so be prepared to walk them through the process. An auction sale is a great way to sell a business with a low worth but is not absolute for medium or large FBA businesses.
DIY
The general strategy of this method includes finding potential clients and cold calling them to see if they would be interested to buy Amazon seller account. Keep in mind that potential buyers are often your competitors, so you risk exposing confidential data to those who value it the most. If you have a lot of connections in the industry and a solid reputation, it makes sense to try to sell the business on your own.
The downside of the do-it-yourself method is that it lacks the competitive edge that comes with a large number of potential buyers. This method does not, as a whole, have a high success rate.
Broker
If your business's worth accounts for over $25,000 and you're too busy or have no experience in selling an Amazon business, then this method is the right way to go. Brokers are experts in business transitions and can answer your questions with ease. They can help to improve the sale values and advise on the appropriate terms for you legally. For successful cooperation with a broker, you should have the necessary information at the ready and be well-organized.
Selling an Amazon FBA Business Process: Steps to Success
We know that selling a business requires a lot of work. That's why we want to highlight four major steps you should take care of:
Choose your sales strategy: if you have enough time and expertise, you can sell your Amazon business without a broker thus saving yourself money (broker fees are generally high).

Protect your information: after you've reached interested buyers, you will need them to sign a non-disclosure agreement (NDA). This agreement ensures their obligation to protect your confidential data.

Due diligence: this is one of the most important stages for those willing to sell an Amazon FBA business. This phase provides the buyer with the opportunity to audit important metrics, which include historical earnings, growth, customer feedback, inventory, and details on business operations. Make sure your business is prepared for this phase and you are halfway there with the final steps to closing your deal.

Sign on the APA: if you've managed to get all the way through and reach the APA assignment stage, well, congratulations. There is little left to do at this point except for work out the conditions of the agreement like sale price and other key details pertaining to the deal. Once the document has been signed by you and the buyer, you're ready to pop the champagne.
Practical Considerations to Keep in Mind When Selling Your FBA Business
As we already stated above, you should think of your business's potential to be purchased from the first day you launch it on Amazon. This means you need to come up with a business idea that is valuable or scarce on the market and will probably be in demand in the future.
One way to ensure that all your financial records are prepared for the eventual selling of an Amazon business is to prepare them on an accrual basis. Take good care of your company's business analytics and have data well organized and available for when the time is right to make any decisions. It will be important for you to show that you can provide favorable transfer terms to your suppliers while maintaining good lead times. It is recommended that you elaborate on these aspects of your business.
You can sell your Amazon business at a higher price if the business is well well-documented. So make sure that you have documented all of your operating procedures. Amazon seller accounts that contain more positive reviews are in high demand because potential buyers are looking for those that grow in their ranking. So have all the necessary information at hand.
How Long Will it Take to Sell My Business?
Your Amazon FBA business for sale must meet the criteria of potential buyers in order to be sold as quickly as possible. However, even if your business is a perfect fit for a buyer, and both of you agree on the price, it can take weeks or months for an agreement to come to fruition. Buying decisions are primarily affected by the fear of loss.
In order to avoid losses, they will spend a substantial amount of time in due diligence to ascertain the one good reason to not buy your business. Make sure they will not find one.
If you want to increase your business worth , don't waste a minute. Schedule a call with Profit Whales and we will help you get the best deal for your business.