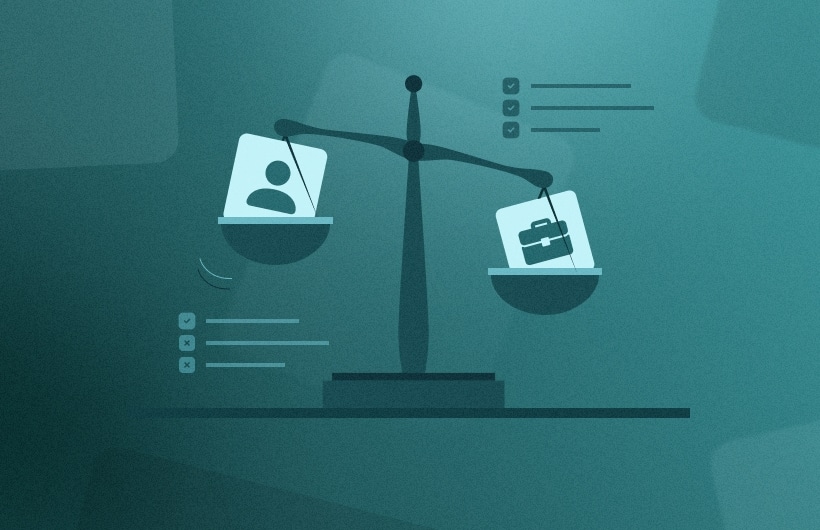 Amazon provides almost limitless opportunities for sellers to get new customers and increase sales. Registering your store there is quite simple, but you must make several decisions along the way. One of the first concerns is which sales plan to choose — individual or professional.
Today we will analyze the difference between Amazon selling plans, which account you should choose, how to change a current sales plan, and other nuances.
Table of content:
Amazon Individual vs. Professional Seller Plan
Amazon individual vs. professional: which sales plan is better to choose? There is no unanimous answer to this question because each account has its pros and cons. So let's figure it out.
An individual selling plan on Amazon has basic options such as listing items and fulfilling orders through FBA. It is often chosen by small sellers or newcomers who are just testing the waters and are unsure whether Amazon suits them. With the individual plan, you pay $0.99 for every sold item.
This is how Amazon describes the individual selling plan:
The Individual selling plan is for sellers who do not need access to inventory tools and reports for volume selling. Under the Individual selling plan, you do not pay a monthly subscription fee. You pay a per-item fee in addition to applicable fees.
Professional Selling Plan
A professional selling plan is a choice for those who expect significant sales on Amazon and want complete control over their order management. Advanced functionality allows sellers to respond quickly to changes and achieve better results. The professional plan costs $39.99 monthly, no matter how many product items you sell.
This is how Amazon describes the professional selling plan:
In the Professional selling plan, you pay a nonrefundable monthly subscription fee regardless of whether you list or sell anything. You don't pay a per-item fee when an item sells. All other fees are charged as applicable.

The Professional selling plan gives you access to inventory tools to upload batch files and manage your orders through feeds and reports. These tools are beneficial to most medium- to large-size businesses.
Difference Between Amazon Professional and Individual
The main difference between the seller plans is the projected sales volume. You can find more detailed information in the table: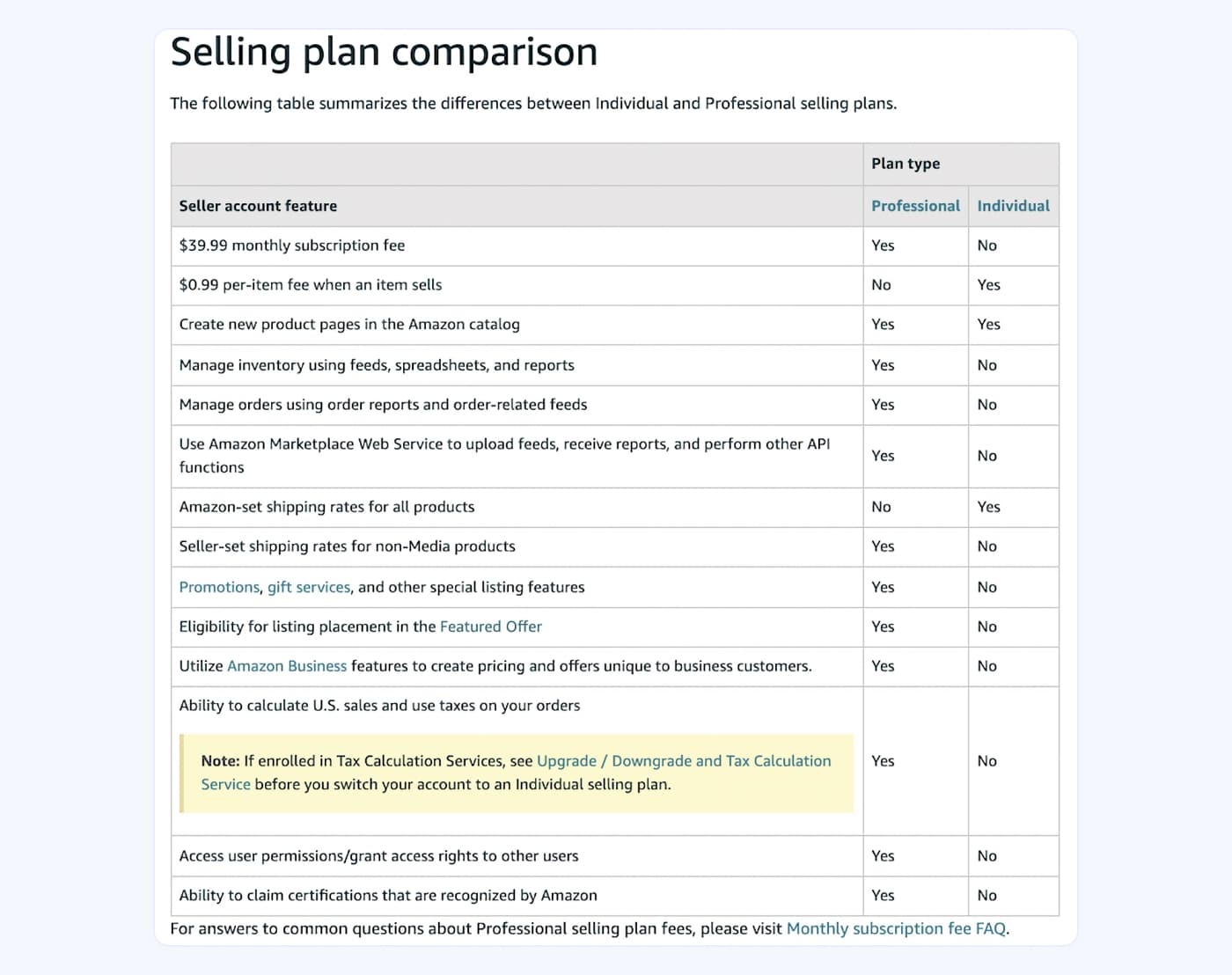 Reasons to Choose Amazon Individual Selling Plan
Amazon individual seller plan is suitable for craftsmen and family-owned or small businesses. Also, any seller who is only testing the platform and does not need advanced functionality can become an individual seller.
And here is in what cases you should sell as an individual on Amazon:
1. No monthly fee
With the individual seller account on Amazon, you do not pay a basic monthly fee ($39.99); only a $0.99 commission for each sold unit. It is perfect if your Amazon individual seller limit is up to 40 items per month, especially for high-end, niche products that will help offset Amazon FBA's operating costs and fees.
2. Easy setup
The functionality of an individual account is somewhat limited. However, this makes it easier for new sellers to set up and use. So if you do not need many features, you can sell on Amazon as an individual.
3. Ungated categories
You can create listings and sell products in ungated categories. Out of 33 major product categories, 13 are entirely unlimited, and a dozen have closed subcategories. As an individual Amazon seller, you have access to:
Amazon Device Accessories
Automotive & Powersports
Beauty
Books (Non-Collectibles)
Camera & Photo
Cell Phones & Accessories
Home & Garden
Industrial & Scientific
Major Appliances
Musical Instruments
Sports
Tools & Home Improvement
Starting with products from these categories will help you launch your store faster. And your sales and customer reviews can improve your chances of being approved for work with closed categories in the future.
When You Need an Amazon Professional Selling Account?
The professional seller plan suits those who expect considerable sales and prefer to take the best from marketplaces. Choose this account type if you need:
1. Cost savings
Regardless of sales volume, you pay the same $39.99 per month. You only need to sell 40 units monthly to recoup the commission of the Amazon professional seller plan, and everything above bears no extra fee. It is a great bonus for any eCommerce brand, as usually fees tend to increase with the sales volume.
2. Restricted categories
Some product categories on Amazon are restricted, including:
Automotive Parts & Accessories;
Business to Business (B2B) products;
Collectibles Coins;
Fashion Jewelry;
Fine Jewelry;
Fine Art;
Grocery, Food & Gourmet;
Industrial & Scientific;
Professional Services;
Sports Collectibles;
Video, DVD, & Blu-ray;
Watches.
If you are going to sell these products, use a professional seller account on Amazon.
3. Advanced features
Amazon seller professional account provides a wide variety of useful features for order processing and analytics:
Inventory management with reports, spreadsheets, and feeds;
US sales and use tax calculation;
Bulk listing creation using inventory files;
Own shipping fees for non-media products;
Boosting sales with API integration;
Free shipping option (for FBM);
Sharing an account and privileges with other users.
4. Third-party services
With Amazon professional account, you get access to third-party services and forget all the things you used to do manually. For example, you could try inventory service, on-demand label printing, email autoresponders, PPC tools, repricers, etc. Free up your time to focus on strategic tasks.
5. Buy Box
One of the best things to happen to a seller is winning a Buy Box. This white box makes it extremely easy to buy your product, allowing you to add it to your cart immediately. Getting a Buy Box depends on many metrics, but Amazon professional selling plan is a must-have. However, the game is worth the candle as, according to statistics, 82% of all purchases on Amazon are made through Buy Box.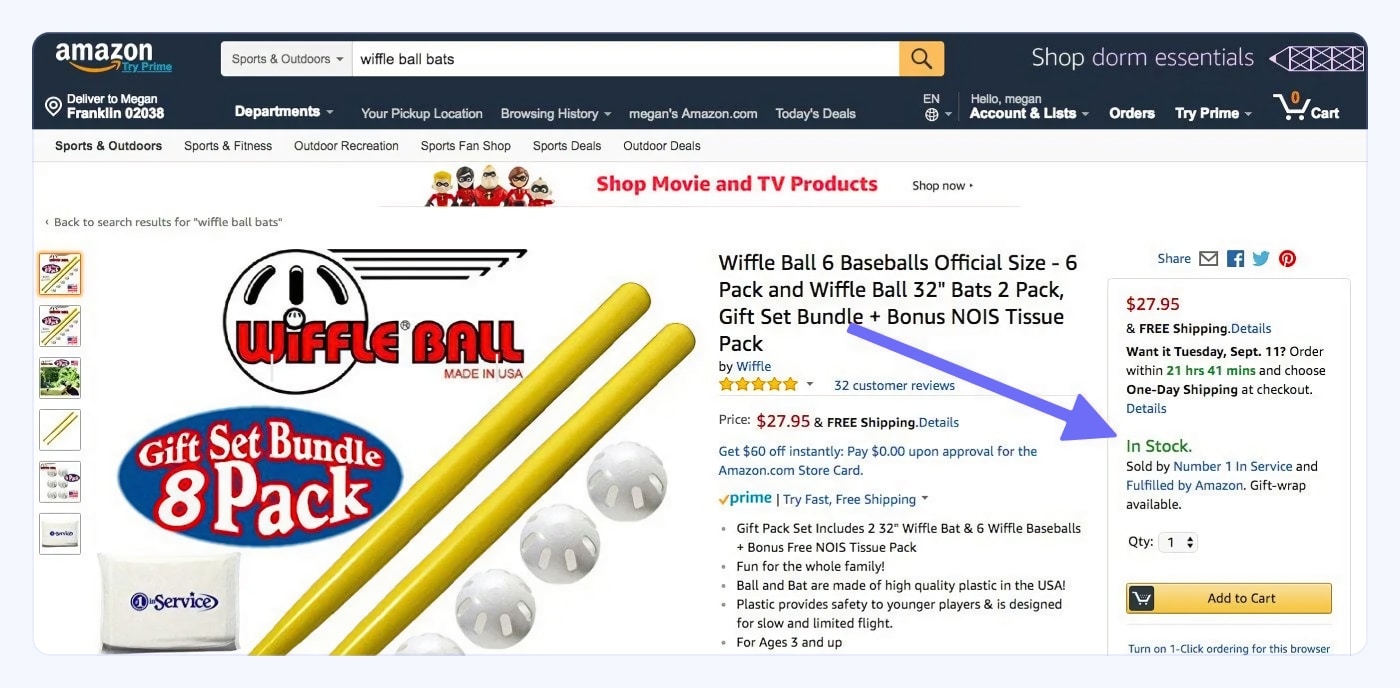 6. Paid promotion
Professional sellers can drive sales with sponsored listings on Amazon. PPC campaigns allow you to appear at the top of the SERP, and you choose keywords, target, and set a budget to optimize ad delivery. At the same time, individual sellers can only hope for an increase in organic rankings, which is quite difficult for new products.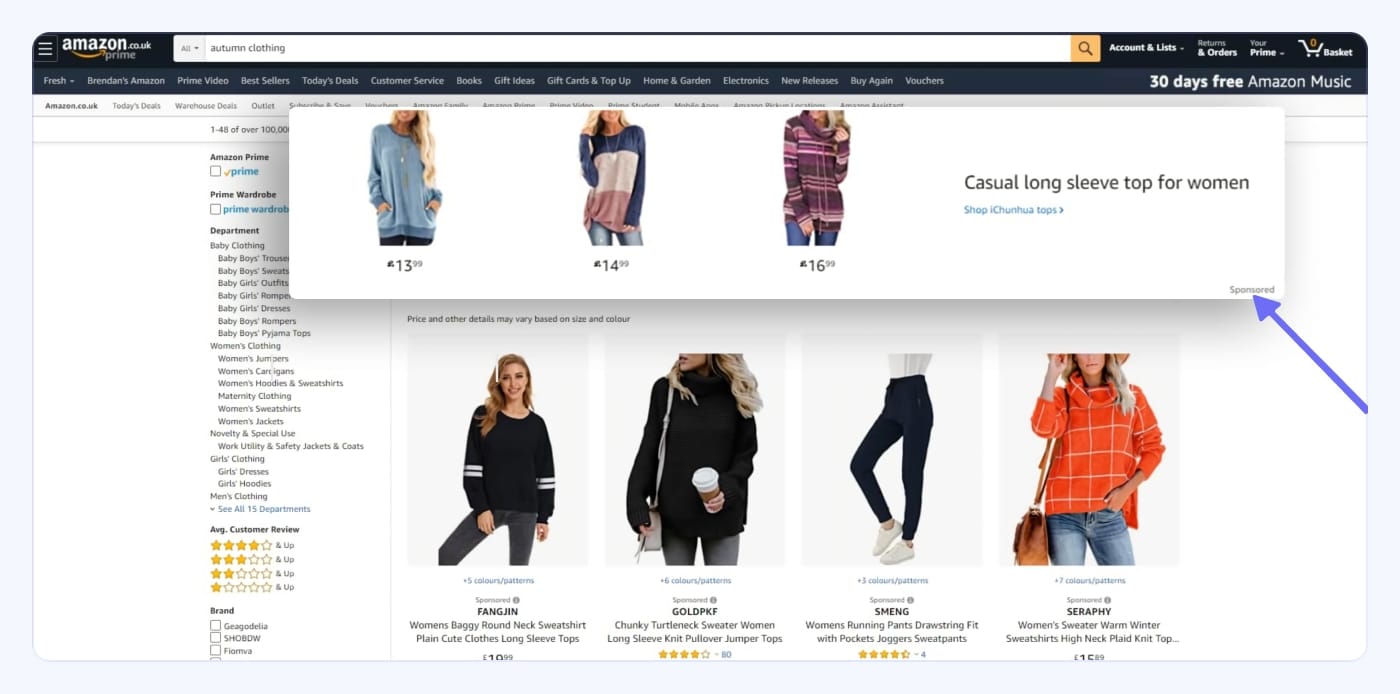 Steps to Create the Amazon Professional Seller Account
The process of creating an Amazon account requires care and a little patience. Follow these steps to create your professional seller account:
1. Go to https://services.amazon.com and click the "Sign up" button.
2. Welcome to Amazon Seller Central. You can use your customer account or create a new one linked to your business email. First, fill in your email and enter a one-time password for verification. Then, click the "Next" button.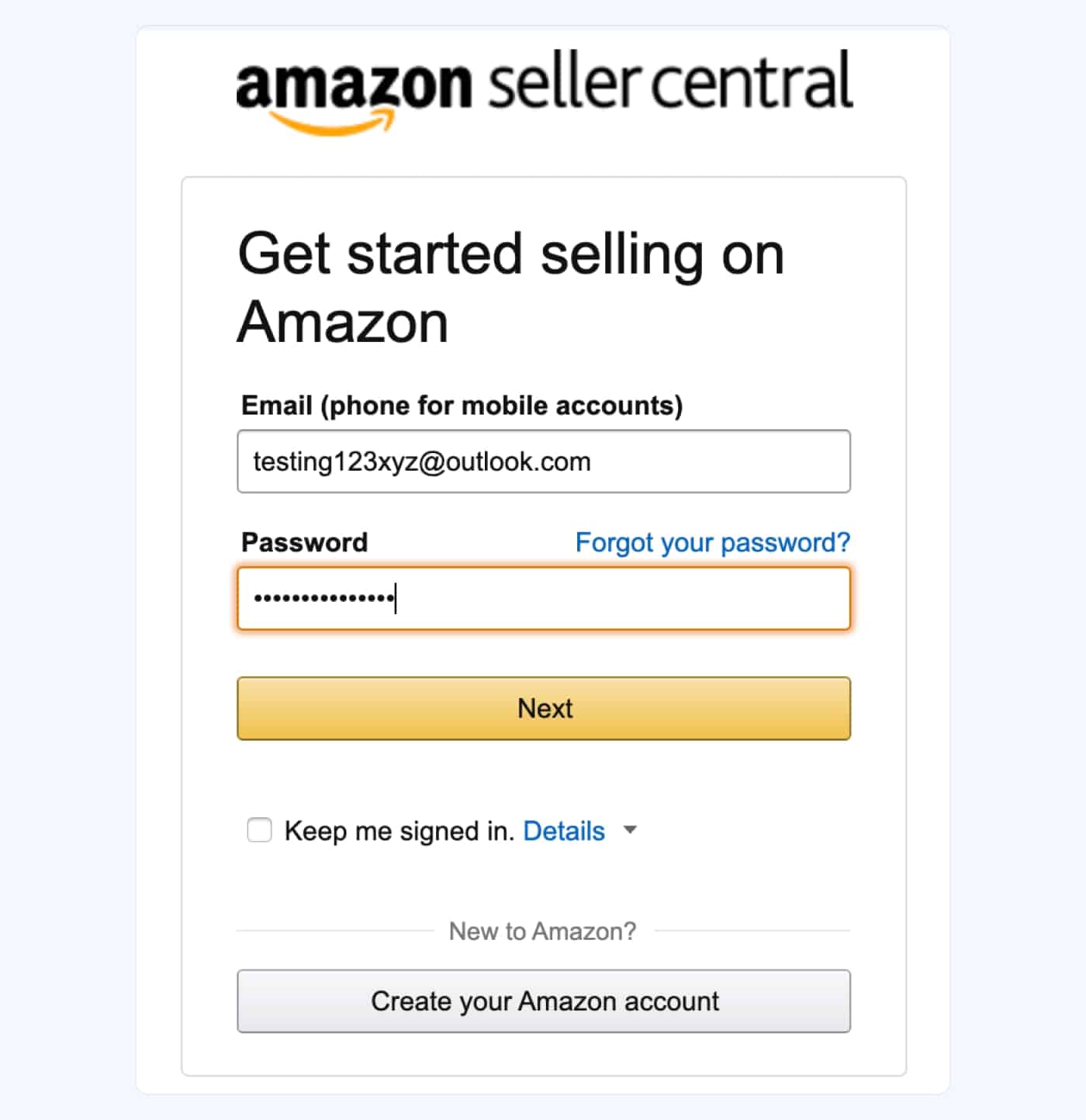 3. Choose your business location or enter your country of residence. Then choose your business type:
State-owned business;
Publicly-listed business;
Privately-owned business;
Charity;
Individual.
If your business is not registered, choose an individual option and fill in your full name. Then, click the "Agree and continue" button.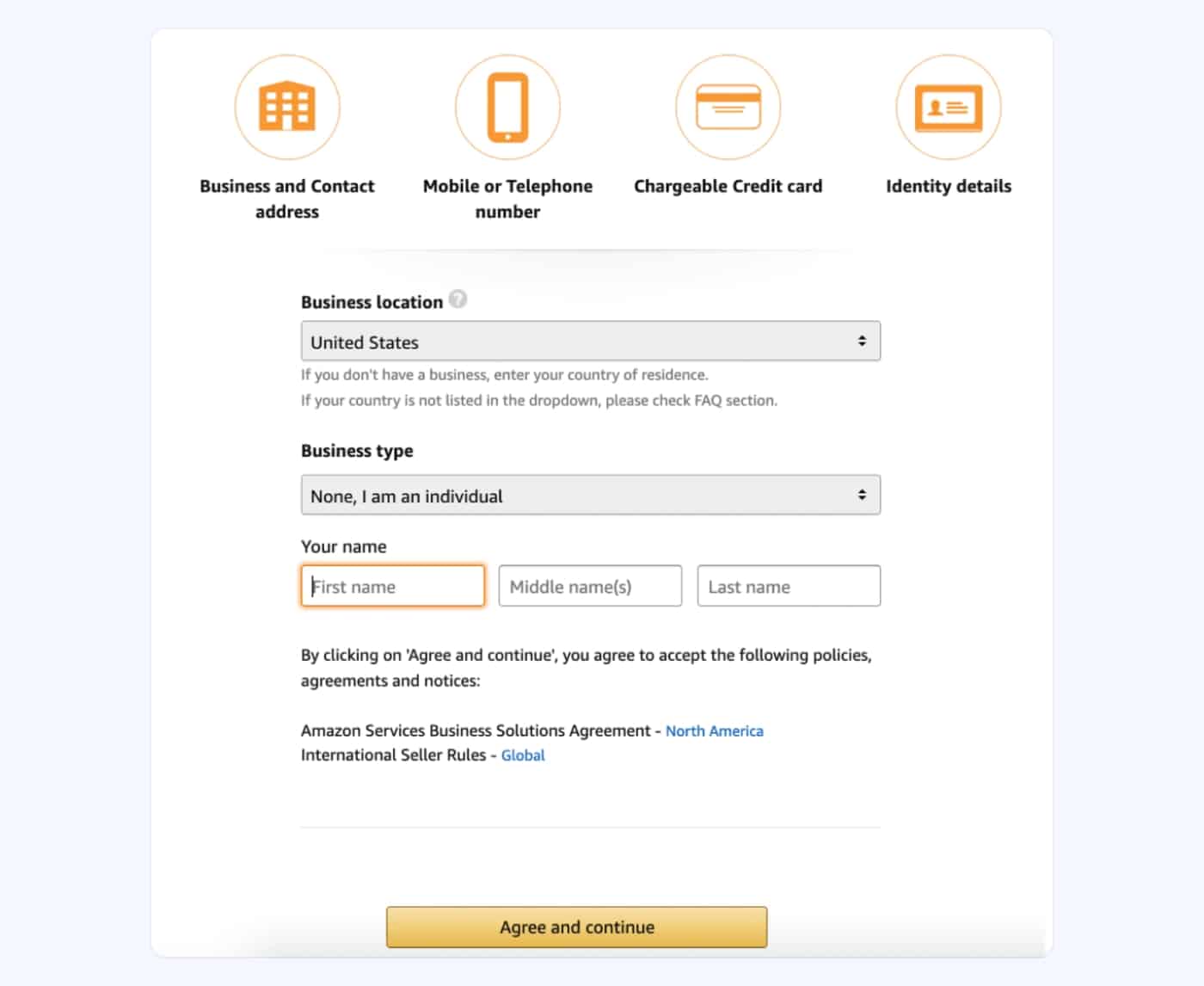 4. Provide personal information, including proof of identity — number of passport or driver's license. Also, give your phone number for verification. Then, check your data and click the "Next" button.
5. Choose which marketplace you want to sell on — North America (Amazon.com), Canada (Amazon.ca), the United Kingdom (Amazon.co.uk), etc.
6. Choose your bank account and add your credit card details. The bank account should be opened for an individual's or entity's name, which you provided during the previous step. You can verify your bank account using online banking or bank statements. To verify your billing information, Amazon will charge $1 immediately after setting up your account.
7. Add essential information about your product and Amazon store. Enter the name of your Amazon store. Add UPC codes and certifications. Amazon will ask you if you are a manufacturer and/or a brand owner of the products you want to sell and if you have a government-registered trademark for those products.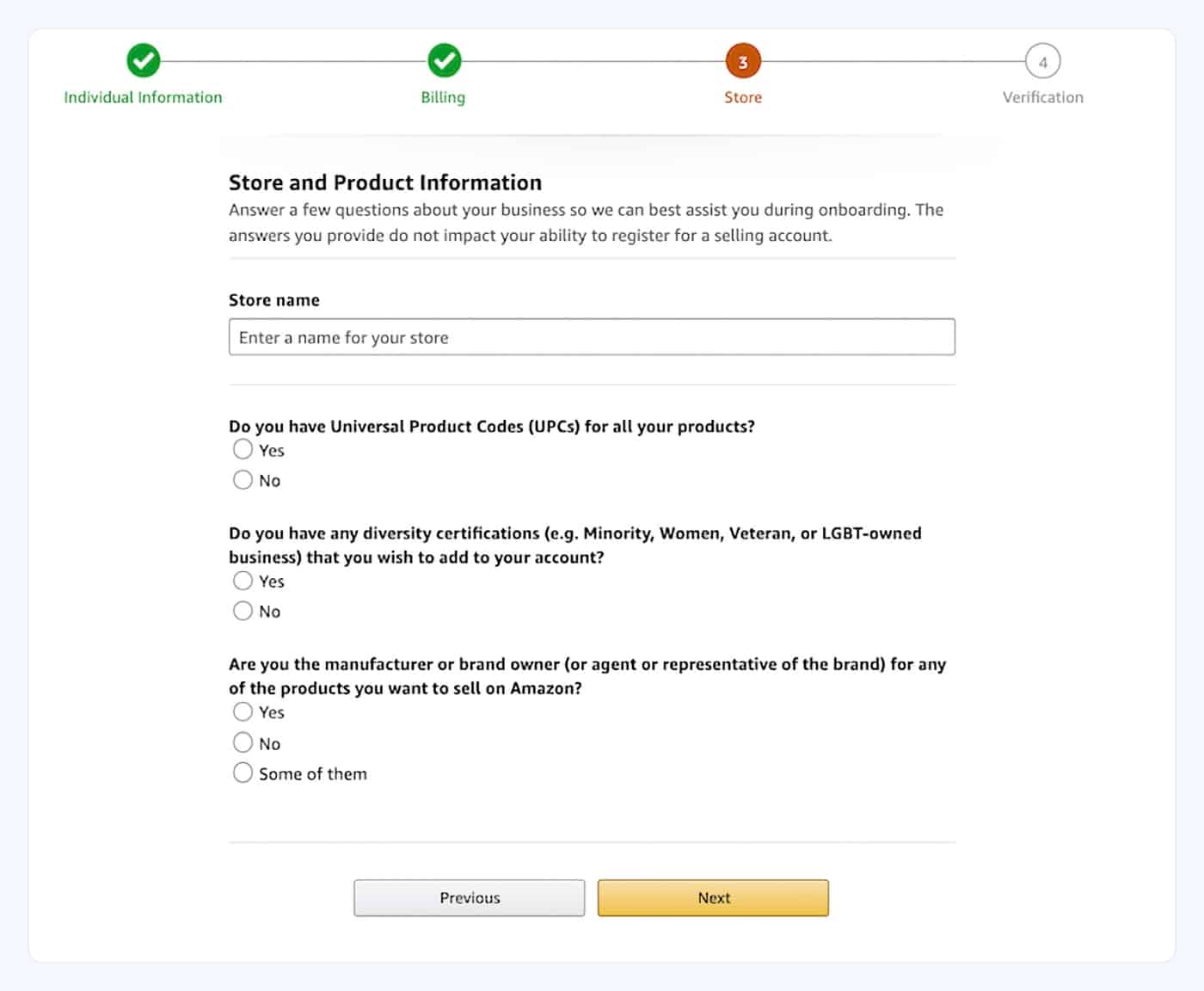 8. Upload your ID and bank statement images to verify your identity and click "Submit." Finally, within seven business days, you will receive a letter with a verification code to the indicated address. Enter your code into the 'Enter code below' field and click 'Next' to complete the registration process.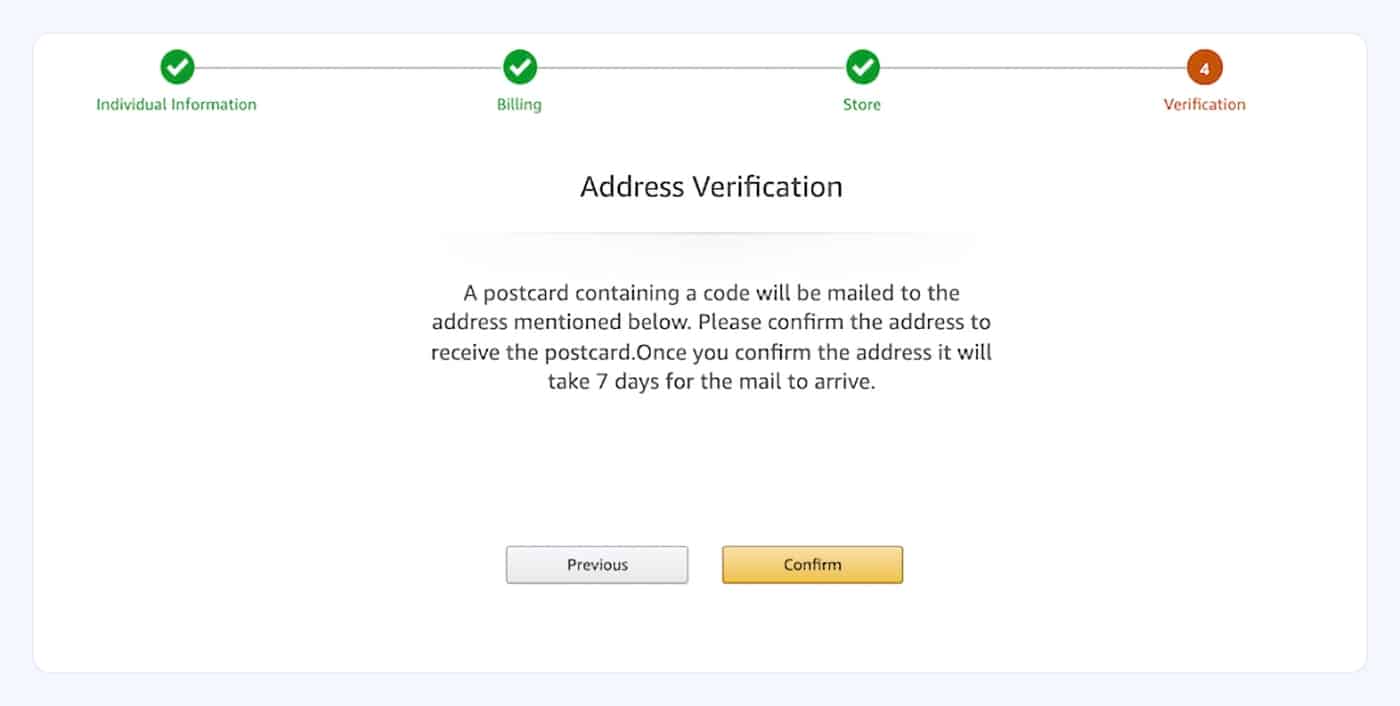 Congratulations, now you can start selling on Amazon!
How to Upgrade or Downgrade Amazon Seller Account
How to change your selling plan on Amazon? To upgrade or downgrade your account, follow this simple instruction:
1. Log in to your Amazon Seller Central Account.
2. Scroll to the bottom of the page, find the Settings section and choose Account Info.
3. Move to Your Services and click "Manage."
4. Finally, click "Upgrade" or "Downgrade," depending on your urge.
If you want to downgrade your account to Amazon seller individual plan, do it on the last day of your current plan, or you will start paying early fees for each sold item.
Which Selling Plan Is Right for You?
The choice of a seller plan depends entirely on your goals, needs, and market position. First, research to see what type of account suits you best.
The individual seller account is for you, if:
You plan to sell less than 40 units monthly;
You do not need additional functionality;
Amazon is not your primary marketplace.
Become a professional Amazon seller, if:
You plan to sell more than 40 units monthly;
You need access to additional features;
You are going to sell products from restricted categories;
You want to use paid promotion.
Final word
Choosing an Amazon selling plan can be a decision to reflect upon. In this article, we described the types of Amazon accounts, outlined the pros and cons of each selling plan, and gave step-by-step instructions on how to set up, upgrade, or downgrade your account.
Get in touch with us if you want to try the pro seller Amazon option and need a paid promotion. We will help you bring your company to a new level of sales!