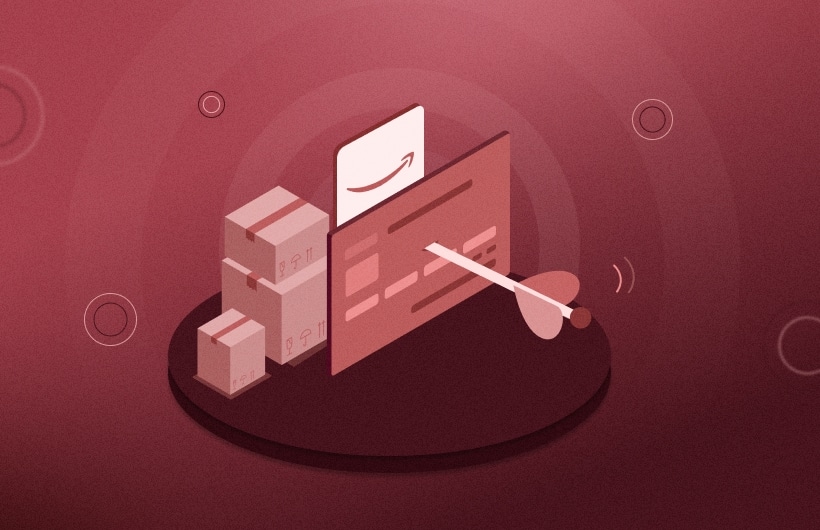 Is it possible to boost brand loyalty and awareness, drive sales, and collect reviews using a small piece of paper? Seems highly unlikely but not really if we are talking about insert cards. Be careful with your creativity and marketing vision not to violate Amazon's policy.
Today we will discuss insert cards' benefits, crucial dos and don'ts, and ways to turn product inserts into an effective marketing tool.
Table of content:
What Are Amazon Product Inserts?
A product insert card is a printed promo material that sellers put in the packaging. You can use cards of any size — from postcards to posters — but the business card format is considered the most optimal.
Amazon product inserts contain important marketing information you want to share — manuals, discounts on the next purchase, or even promo codes for other products. According to Amazon specifics, an insert card is the only opportunity to personally communicate with buyers and establish a close connection with them.
Amazon Product Packaging
Product packaging is an essential sales tool. While SEO, listing optimization, and PPC campaigns help you turn prospects into buyers, product quality and packaging allow you to retain customers and increase sales. Packaging is the first thing customers interact with when they receive your product. The logo and corporate colors raise brand awareness, while the materials and shapes create a good first impression.
Make sure your packaging meets prep requirements. Use color and texture to evoke the right emotions, put a beautiful label on the box, and leave an informative (or funny) message about your product.
Why You Need Amazon Product Inserts
To create the perfect Amazon insert card, you should think over the marketing message, write the text, develop a catchy design, and print it all out. We have identified 11 benefits to help you decide if it is worth it.
A perfect moment to grab clients while they are still warm. Do not waste your chance to promote other products and improve customer lifetime value. The beauty of insert cards is that you can advertise any products, including new ones that have just entered the market. Use discounts and free samples to stimulate sales, get reviews, and improve your organic ranking. You can also incentivize sales of slow-selling products or those that need to be sold within a specific time frame.
Do you know that a third of Amazon clients shop based on reviews? Today, consumers are used to relying on other buyers' opinions and sharing their positive and negative experiences. Amazon insert card is a great way to directly ask the buyer for feedback — honest and unbiased, not a positive one. According to statistics, 70% of customers willingly leave a review when asked.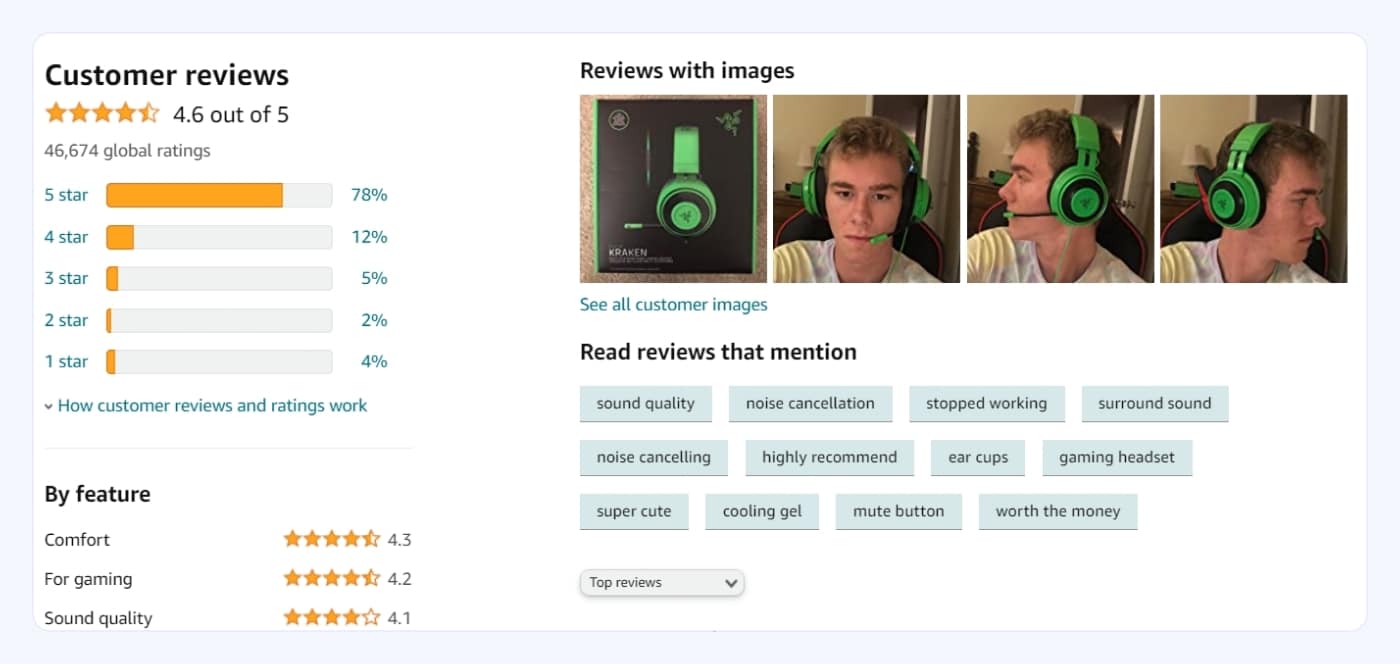 Using an insert card gives the seller many opportunities to take care of the customer and provide an exceptional shopping experience. Thinking about the content, ask yourself what benefits you want to bring and what needs you want to satisfy. It is not necessary to provide discounts and gifts. Instead, consumers could be happy to find additional information about the product and its application.
Knowing customer preferences allows you to promote appropriate bundles or related products. For example, if your client has ordered a shampoo for dry and damaged hair, offering him a conditioner and a hair mask from the same line makes sense. And you may not only show advertised items and describe their benefits but also put some free samples in the box. Using product inserts in such a way is an excellent example of customer care that will boost reviews and stimulate repeat sales.
Amazon offers sellers many advertising options, led by PPC advertising. However, do not underestimate the power of printed promo materials. Despite its apparent simplicity, the insert card is an efficient and reasonably cheap marketing tool. Experts note that companies which use Amazon inserts receive customer responses in half of the cases.
Turn Amazon product insert into a source of helpful information for the client. For example, provide the buyer with an extended warranty. Add the manual to help clients quickly assemble or dispose of the product in an eco-friendly way. Create a checklist that makes your customer's life easier and includes the product's application. Share tips on training, cooking, parenting, creativity, and other life hacks related to your field of activity.
You have probably heard that keeping a customer is more accessible than attracting a new one. Remember that filling your packaging with discounts, tips, free samples, gifts, or even words of gratitude makes buyers feel special. At the same time, you should be clear about what your audience needs and how to exceed their expectations. Suitable Amazon insert cards help you strengthen relationships with existing customers and increase their loyalty to your company.
Strengthen Your Reputation
Providing extra value to your products is always noticeable. Positive reviews, social media mentions, and personal recommendations are not less effective than advertising campaigns. However, if you ever doubt the effectiveness of this approach, recall your emotions when a waiter brings you coffee with a free cookie.
Brand awareness influences the first purchase decision and brand perception as a preference in the next shopping. With the massive competition on Amazon and the abundance of promotional tools, you should take every opportunity to stand out in the consumer's mind. Therefore, make sure you design Amazon insert card in accordance with your brand identity.
A discount on the next order is a great way to thank the customer for the purchase and stimulate future sales. You can offer discounts on new products, substitutes, or items that need to be sold faster. Some sellers also provide discounts for the buyer's family or friends, expanding the potential customer base. However, they must apply to your Amazon store, not your website.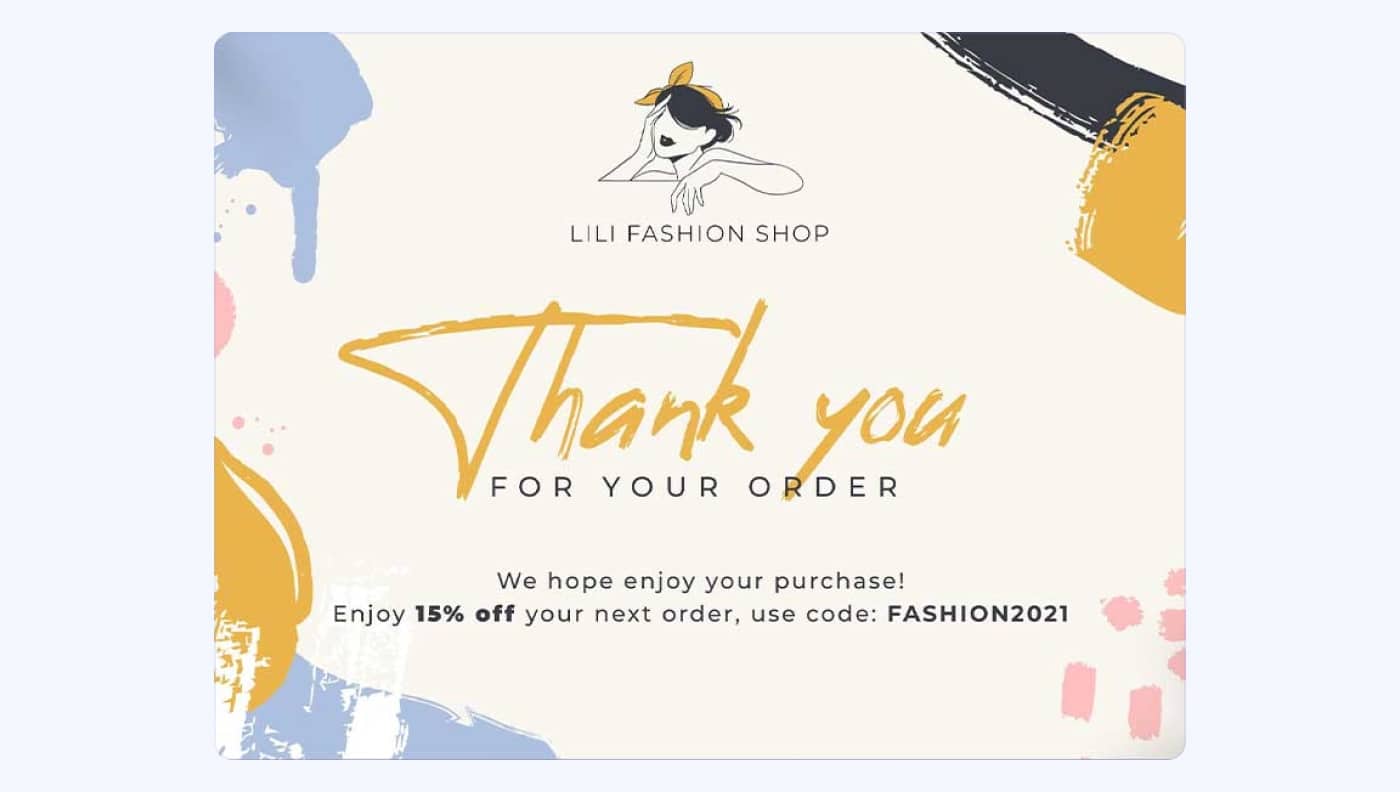 "Thank you" cards mark you out among your competitors and increase your credibility in the consumers' eyes. Show your real feelings and explain why your brand exists. Tell about your company mission and vision, forgetting about direct advertising. To make the interaction with the client even more personal, write a note by hand. It takes more time but looks more valuable.
Amazon Insert Card Policy
Using product insert cards has many benefits for your business and allows you to try different formats. But, at the same time, Amazon has strict guidelines about what you can and cannot. Therefore, do not use the product insert examples found on Google. Instead, stay tuned to learn how to use insert cards correctly.
Do Not Redirect Clients to Avoid Negative Reviews
Amazon strives to collect the most honest reviews possible. Therefore, the marketplace opposes the fact that buyers contact companies directly and can receive refunds and other incentives in case of a problem.
Do Not Use Manipulative Language
Amazon is against manipulation, so you cannot talk about your brand, affecting the buyer's emotions, and then ask for a review. The point is that humanity can outweigh the unbiased product assessment.
Do Not Provide Incentives for Reviews
You can give customers small gifts or discounts but not for positive reviews. Instead, share these points in separate Amazon packaging inserts.
Do Not Move Customers Away From Amazon
Resist the temptation to use an insert card to move a customer from Amazon to your site. If a violation is detected, the marketplace deletes the seller's account.
Do Not Speak Badly About Your Competition
Malicious claims about competitors are not only against an ethical code of conduct but do not work in the long run. So instead, talk about product benefits and let buyers make up their minds.
Do Not Request Contact Information
Amazon values customers' peace of mind and does not allow you to request their emails for future email marketing campaigns. You can only do this on your social networks.
Do Not Request Positive Reviews
In the product insert card, you can request unbiased reviews but not positive ones. Be open to any comments about your products, or Amazon will mark your behavior as a red flag.
How to Unlock the Power of Amazon Package Inserts
To succeed with Amazon packaging inserts, it is not enough to follow the formal Amazon rules. Instead, learn what steps help sellers create genuinely effective product inserts.
1. Select A Marketing Goal
Start by choosing your marketing goal. For example, do you want to collect more reviews, promote other products, or improve the user experience with what the customer has already bought? Do not try to fit multiple call-to-actions into one insert card — it is inefficient and may also be prohibited by Amazon policy.
2. Be Creative
The insert card should seize the buyer's attention, so choose nice colors and thick paper. Think about how to present information in a non-trivial way by using the appropriate tone and storytelling. Proofread the text to avoid typos and other errors. Your goal is to value the customer and evoke a positive brand perception.
3. Focus On Business Card Size
The optimal size for an insert card is a business card size (3.5 x 2 inches) or slightly larger. In addition, the buyer should be comfortable holding it in hand.
4. Keep It Short
Stay concise when looking for a creative approach. Remember a recommended insert card size and try to fit the information that would be easy to read and understand. Add a little preface to create the right vibe before your call to action.
5. Offer Discounts
Every buyer is happy to get a discount on the next order, and every seller is satisfied with repeat purchases. You can use percentage off the order, a discount in dollar terms, free shipping, or even a gift. Deliver it using a paper card, as the email could end up in the spam folder.
6. Promote Complementary Products
Your existing customers are already close to you, so you can easily sell them other products. Analyze buyers' preferences to offer what they need and what completes already purchased items. Remember that you can boost sales with discounts or free samples.
7. Use The Content Power
Since product insert cards are small, making them bright and memorable is essential. Otherwise, clients do not notice your message and throw that piece of paper straight into the trash. Make sure that your design matches the essence of the main message, reflects the brand identity, and is associated with your products. Also, the insert card must meet Amazon's Terms of Service (TOS) and review guidelines.
8. Include Brand Identity
You can not redirect customers to your website but can identify your brand with an identity. Use this small branding opportunity to build a personal connection with your customers and strengthen your company image. Individuality makes any message much more enjoyable, so do not forget to create an Amazon product insert template.
9. Include Warranties Or Manuals
Product information such as warranty or instruction improves customer experience. And the more benefits the client receives, the more pleasure he gets. In addition, it brings loyalty, sales, and fewer negative reviews.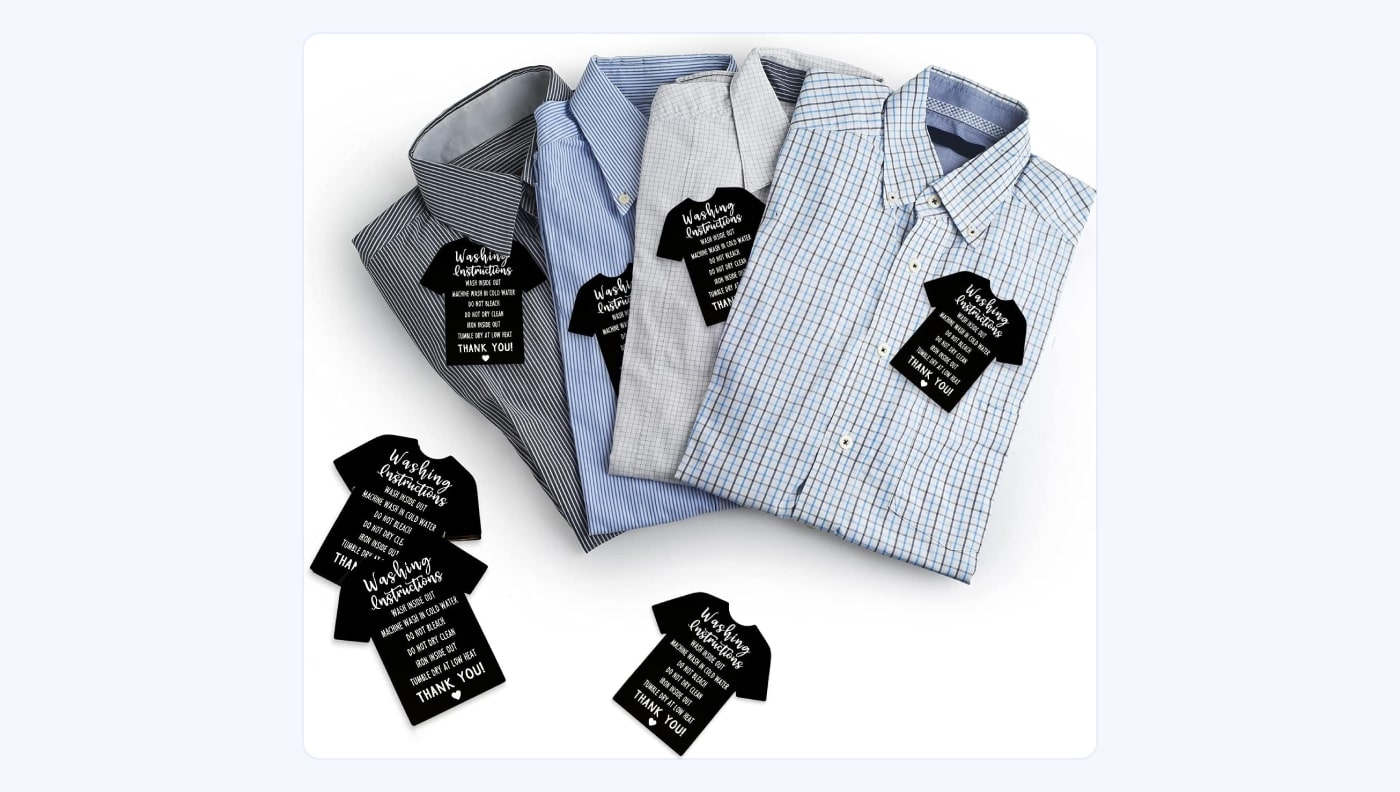 10. Make A Gift
A gift allows you to showcase your creativity. For example, you can give the customer an extra battery or element of your product. Or put company merch in the box — less valuable but still lovely. The main thing is not to ask for a review in order. Instead, surprise your client to increase the probability of positive feedback.
11. Use QR Codes
QR codes have excellent marketing potential. They improve the conversion rate of your promotional messages by saving the client's time and effort. With QR codes, you can send customers to a product page and help them apply coupons and discounts.
12. Forget About Your Website
Amazon always makes sure that its customers do not leave for other resources. Any links and QR codes leading to third-party sites are strictly prohibited. Redirecting traffic to your company platform may look very tempting but can cost you Amazon business.
13. Stay Neutral
You can not directly ask for good reviews. Sellers should not use provocative language such as "5-star", "positive", "satisfied", and "happy" in Amazon package inserts. Do not combine discounts and gifts with a request to leave a review. In case of a negative experience, directly contacting the company is prohibited. All you can do is ask for neutral feedback explaining how to do it.
14. Test Options
Testing various options is suitable not only for PPC campaigns. Try variations of Amazon product insert card templates with diverse designs and CTAs. You can test them at different times or at the same time but first, develop a tracking method to compare results.
Get More Reviews With Product Inserts
Buyer-seller messaging on Amazon is not the only way to request reviews about your products. Ask for them through product inserts, keeping four crucial tips in mind.
Coupon With A Feedback Request Is A Bad Idea
It is not enough to place a coupon and a review request on individual insert cards. To Amazon and its customers, it looks like the messages are connected, and you are encouraging a review with a discount. So decide on your marketing goal and put one insert card into the box. Also, you can accompany one part of the packages with coupons and the other with a direct request for a review and then compare the results.
Mix Manuals With A Feedback Request
Misunderstanding how to use a product often leads to negative reviews on Amazon. So instead, teach the buyer to do everything right with detailed instructions. Then, anticipate all possible questions and explain how to leave a review on the product.
No "If" Statements
When creating text for insert cards, remember that the prefix "if" is prohibited on Amazon. The wording "if you like the product, leave a review" focuses only on positive experiences, ignoring the negative ones. Such manipulation leads to imbalance, so please call for review without any extra conditions.
Explain How To Leave Reviews
To avoid manipulative language:
Submit a review request in the instruction format.
Explain where and what to click to leave feedback about the product.
Use an "honest review" term that both shoppers and Amazon employees love.
Final word
Insert cards can become an additional marketing tool to strengthen your brand and increase sales. Today you have learned what to consider when creating paper promotional materials and what actions are prohibited by Amazon policy.
And if you need help in digitally promoting products on Amazon, contact Profit Whales specialists. We wish you promising sales!