Gearing Up for Q4: How to Navigate an Amazon Stolen Package Claim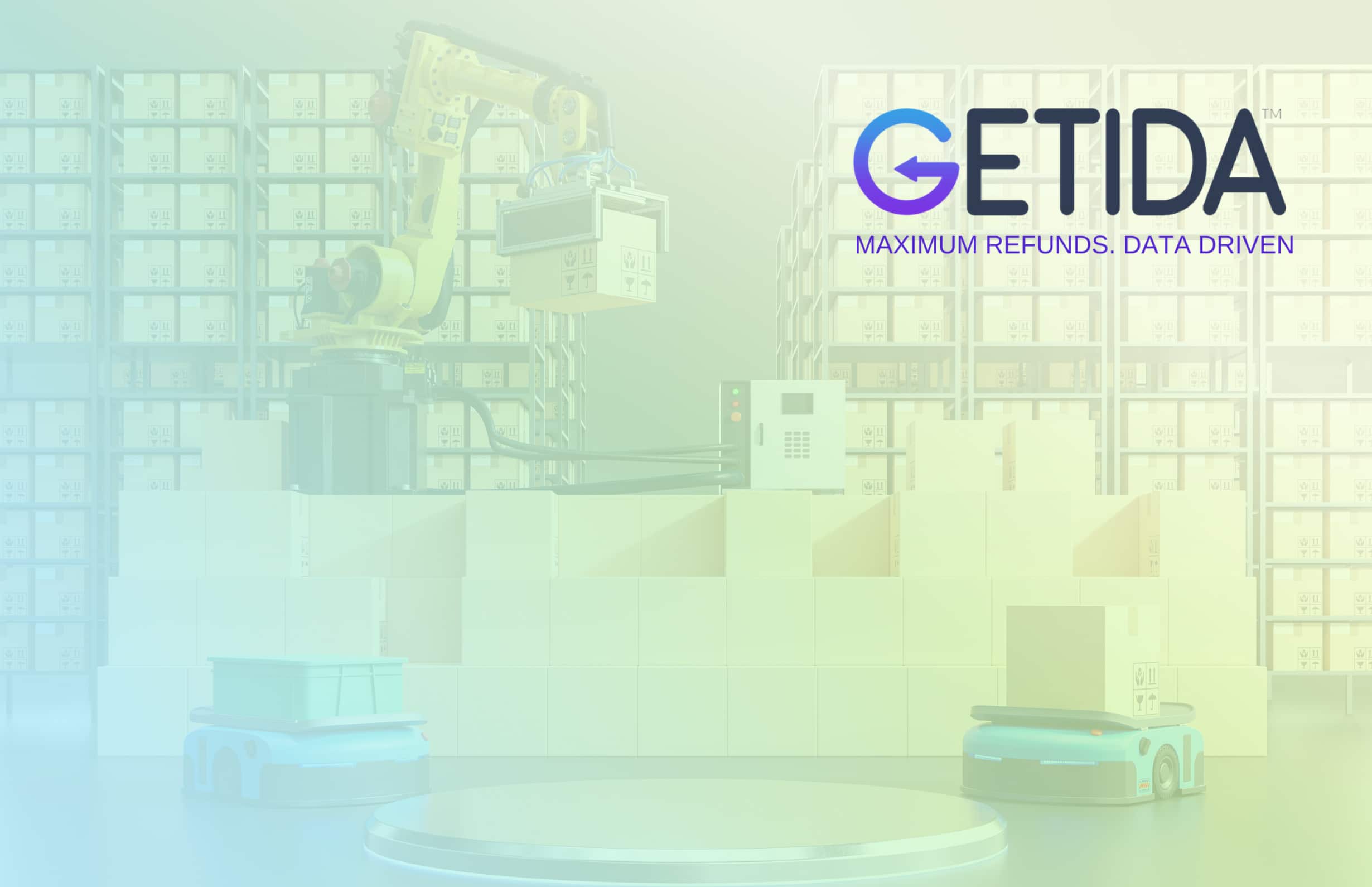 As the holiday season approaches, unfortunately, the number of Amazon stolen package claims can rise in occurrences. These occurrences are harmful to the buyer and the Amazon FBA seller as they negatively impact the customer experience and the seller's bottom line.
Customer satisfaction is the number one concern for Amazon and should be a key focus in a seller's FBA business. This article will outline what steps to take in order to file for FBA reimbursement of an Amazon stolen package and how to work with the buyer to ensure a positive outcome.
Table of Contents:
What is an Amazon Stolen Package Claim?
An Amazon claim for undelivered package occurs when a customer orders an item on the Amazon marketplace. The customer claims the item was stolen in the delivery stage.
Customers can file an Amazon stolen package claim to receive a refund on orders placed. When a customer files this type of claim and is approved, the Amazon FBA seller can then file for FBA reimbursement to recover the funds owed to them.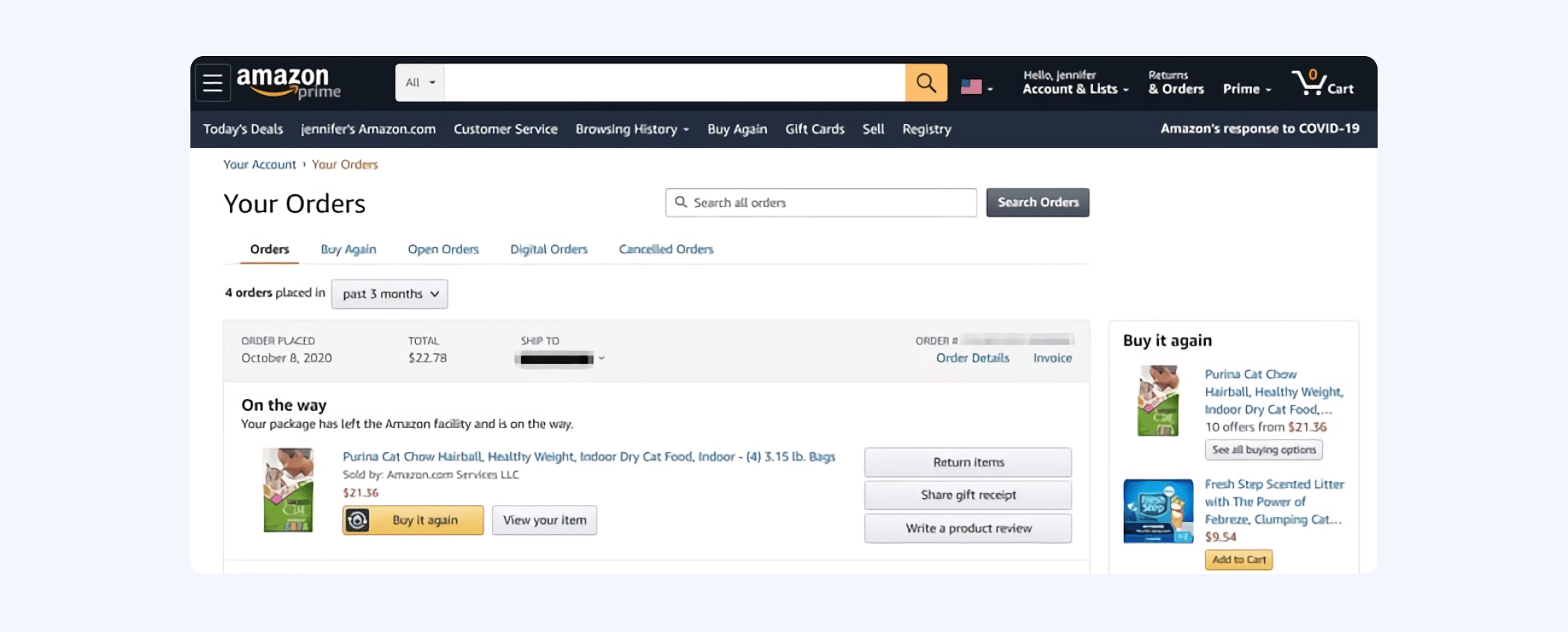 When to File for FBA Reimbursement on A Stolen Package Claim?
Because the shipping and tracking system within Amazon is so extensive, delivery dates can be a little misleading. It's essential for Amazon sellers to wait until the assigned delivery date has passed before filing for FBA reimbursement. Make sure that the refund is approved on the customer's end before filing the Amazon claim. 
How to Assist Customers Who Filed an Amazon Stolen Package Claim
So long as the seller is using Amazon FBA as a fulfillment method, Amazon is responsible for providing a refund to the customer. There may be instances where the customer reaches out to the seller directly, and in those cases, it's important to maintain professionalism and show the appropriate customer service.
Always remember to reply to these inquiries within 24 hours to keep a positive feedback rating. To provide good customer service in the case of an Amazon missing package claim, perform these tips:
Reply promptly (within the 24-hour window)

Be polite and professional.

Check for spelling and grammar mistakes before responding.

Ensure having the order number and it corresponds to the correct information in the orders section.

Apologize and take action to find a timely resolution.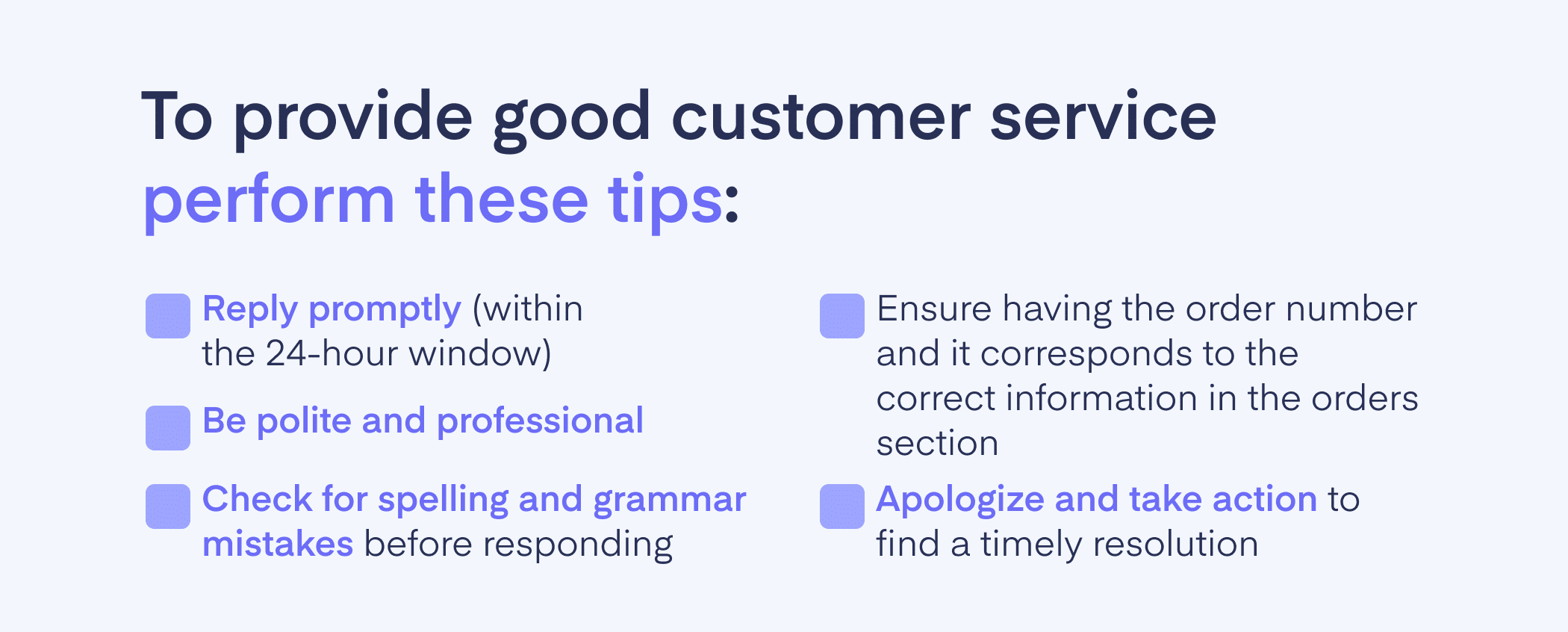 What is an Amazon FBA Reimbursement?
Amazon FBA reimbursements are money owed to Amazon sellers for discrepancies on their accounts. Discrepancies can range in type, but the five main categories are lost, damaged, disposed of, destroyed, and overcharges in fees. To recover FBA reimbursements, a seller will have to know how to file an Amazon package claim.
In a stolen package refund, the seller qualifies for FBA reimbursement as these items are not generally returned to the seller.
How to File for FBA Reimbursement on the Amazon Missing Package Claim
Sellers can file Amazon claims no sooner than 45 days up until 18 months from the refund date. These timelines are set forth by Amazon, so it's important to file claims within these ranges.
If Amazon hasn't already provided a reimbursement, sellers can file an FBA reimbursement in the following steps:
Log into the Seller Central Account

Click Reports

Click Fulfillment

On the left-hand side, click Inventory Adjustments

Enter the required information in the window

Create a case to file an Amazon Stolen Package Claim

Await Amazon's response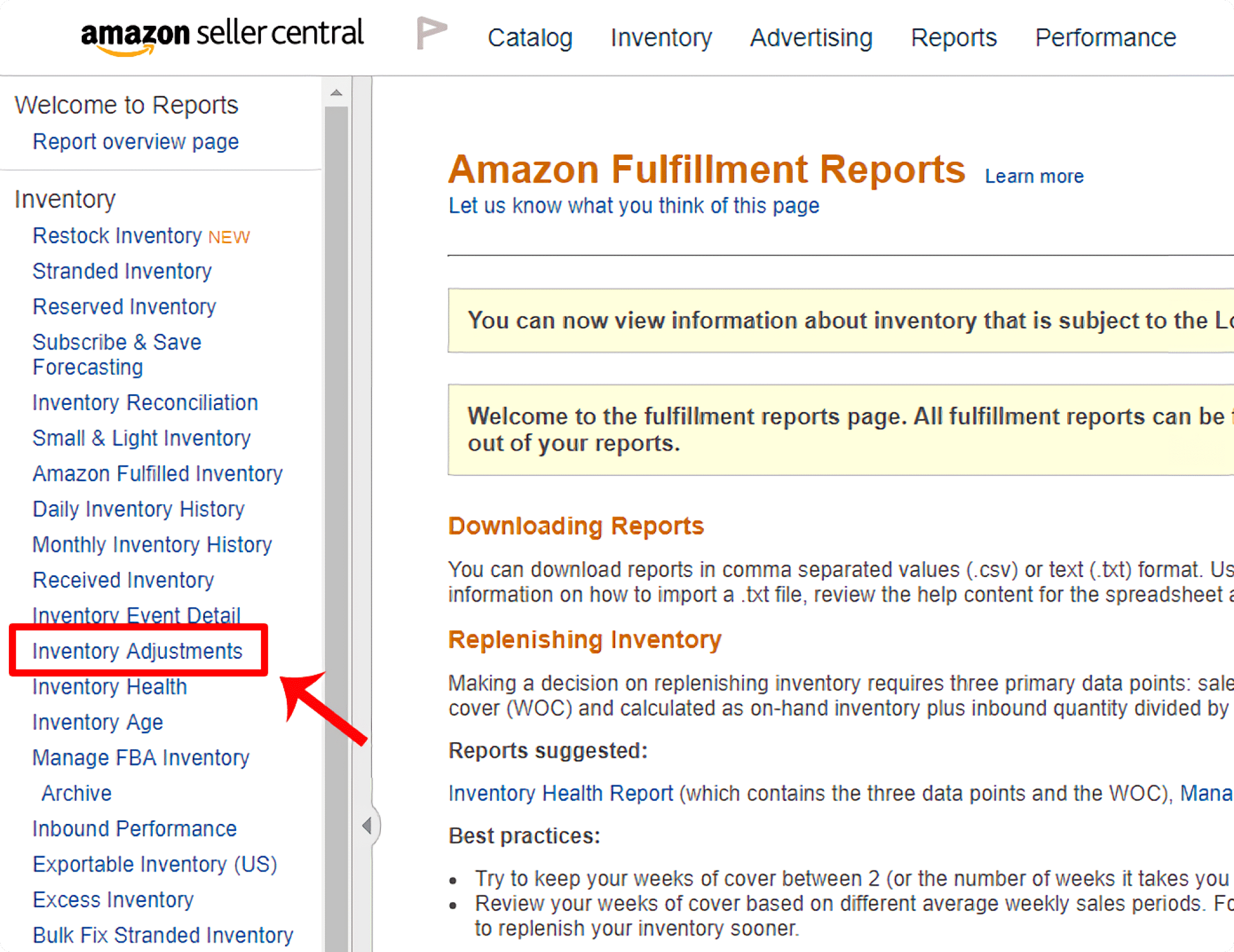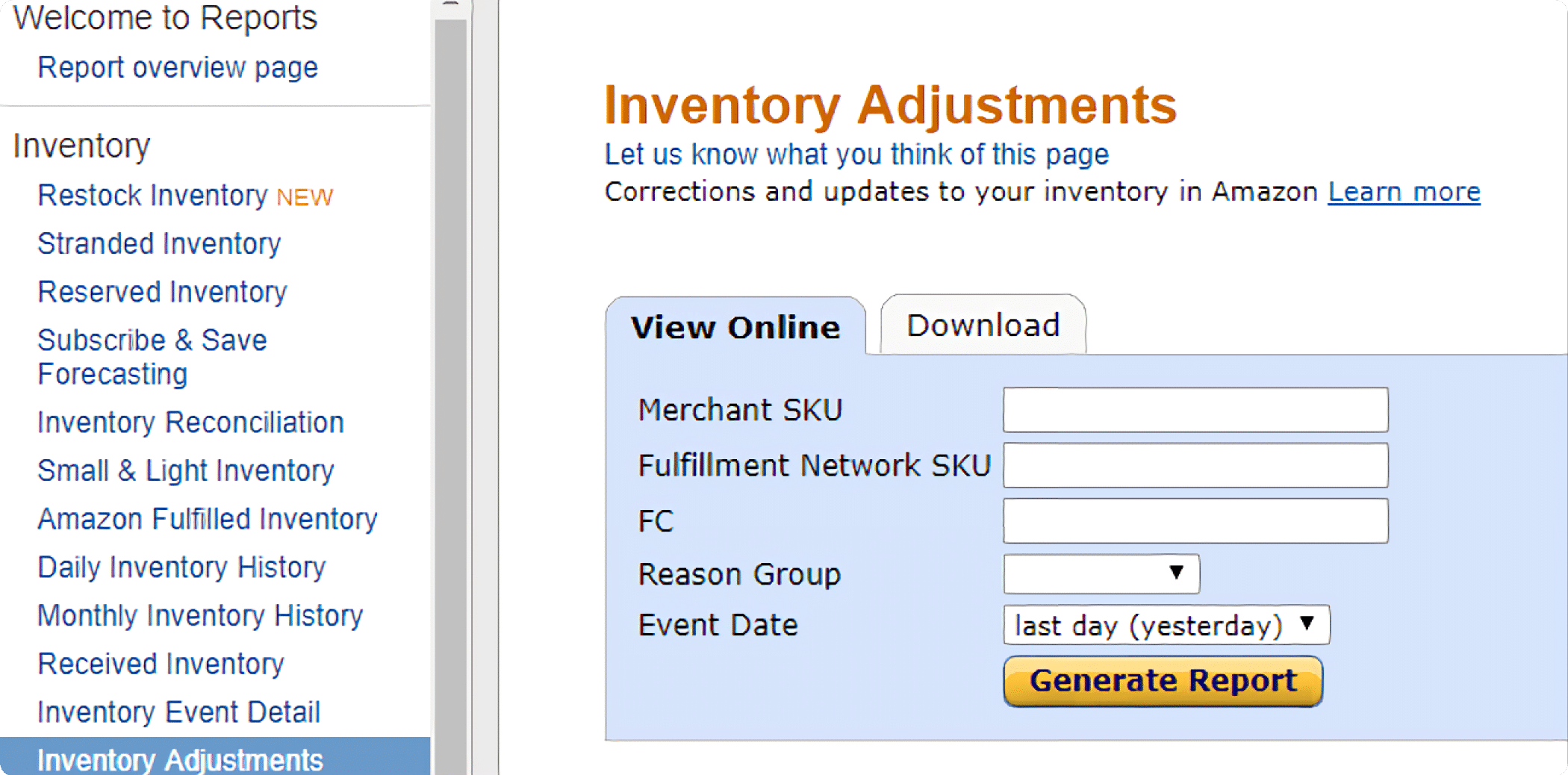 For sellers with only a few SKUs performing their own FBA reimbursements can be manageable. However, many Amazon sellers are task saturated with even one product, so often, the preferred method is to outsource this tedious task.
FBA reimbursement solution providers work on the seller's behalf to recover funds owed to them. Each FBA reimbursement provider will operate a little differently, but here are a few options sellers can choose from if they decide to hire it out:
A reimbursement provider whose sole business is FBA reimbursements

A virtual assistant

A trained member of the FBA business
A detailed Amazon audit will prove more valuable in finding the maximum number of discrepancies in the account. Sellers want to recover as much money owed to them as possible.
Also, note that because filing Amazon claims requires access to the Amazon seller central account, it's crucial that the seller trusts the provider or person managing the Amazon claims.
Another thing to consider is that Amazon has specific requirements within the claims process. Understanding what to look for in an Amazon account audit and how to present it will be critical to the seller's recovery rate.
In the case of Amazon stolen package refund claims, Amazon may submit the FBA reimbursement automatically. 
But, considering the amount of inventory Amazon is processing, it's understandable that they may inadvertently miss some of these reimbursements. 
Keeping tabs on the FBA reimbursements is essential to the business. Missing funds can add up to large amounts of money owed to the seller. Sellers that are unaware of what money is missing, can't manage the cash flow as best as possible.
Final Word
As unfortunate as Amazon package claims are, they can happen from time to time. It's important for sellers to adequately track their inventory, especially at peak times like major online sales events and holidays.
Always try to assume the best in these cases. If a customer reaches out to the seller, the seller needs to rectify the issue as soon as possible. 
Inventory losses should be factored into the operating costs, so at the end of the day, it is, in part, a normal part of managing an e-commerce business such as Amazon FBA. 
We hope you found this resource helpful.
back to articles