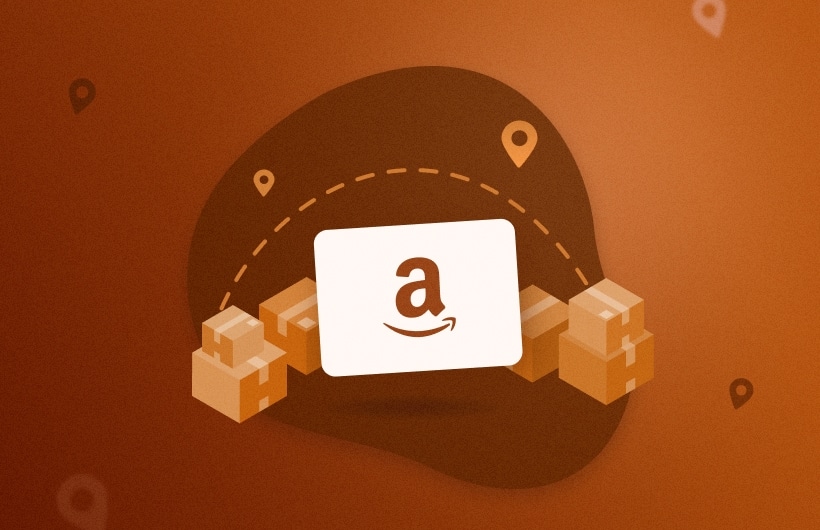 Have you ever wondered why Amazon is so successful? The company that used to be a website selling books in 1995 is today a monster of all-imaginable online sales. Today, the marketplace processes 3-4 million orders daily, which is not even the limit.
There are many reasons for the marketplace's success, but the most crucial is an efficient Amazon supply chain model. We will cover the main components of the supply chain that continue to be relevant after 27 years, as well as technological innovations that allow Amazon to scale without losing quality.
Want to understand better how your product supply chain works? Or maybe aiming to adapt your company to Amazon's supply chain strategy? Stay tuned!
Table of content:
Understanding Amazon Supply Chain
Traditionally, the supply chain of Amazon includes a complete process of manufacturing and delivering a product. However, as an Amazon seller, you deal with product warehousing, inventory management, pricing, and delivery times. To maintain uninterrupted supply chains, you need to constantly optimize every element.
Here is the Amazon supply chain diagram: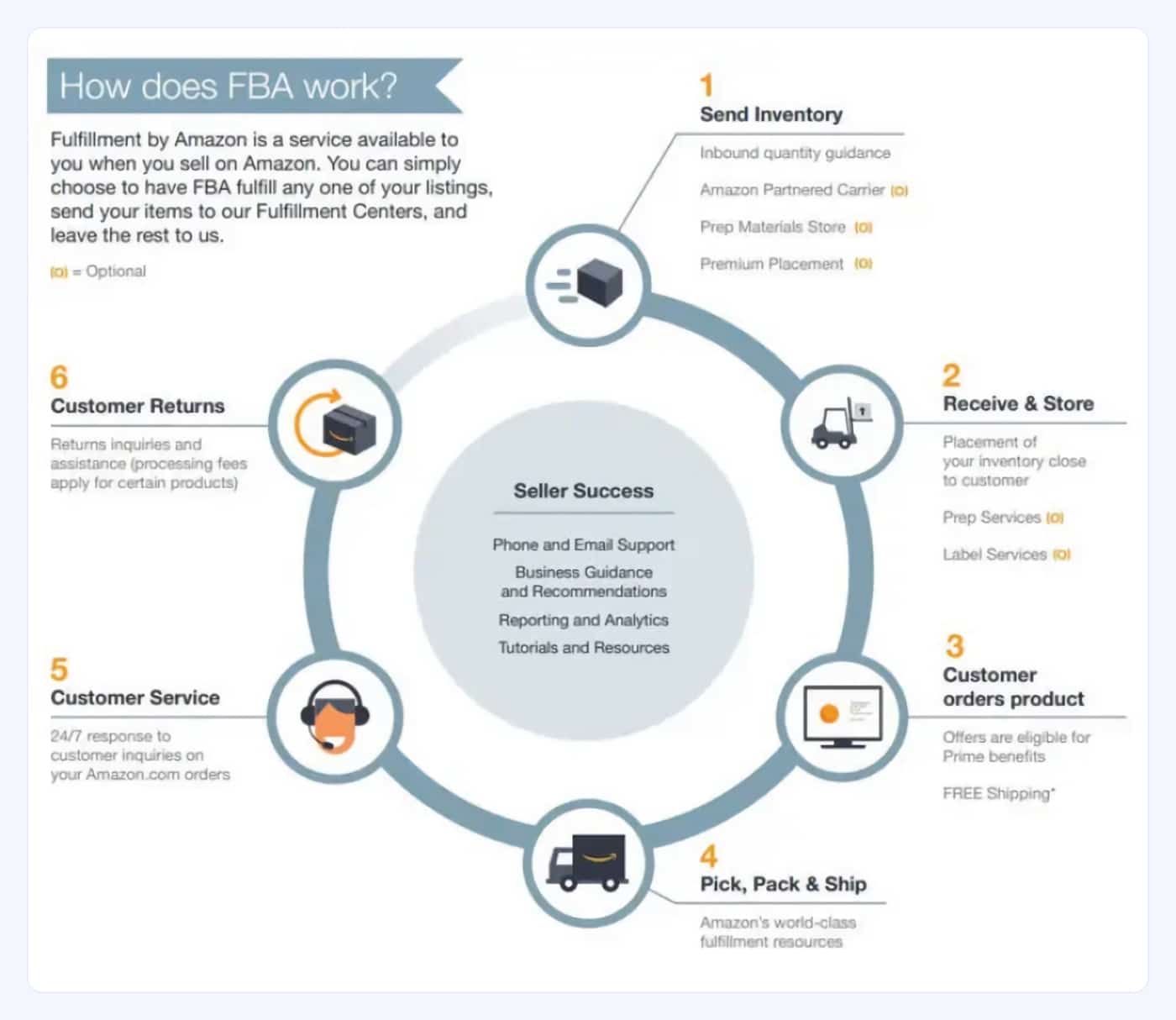 55% of all sales on Amazon stem from third-party sellers, so the marketplace takes care of comfortable fulfillment options by offering FBA and FBM models.
FBA vs. FBM
FBA (Fulfillment by Amazon) allows Amazon to take care of the storage, packaging, and shipping. Sellers ship their products to Amazon fulfillment centers, and the marketplace sees to the rest, including customer services, returns, and refunds.
FBA gives Buy Box and Amazon search rank advantages and allows sellers to participate in Prime, a program for fast and free (for the buyer) shipping within the US.
FBA is suitable for sellers who:
Do not have their own logistics facilities;
Sell small and light products;
Want to provide the best service with less effort;
Are aimed at global fulfillment and wide coverage.
At the same time, sellers pay Amazon for goods storage, fulfillment, and a referral fee. Remember that shipping rates are competitive, but long-term or holiday storage prices are fairly costly.
Amazon also offers the FBA Onsite program that optimizes the warehouse processes of third-party sellers. As a result, sellers control product inventory, whereas Amazon takes over receiving orders from the seller warehouse and chooses the most efficient fulfillment method.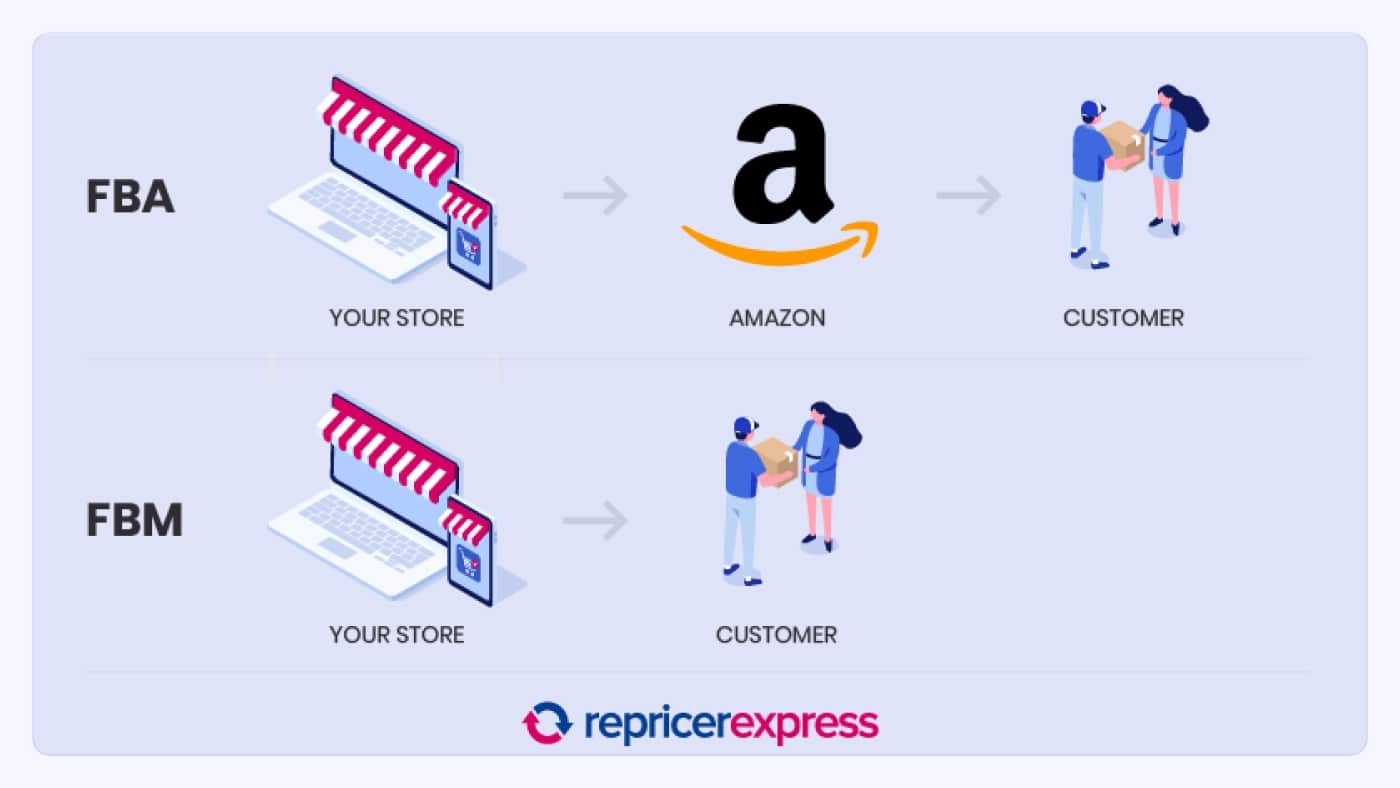 FBM (Fulfilled by Merchant) allows sellers to handle all aspects of storage and fulfillment. They can do everything themselves or use 3PL (third-party logistics).
Companies using FBM can improve the customer experience, packaging, and branding, increasing customer loyalty and brand awareness. Though if something happens, they must fix the issues themselves.
You can still use one 3PL with a shared inventory pooling if you want to sell products through multiple sales channels.
With the FBM model, sellers only pay a referral fee to Amazon.
FBM is suitable for sellers who:
Have resources and experience in logistics processes, knowing how to optimize these costs;
Sell ​​large and heavy products;
Want to take complete control of the customer experience.
FBM sellers can also participate in the Prime program if they are registered in Seller Fulfilled Prime (SFP). SFP requirements include:
Total US shipping for all standard-size products;
Weekend delivery and pickup are available;
Suitable targets for one-day and two-day delivery.
Crucial Elements of Amazon Supply Chain Strategy
What are the essential secrets that make Amazon so successful? Instead of listing them, let's look at each component of Amazon's supply chain management.
Warehousing
Amazon warehousing strategy provides quick access to products within and between countries.
Amazon warehouses are located near major population centers, and inventory is carefully distributed to meet user needs quickly and affordably. What about Amazon and its supply and demand balance? Today, sellers predict future demand, focusing on sales history, marketing activities, and three options — P70, P80, and P90. For example, P70 means there is a 70% chance Amazon consumers will purchase the indicated level of demand or less and a 30% chance they will purchase more.
Warehouses are internally optimized and divided into five storage areas:
Library Prime Storage: magazines and books;
Prime Storage: high-demand commodities that are picked in less-than-case quantities;
Pallet Prime Storage: high-demand products and full cases;
Random Storage: modern demand goods and small items;
Reserve Storage: low-demand items and irregularly-shaped items.
That system allows workers and packaging robots (about 100,000 robots) to find goods and prepare them for shipping quickly. And if the order cannot be fulfilled from Amazon distribution centers, Amazon will use partner ones.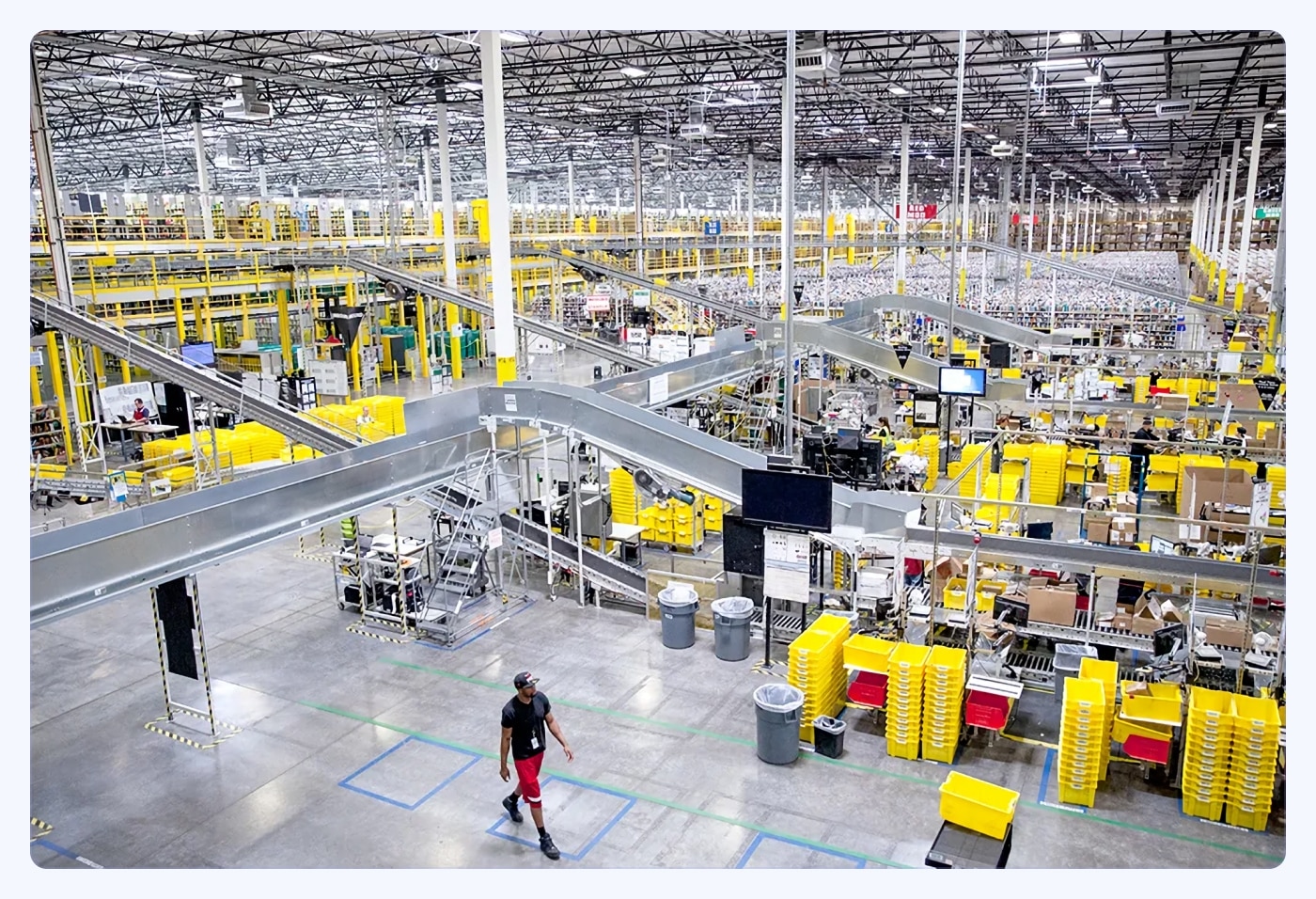 If you think about Amazon's supply chain integration, divide your warehouse into sections to quickly find the needed items. Remember to keep an eye on stocks and replenish them in time to meet customer expectations.
Delivery
Using drones and robots? Why not.
Amazon employs a mixed logistics strategy, combining both traditional and innovative tools. As a result, the delivery time is reduced, and the methods become more convenient for the company and the user. It also becomes possible to deliver to more remote areas where classical methods are impossible.
Take a look at Amazon's shipping options:
From Prime (1-2 Hours, Same Day, One-Day, and Two-Day Options) to No-Rush Shipping (6-day shipping with a discount). Release Day Delivery (Pre-Order Option) and Designated Day Delivery (grouping orders together) are also available.
Hub & Locker Delivery and Amazon Key (In-Home / In-Car / In-Garage Options).
Hub Counter with local retail partners.
Amazon Scout Robot is being tested, and Amazon Prime Air will be launched soon.
All that creates endless loyalty to shopping on Amazon. Loyal customers become members of Amazon Prime and pay attention to the products recommended by the platform.
If you want to replicate Amazon's success, think carefully about your shipping strategy. Parcel tracking, next-day and expedited delivery will help you keep existing customers and attract new ones.
Technology
Amazon uses automated and robotic solutions for all fulfillment stages. Stacking, storage, and packaging are the processes affected by technology in the first place. This approach reduces delivery time, as well as storage and personnel costs.
As we mentioned, today, Amazon is making a technological breakthrough in the order delivery.
Amazon Scout Robot Delivery is already being tested in selected US regions. The company is raising around $775 million to acquire Kiva robots (today, Amazon Robotics). The investment has already shown its effectiveness: the robot's usage can significantly speed up order execution and reduce personnel costs.
Amazon Prime Air will provide 30-minute delivery. The buyer should live/work within 15 miles of the nearest drone warehouses and have an Amazon-branded landing mat.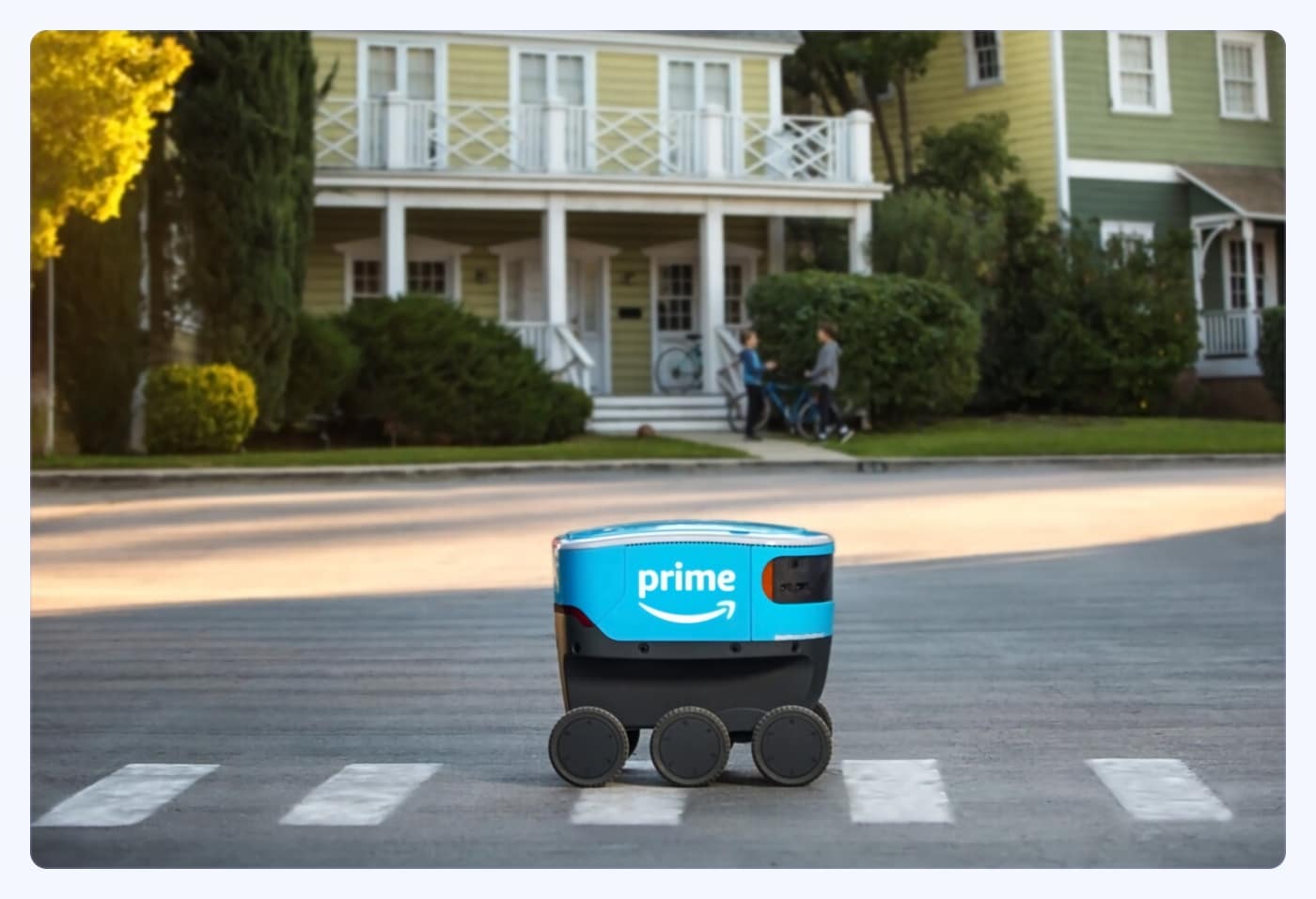 Using robots and drones for Amazon supply chain integration is cutting-edge. To improve logistics efficiency, you can automatize inventory management and order processing and synchronize all devices and technologies.
Manufacturing
With Amazon's number of buyers, it would be a crime not to release its own products. Therefore, Amazon began to sell inexpensive popular goods of own production, as well as white-labeling products from other sellers.
Amazon started with affordable household goods, children's and pet products, and the list of categories is constantly growing. This way, the marketplace can control the entire life cycle of products — from creation to delivery, reducing costs and increasing profits.
Supermarkets, online stores, and marketplaces appreciate the private label's benefits. Have you not started your production yet? Think of it as the best way to eliminate the competition.
Pricing
Amazon's pricing policy allows you to segment customers into Prime and Standard:
Prime members pay $14.99/month (plus tax) and get fast, free delivery. Also, they receive benefits, such as exclusive deals and free access to popular movies and shows, music, games, and books.
Standard clients can use only standard or slower delivery.
With that segmentation, Amazon can instantly respond to any fluctuations in demand, correctly calculate the order flow and ensure its efficient execution.
Pricing policy also affects FBA sellers. High long-term storage fees allow merchants to calculate future demand more carefully without overburdening fulfillment centers.
Make sure your warehouses do not have excess inventory that takes up valuable storage space. Think about a marketing strategy to get rid of it. And continue to replenish stocks, focusing on actual demand.
Global Reach
The platform allows sellers to grow their business internationally, regardless of physical location. Today, the Amazon supply chain map includes 20 online marketplaces: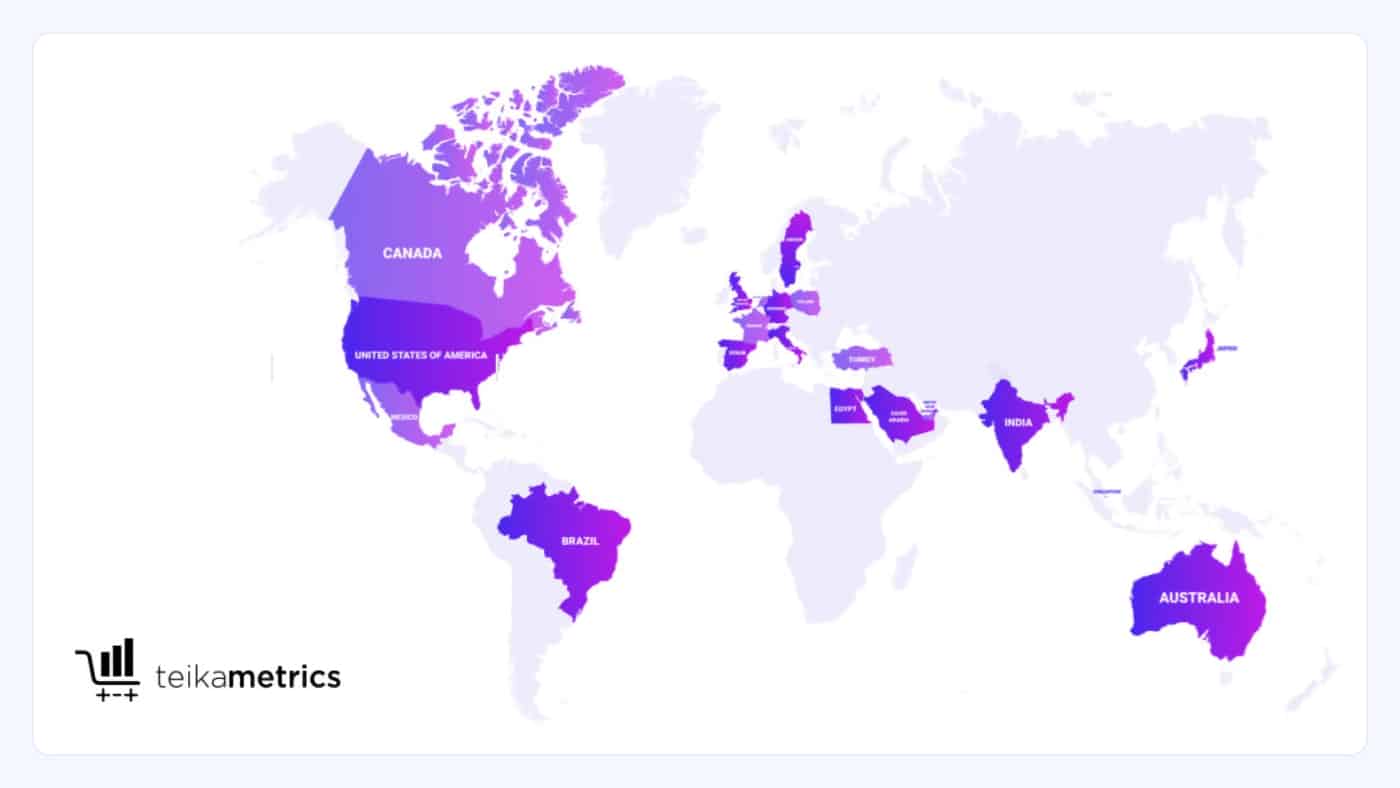 North America:
amazon.com
amazon.ca
amazon.com.mx
Europe:
amazon.co.uk
amazon.de
amazon.fr
amazon.it
amazon.es
amazon.nl
amazon.se
amazon.pl
amazon.com.tr
Asia:
amazon.co.jp
amazon.in
amazon.sg
Middle East:
amazon.ae
amazon.sa
amazon.eg
Other:
Each of these markets provides an excellent opportunity for the seller to announce his brand to the millions of loyal Amazon customers who already know and trust the marketplace.
The European Fulfillment Network (EFN) allows businesses with an EU account to store stock at local Amazon fulfillment centers and fulfill orders from other EU stores. As a result, you do not have to worry about imports or customs within the UK and EU countries. With this program, you can optimize your inventory management and gain access to new customers without abundant administrative hassle.
Five Stages of Amazon Supply Chain Management
How does Amazon supply chain work? What happens at fulfillment centers after consumer places an order? Let's figure it out and learn more about Amazon's supply chain process.
Receiving Products
Products are manually palletized or removed from trailers using a forklift. The shipments are divided into those from the Amazon facility and those shipped through FBA. According to statistics, entrepreneurs and small businesses sell half of the goods available on Amazon.
Storing Items
Many warehouses store their products based on traditional classification. Amazon has its own logical typology, which we have mentioned above; within it, goods are stored randomly. Amazon's yellow, tiered bins with random products are tracked by computers for quick access.
Picking Orders
As soon as the consumer places an order, the robot brings containers with the necessary goods to the employees at the pick station. They read the screen, retrieve fragile items, and place them in yellow plastic boxes.
Quality Assurance
Quality control takes place at all fulfillment stages as the basis of the efficient work of robots and people. It is essential to track whether the physical location of items matches the program database. Employees also monitor the correct robots' operation and update them for more efficient use.
Packing Orders
The items are sorted into orders, scanned, and finally sent to the packing station. The system recommends the box sizes and measures the required amount of tape. Third-party vendor products are shipped in their original boxes, but Amazon is working to reduce packaging.
The Future of Amazon
What is the future of the supply chain management of Amazon? The answer is difficult to predict, but we can discuss what is already under development or being tested.
Amazon Trucking
Many truck drivers and shippers have already rated Amazon Freight as Uber for trucking. Amazon constantly updates the operator base and tests each new member for compliance with required standards. The development of Amazon Freight expands coverage and allows sellers to transport their goods at the best rates.
In addition, Amazon creates an incubator for start-up transport companies, providing business training and loans for entrepreneurs. In the future, the company will receive a pool of companies that can serve Amazon's internal needs.
Amazon continues expanding its private truck fleet to minimize its dependence on UPS, USPS, and FedEx and increase profits.
The coronavirus pandemic has led to a boom in eCommerce and shipping, forcing Amazon to think about ecological issues. The company has already ordered more than 700 Class 6 and 8 natural gas trucks. Also, Amazon plans to use engines supplied by Cummins IncCMI and Westport Fuel Systems Inc.
Soon, Amazon trucks will become not only eco-friendly but also safer because branded vans will be equipped with cameras running on Netradyne's Driveri platform. The surveillance system with four HD lenses will sense driver speed, road conditions, and collision detection technology.
Amazon Warehousing
Amazon supply chain process needs not only large distribution centers but also other types of warehouses:
Sorting centers for parcels according to geographic regions;
Pantry and fresh warehouses for dry groceries, frozen and perishable foods;
Prime Now for high-demand items being delivered within 1-2 hours;
Delivery stations for sorting parcels and sending them to customers.
Unlike large regional fulfillment centers, delivery stations have a small area and are located in the suburbs. Amazon plans to open another 1,000 parcel delivery stations soon.
Since the beginning of the pandemic, the Amazon warehouse strategy has included cameras and software monitoring social distancing violations. However, as more people get vaccinated, and requirements keep changing, the software continues to update.
According to Amazon forecasts, warehouses will become fully automated in about ten years. Warehouse workers often worry about being replaced by robots. Still, Amazon declares that machines are called to relieve employees of the routine, allowing them to focus on more critical tasks. The company's opinion is confirmed by the fact that they invest not only in robots but also in staff development.
Amazon & Air
Amazon continues investing in air capabilities. At the same time, the essence of Amazon Prime Air is changing. Before, it was used as the name of the cargo airline (today known as Amazon Air) delivering Amazon packages. And now, Amazon Prime Air is a drone delivery service. But first things first.
Amazon is actively buying and leasing jets to build its fleet. The former fleet counted 97 aircraft, including the ATR 72, Boeing 737, and Boeing 767. The company's central hub is located in Cincinnati/Northern Kentucky. In March 2021, Amazon used its guarantees to buy 13.5 million shares of Air Transport Services Group, a holding company that provides air cargo transportation and related services.
But let's get back to drones, a cherished Jeff Bezos dream for over eight years. In 2020, the Federal Aviation Administration (FAA) designated Amazon Prime Air as an air carrier. It allowed the company to start testing its drones in rural areas of Oregon and California to deliver about 30 types of products.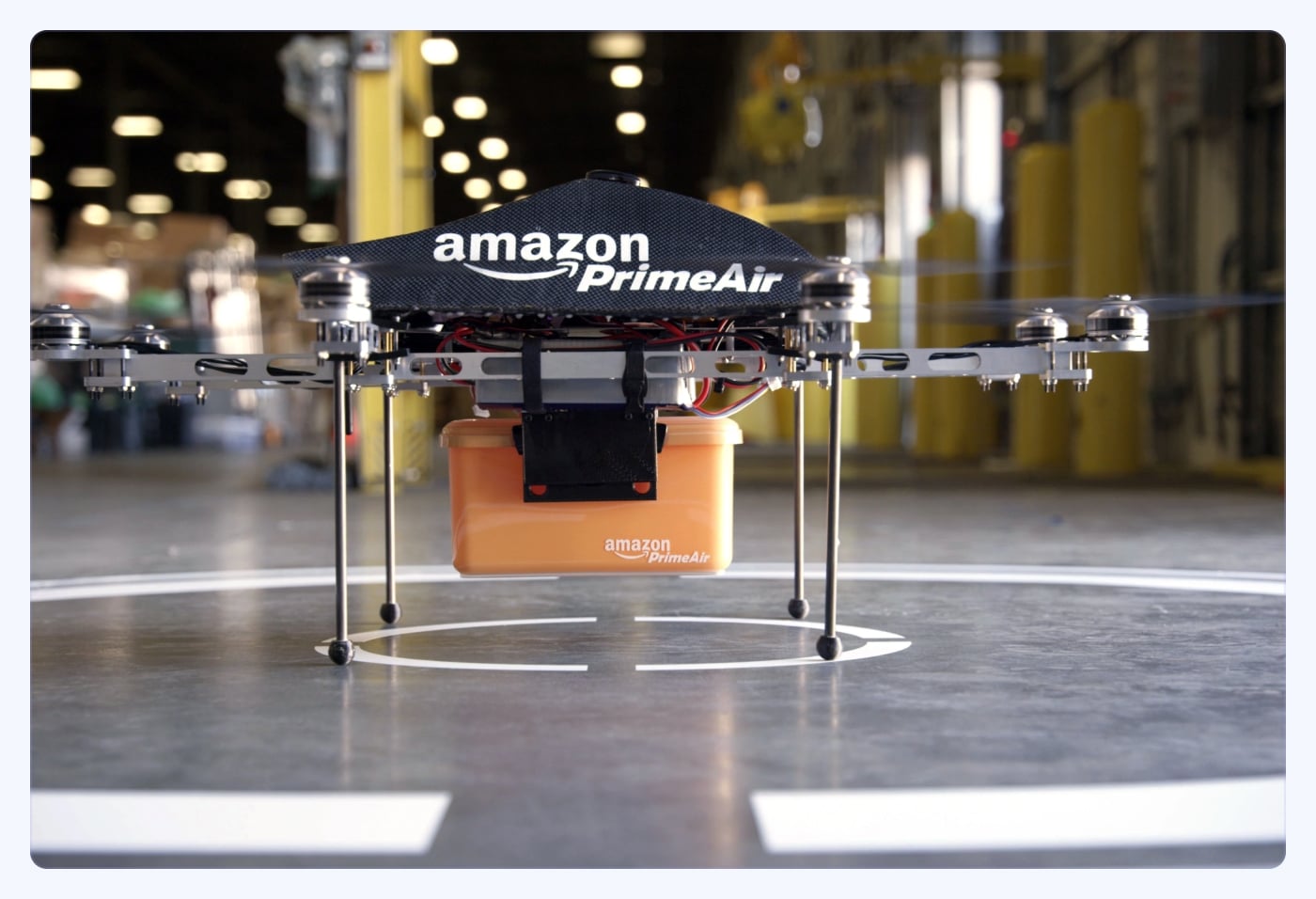 By the end of 2022, Amazon Prime Air delivery is scheduled to be launched for customers in Lockford, California. As a reminder, the drone can deliver packages up to 5 pounds in less than 30 minutes if the customer is located less than 15 miles from the drone warehouse.
Amazon is taking its Amazon Prime Air pilot seriously, increasing its research staff at Cambridge to 60. The company also has scientific and technical centers in London and Edinburgh.
Amazon Manufacturing
Today, Amazon is not only a retail giant but also a tough competitor to many manufacturing companies because of its reputation and low-cost production. Starting with the production of household goods, Amazon did not stop and expanded the line to technological products like smart speakers and virtual assistant AI technology. Thus, the marketplace-manufacturer captures a new market segment and increases its income.
Final Word
Amazon's supply chain is one of the most innovative in the world. The main secrets of the company's success are economies of scale, customer focus, automatization, and process optimization.
As a seller, you can use Amazon's supply chain through FBA or try building something similar. In any case, to please yourself with sales volumes, you should promote your products.
Please, contact us to build a steady stream of sales.