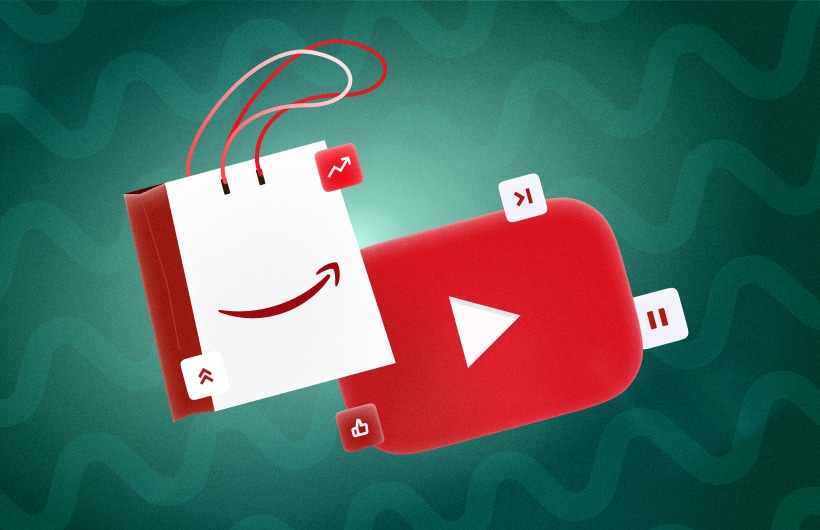 Running an efficient eCommerce business is challenging. Sometimes, all the tasks on the list do not leave enough energy to search for new sources of information and inspiration. Thus, we are here to share our research results.
We highlighted 20 great eCommerce YouTube channels that provide valuable up-to-date information on products, design, sales, marketing, and anything else you may need to know to grow your online business.
Table of content:
Profit Whales Insights
It is the channel of the Profit Whales marketing agency, which was listed among the Top 100 Amazon PPC Agencies in 2022. It covers the Amazon FBA topic and will help build your brand strategy and start a successful PPC campaign on Amazon.
Top-3 videos on the channel:
Wholesale Ted
Wholesale Ted is a New Zealander channel by Sarah Chrisp. She shoots educational videos on how to open an online store and make it profitable. Content of the channel ranges from eCommerce tips to Sarah Chrisp's life stories.

The channel was called that way because Ted is the name of Sarah's mentor, who copywrites for videos and newsletters, so this is a team effort.
Top-3 videos on the channel:
Gabriel St-Germain
It is a channel by a 23-year-old entrepreneur, digital marketing, and e-commerce expert. Gabriel helps people build profitable online stores with minimum startup costs. Also, his sales in all his web stores have reached over $2 million.
Top-3 videos on the channel:
Dan Lok
Dan is a serial entrepreneur, bestselling author, international speaker, and Internet marketing expert. His YouTube channel features videos by him and his top-notch team members. In addition, he shares his inspiring thoughts on how to develop high-earning talents and create financial dynamics and confidence.
Top-3 videos on the channel:
Kevin David
Kevin is a serial entrepreneur, author, eCommerce specialist, and coach. He teaches people worldwide how to create financial opportunities while working remotely. In addition, Kevin is a pro in finding the most innovative ways to make money online.
Top-3 videos on the channel:
Neil Patel
Neil is known as a New York Times bestselling author, while the Wall Street Journal calls him a TOP influencer on the web. He is the world's leading Internet marketing expert, providing marketing tactics for people and using video marketing to attract more cash.
As he grew as a professional, he started getting acknowledged for his achievements in helping other companies prosper.
Top-3 videos on the channel:
Brian Dean
Brian is one of the most influential SEO experts in the world. He showcases his SEO skills on his YouTube channel and teaches eCom amateurs how to rank high on Google. Thanks to his videos, marketing specialists and business owners can dive into details about how to enhance the exposure of search engines.
Top-3 videos on the channel:
Sebastian Ghiorghiu
Sebastian talks about digital marketing and teaches how to make money on Shopify. Also, his videos are directed toward informing people about how to get profit from cryptos and NFTs. This drop shipper discusses his experience while giving a sneak peek into his lifestyle.
Top-3 videos on the channel:
Biaheza
Biaheza's YouTube channel includes tips on Internet marketing, day trading, drop shipping, and monetizing Instagram. Beginner drop shippers can find a lot of practical information there. In addition, Biaheza provides a lot of information on Facebook ads by adding videos about product research.
Top-3 videos on the channel:
GaryVee
GaryVee is considered the most forward-thinking entrepreneur in the eCommerce niche – he examines trends and patterns early to help people understand how these changes affect markets and consumer behavior. His YouTube channel is helpful for those looking to establish a brand and succeed in an online business by using digital marketing.
Top-3 videos on the channel:
Christian Albrecht
Christian teaches people how to start their Shopify Dropshipping Business and make money on the Internet. He is also documenting his journey to financial freedom on his YouTube channel.
Top-3 videos on the channel:
King Comm
This guy is an eCommerce marketing expert who helps people gain money online. His YouTube channel includes helpful information and tips for people looking to explore the world of eCom.
Top-3 videos on the channel:
Scott Hilse
Scott is a trading expert who teaches people about Facebook ads, digital marketing, and eCommerce. His YouTube channel content will be helpful for people who are eager to start earning money online.
Top-3 videos on the channel:
Santrel Media
Santrel Media's YouTube channel provides marketing solutions that will help people boost their profits. They deliver substantial business growth through efficient marketing programs.
Top-3 videos on the channel:
Smart Marketer
It is the channel for people who strive to grow their digital businesses and supercharge their eCom stores. It includes valuable information about Facebook advertising, advanced email marketing, and more to explore.
Top-3 videos on the channel:
The ECom King
Kamil Sattar is recognized as the Ecom King and is an eCommerce entrepreneur. He reveals the secrets about Shopify dropshipping and Facebook ads and teaches business owners to boost their revenue.
Top-3 videos on the channel:
Davie Fogarty
It is a channel by a 26-year-old entrepreneur who teaches people to conquer the market using prolific social media ads. The content is mainly devoted to Shopify, Shopify Apps, and Facebook Ads topics and will be helpful to those willing to reach a new income level.
Top-3 videos on the channel:
Casual ECommerce
It is a channel by Jake Alexander. He has been selling products and marketing online since 2013 and now shares his knowledge in eCommerce and Internet marketing with the world. The channel's content also covers Shopify, Wix, Facebook Ads, and Google ads.
Top-3 videos:
Exposure Ninja
This YouTube channel fully covers the topic of eCommerce and will be helpful for those having trouble with lead generation and conversion rate optimization. It also gives insights about SEO tools, buyer persona, guest posting, finding suppliers, and website planning.
Top-3 videos on the channel:
Goodlife Warrior
It is a channel by Yuping Wang, who has over 20 years of experience in global eCommerce and teaches others how to manage suppliers from different parts of the world. Also, Yuping's content will help negotiate the best price and deal with your shipping effectively.
Top-3 videos on the channel:
Final Word
For those who doubt where to begin growing their online business, consider checking out the best eCommerce YouTube channels mentioned above. Those are a must for any eCommerce store owner to subscribe to in 2022.
Each channel will be a good starting point for establishing your successful future empire.
Act now!