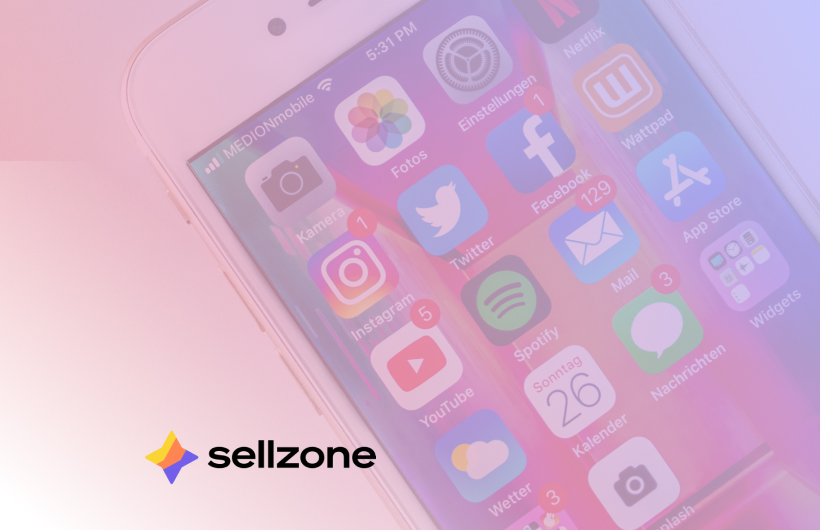 According to Search Engine Journal, 70% of Amazon surfers don't look past the second page of the search results, with 35% simply clicking on the top-ranking listing. 
While sellers should certainly work on nailing the Amazon algos and trying to get that bestseller badge — here's the most recent research on the building blocks of a bestselling Amazon listing — the reality is that, unless the product is established, there won't be any quick sales and fast results.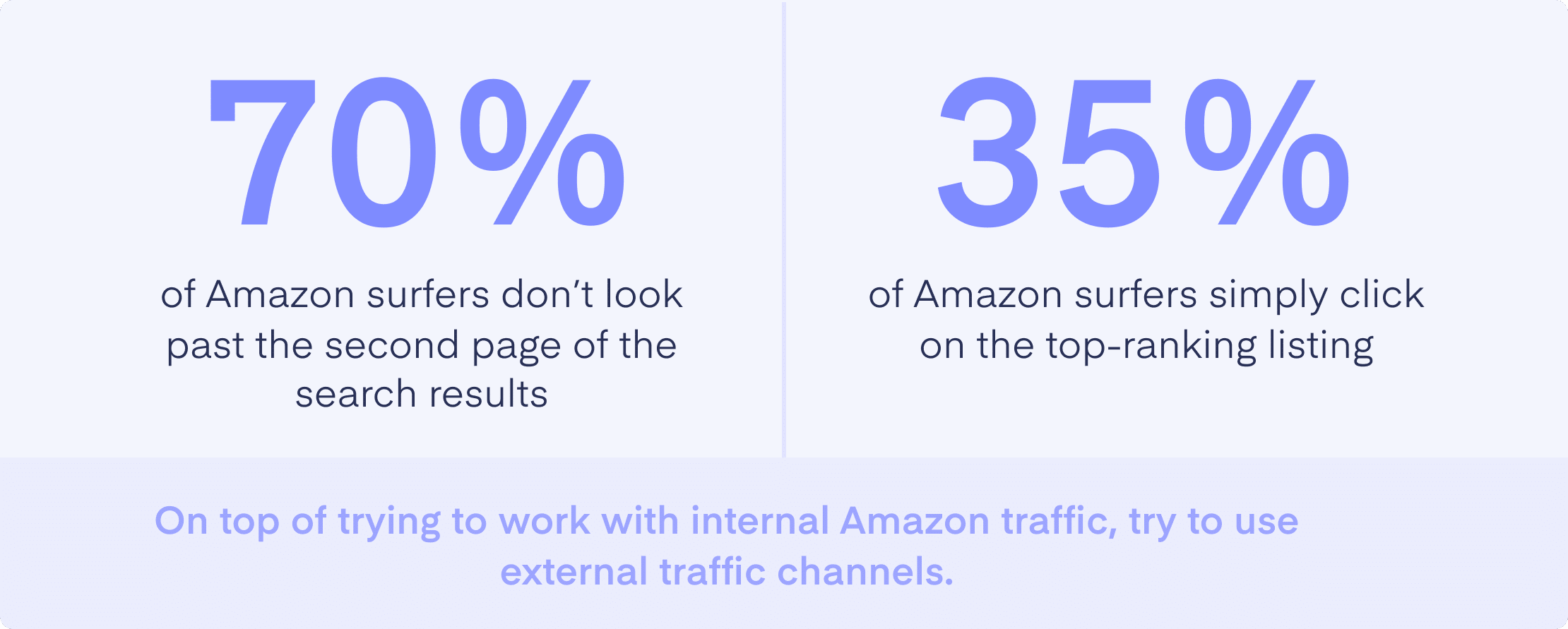 So on top of trying to work with internal Amazon traffic, sellers need to try looking the other way. This is where external traffic channels can become a game-changing factor in Amazon's business success.
In this article…
Why Drive Traffic to Amazon Listing From External Channels?
It may seem easier to focus on one platform — namely, Amazon — and keep working with its algorithms and existing traffic, but this might not be a good idea for those starting out or facing fierce competition in their product niche.
There are plenty of arguments for ramping up external traffic efforts, but these three are pretty convincing: 
The first value point is pretty clear: Amazon favors established listings that have a high sales rank, so before getting there, sellers need some tactics that will help to get sales on Amazon faster. 
This takes us to the first upside — visitors coming from external channels can turn into buyers, helping to boost sales rank.
To avoid competing in a crowded space
While Amazon has enough people surfing the marketplace in search of the it-product, other platforms like Google or Facebook have even more potential consumers. So leave the Amazon competition behind by targeting potential buyers on different sites — possibly even somewhere the competitors aren't yet to be found.
To get some extra love from Amazon
Unsurprisingly, Amazon itself encourages sellers to drive people to its site from other places. A few months back, Amazon launched its Brand Referral Bonus program that offers up to 10% cashback from sales that occur as a result of non-Amazon marketing efforts.  
So, now when it's clear that external traffic is an absolute must for most Amazon sellers, it's time to unravel those top channels that can deliver the highest impact.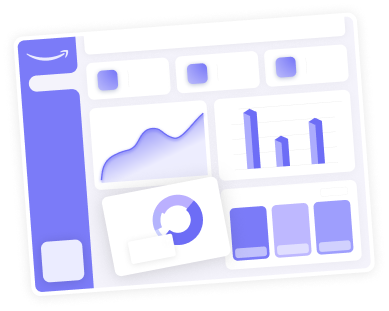 Spending across different ad channels has increased the revenue by 35% for an art-supply brand
How to Drive External Traffic to Amazon Listing: 5 Ways
Any platform other than Amazon can be an external traffic driver. From Google to social media marketing to referral programs, sellers have plenty of channels to pick from. 
While one can get very creative, we'll focus on the most proven and tested external traffic sources for bringing buyers to Amazon sellers.
Try Amazon Sponsored Display Ads
Amazon sponsored display ads are an interesting in-between approach for attracting both internal and external traffic. Launched back in 2019, they allow advertisers to create display ads and air them both on and off Amazon.
Essentially, this is an Amazon-designed remarketing tool that enables sellers to target users who have either already seen the listing, or showed interest in the product category across various platforms and apps. 
It's not yet the most trending advertising solution — only 25% of Amazon sellers leverage this channel — but sellers can experiment with these ads and see some unexpected results, facing little to no competition. The best part is that there is no minimal bidding or daily budget restrictions.

Don't forget about good old social media marketing 
If the product is not on social media, then sellers are missing out on several traffic drivers, such as influencer marketing, user-generated content, and other types of engaging marketing activities that can trigger a purchasing decision.  
Therefore, try to be present across all visual-driven social media platforms:
Pinterest

Instagram

Facebook 

YouTube

Twitter
These networks come as yet another point of discovery and contact for the potential buyers and also serve as social proof that not only does the product actually exist, but that it is loved by a lot of happy customers.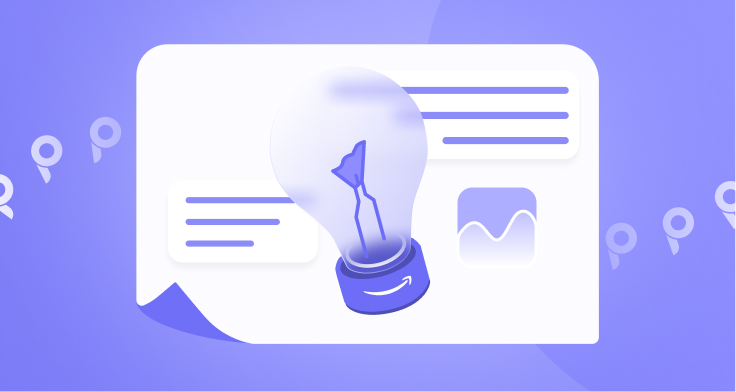 More than 400 million people monthly use Pinterest. Find out how to maximize its advantages for your Amazon business
Leverage the power of email marketing
Amazon sellers are essentially e-commerce store owners, even if that store is located purely on Amazon. On average, email triggers 20% of all transactions for e-commerce businesses, so it's impossible to miss this revenue opportunity. 
Amazon doesn't let to collect users' emails directly, but if sellers have access to their Manage Your Customer Engagement tool (or manage to gather customers' emails in some other way, such as social media, or other channels), it's easy to unleash the full power of email marketing in order to:
Promote upcoming product launches;

Offer exclusive and special deals;

Cross-sell and upsell other products etc.

Connect with Amazon influencers
Whether by attempting to work with blogs that are a part of the Amazon Associates program or bloggers that simply have a relevant audience, sellers can try to connect with industry influencers who have high authority and a reputation within the niche.
And if influencers immediately think towards $1,000,000-dollar sponsored posts by Beyonce, think smaller. Most professional bloggers have a precise price tag and detailed information about their audience features, so check out multiple bloggers before allocating the influencer marketing resources.
Be smart about Google
What's better than the Amazon search engine? Google, the largest search engine, well, ever. 
Whenever people want to find anything, the first thing they do is Google it. So sellers want to leverage the power of this search engine to the listing's advantage. 
And note — it's not about driving traffic from Google to the site, or a blog (although that's also an option). Amazon sellers can actually optimize the listing to appear among Google's organic search results and drive a share of the Google-surfing audience to the Amazon product listing. 
This, of course, requires some savvy with Google algos, but when done right, the efforts will almost certainly pay off, ensuring a constant stream of new visitors to the Amazon listing.
As nailing Google SEO will probably not come as easy as the rest of these channels, here's a great post that reveals all the tricks. 
Once the organic visibility is achieved, sellers can even go up another level and invest in Google Ads and Shopping Ads, sending users with a strong purchasing intent directly to the listing.
Insights From the Semrush and Sellzone Toolkits
When talking about driving traffic to Amazon listing from Google, people often search with the intention of buying an item on Amazon. We analyzed users' search queries containing the user intent "to buy on Amazon" for the past 12 months, and it appears that most people are not sure what exactly they're looking for. The top 5 requests with a significant average monthly value are: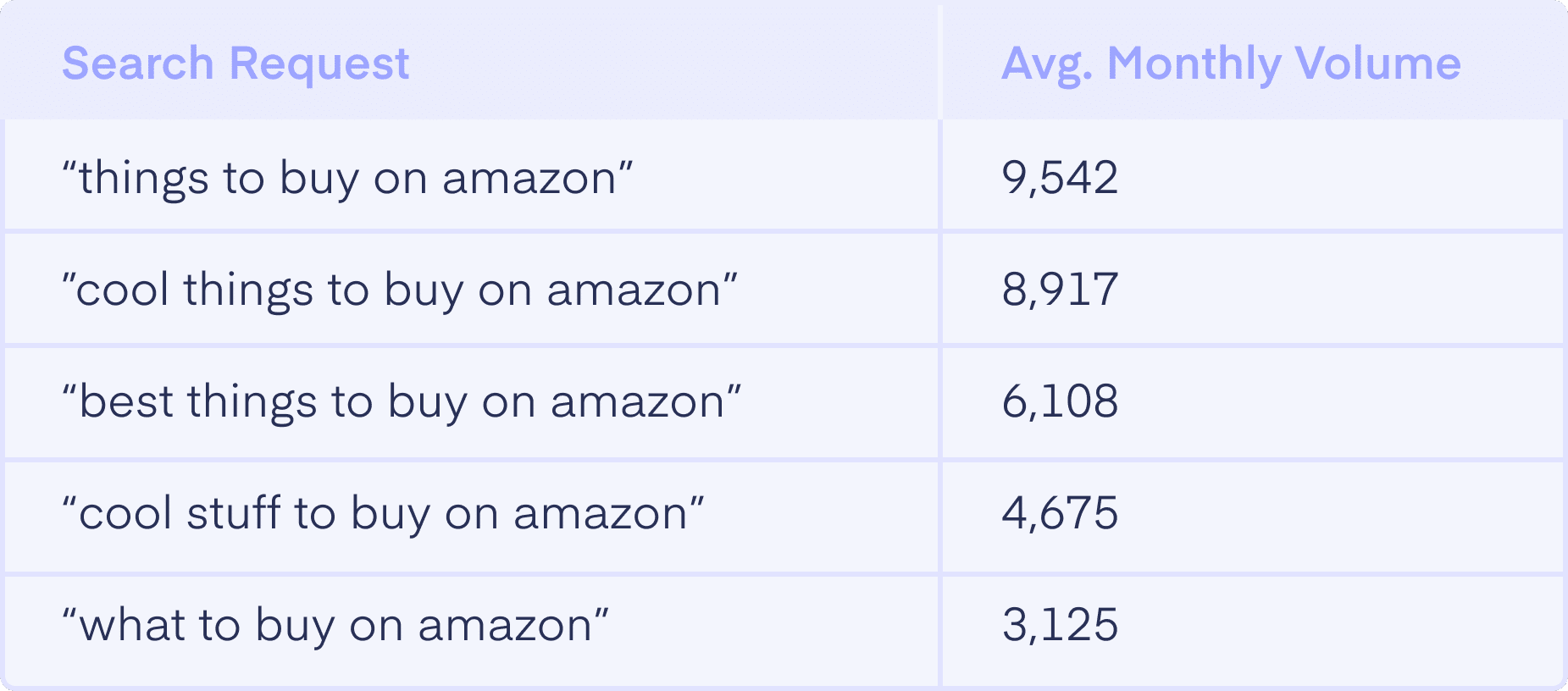 These are followed by "useful", "fun", "cute", and "cheap" things to buy on Amazon (we do like shopping just for fun, don't we?) The most honest of us even ask directly: "things to buy on amazon when bored".
​​Some might think that people search Google what to buy on Amazon without a certain intention to buy something, but the stats also shows more than 500 searches for a certain product or group of products. This proves that Google organic is a nice source to drive traffic to Amazon listing.
When talking about specific Amazon items, here is a list of the most widely searched on Google, sorted by popularity: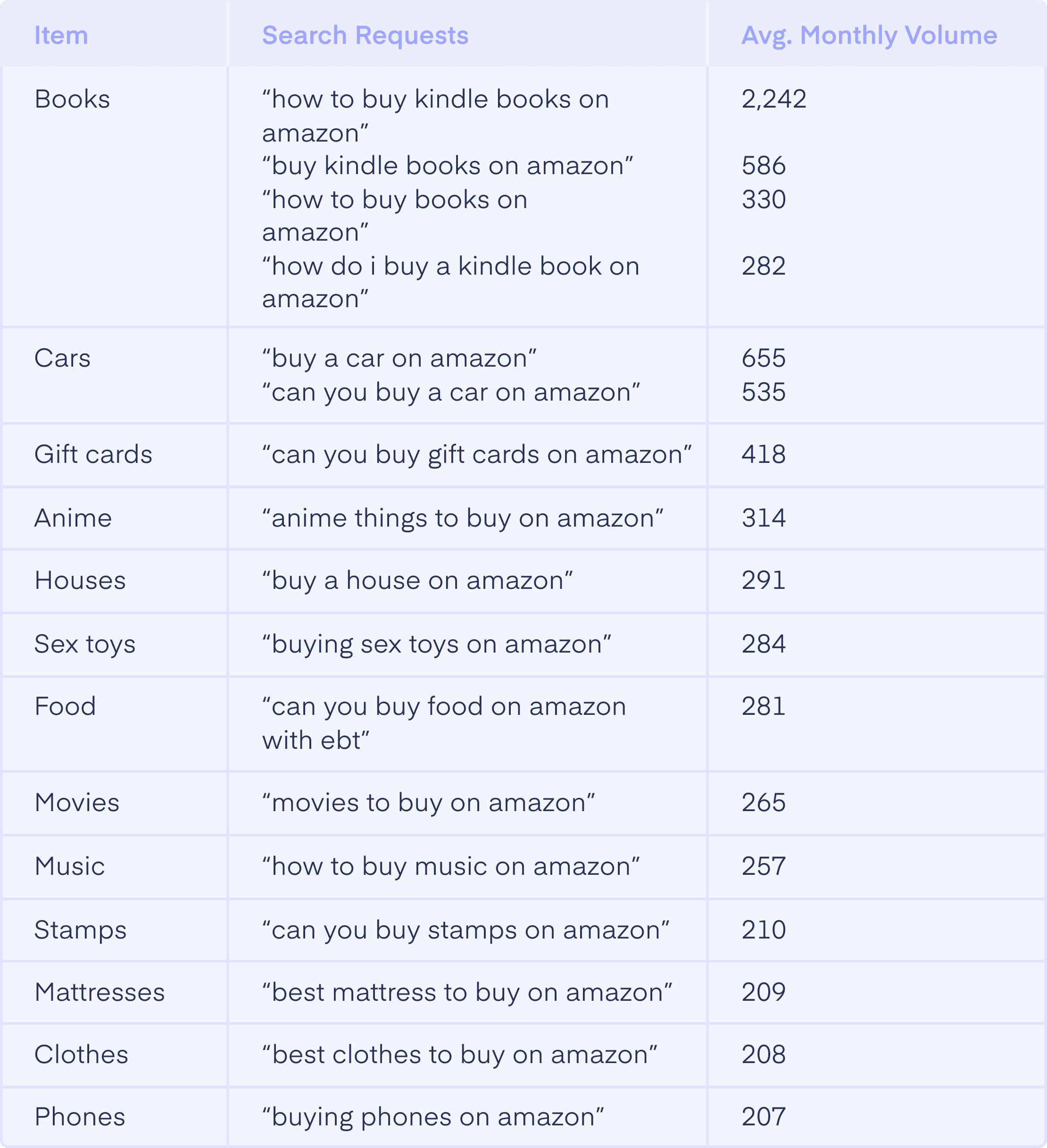 This data is provided by Sellzone (powered by Semrush), a powerful suite for optimizing and managing listing performance and pinpointing sales growth points. With Sellzone, sellers can research keywords, uncover growth points and new high-impact traffic sources, run split tests for the listings for free, get data-driven recommendations for listing optimization, and ultimately, grow traffic and increase sales on Amazon.
About the author:
Meri Chobanyan is a marketing practitioner and strategist from Sellzone with an extensive background in advertising and tech.