How PPC Improves Amazon Ranking

Amazon ads are more competitive than ever. How can you push your ad campaign above the competition? This article tells you how to boost your Amazon ranking.
From the live scalability of its search engines to the unparalleled exposure it can provide any product, Amazon is a seller's dream come true. The marketplace has a plethora of tools to get your products to rank higher and appear at the top of the search results page.
It is optimization that happens at the campaign level. Rather than just buying ads and hoping for the best, you're able to optimize your ad copy, keywords, and landing pages to maximize performance for your business.
What is Amazon PPC?
Amazon Pay-Per-Click is an auction-type ad model that allows businesses to purchase ad spots by clicks. Amazon charges sellers a fee for every shopper's click on their ad. Amazon's primary advertising format is Amazon Sponsored Products.
This ad model is keyword-targeted, meaning that sellers are bidding on keywords that are driving traffic to the necessary product detail page. With the help of Amazon PPC ads, sellers can improve Amazon ranking and beat competitors.
Paid SERP Features on Amazon
Amazon, as an e-commerce platform, is dedicated to providing users with the best experience and encouraging them to buy products on the platform. With its SERP features (Editorial Reviews, Top-Rated Products, etc.)  Amazon is trying to help buyers purchase outstanding products. It is not just designed to generate additional revenue or pass-along more products to Amazon customers, but to direct shoppers directly to quality products with a history of positive customer experiences.
A seller featured in the SERP features described below has more chances to boost organic ranking, overall conversion, and revenue:
Highly Rated

Sponsored Brands

Sponsored Products

Sponsored Brands Video
Sponsored Products, Sponsored Brands, and Sponsored Brand Videos are Amazon's pay-per-click ads. All they provide keyword targeting opportunities. Sponsored Brand Videos and Sponsored Products also provide product targeting options.
Since they operate on an auction-based system, sellers can increase the chances of winning the bid by incorporating target keywords into the product detail pages. To increase the chances to convert visitors into customers, sellers should optimize their product detail pages with high-quality images, compelling copy, and competitive prices.
Use Amazon PPC for Better Amazon Ranking
Search marketing has evolved to the point where organic marketing sometimes feels like marketing to the choir. If you want to find your audience, you'll need to work with paid ads. Let's see how you can elaborate on this.
Align with the Algorithm
The factors that determine placement in organic search are a combination of popularity, metadata, relevancy. Using different leverage to influence these factors is how you will affect your Amazon ranking.
In fact, Amazon's A9 algorithm is a mystery. There is no way to know how the Amazon ranking system works or how the ranking is determined, and there are many places where you are tasked with guessing how to best use various tactics. Still, remember that the success of your PPC campaign does not guarantee success on the organic front.
Optimize Sales Velocity
One of the most significant ways in which the Amazon PPC campaign affects organic ranking is sales velocity. This is a measurement of how quickly you make money. Calculating sales velocity is a simple process by using the standard formula:

Sales velocity is taken as a representation of relevance. So it is supposed that the A9 algorithm uses sales velocity when determining your ranking. In order to sell on Amazon more products and increase the value of your listings, it is supremely important to drive consistent sales and a high percentage of conversions.
Increase Brand Awareness
The best way to drive traffic to your Amazon store is to ensure that your brand is well-known. Ranking for non-branded terms in order to increase your total marketable audience is a good strategy to start with. But if you manage to bring more buyers with the help of branded searches (related to your brand), a surge in organic traffic is guaranteed.
One of the keys to generating more revenue is to establish long-term customer relationships. Building a brand loyal customer community around you is an excellent method to enhance the power of your business, and PPC provides positive reinforcement to the desired outcome.
Fuel Traffic Outside Amazon
Amazon is not the only channel that businesses should be investing in. Your Amazon Ads will become a lot more profitable if you can align your Amazon ad campaign with social networks ads. Plus, driving traffic towards Amazon can enhance your organic ranking.
Sellers consider that Amazon will reward them with more traffic if they bring external traffic to it. While it has yet to be proven, it makes sense to assume that this is true. When businesses funnel outside traffic to Amazon, they increase the number of its customers and revenue.
Still, even if driving external traffic to Amazon isn't exactly remunerated by the marketplace, you should still strive for more ads off Amazon. See, increased sales velocity will help bolster rankings, which will in turn help to boost organic traffic.
Prioritize Relevant Keywords
You're just starting off as a seller and don't know how to improve Amazon ranking? Our number-one lesson: do your keyword research. See, Amazon ads are fueled by keywords, so the rankings depend on the keywords you decide to include.
Amazon collects information about the products you sell based on who purchases them and uses this data to understand the search queries individuals use to find your products. The search terms indicate what the shopper has entered into Amazon's search bar. The chart below illustrates the frequency of the number of words entered per query (data based on entries from Amazon within one month in one European country).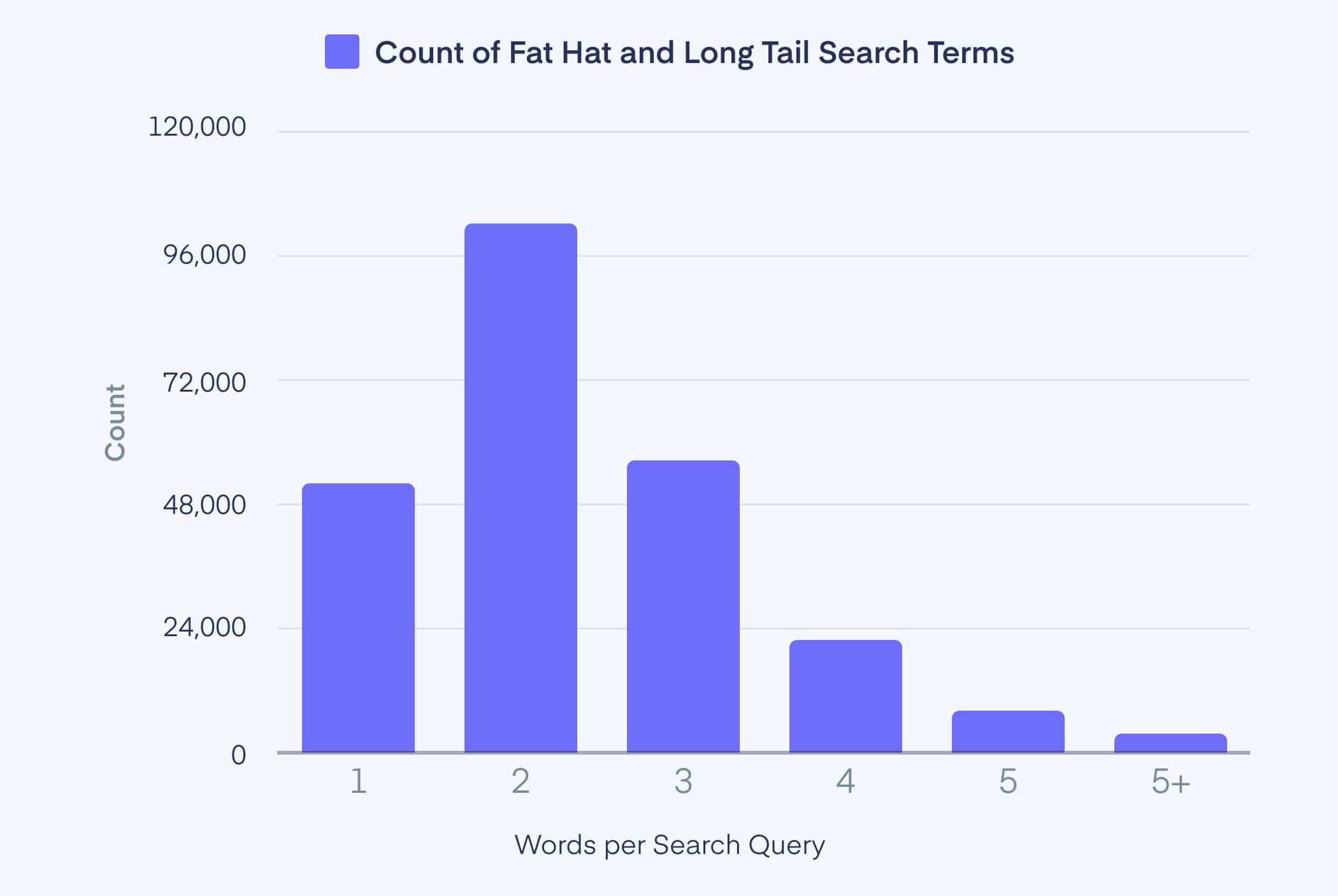 Either you're starting a new product on Amazon from scratch, or you're a new seller, getting down to your PPC journey with long-tail keywords is a good idea. Once you've reached a certain level of proficiency and success with the long-tail keywords you should move on to the generic, most-searched ones.
Use Sponsored Product to Rank Higher
Amazon Sponsored Product ads are one of the most powerful driving forces for sellers to boost product discoverability and sales. But the number of sellers that leverage Amazon PPC ads has grown dramatically in recent years. Sellers, in search of new ways to secure the top spots for Sponsored Products on Amazon, must often go through various tactics to boost their organic ranking.
Amazon aims to display ads that are most relevant to shoppers. If you want to be positioned at the top, it is not enough to bid high, you also need to have a valuable and relevant offer. To increase the chances of a sale as well as to keep your target audience engaged with your ads, your ad should be as relevant as possible.
Amazon takes many factors into account when they rate your ad:

How to Boost Organic Ranking on Amazon
Ere turning to PPC to surge organic ranking, be sure to check existing listings from a more conventional prospect. Elaborate on the following:
Price: It is essential to carefully analyze the pricing strategies of Amazon to rank and win the Buy Box. This is especially true for resellers. Make sure your pricing strategy allows you to win in competitive markets.
Logistic: Amazon emphasizes products with fast delivery rates. If you aren't a member of Prime, you will be struggling to list higher than products that are.  
Listing: Ensure your listings deliver a compelling message that can lure shoppers. Use high-quality images only. Use upgrades like A + content and monitor your customer reviews and star ratings. 
Only after you grasp these fundamentals can PPC really make a difference in your results. In order to get the best outcome from using PPC, you will need a reliable framework to get you started.
What else can help you push your Amazon ranking up?
Amazon Prime
The subscription-based service is the most widely-used filter by Amazon shoppers. If users select only Prime items when filtering product results, other items simply won't be appearing in the results. This makes a big difference because Prime members now outnumber Amazon's non-Prime users.
The number of Amazon Prime members in the US accounted for 147 million users as of Q1 2021. This behemoth audience is too important for online retailers to ignore.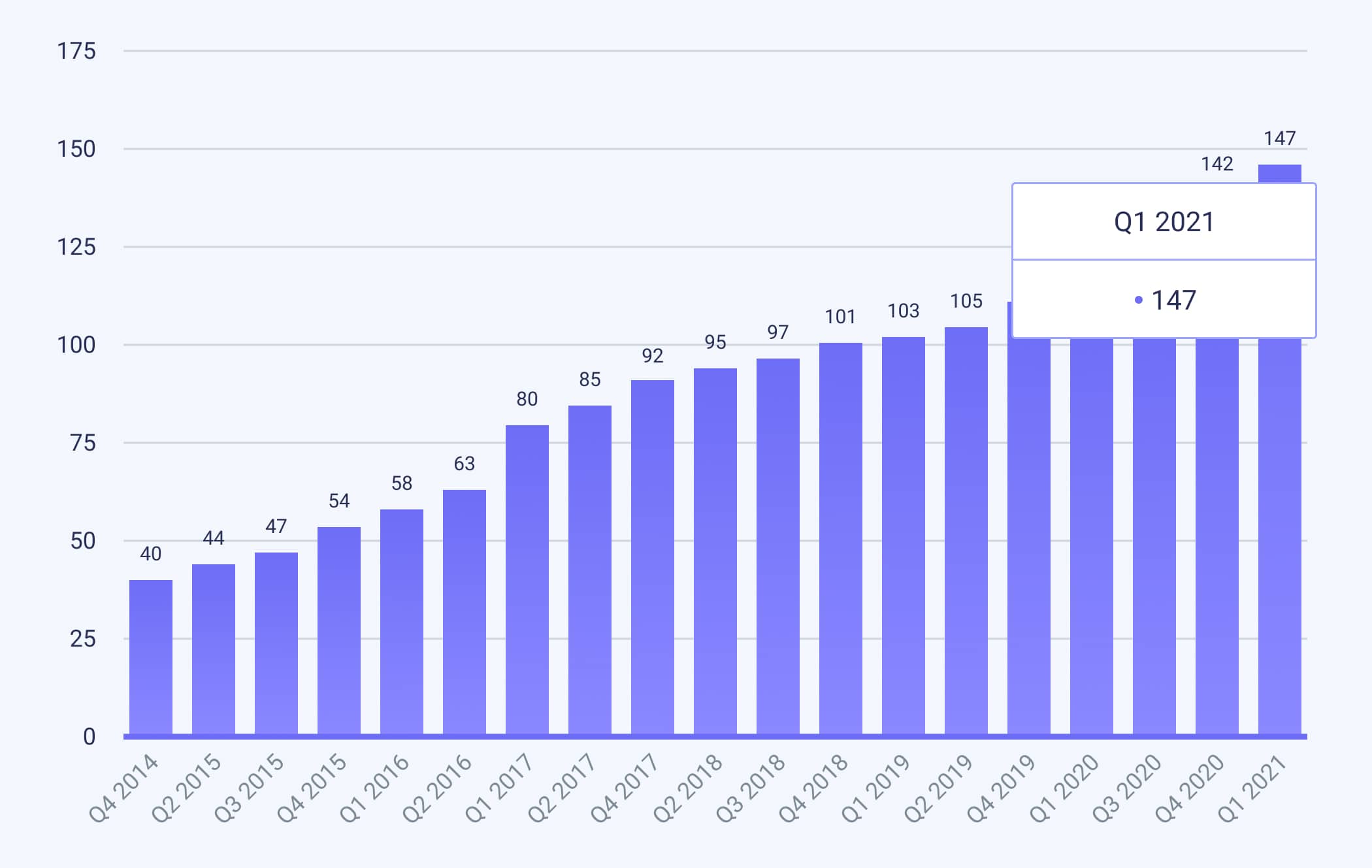 source: Statista
Inventory Management
With a variety of options available in the marketplace, retailers may have a hard time keeping up with track of their products, inventory, and stock levels. This is crucial as the Amazon ranking system lowers the positions of items that are out of stock. By being able to quickly keep track of what they have in stock, retailers increase profits, decrease ordering errors, and overall performance on the platform. Plus, by managing your inventory, you can easily track changes in inventory due to promotions, inventory loss, or order cancellations.
Product Listings Optimization
To be successful on Amazon, you need to make your product listings great. With millions of products listed on the platform, you want to increase the chances that your potential customers can find you. Besides, product listings on Amazon are an incredibly important piece of your brand. By optimizing them, you increase your chances of making a sale.
Final Word
Amazon offers some of the best opportunities for eCommerce businesses. But it also presents unique challenges related to search visibility. We hope this article will help you to come up with an effective Amazon ranking strategy and get to the top of your search!
Meanwhile, check out our webinar on Amazon PPC Ranking held by Profit Whales CEO Vitalii Khyzhniak!
If you need more information about how to set up your PPC campaign and improve your ranking, contact us and we'll gladly help you!
back to articles