Amazon Keywords Research in 2021
The year 2020 brought abrupt changes due to the COVID-19 pandemic in life and shopping style for people all over the world, Amazon.com does not stay the same as well.
In 2019 Amazon has estimated US consumer goods market share growth from 10% to 12%, at the beginning of 2021 increased by 24%. The demand for products gets only higher and higher, which means the competition is bigger than before. To compete in such a wide marketplace, sellers need to keep up with all the keywords´ constant modifications.
The Keywords Meet the Product
It is complicated to do keyword research without understanding where to use them. 
There are three areas where a product is married to a keyword on Amazon.com:
Via 

product detail page

, this is how the Amazon algorithm indexing keywords for the product, and it's also how the customers read about it.

Via

Sponsored Ads campaigns,

 where sellers bid money for showing as high as possible in the Amazon.com search results, before people who are looking for your product

Keywords in the Amazon product Listing
Amazon finds relevant ASIN
Keywords included in the product detail page determine if the ASIN fits the customer search. This is known as ASIN indexing.
For every most searched Amazon keyword, there are typically several indexed competing ASINs. Each such ASIN has a rank with that keyword. As one might suspect, this rank determines the order in which these ASINs get to appear in the search result. 
Indexing keywords for Amazon listing is not just about organic searches. The Amazon A10 algorithm also considers the keyword rank when it deals with Sponsored Ads. An Ad targeted at a specific keyword will score a better position if the ASIN is already indexed for that keyword organically.
"In autumn 2018, one of our customers was launching a new product (room wall decors) and was stuck at the glass ceiling with its Sponsored Ads. The Ads kept showing on page 4 of search results, no matter how high the bids were. 

We've noticed the product did in fact show on page 2 for 3 keywords. As we've looked at the listing closely, we realized that the product detail page contained some very industry-specific terms and had very few common language keywords (that were at the basis of its PPC Campaign). 

Upon adding more layman language to that listing, we saw an increase in Ads position across the board, Sponsored sales going from 2-4 to 10-12 units in just 2 weeks."
The Amazon indexes keywords from the following product listing fields: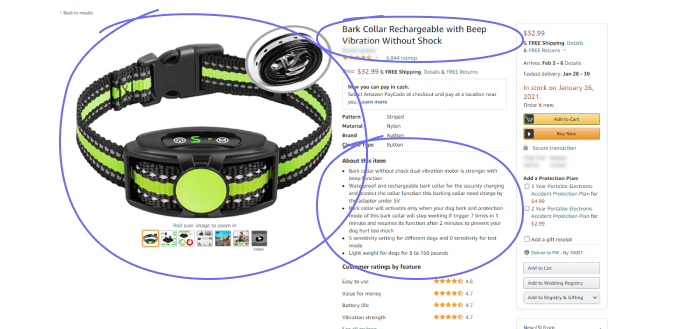 The first 250 symbols are counted towards indexing, there should be included 2-3 most popular keywords that describe the product and its key attributes.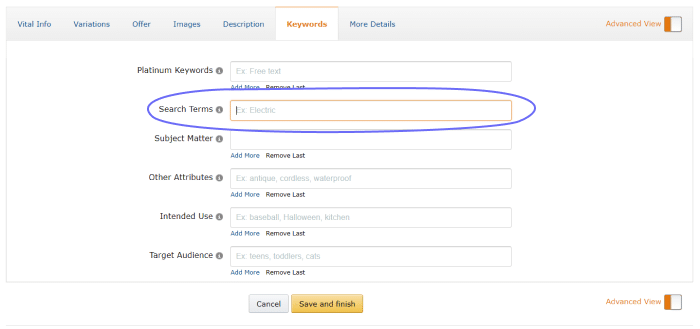 At least the first 100 symbols from each bullet point get indexed. A good place to fill with a text containing the rest of tier 1 and most related tier 2 Amazon keywords.
The system will index at least the first 1024 symbols from the backend list. This field should be stacked in more 2nd tier and some of the best long-tail keywords here. 
A few more tips in the article Amazon backend keywords.
The Way Sponsored Ad Appears in the Search Result
Every time a customer enters a search term in the Amazon.com search console, Amazon A 10 search algorithm runs a check. It picks up on any seller accounts that contain one or more ad groups with keywords matching the search query. As a result, it gets arranged into a hierarchy based on the scoring. This hierarchy determines the position of the product's Sponsored Ad that will be shown in search results. 
Relevant Amazon keywords should ideally be assigned to different Campaigns, each dedicated to a separate roll-in executing selected marketing Strategy.
Here is some additional information about the Amazon PPC Campaign structure.
A useful tip: 
It is helpful to run a quick manual check by following the next steps and see if any ASIN is indexed for a given keyword:
copy-pasting the ASIN number in question

typing in space and the keyword in question

running the search

If the ASIN is indexed, the following shows up: "1 result for _ASIN_ _keyword_" 

Amazon Keyword Match Types
Depending on the strategy, a keyword is used either in exact or broad match type. The phrase match type left out of the discussion on purpose. 
A well-seasoned PPC Campaign is likely to contain the majority of relevant keywords in exact match type anyway, with only a handful of broad match type terms acting as low-bid backups. 
The suggestion will be to use exact match type keywords exclusively for the following types of PPC Campaigns: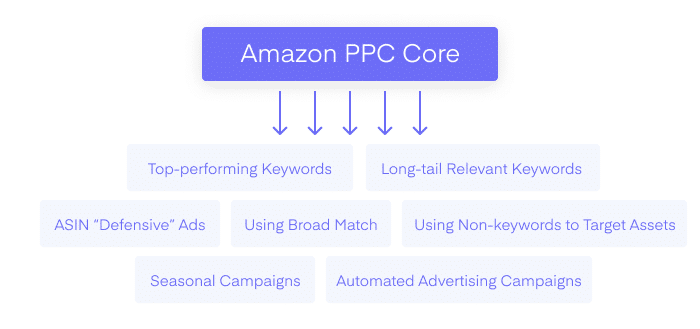 Top-performing Keywords Campaigns
These are the bread & butter of most Sponsored Ads, generating the bulk of non-brand keywords sales.
It is essential to have the most popular keywords in these campaigns. This way, the seller can be assured that any increase in bids will translate directly to the ad position in all relevant search results. 
When it comes to Sponsored Brand Campaigns — exact is probably the only kind of match types that should be using. Sponsored Brand Ads typically earn fewer clicks per dollar than Product Ads. 
It is seldom seen that brand ads are performing at as low as 40-45% ACoS level unless that is Bestseller. Therefore, running a Sponsored Brand ad with any keywords in match type other than exact is almost always prohibitively expensive.
Brand Keywords Campaigns
If Seller's PL brand is established enough on Amazon.com (or at least amongst its core buyers) — it is likely to gain substantial extra sales from being targeted in Sponsored ads. Typically, with the smallest ACoS possible. 
An Amazon PPC manager will do well by selecting 10-15 most popular search terms that include the brand or product name and using them in this separate campaign. 
Also, it is better to not combine brand keywords with top-performing exact keywords. For once — these would bring down the total ACoS of such aggregate campaigns. Meaning there will be no clear picture of what's going on from looking at campaign-level metrics (like ACoS or orders). And a PPC Manager needs to be able to do that quickly because it saves time every day the seller digs into the data for optimization.
Exact Long-tail Keywords
These are perfectly relevant keywords that describe the product usually in 4-6 words. They are too rare to be seen often, but when used (and when the customer will see the Sponsored ad) — they usually perform excellently. 
Just like with brand keywords — it is more effective to keep these keywords in a separate campaign. Their key metrics (e.g. the CTR) will differ from those of top-performing keywords, so better to not mix them.
If nothing else — fewer orders coming via ads with long-tail keywords mean that data will be accumulated slowly. This in turn means that the seller will have to conduct PPC optimization less often for these campaigns. 
Plus, if the product is good — sooner or later there is a chance to make the way towards a best-seller rank in one or more of the selected keywords. And there's a high probability that it's going to be one because of these long-tail keywords. Simply, they have fewer competitors.
Search Term Screening Campaign
Broad keywords are excellent at siphoning through Amazon traffic and showing the product for searches that otherwise would've been missed out with exact-only PPC Campaign build. 
To make it work and not waste the marketing budget, it makes sense to run these in a separate campaign. A fraction of a budget an exact campaign gets and at bids around or below the Amazon-suggested setup values.
Amazon Keywords Research
The rules of the game in 2021 are simple: more competition, same real estate space. 
Meaning that there is a bigger performance gap between "ok" keywords and "really good" ones. 
There is more competition for getting ads to the top position with good keywords. So, better to not miss out on any of those keywords and use them preferably in exact match types for maximum agency over their performance.
Not all keywords are equal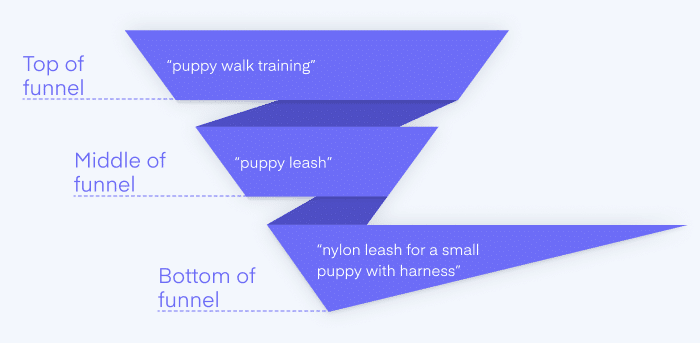 Some are blatantly obvious and are describing the product perfectly: its size, color, quantity, material, usage, user age, and other "solid" qualities. 
Others seem ok, but in truth are way too general or too vaguely descriptive. Those will score too many clicks but are likely to convert very poorly too since a customer is simply in the wrong part of the purchase funnel yet.
For those cases when it is not clear if a keyword is "really good" or just "ok", the solution can be found by running a quick (1-2 week) test and letting the audience tell that. The test includes setting the smallest viable bids on these keywords and seeing how customers see the product in the search results. The further actions depend on the firm data after the check. There are always some good targeting opportunities.
Starting Amazon Keyword Research
"Keyword research starts with a product name, to be precise, just by dialing it into the search bar".
Amazon provides the seller with some alternative options related to the search term: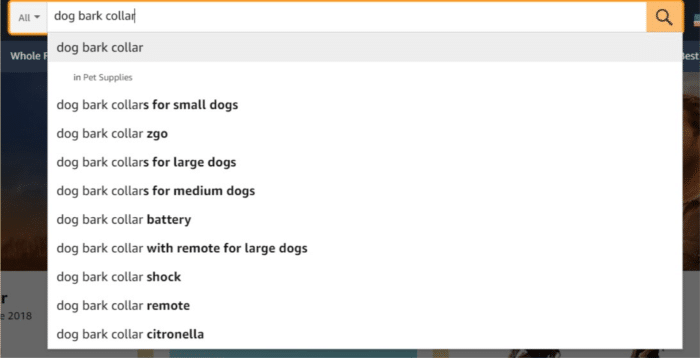 The same research is possible from the Seller Central Advertising Manager or Advertising Console itself. When Amazon user creates a new campaign and select the product ASIN — the system will scan its content and suggest some seed keywords that it believes to be related (along with the suggested bid values):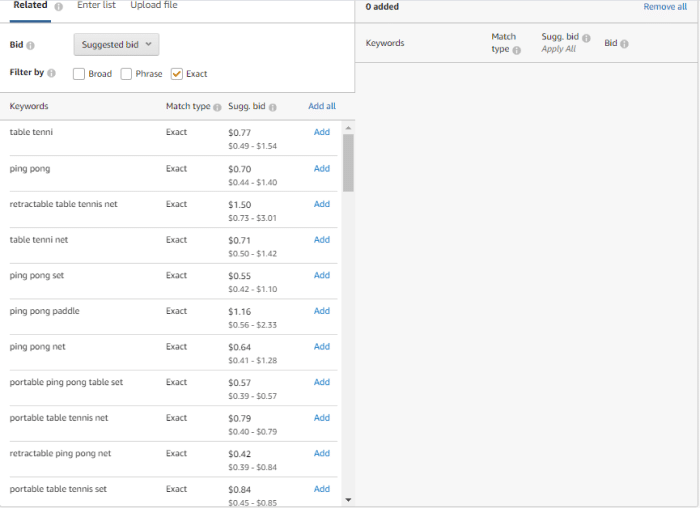 Unfortunately, not all the keywords are useful, usually, sellers rely on intuition and common knowledge to understand which ones will perform the best. 
The next simple free amazon keyword research tools are always available to a Seller. They should be more than enough, to proceed to the next step.
Best Free Source of Highly Relevant Keywords
One option is to take a great deal of very effective keywords from the competitor´s listing.
The fact that their ads are at the top of search results for the top-performing keywords implies that they do their homework, including the work of creating a keyword-rich product detail page.
There are many obvious and not-so-obvious fields to do such research: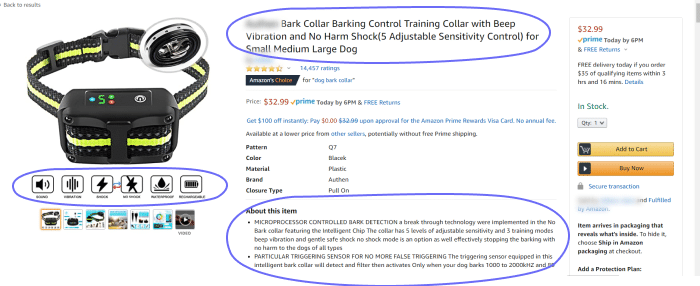 Title

Bullet Points

The infographics from product pictures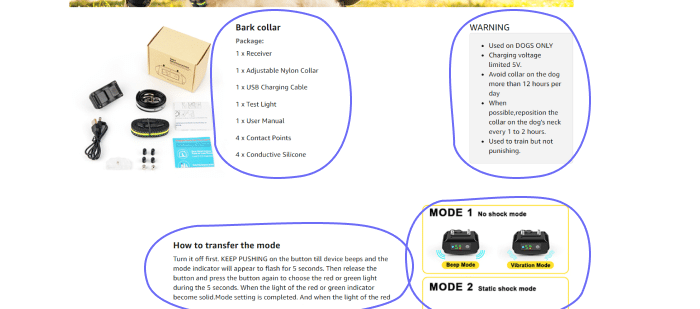 Product description 

User warnings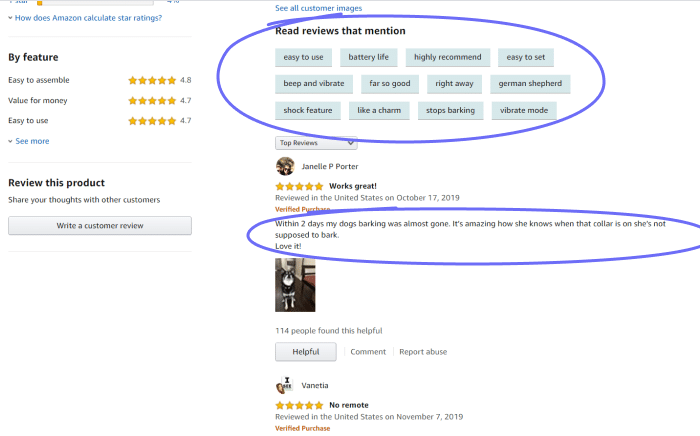 Product reviews (e.g., see how real customers call the product and the key features they find worth mentioning)
It might help to make a list with all the keywords you've discovered and arrange them so that it will be easy to immediately spot those that are very likely to be relevant to the product (let's call these 1st tier keywords) and those that are 2nd tier (including long-tail keywords).
The 1st tier needs a double-check to make sure they are relevant to the product. Each of them should be typed in the Amazon.com search console again. If 80-90% of search result products are the same as an analyzed product – they are perfect to be used.
If relevant products show less than 60% of search results they need to be added to the list of negatives.
Other Free Keyword Research Tools for Amazon
Meticulous free keyword research does not stop with analyzing the competitors. Especially, if the product is selling well, and every extra discovered keyword will likely generate some extra sales. 
Google search console and Google Ads Keyword Planner tool can do broader keyword research (basic functions are free).
The search console in Google will work the same way as Amazon does. Some new keywords from there are more likely, as Google's search algorithm is superior to Amazon's, plus Google has significantly more data flowing through it at any point in time.
The keyword planner takes in up to 10 keywords (using 2-3 words per keyword entry to achieve optimal results):

Google might help to find new ideas for keywords: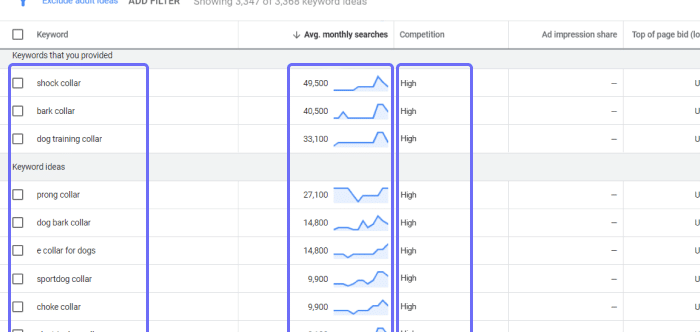 However, an Amazon PPC user needs to be careful with Google search results. Remember that Google is a search engine after all: people google things up for all manner of reasons. That is why the Google keyword will reflect it! Amazon.com on the other hand is different, the vast majority of people are looking for things to buy, not to learn about them. 
Picking the final keywords is a long-term process that includes clever use of the Search Term Report from time to time. 
Paid Keyword Research
Amazon search term report
One way to get relevant search terms (first hand) for money is from Amazon itself. 
The research: seller needs to refuel the Amazon Advertising budget and to launch a temporary Sponsored Product campaign with a single ad group containing 4-6 broad match type keywords. In order to save as much money as possible, it is better to set the lowest bids. 
Amazon will start showing the ads to more or less relevant search queries and over 1-3 weeks the answer will be found in the Search Term Report. From analyzing this report, it will be clear which search terms scored better CTR and sales.
Paid Keyword Research Tools
Amazon sellers have an option to use paid keywords research tools instead of doing it with one's own hands: 
Zon.Tools specializes in helping Amazon sellers to conduct more complete keyword research, encompassing other targeting options for future PPC campaigns, like competing ASINs and relevant categories. 
Ad Badger is a brand that educates the Amazon Seller community. Also, they manage and optimize regular bids, keep the operating keywords pool fresh and healthy, suggesting new keywords to try and provide all-around user training and education.
Tool4seller is a tool that provides an integrative alert system to monitor PPC performance and warn sellers of many unfortunate situations that can cause unnecessary expenses. 
Viral Launch offers a formidable set of services helping Amazon sellers to pick the right keywords and increase PPC advertising efficiency. 
Before concluding, it is important to remember that Amazon keywords require constant optimization. In that case, not only Amazon search terms report can help with this task, but also customers´ reviews come to the rescue. What is meant, in reviews buyers often use everyday language, the same happens in their search for the product. This way buyers can explore new keywords with big potential.
"At one time we helped a dog treat dispenser PL manufacturer with their Amazon Sponsored Ads. And it wasn't until we got ourselves intimate with those customer reviews of their product AND complementary dog food products, that words like "doggo", "fido" and "cat-proof" entered our Sponsored Ads targeting options".
Keyword research might not seem easy. There are different tricks to find the most useful ways, but it does not have to be a one-person job.
To sum up, this article covered the questions of keyword´s relevance, placement, their role in Advertising campaigns, and research possibilities. That is now clear, that Amazon itself embraces a lot of tricks that help sellers find the best keywords for the products. The year 2021 will most certainly differ from many other previous years, but the same as 2020, it brings many positive changes in Amazon businesses all over the world, better to not miss out on a chance turning it into profit.
back to articles