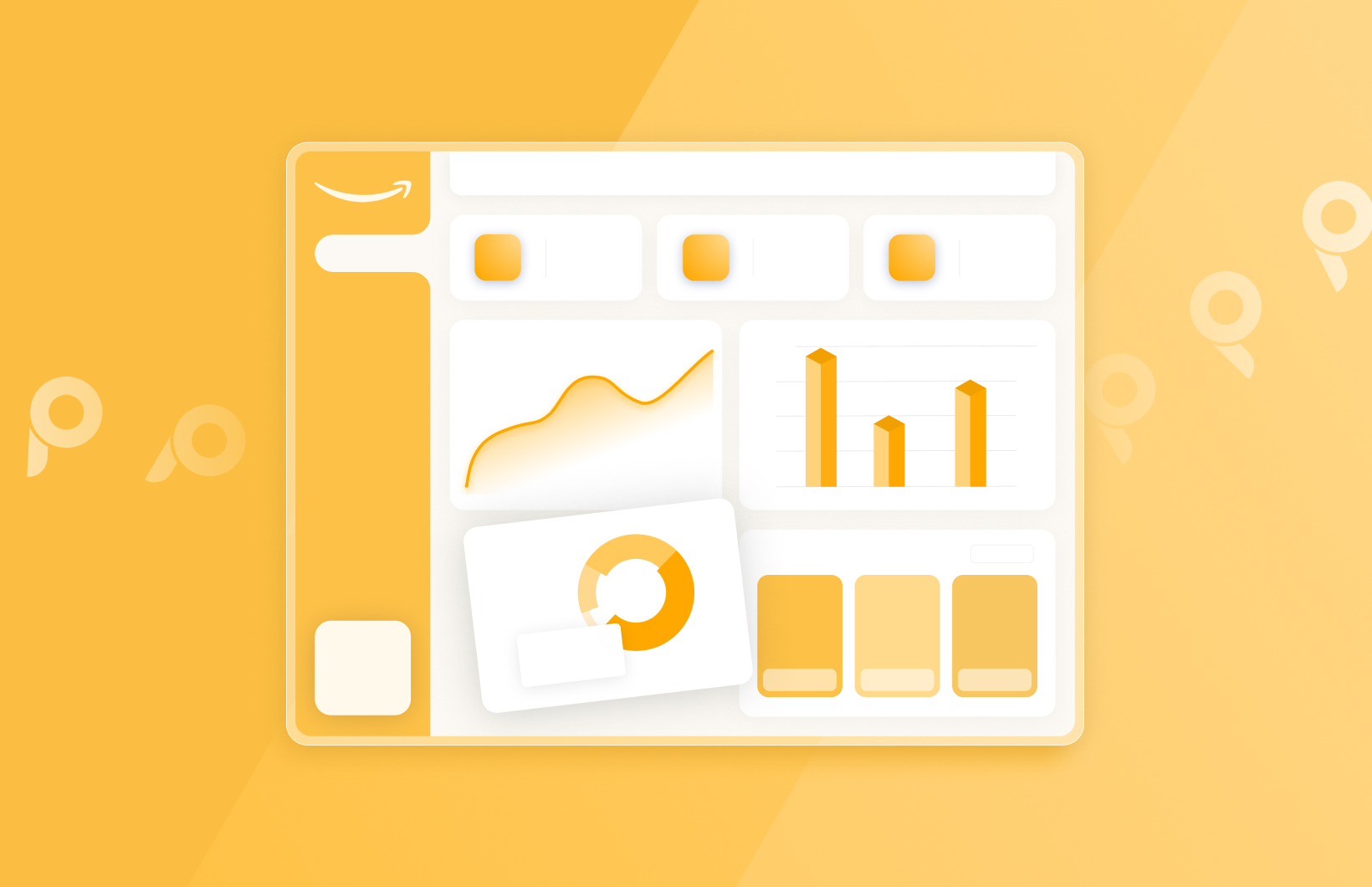 Amazon is known for its smart algorithms and its almost unparalleled knowledge about what the consumer wants. So it makes sense that Amazon is appealing to brands who need a boost in sales, or those just looking for information about the consumer. In this article, we take a look at Amazon's treasured Brand Analytics Tool and its major features.
Want to apply it to your business? Read on and find out how exactly you can do it.
Table of content:
What is Brand Analytics Tool on Amazon
Amazon Brand Analytics is Amazon's marketplace insights software. It is a web-enabled, cloud software solution that captures the data and insights about your brand to better understand your customer shopping journey. The tool allows sellers to leverage data on consumer purchasing behavior and thus make more efficient strategic decisions and contrast effectively with competitors. 
The Amazon Brand Analytics tool is a unique and valuable resource for businesses to leverage. The tool provides rich data from the millions of products in its database. Additionally, the tool collects product sales data and insights from other Amazon data sets to help businesses better understand the needs and preferences of their target customers.
Why Amazon Brand Analytics is Vital
Amazon is continually working hard to make it easier for small businesses and entrepreneurs to sell on the marketplace. That is exactly the goal of the solution we're discussing in this article. At its core, Amazon Brand Analytics is designed to help correctly answer a question that's common to every marketer: how do my products rank on Amazon?
The Amazon Brand Analytics Tool enables you to aggregate and track important data related to your brand: your ranks in sales, your largest sales channels, and your fastest-growing products. It helps you find the best keywords for your brand and products. It analyzes the user's online behavior and cross-references it with the data from your competitor's sales data.
Brand analytics is the measurement of the actual and perceived value a brand has within its chosen target market. In fact, brand analytics can play a part in both the set-up and the ongoing management of brands, including investments, business development, and a multitude of other decisions along the way.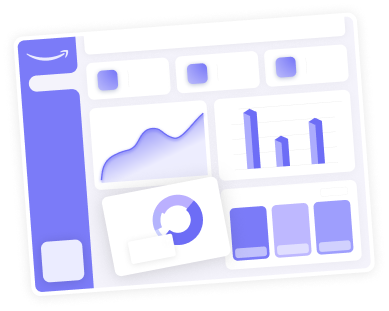 See the results to get why Brand Analytics serves as a reliable source of information for Amazon sellers
Who Can Use Amazon Brand Analytics
Those willing to use Amazon Brand Analytics must meet the following criteria:
be brand-registered (Amazon Brand Registry member)

hold responsibility for selling products on Amazon

have a brand-registered active trademark.
There are a lot of scammers on the market who steal logos and provide fake products to consumers – they copy and sell your product as if it's genuine. It can harm your business a lot. That's why you need to be a member of the Amazon Brand Registry program  – it protects you from that.
Amazon Brand Analytics Access 
You can begin using Amazon Brand Analytics by following these easy steps:
Head to your

Amazon Seller Central

account.

Click

Reports

in the main navigation menu.

Pick

Brand Analytics

from the dropdown menu.

Tap on Brand Analytics and you're ready to go!

Amazon Brand Analytics Reports
Amazon Brand Analytics is a powerful reporting tool that allows you to understand your brand's performance and goals. Amazon measures and calculates key metrics of your brand's performance, such as the quality of reviews for your products and the revenue of your brand.
Amazon Search Term Report
What shoppers enter in the search field when looking for products can affect how you advertise and position copies of related products. According to Statista, as of January 2020, 40 percent of all US web searches contained two keywords.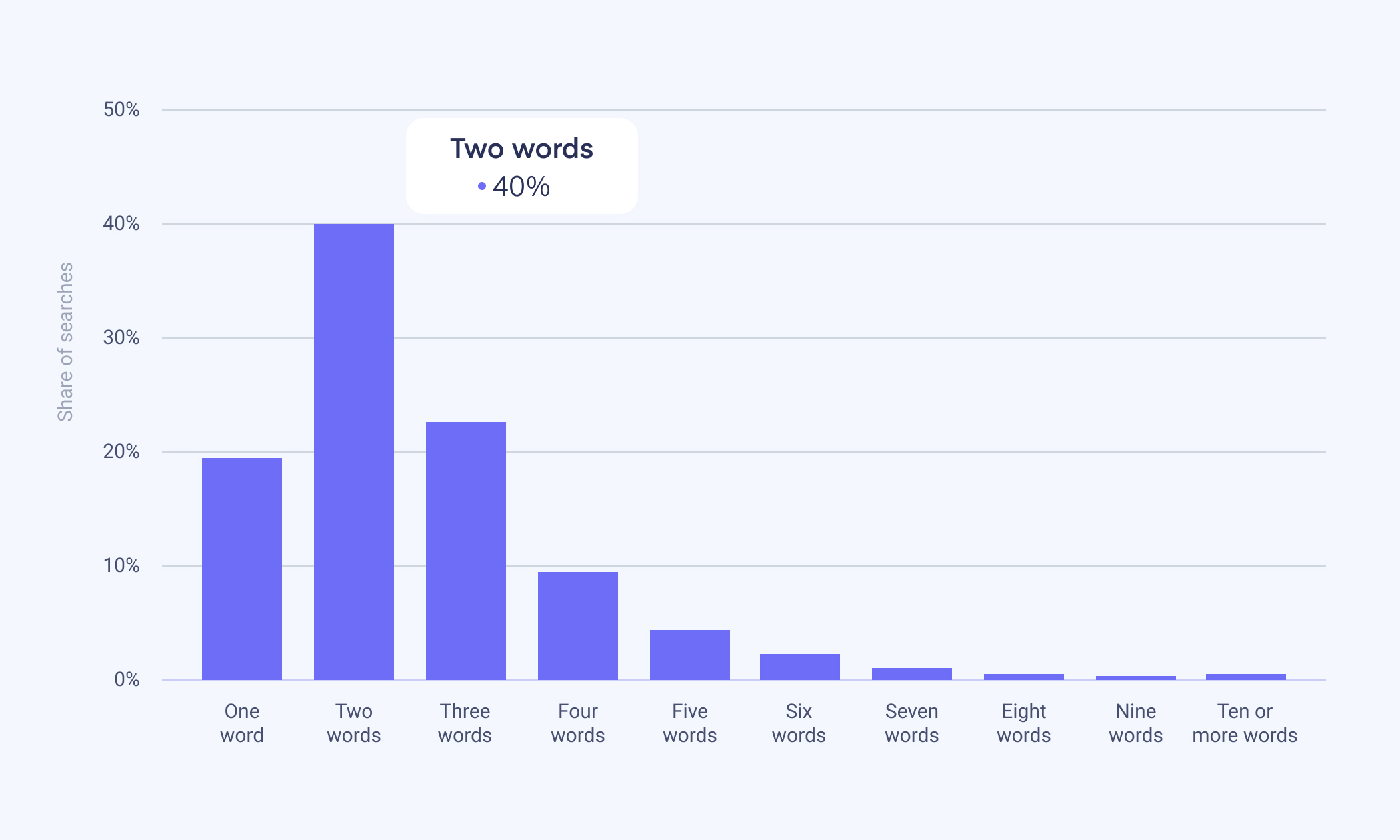 The Amazon Search Term Report features invaluable insights into the trends and behaviors of consumers in searches over the short and long term. The report provides much-needed context and something to refer to when looking at trends within your own verticals.
The report covers data on:
most widely-used search terms for a certain period of time

search frequency rating for each term

the first 3 items shoppers clicked on the search result page

each click on a product and the percentage of conversions.

You can use the report in two ways: you can either take one specific search term and investigate which items users interacted with on the search results, or you can analyze a product and related search terms shoppers used to find it.
Repeat Purchase Behavior Report
When a shopper buys a good quality product, it's likely that they will make a repeat order of the same product. Amazon Repeat Purchase Behavior Report is a tool that can help sellers to better understand customer purchasing behaviors and thus work on maintaining their loyalty.
This report details the total number of orders received for each product or brand. It also provides the total number of consumers who have ordered from the given brand or were exposed to the given product, and how many customers are unique.
The report covers data on:
ASIN

The product's name

Orders

Unique Clients

Income from repeat buys.
Using this info you can determine products that might be ordered again in the future and then you can focus your efforts on promoting these products.
Market Basket Analysis Report
The Market Basket Report allows you to compare products on Amazon based on purchases. The report will show the top three products that shoppers bought most often simultaneously purchasing your products. Products that have been purchased with a significant portion of your own products may be considered add-ons, allowing them to be used for cross-marketing or bundling.
This report is a crucial tool for learning shoppers purchasing decisions and setting ad campaigns accordingly. The report covers data on:
ASIN

Product title

#1 Purchased ASIN

#1 Purchased Title

#1 Combination

#2 Purchased ASIN

#2 Purchased Title

#2 Combination

#3 Purchased ASIN

#3 Purchased Title

#3 Combination
This data can assist you in the process of creating Sponsored Product Ad Campaigns. And, if your products are bought together through PPC campaigns, they may appear in the "Customers who bought this item also bought" section.
Item Comparison Report
The report displays the five products that had the most views within 24 hours. The data can be used by sellers to leverage competitor information and make more informed advertising and product decisions. The report covers data on:
Compared ASIN: the ASIN your product was compared to.

Compared percentage: the frequency of viewing the product on the same day as your own.

Alternate purchase behavior: what products shoppers acquired from your competitors after seeing your product.

Purchased percentage: the percentage of orders with the ASIN compared to the total number of orders using alternative products.
Alternate Purchase Report
This report provides info on the five products that shoppers bought most often while neglecting your offering. It also gives an indication of the percentage of time period each product has been used as an alternative product of choice.
Since it is similar to the comparison report, it utilizes metrics we listed above, plus allows for filtering the report by choosing one of the following features:
ASIN

Brand

Category

Subcategory

Search term 
You receive specific data on your product's ranking comparison (to the top compared products). This provides useful data on the ASINs shoppers viewed and the prices of competing products.
Demographics Report
The Amazon demographics report is an analysis of data pulled from Amazon to give a deep dive into your target audience. With the help of the data provided by the report, you can optimize your ads off-Amazon or improve product pages to match your target audience.
Specifically, this report highlights key metrics such as: 
Amazon's core demographic characteristics

Ordered unit sales

Unique customers: the number of buyers of a specific product

Unique customers: unique buyers as a percentage of all buyers

Ordered unit: sales as a percentage of all sales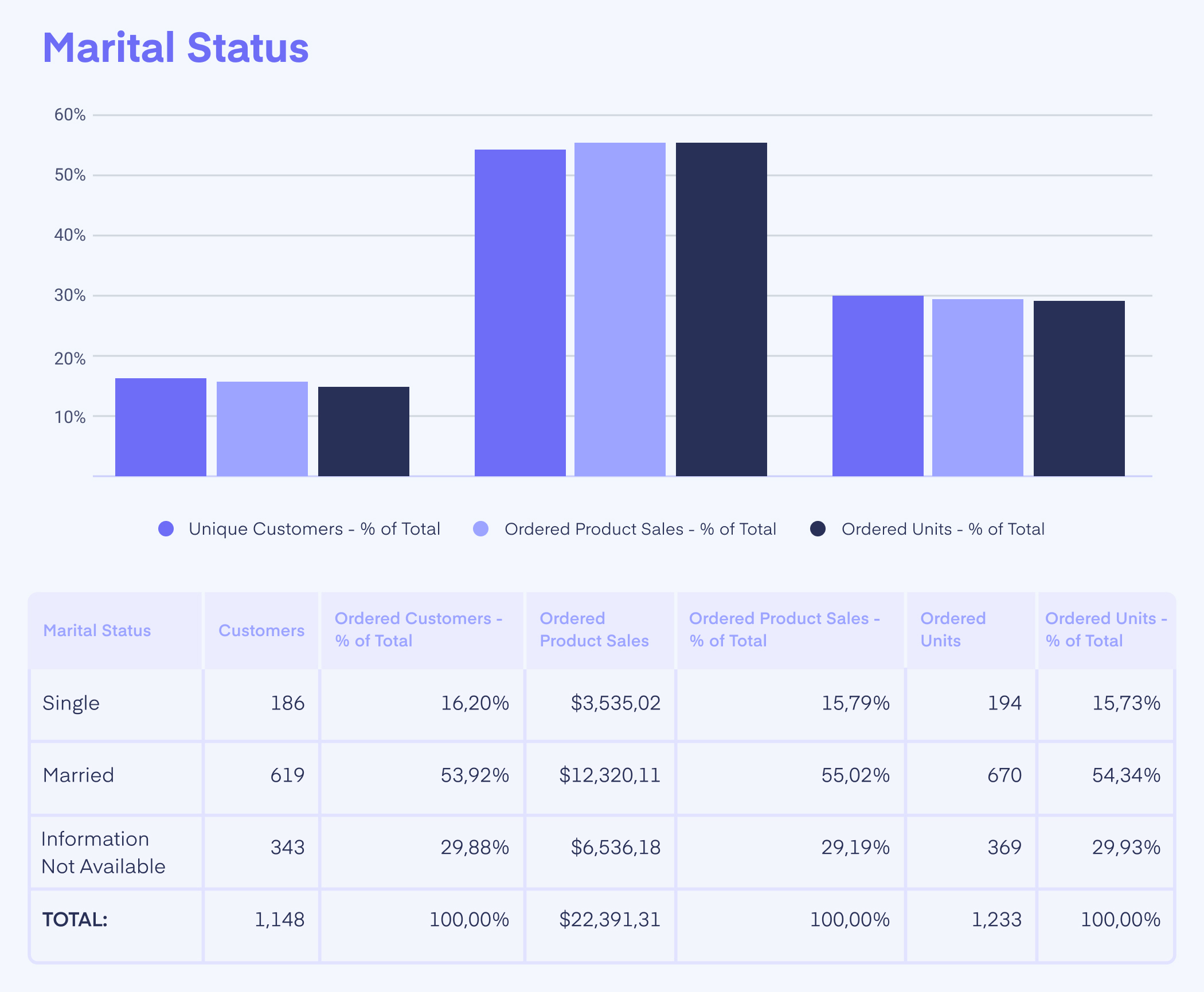 You can also find info in the report taking into account factors such as age, family income, gender, marital status, and education. You can filter report data according to any of these metrics.
Using Brand Dashboard in Amazon Brand Analytics
In addition to the reports within Amazon Brand Analytics, Brand Dashboard can also be used to gain valuable insights regarding products that:
received under five reviews;

have no detailed page attributes;

need better content;

are not included in the Sponsored Product Ads campaign;

gained three or fewer stars in the reviews;

with little-used search terms;

etc.
You can access Brand Analytics Dashboard by logging into your Amazon Seller Central account, clicking Performance in the main navigation, tapping on Brand Dashboard in the dropdown menu.
Using Amazon Brand Analytics for Your Business
Your Amazon Seller account is a key to audience and sales data. Amazon Brand Analytics is ready-to-use for your business, it is only left for you to learn how to utilize its information to your own advantage. When you're ready, you can start tracking your inventory, pricing decisions, and promotional activity. Use Amazon Brand Analytics in order to:
check reports regularly to withdraw key insights;

utilize reports' data to improve listings by finding the most relevant keywords;

update and thus enhance your Amazon ad campaigns;

analyze purchasing behavior of your consumers;

upgrade your SEO and PPC tactics to boost sales;

generate more value from your advertising efforts as a whole.
Metrics to Monitor in Amazon Brand Analytics
You can check the performance of your brand across Amazon with these top five Amazon metrics.
Each ASIN's Click Share
Amazon's Search Term report is truly helpful in determining which keyword performs well and which doesn't. It's easy to see the most viewed, purchased, and searched-for items for each of the distinct terms you enter. This way you'll be able to gain useful knowledge of your competing products. Also, you'll have a chance to review data on your most popular product and any impressions related to it.
Percentage of Consumers Who Buy Competitors' Products
In the Alternate Purchase report, you can see the percentage of consumers that viewed your product and then decided to purchase the same or another option from your competitors. The ability to determine what brands pose the biggest threat is a helpful strategy for marketing.
You can also use the report for your listing optimization. This way you can increase your store's ranking and traffic.
Repeat Sales' Value
The value of a performance assessment and evaluation of your product is crucial for any company in the business. With the help of the Repeat Purchase Behavior report, you can get a lot of useful data. You can check the number of orders coming from repeating shoppers. Though more importantly, you can see exactly how much revenue you generated from these repeating purchases.
If your business can manage to grow this figure every week or month, you will have the opportunity to propel your company in the best and most profitable direction.
Number of Pending Ads in Your Account
In the Amazon Brand Analytics dashboard, you can find data on your product listings and find ways to improve them. For instance, you can discover which listings might need A+ Content, PPC ads, or more reviews. In short, you'll discover major weaknesses of your listings, including poorly-developed5 detail pages and missing search terms.
It is important for brands with a lot of products or inventory to be able to keep track of the numbers on their dashboard.
Click-Through Rate
Amazon ad attribution can be employed to keep track of search ads, social ads, display ads, and email promotions outside Amazon. You'll be able to access a lot of helpful metrics (impressions, click-through rate, conversion, etc.) once you set up all the tracking tags. By figuring out your click-through rate, you'll be able to measure the performance of your channel including the results of your individual campaigns.
Brands that mostly rely on Amazon's merchandising platform, can greatly benefit from using these performance metrics to properly adjust their ad strategies.
Final Word
How do you set marketing budgets and decide which marketing channels are best for your business? It can be challenging to compare the performance of different marketing channels, especially when the data is siloed in different reporting tools without any way to visualize it.
Amazon Brand Analytics is a program that allows you to analyze your brand in great depth. It's a powerful tool for gaining insight into customer buying behavior.