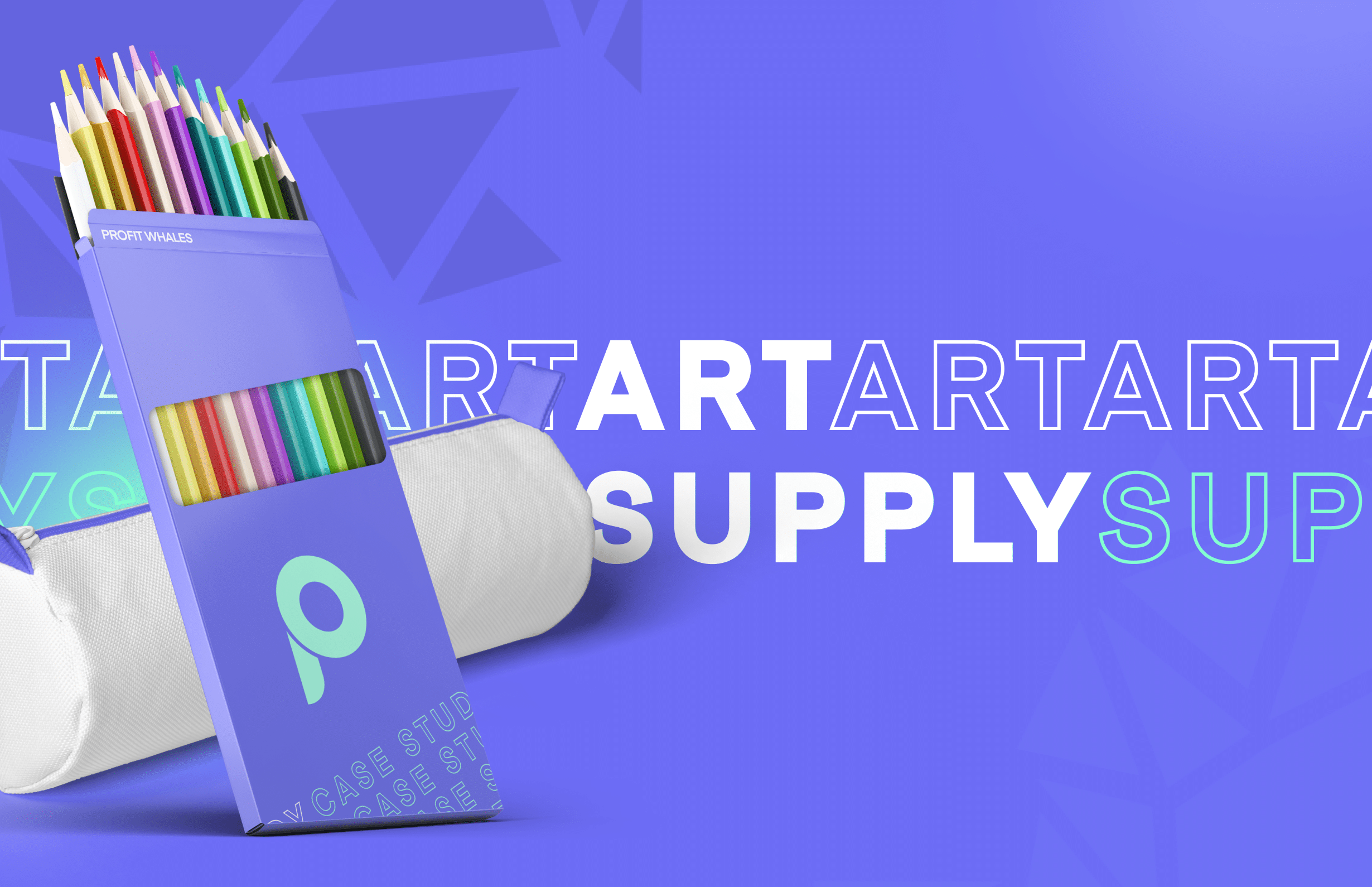 In this case study, we're willing to share our successful brand value initiative: we've utilized all our knowledge and expertise to boost the company's evaluation before it sold its Amazon business to an aggregator.
Company Background
The art supply brand was selling quite well through the US and Europe, generating a $150k turnover per month. The company offers a fabulous assortment of pencils varying from classic graphite kits to vigorous watercolor pencils for any type of drawing needs. The company resorted to us seeking help growing their Amazon FBA business, hoping to sell it for a substantial financial gain.
The Challenge
It can be challenging for brands to handle Amazon's exit with so many predators on the market seeking to swallow the weaker ones at a low cost. The efforts it takes to build and grow the Amazon business cannot be overestimated. And if a seller decides to exit Amazon, they want to get fair compensation for their hard work.
Profit Whales stays on guard of their business and helps to sell it at the highest possible price, structure finances, and negotiate with buyers. We help Amazon sellers identify growth points to push business development and increase their value.
The Solution
Profit Whales started with a search for opportunities to grow profits. The creative updates and rebuilding of the company's PPC initiatives were critical factors in scaling sales with a multichannel model that allowed a diversity of opportunities for a competitive advantage. By optimizing ads and discovering new traffic sources, we began business acceleration.
The only correct way to maximize value is to keep the business competitive and growing. Profit Whales performed a detailed review of the company to reveal issues that need to be addressed and fixed. Looking for the weakest spot, we found out that a significant portion of sales was generated through Amazon, meaning that external traffic didn't convert well.
Having a mixture of spend across different channels provides the highest probability of optimal ad performance. Ensuring a diverse portfolio of ad channels, we could effectively complement the company's Facebook and Google efforts.
A business with a messy financial situation will not get much attention from acquirers and will be left out of the market. That's a widespread issue among Amazon sellers: they are not accountants. That's why Profit Whales is always ready to increase brand evaluation and take care of acquiring-related contracts, due diligence, and even optimizing finances based on the client's strategy and negotiating with all the buyers.
Result
After Profit Whales stepped in, the company's fundamental value figures changed for the better:

Note: the global pandemic triggered the surge in pencil sales and boosted the demand for products. Ultimately, the brand was able to enhance the sales velocity and get ahead of competitors.
Working with brands poised to exit Amazon, Profit Whales is always focused on ensuring the most profitable acquiring deal.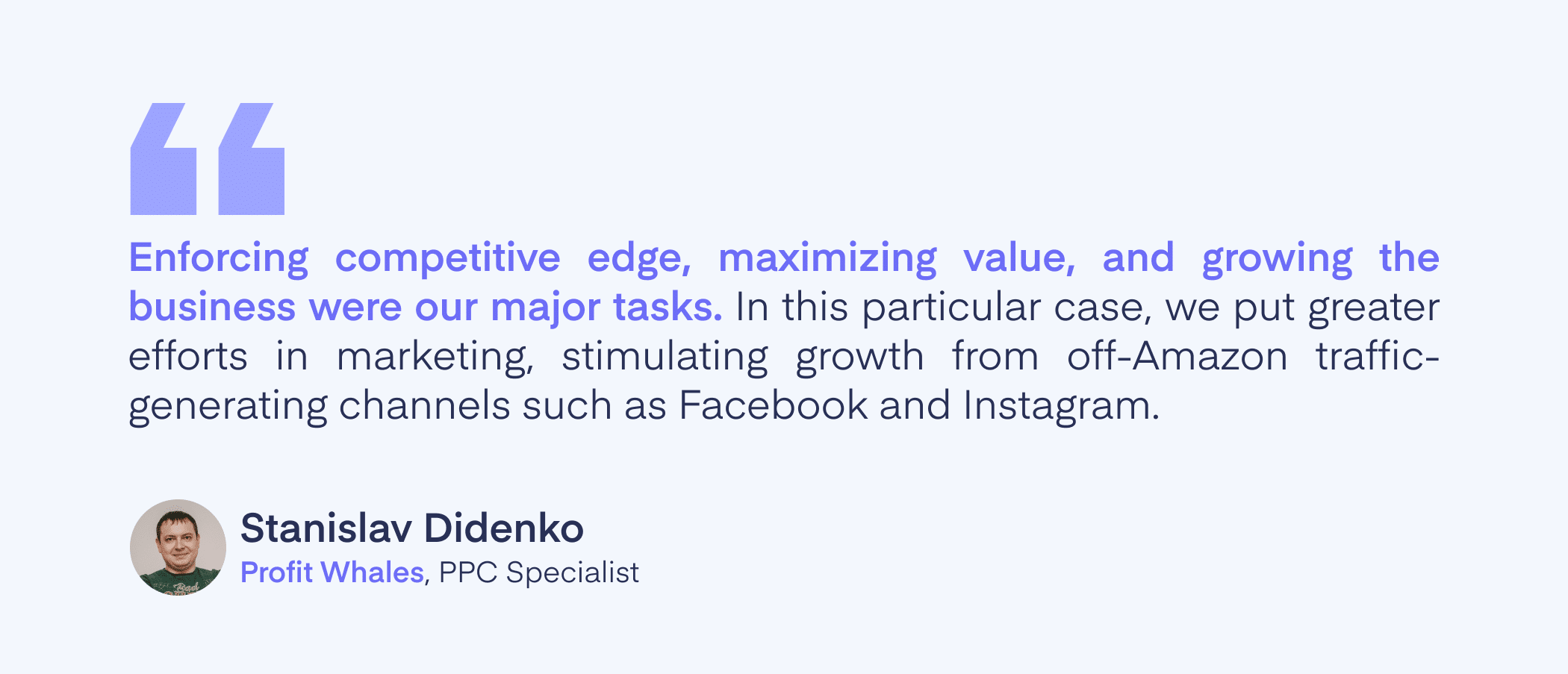 How does Profit Whales increase the evaluation of the Brands aiming to exit?
for every brand, we are helping to sell we creating huge presentations where we highlight all the pros and future growth possibilities;

we are handling all the negotiations with the potential buyer;

we have a huge amount of buyers in our database that helps us to increase the price of the brand by proper negotiating.
If you are thinking about selling your Amazon FBA, we are at your service! With us, you can be sure that you will receive a fair price for your business and for all the hard work you have done.
Careful exit planning makes your business more stable, future-ready, and helps you find the best deals. Let's discuss how to increase the business valuation with Profit Whales Team!

We Have a Solution
to Scale Your Brand