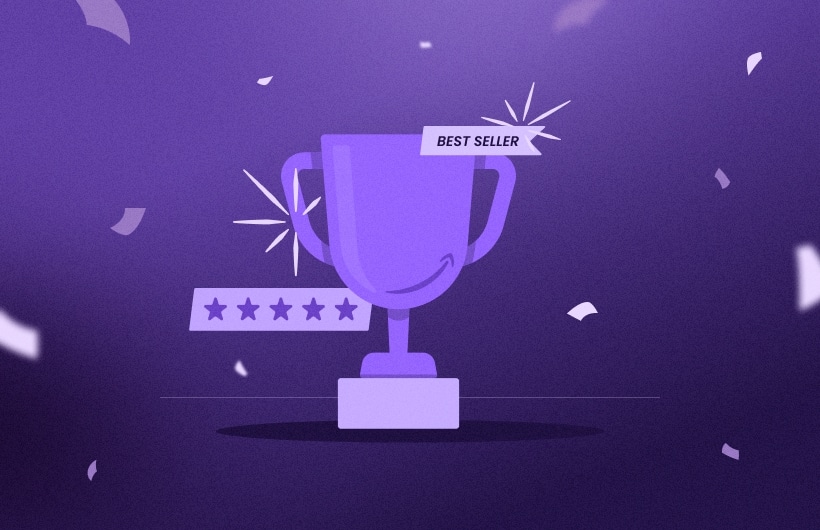 The Amazon platform lists a billion products in over 30 categories. And while these numbers might seem unrealistic, more incredible is that the great majority of products in the marketplace receive a particular Amazon products ranking, called the Best Seller Rank (BSR).
But what is the Amazon Best Sellers Rank? And how can your Amazon FBA business benefit from it? Read on to learn what a BSR on Amazon is and how understanding its features brings value to your business.
Table of content:
What is Amazon BSR Meaning for Sales?
Amazon BSR is a metric for marketers and brands to help them check their product performance. Understanding how to use this tool and how it affects your Amazon product rankings is essential to increase your sales.
Several years ago, advertising on Amazon reached nearly $10 billion in US advertising revenue, accounting for almost 8% of the US online advertising market. According to the eMarketer report, in 2020, Amazon expanded by more than 40% in net US online advertising revenue. As a result, it could potentially account for 1/10 of all ad spending in the US, making it a threat to other market players such as Google or Facebook.
What Is a 'Best Seller' Badge And How to Get It?
Best Seller badges are awards given to ASINs of Amazon products that qualify for the number one Amazon item ranking in a selected category with at least 100 items.

The Best Seller badge is a small orange ribbon-like icon with the text 'Best Seller' in the top left corner of a product image when displayed in product listings. To get the Best Seller badge, items should meet the ordering thresholds set in the ASINs, which vary by product categories and marketplaces.
So how can you get a Best Seller badge? Brands can only achieve this by selling the most items in a specific category over time, having the highest BSR rank.
And how can you improve your BSR ranking? Although no easy way works instantly, you can optimize your product listings to enhance the performance of SEO and PPC ads on the platform, improving Amazon BSR.
How to Find Amazon Best Sellers Rank?
The easiest way to find the BSR for a product is on the product detail page in the 'Additional information' section.
Here you can see the BSR score and the category where Amazon provided the BSR. For items not sold yet, the BSR will be displayed as 'none.'
Sellers and retailers can also find items in Seller Central in their seller/store accounts. Here is how to find the BSR on the Amazon Seller Central platform:
Navigate to Reports on the top navigation bar;
Click on Business Reports;
Choose Inventory in stock in the left column. Registered brands must click on Brand Performance;
The last column shows the Sales Rank data for each item.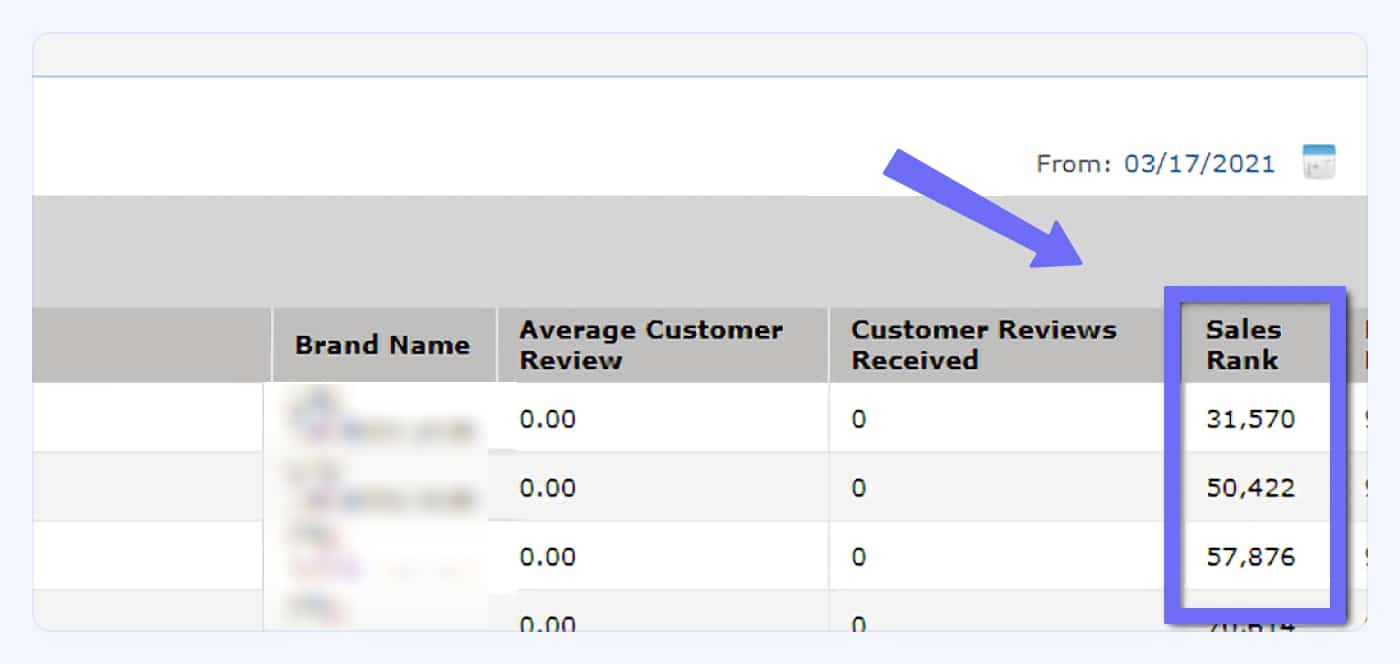 How is Amazon Best Sellers Rank Calculated?
While Amazon does not disclose precisely how the Amazon Seller Rank is calculated, it is influenced by multiple factors, including:
Current and historical sales
Changes in promotions and stock prices
Competitive products
The BSR's significant impact is current sales trends and historical sales volume.
For instance, if an item has ten units of sales per hour but then drops to just one unit, it does not mean it will automatically drop to the BSR for items that only sell one unit per hour. In this case, the BSR algorithm will consider both sales speeds.
What is a Good BSR on Amazon?
It is a tricky question since Amazon BSRs are different in each category. For example, while the best seller ranking of 1000 can be considered excellent in one category, this exact ranking in another category might be poor because the latter product may sell slower.
Given the millions of items on Amazon, products with a sales rank of less than 2000 are usually more likely to be in demand. Therefore, it can be considered a good Amazon BSR.
Amazon's Choice Vs. BSR Rank
A significant difference is that Amazon Best Seller badges are limited to 100 per category or subcategory. And it means that several bestsellers can be highlighted in one search query, while Amazon's Choice is awarded to one item per search term.

Case in point, a search for 'water bottle' on Amazon yields over 60 000 results, with seven bestsellers on the first page alone, in contrast with one Amazon's Choice badge. Remember that hovering over the orange Best Seller badge will show you the exact category where the product is a best seller.
Amazon is unclear regarding how they award the Amazon's Choice badge or how often they change it.
Nonetheless, we can assume that the algorithm determines it, similar to the A9 search algorithm that considers ranking factors.
Looking at Amazon's Choice water bottle recommendation, we see that it qualifies for Prime, has 4.6 stars out of 2472 buyer reviews, and offers free UK shipping for non-Prime orders.
Therefore, although Amazon does not tell us the exact factors, we can ascertain some information based on its current bestsellers.
Amazon Best Seller Ranking Vs. Organic Search Ranking
The Amazon Best Seller Rank is different from your organic rank.
BSR is your product ranking in relation to other goods in your category based primarily on sales speed. Meanwhile, organic ranking is how well your listing performs for a specific search term or keyword.
A good BSR does not guarantee that your product will rank high for particular keywords.
If your product is a Best Seller, as mentioned, it gets an orange ribbon to specify its rank in a particular category. At the same time, if your product best performs for keywords, it will get the black Amazon's Choice badge, which takes precedence if your item has both badges simultaneously.
While these two metrics do not directly affect each other, optimizing your listing for organic ranking ensures a boost in sales, and good sales volume means a higher BSR.
3 Ways Amazon Sellers Can Leverage Amazon BSR Information
Easy Product Research for Newbies
It is a helpful method for identifying successful products. When examining goods to sell in the marketplace, they should be in demand, and the Amazon Sellers rank can provide this information. Consequently, you can make a short list of potentially viable goods by checking the BSR. In most cases, you must research items with a sales rank of 2000 or less.
Competitor Research for Seasonal Sellers
All Amazon sellers should monitor the competition. Best Seller Rank on Amazon can assist, making it easier to keep track of your competitors. Research similar goods to yours and make sure you slightly adjust your keywords and product listing to drive sales and, as a result, improve your BSR.
Estimate Sales Using Best Seller Ranking on Amazon
It is a powerful feature of the BSR and the most efficient way to use the data.
Imagine you could foresee how often an item is sold on Amazon. Well, now it is possible!
Let's suppose your item has an Amazon Best Seller Rank of 1500. By summing up your sales, you will already know that a BSR of 1500 equates to, for instance, roughly 700 transactions per month. After that, let's check your BSR history. Your BSR the month before was, for example, 2500 since your sales were not as efficient. Next, let's suppose you made 500 sales. Historically, your BSR at the same time last year was 500 when you made 1600 sales.
Leveraging this data, you can determine if your seller rank on Amazon was:
#1500 with 700 sales
#2500 with 500 sales
#500 with 1600 sales
Then other goods with an Amazon Best Seller rank similar to those numbers are likely to sell with a similar proportion.
You also have to be careful because, as mentioned, the rankings may fluctuate between categories, so these are just estimates. However, you may leverage this valuable data even as estimates when looking for new items or monitoring your competitors.
How Can I Enhance My Best Sellers Rank on Amazon?
We already know that BSR is category-based, so you are looking to devise a category-appropriate strategy for your goods.
Strategize Around Categories
Getting a high BSR in categories with the fewest competitors and categories where your item can stand out is much easier. However, consider not listing your product in entirely unrelated categories because it can do more harm than good.
Be Competitive on Price
Price is critical for winning the Buy Box, so you must set your pricing right. In addition, make sure you use repricing software to stay competitive.
Invest in Amazon Sponsored Products
A sure way to increase the exposure of your products is to invest in the Amazon Sponsored Products advertising program.
Amazon Sponsored Products are image ads that appear in the marketplace, including organic search results. In addition, you can bid on specific keywords so that your listings only show up for the most relevant search terms.
Use Amazon FBA and Prime
Amazon gives preference to sellers who leverage their fulfillment service, and of course, you will have the option to offer Prime on your listings.
Shoppers appreciate the fast shipping and trust and reliability of FBA and Prime, giving you an excellent opportunity to boost your sales and, ultimately, your Amazon BSR.
Better Understand Keywords
General keywords are a part of most search queries, while secondary keywords depend on a product. In the context of keyword research, identify primary and secondary keywords and their respective combinations so that you may later use them for a product. Multiple methods and tools can help you determine a set of relevant keywords.
Optimize Your Listings
Creating a killer listing before launching your product can grow your sales speed and organic seller ranking on Amazon. Make sure you have a matching product title, bullet points, and premium-quality images.
Add Compelling Product Images
The images you use in your listings help drive clicks and play a key role in generating sales.
There are several practices to consider in terms of Amazon's image requirements. They include using high-resolution images with a zoom feature and size references and having all images well-lit and conveying product details.
Use Videos in Your Listings
Images can lead to better sales, and a product video will also take your listing to the next level. The video is more intimate to the buyer, who gets to know your product personally.
Get Positive Customer Reviews
BSR is affected by sales, and one way to increase sales is to get positive buyer reviews. Of course, many best sellers on Amazon can also boast positive product reviews. Some sellers focus solely on the number of reviews; for others, it is about the desired 5-star rating. It can't hurt to have both.
Create Social Media Links
It is good to be on social media without being a fanatic, especially since the buyer drive is already there. A crucial thing about social media is not squandering time. However, remember that it is the most reliable way to share information and make contacts nowadays.
Final Word
Although the Amazon BSR may initially seem complicated, it is worth paying attention to. The benefits for you as a seller are substantial, helping you make improvements and get winning information about your competitors' sales and activities.
Some sellers might dismiss Amazon BSR as a waste of time. However, there is more to this data than the competition for the top-selling product.
Do not neglect the information received from Amazon BSR not to miss out on the insights that are highly beneficial to the growth and success of your Amazon business. Please, contact us to see how professional Amazon marketing can help your brand.