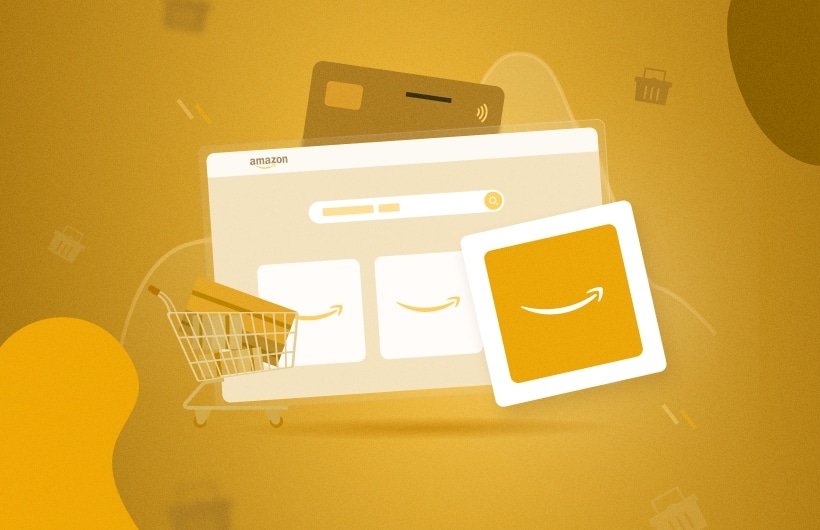 Amazon has made far-reaching changes to more than just online shopping. It has led to a drastic shift in Internet marketing and advertising. Advertising on Amazon generates much income for sellers, and the competition is genuinely intense. As a result, all sellers do their best to present their products to as many buyers as possible.
Amazon advertising is the most efficient way to promote your goods due to its ROI. It is a sure way to build brand awareness, which is why merchants frequently distribute huge budgets to launch aggressive PPC campaigns.
If you want to start your campaign from scratch, this article explains the basics of Amazon advertising cost and solutions related to various advertising objectives, options, and strategies.
Table of content:
Where Do Advertisers Allocate Most of Their Amazon Ad Budget?
Whether launching a new product or having a long-existing listing with thousands of reviews, Amazon advertising is crucial to every seller's success.
What Are the Different Amazon Ad Types?
When you look into Amazon advertising services, you will find that you can place many types of ads on their page. There are two ad categories.
Self-serve ads – the ads that work similarly to Google search ads. You will see them in product search results.
Premium ads – are more like display ads. They show up as visual banners and sidebar ads.
Now that you know the two ad categories, let's examine the other types of ads that fall under these categories.
Sponsored Product Ads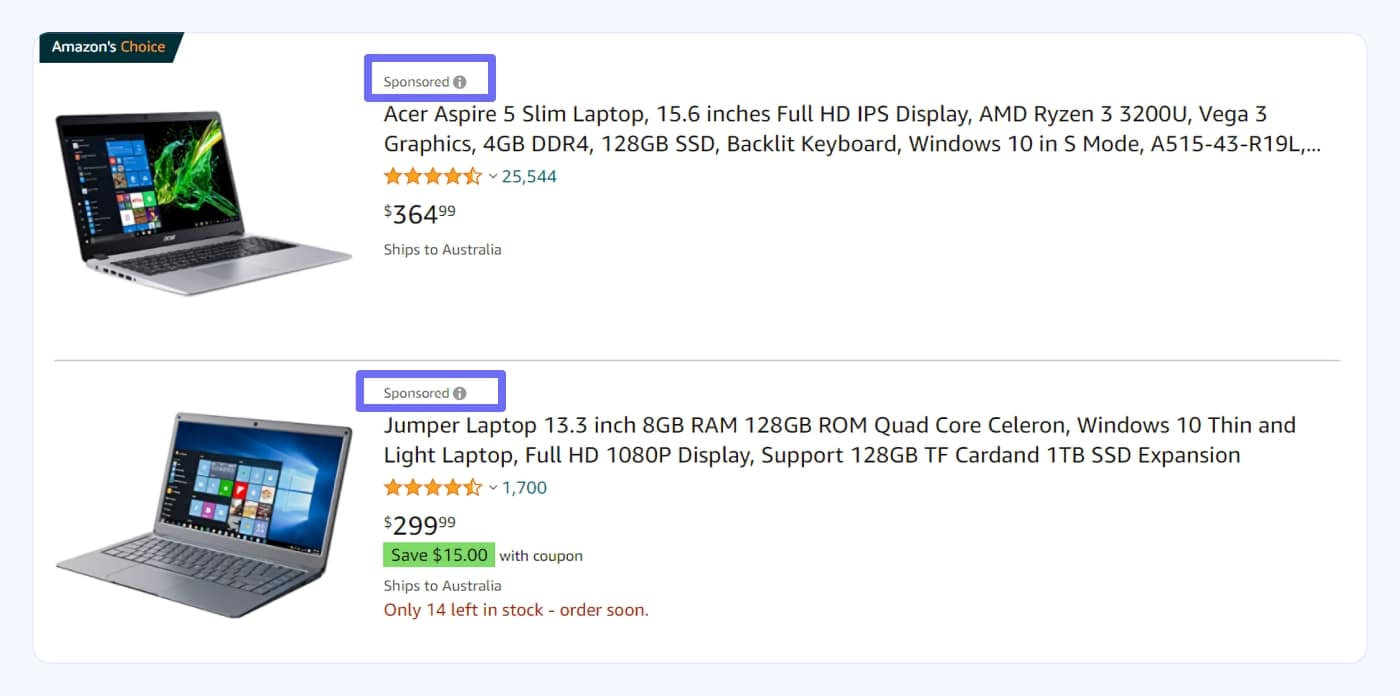 Sponsored Product ads are the most widespread ads on Amazon. They usually appear before organic product listings but can also be displayed in the middle of products or at the end of a product page.
This ad type aims to capture as many relevant leads as possible.
Sponsored ads are tagged with the label 'sponsored' or 'ad' to designate paid content. It enables distinguishing them from organic listings.
To get an ad position, you should bid on keywords. There are two options for picking keywords.
First, you can choose automatic or manual targeting. Automatic targeting is determined by the products' content. For example, your ads show up in search results based on the information you provide in the product listing. With manual targeting, you can upload a list of keywords where you want to target your ads, which enables higher costs per click.
Sponsored ads are ideal for building your brand visibility. You only pay when the user clicks on your ad, so you have more control over your budget and expenses per campaign. So how much do Amazon ads cost?
Although Amazon Sponsored Products' cost per click can be a minimum of $1, the platform recommends a minimum of $10 so that your ads do not stop performing in the middle of the day. The Amazon ads cost depends on the level of competition in your business niche or for a particular placement.
Sponsored Brand Ads


With Sponsored Brand ads, you can promote three or more items in your ad. In addition, they show up in search results as headline banners. You usually see them at the top of the page, above other sponsored ads and organic listings.
You can use Sponsored Brands as an intermediary between general and specific keywords.
If you feature many similar items, you can combine them into one listing. It will attract prospects who know they need your product but hesitate about the exact product they need.
Your potential buyer can choose based on what you offer on your product pages. Sponsored Brands ensure that you attract more potential customers to your product pages.
In Sponsored Brand ads, you can set a lifetime campaign budget ranging from $1 to $20,000,000, and the minimum bid for Sponsored Brand ads is $0.10.
Display Ads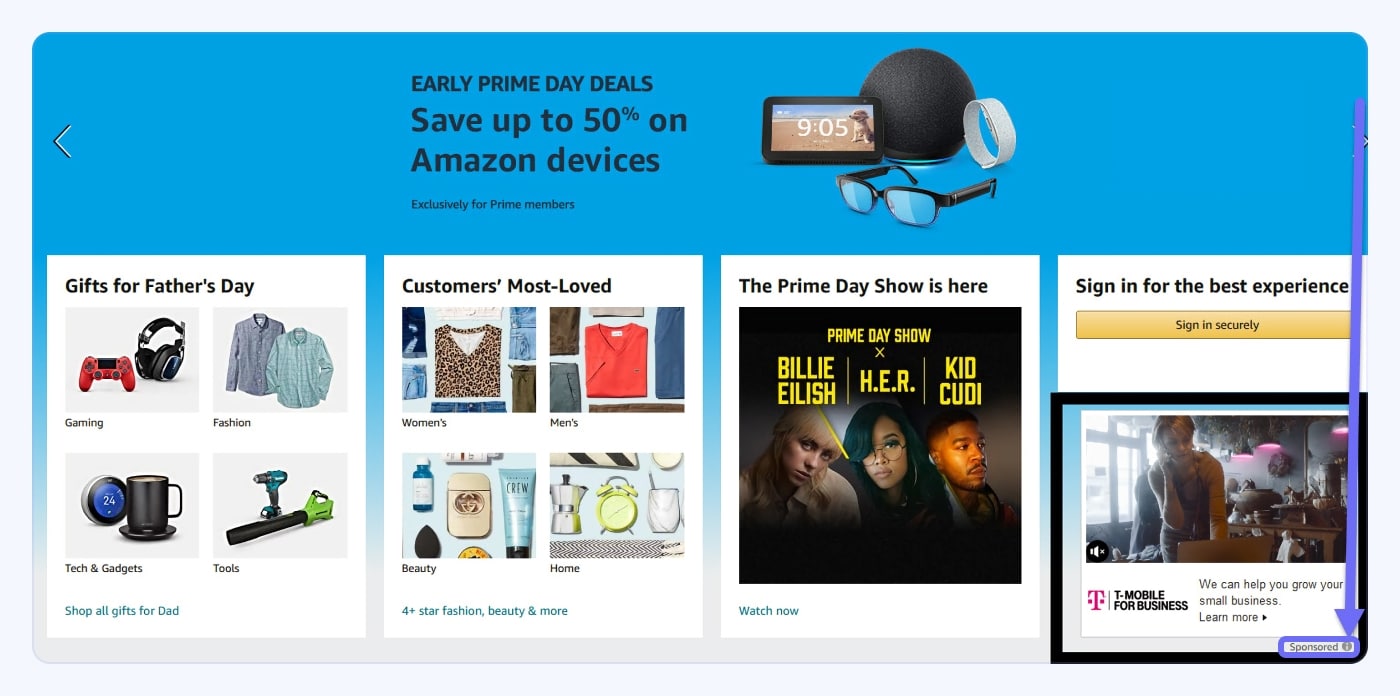 Display ads for a product are ads that are not keyword-targeted. Instead, they target prospects based on their interests.
These ads emerge at the top and bottom of pages, on customer review pages, and in marketing emails from Amazon. When users see display ads, they see an ad for an item they would like to purchase or have considered purchasing.
With display ads, you are driving prospects to the product detail page. It is a sure way to increase their interest in your products. This ad option also works on a pay-per-click model, so you only get charged when someone clicks on your ad.
Sponsored Display ads are bought on a CPC basis so marketers can control how much they spend. In addition, Sponsored Display ads are also retail-focused, so you will not waste ad spend on out-of-stock items.
When you start a Sponsored Display ad campaign, you set a bid and a budget. You can bid as little as $0.02 and set your budget as low as $1.
Amazon DSP
Amazon DSP is a software-based advertising platform that allows advertisers to generate leads on Amazon and beyond. In addition, it lets you target audiences of one-time browsers and buyers or even create Lookalike Audiences that are similar to your customers' demographics.
Amazon has an incalculable amount of customer data, and Amazon DSP allows you to connect to them to reach out to the next customer, wherever they are using the platform.
Generally, the Amazon DSP managed-service option requires you to make a minimum monthly investment of $35,000 in advertising.
Nonetheless, if you partner with an Amazon-accredited DSP agency, you can often get started with a DSP with a lower monthly obligation.
How Does Ad Bidding Work on Amazon?
To better understand Amazon advertising prices, sellers should familiarize themselves with the ad bidding process. Amazon advertising leverages an auction process where advertisers compete for the top spot in a search term. But the second-highest bid determines the CPC for all other advertisers.
Suppose an advertiser with a winning bid wants to pay $2 per click. However, the second highest bidder only wants to pay $1.60 per click. So, instead of paying $2 each time a shopper clicks on their ad, the advertiser will only pay 1 cent more than the second highest bid, as in the example – $1.61.
What Is the Average CPC on Amazon?
On average, Amazon cost per click is $0.81. But remember that the cost of an Amazon advertising campaign depends on your budget and competition.
If you are competing for highly competitive keywords, you may have to pay more for them. It will result in a bidding war and raising the prices. You can exceed the Amazon advertising fees due to multiple companies bidding for specific ad placements and keywords.
Also, if you have limited budget flexibility, it will affect where you set your CPC. Therefore, you should define what CPC will work best to get the maximum number of clicks and drive potential customers to your goods.
How to Estimate an Average CPC Cost on Amazon?
Before investing in a product, it is critical to understand how much it costs to click on the top keywords in your niche. If the average CPC for a keyword is very high, it may indicate that the niche is competitive, and it will be harder for you to get impressions on your ads and listing. So how much does it cost to advertise on Amazon?
You can expect to get charged between $0.05 and $10 per click for PPC campaigns. It is a vast range, but your fee depends on your niche's competitiveness. It is not easy to be sure about the average cost per click on Amazon as it varies by product and market. Nevertheless, it would be best if you had a figure in mind that would let you launch a successful Amazon cost-per-click marketing campaign without losing your profit.
What Daily Amazon Advertising Cost Should You Set?
We recommend collecting data while you run your campaigns over several weeks to decide which keywords to target and bid for to improve your listings. Keep an eye on your budget: if you find yourself running out of budget, increase your daily budget or remove/change high-value keywords that do not convert into sales.
Ultimately, it does not matter what your daily budget is if it is profitable and gives you a positive ROI.
How to Lower Your Amazon CPC Cost?
You get more clicks within your budget when you lower your Amazon CPC. It results in more valuable leads finding your products. With the proper Amazon cost-per-click management and figuring out what your CPC should be, you can make your ad campaigns even smarter.
Pick the Right Keywords
Lowering your CPC starts with picking the right keywords. When you choose your keywords, you want to select the ones that generate valuable leads and have a low CPC.
Optimize Your Product Listings
To generate valuable leads, you should optimize your product listings. The more relevant and informative your product listing is, the more conversions you will earn for your business.
Monitor Your Campaign's Effectiveness
When you launch an Amazon ad campaign, it is essential to monitor its operation. Spending all your money on a campaign that is not optimized makes no sense.
Pick Automation and Optimization Tools
The cost to advertise on Amazon varies significantly. Therefore, calculating your Amazon PPC cost and managing PPC campaigns may seem intimidating, so you need the right Amazon PPC tools. Then, you can reduce ACoS and control your ad budget with AI-driven algorithms.
Advertise the Right Products
When advertising goods on Amazon, you must decide which products you will promote from your catalog. Therefore, product listing components play a crucial role. Use pricing, reviews and ratings, title, bullet points, and descriptions for your product images.
Buyers always check out product reviews before a purchase. Using Amazon FBA, having a Prime badge on your listing, and a competitively priced product – all increase the chances of conversion.
Final Word
Advertising on Amazon is the most effective way to promote your products. In turn, the cost of advertising on Amazon depends on how well you optimize your ads. Leverage the right tools, target keywords, and constantly optimize and test your campaigns' performance.
Have a clear roadmap of what goals you want to achieve with your ads, and distribute your budget correspondingly. Then, test all possible strategies to determine which best suits your budget and delivers good ACoS and RoAS.
If you are looking for a company that delivers results, contact us! Our team will launch a campaign that will definitely help your business scale.