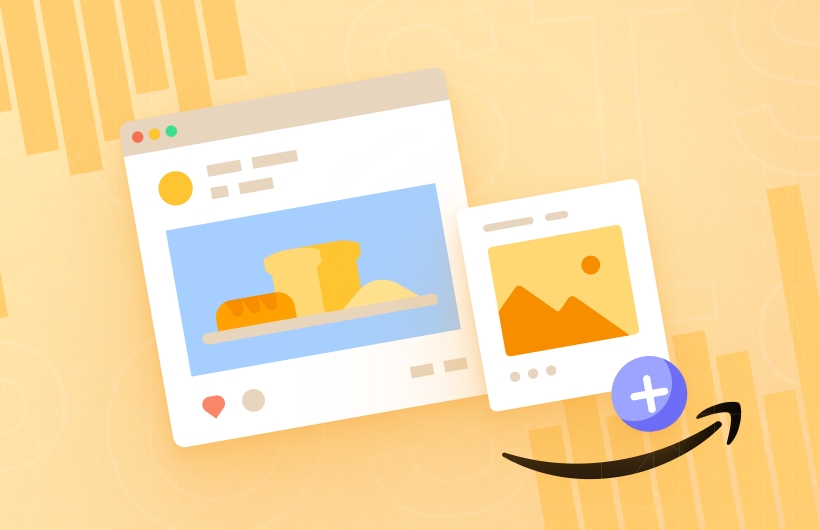 In October 2019, Amazon launched a new tool, Amazon posts, for sellers' visual storytelling about products. With its help, Amazon sellers can push sales by sharing unique lifestyle pictures and content that tells more about a product. 
What does this mean for brands? 
Using Amazon posts is a good way to build brand awareness and recognition and ensure its solid presence. Branded stores can create engaging and valuable content and share it on the platform. Since that content will be displayed in style very similar to the content on Instagram or other social media that buyers are responsive to, it can drive a lot of traffic.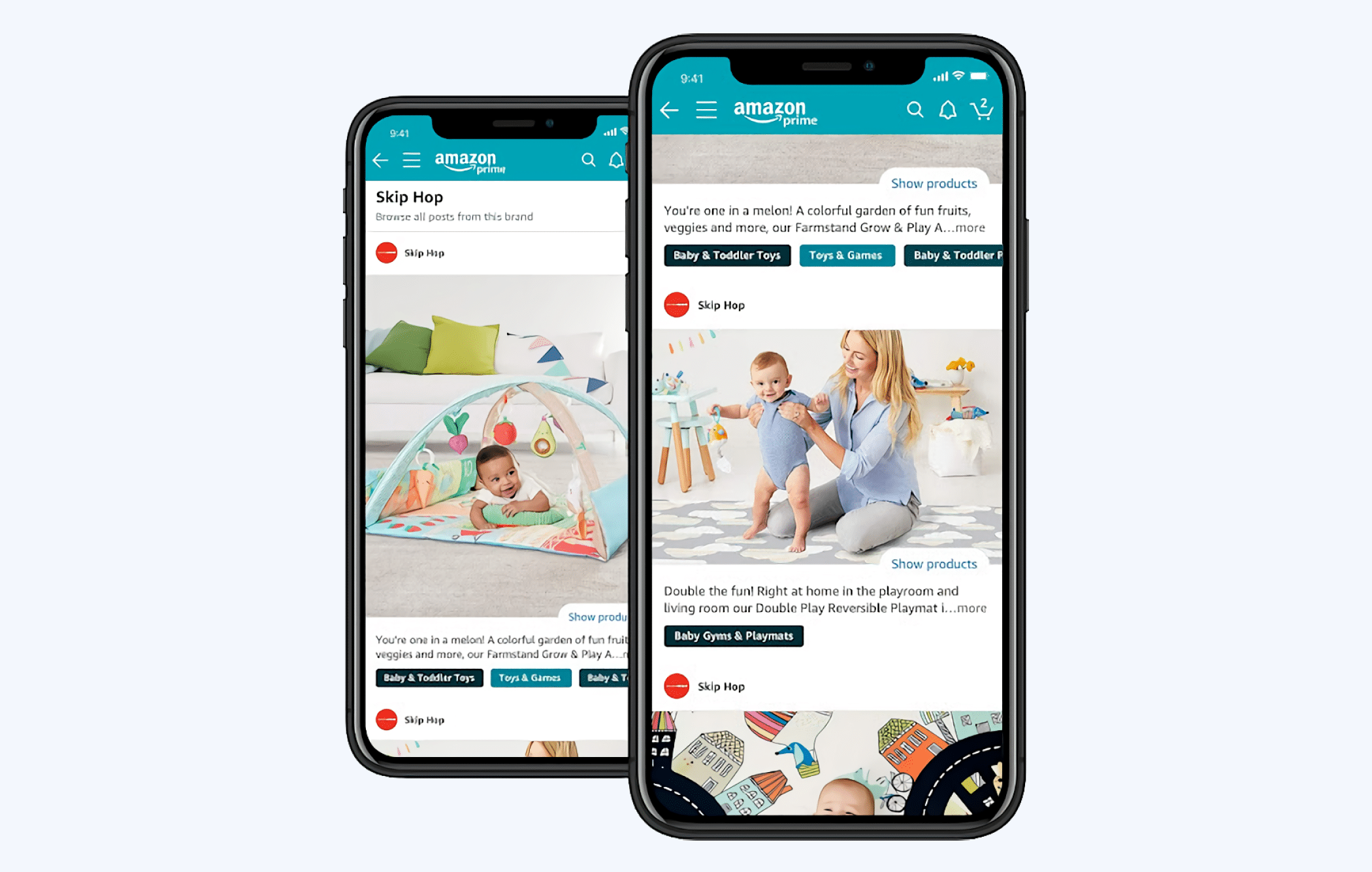 source: Amazon
New Features for Amazon Posts
In 2021, Amazon updated the tool releasing its new features:
Story-telling posts about multiple products. From now on, sellers can create posts describing several products simultaneously, thus providing details on product variations or matched commodities.

Scheduling posts allows sellers to plan and feel confident that all tasks are being handled on time.

A feature that allows downloading reports and comparing metrics pertaining to your company, brand, or organization with time.
Where do Amazon Posts Display?
Many ask where do Amazon posts show up. But this matter is actually on the marketplace itself. Amazon determines where your posts will appear based on customer engagement with your content and its relevance to your audience. The content can be displayed in 4 different places.
Brand Feed: there's a lot to navigate in the brand feed. But the heart of it is a channel for sharing a one-stop point with your buyers and clients for all content related to your brand.

Product Page Carousel: the "carousel" is a series of posts displayed on the product detail page, allowing users to scroll horizontally.

Linked Brands Channel: tapping on the Post will take buyers to the appropriate brand channel/feed where they can learn more about your products and products of other brands.

Category-Based Feed: Amazon attributes appropriate category tags to each post. This way, content can be explored by category, making it easier to find products that complement the order.
Who Can Use Amazon Posts?
Amazon Posts is currently limited to U.S. sellers on Amazon with membership subscriptions to Amazon Brand Registry.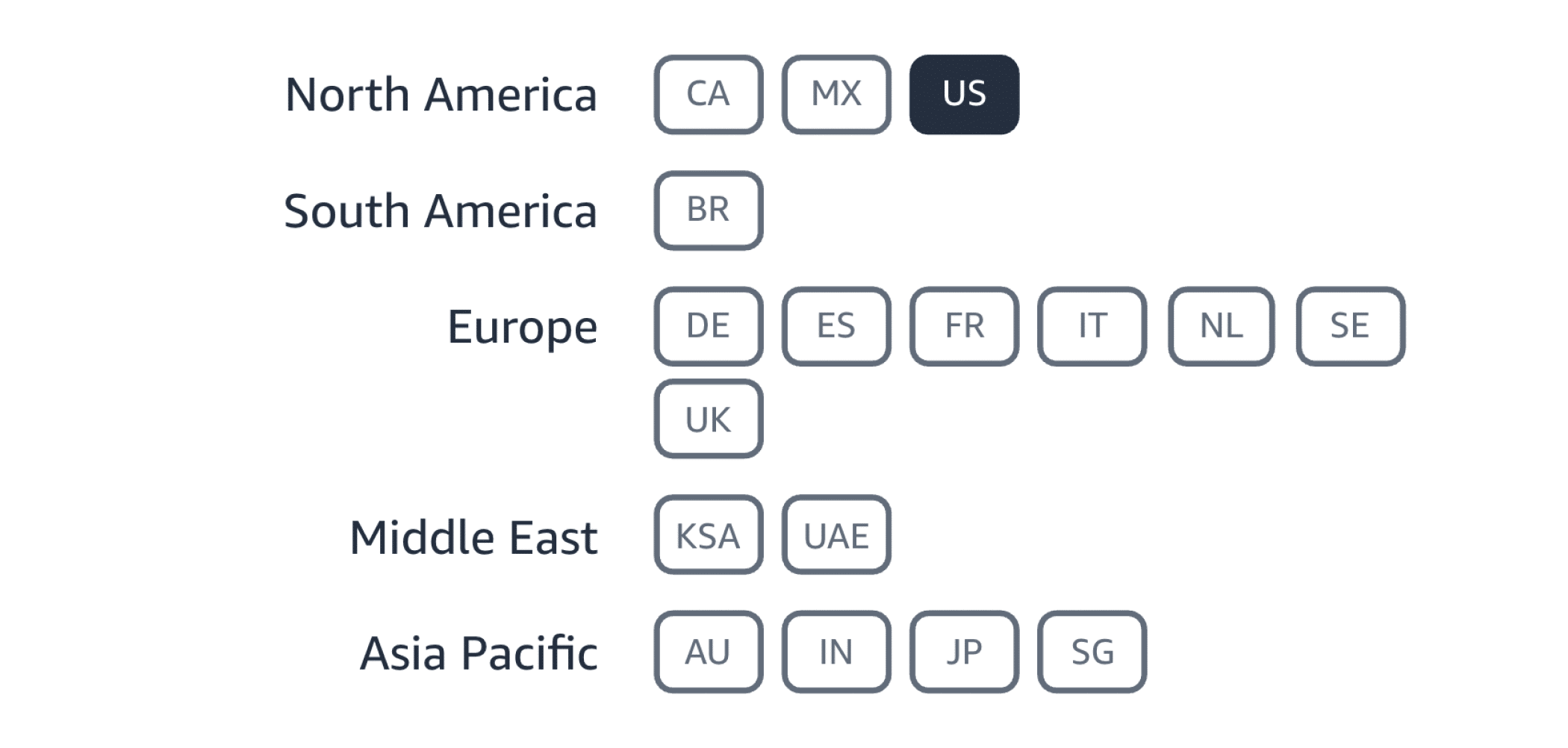 Countries, where Amazon Posts is available.
source: Amazon
What are the Benefits of Amazon Posts?
The competition in the e-commerce field is fierce and poses a lot of challenges for Amazon sellers. A successful feed is a more captivating means of reaching a new customer, inspiring shoppers, and retaining them. Using Amazon Posts, you can educate shoppers with exciting content about your brand, motivate, and gain back repeat customers by maintaining a feed that entices shoppers.
In addition, Posts give sellers an opportunity to read metrics on visitors' impressions, views, and clicks. Amazon Posts can also be called a new customer engagement tool since it allows brands to send follow-ups to their enthusiasts (using the "Follow" button), saving them time and increasing brand trust.
How to Set Up and Use Amazon Posts 
Want to learn how to post to Amazon? Follow these simple steps:
Go to

posts.amazon.com.

Sign in to your Amazon account or create one if you're not a member. For this, you'll have to verify and add your brand logo.

Upload quality images of your product adding an appealing heading and tagging related products.

When a customer clicks on a publication's feed, it will automatically take them directly to the item's PDP.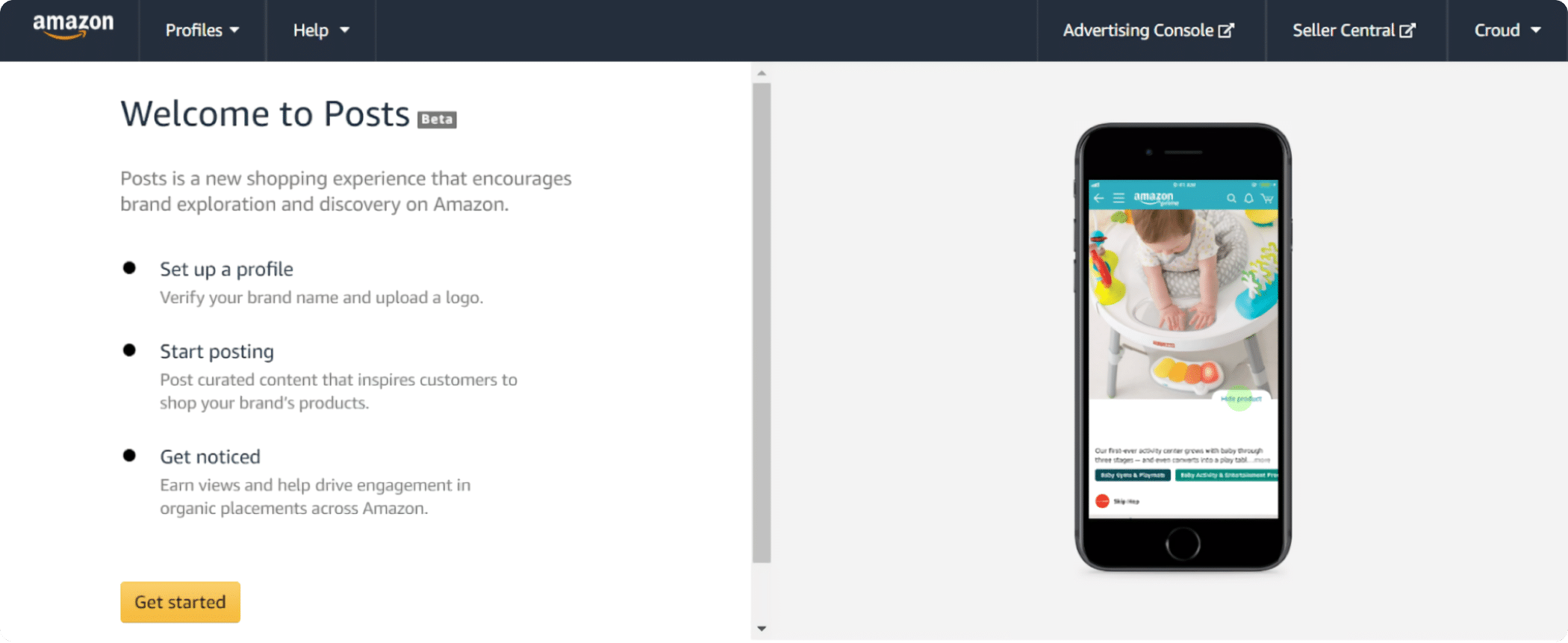 source: Amazon Posts
What Happens When I Publish on Amazon Posts?
Since this tool is new, its efficient utilization is the real way to beat competitors. Becoming one of the pioneers of Amazon Posts, you can provide easy access to your content as the market is not oversaturated.  
Also, because Amazon Posts can appear in many Places on Amazon, it provides users with an easy method for showcasing and cross-selling their products. This, in turn, increases brand awareness: as posts are displayed on different channels, they have many chances to bring new customers straight to your store. It may not be that these new consumers sought out your products specifically, but they discovered or rather were given, your products through Posts.
Measure your Posts Performance
Earlier Amazon only allowed sellers to measure metrics for carousel views, but now has included analysis of the performance of their posts across the entire website. There are specific metrics that measure the performance of your Amazon posts. They include viewable impressions (display of a post for 1 second or more); total engagement (number of clicks on the post); engagement rate (correlation between engagements and impressions); and, finally, clicks.
Tips to Help you Start with Amazon Posts
As a powerful marketing tool, Amazon Posts aims to harness the creative efforts that sellers put into social media and combine them with the power of the Amazon platform.
Similar to regular social media, it motivates users to interact with brands and products. But, as opposed to Instagram or Facebook, on Amazon you sell. 
So, you may want to start from here: put more effort into your posts. Don't just repost from media to media. Think about the target audiences and their needs.
One of the most important things in marketing is being honest with customers. If you're spilling over how good your product is all over the social media posts and post on Amazon about it as well, prove that you like it and use it. In fact, it would be perfect to make video tutorials in which you can share details about the item. You can also take photos on the go and thus show the readers that you take that item with you (and so should they).
Organizing routines can help you create more achievable goals. So try to schedule your daily posts and regularly check the metrics.
How Can I Make the Most of Amazon Posts?
Once you started to work with Amazon Posts, you want to ensure you're doing everything you can to make the most use out of it. Here's what you can do:
set up posting several times a day: the more content the better, however, maintain the quality of the content at the highest possible level.

repost from other social media: if you're actively posting on Instagram and other channels, save you time by reposting that content to your Amazon Posts feed.

use beautiful pictures: it can be difficult to get the desired engagement, especially when the masses of content are that huge as nowadays. One way to get make your posts more clickable is to use stunning images. Check out the

product photography trends for 2022

.

stand out with your title: your first two lines are your title. So, you should try to gather a reader's attention with a driving question or clever phrases in those two sentences.

read your metrics: it can take a couple of weeks for your Amazon Posts to accumulate the necessary traffic and interaction to see any significant results. So check your metrics then, and then you can consider adding more content.
Final Word
Promotion is an integral part of any effective business development strategy. To successfully sell on Amazon, you need to elaborate on the adherence of your product's promotion ways. 
Now that you know how to post on Amazon marketplace, new ways of boosting your Amazon business and sustaining its growth are ahead of you. Even though Amazon Posts is still in the beta stage, it already gained a lot of attention.  Because it is easy-to-use and free, Amazon marketplace sellers are attracting new customers almost effortlessly with its help. 
It is only left to wait for its accessibility beyond the USA and more useful features. 
Meanwhile, we can teach you more profitable ways to increase brand awareness and establish drive sales. Profit Whales uses its Amazon expertise and efficient marketing strategies to level up Amazon brands. Learn more here.