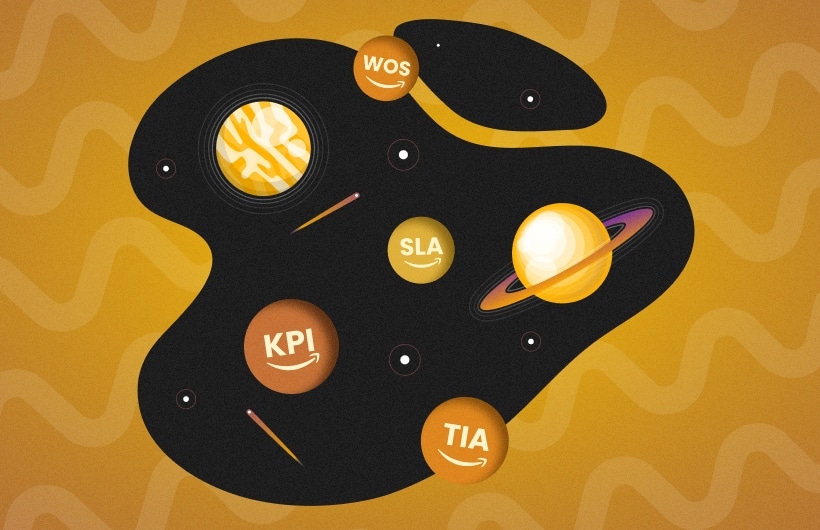 In terms of eCommerce, Amazon is undoubtedly the most significant player among all. Knowing the Amazon abbreviations and jargon related to your business will let you delve into the tiniest eCommerce details. Since platforms like Amazon have their eCommerce lingo, we prepared a comprehensive glossary of Amazon acronyms to help you get started.
Read on to make your life easier with this Amazon acronyms list, especially if you're a newbie in the Amazon world.
Table of Content:

1P
First Party represents Amazon's direct link between producer brands and distributors who get purchase orders from the retailer.
3P
Third Party relates to sellers who sell goods of another brand. With Seller Central, they sell items under their name directly to clients on Amazon, performing the functions of retailers.
3PL
Third-party logistics means outsourcing eCommerce logistics to a third party, together with inventory management, warehousing, and fulfillment. 3PL businesses enable eCommerce sellers to optimize retail order fulfillment using suggested tools and infrastructure.

A/B Testing
It is sometimes referred to as split testing. It is a method of testing several product listings or sites to collate sales figures, usually conversion rates. Also, it can increase your income by 25%. Therefore, consider starting A/B testing to make more money on Amazon.
A+ Content
An Amazon vendor program that enables you to use Seller Central efficiently and requires comprehensive product descriptions with individual images, videos, and text.
A9
A ranking algorithm defines how items are displayed in search based on titles, images, videos, copies, and other elements.
AA
Amazon Associate usually refers to the position of a Fulfillment Center.
AAP
Amazon Advertising Platform is a program where marketing specialists purchase and create display or video ads.
A-to-Z Guarantee
An Amazon program that ensures the condition and fast shipping of third-party items. Amazon buyers can claim vendors under the A-to-Z warranty.
Account Health
A Seller Central page that gives you information about your seller's account compliance with performance goals and policies.
ACoS
An advertising cost of sales measures how well your ads perform compared to their price.
ACS
Amazon Creative Services, available in the Merchant and Vendor Ads Console, enable you to find, compare, and book services with reliable service providers for policy-compliant and effective creative assets.
Ad Daily Budget
An average daily amount you want to spend on certain ad groups for your keywords.
Ad Impressions
It refers to the number of buyers who saw an ad for your selling item.
Ad Orders
It is related to the number of individual orders placed by customers who clicked on the ad for your selling items.
Ad Sales
It is associated with the item's total sales volume made within one week of clicking on this item's sponsored ad.
Ad Spend
It refers to the cost per click for an Amazon-sponsored campaign over the chosen time frame.
Ad Status
It is the meaning of the actual status of your ad group.
Ad Targeting
This setting defines if you are the one who chooses keywords for your ad campaign or if Amazon does it automatically.
Affiliate Marketing
It refers to a marketing agreement whereby an online store pays a fee to a third-party site for traffic or sales from its referrals.
AGS
Amazon Global Selling. You can sell throughout all countries with AGS. Learn how to expand, boost, and vary your sales by leveraging Amazon's global brand.
AL
Allocated (Vendor Central Replenishment Code). For example, when selling items are only recorded by hand, the code is in Amazon Brand Analytics and the table of costs.
Alibaba
A Chinese eCommerce platform. For Amazon FBA sales, this site works as a third party between private-label brands and worldwide providers, wholesalers, and producers. Also, it is the world's foremost online retailer by total sales.
AM
Area Manager. It usually refers to the position of the Fulfillment Center.
Amazon Live
A live streaming service that enables businesses and influencers to showcase goods, connect with buyers, and provide real-time expert advice.
AMG
Amazon Media Group is an all-encompassing Amazon section that controls all advertising options.
AMS
Amazon Marketing Services is Amazon's pay-per-click advertising platform for vendors to create Lock Screen Ads, Headline Search Ads, Sponsored Products, and Product Display Ads.
AMZ
Amazon is an eCommerce company with expertise in cloud computing. It is the world's foremost online retailer by profit and market capitalization.
AMZL
Amazon Logistics abbreviation refers to any shipments the platform makes in the U.S. using its shipping service.
AOV
Average Order Value. This metric tracks the average total of every order buyers make on a site or a mobile app.
API
Application Programmer/Programming Interface is a code that enables the communication between two programs.
AR
Amazon Robotics enables automation of inventory movement within fulfillment centers.
ARA
Amazon Retail Analytics. A selection of supplier reports is sometimes referred to as ARA Basic. They are available to all suppliers and cover topics such as sales and inventory.
ARAP
Amazon Retail Analytics Premium. An additional option with more comprehensive and diversified reports analyzing vendor's traffic and buyer behavior.
ASIN
Amazon Standard Information Number. All selling items on Amazon have a unique 10-character identifier that works specifically on Amazon. This number can be further split into parent and child ASINs for items that contain one common element or style with several choices in terms of color, size, package size, and others.
ASN
Advanced Shipment Notification is a document that informs Amazon of the time and characteristics of pending delivery.
ASP
Average Selling Price is the average price vendors sell their products for.
ATOP
At the Time of Posting. You will probably see this on Facebook groups associated with Amazon. As a rule, it is related to the product's price at the time of publication.
Automatic Targeted Ads
Ads that target relevant Amazon searches and do not require specific keywords to be entered.
AVS
Amazon Vendor Service, previously known as Strategic Vendor Service (SVS). It is a paid program that allows sellers to access a dedicated contact person to help with transactional issues like ordering and cataloging.
AWS
Amazon Web Services refer to a comprehensive, secure cloud services platform that provides storage, servers, networking, remote computing, email, mobile device development, and security. It is now leveraged in Rugby 6 Nations and the NFL to forecast the likelihood or success of a penalty kick.
AZ
It is the Amazon abbreviation.

B2B
Business-to-business means a business that is done between companies. For example, as a vendor on Amazon, you might be eligible to sell items to companies and customers.
B2C
Business-to-consumer is the process of marketing your B2C company and goods on Amazon. With B2C marketing on Amazon, you can promote your business and items to Amazon's multiple active users.
BB
The Buy Box is related to the area of the Amazon product detail page where buyers can add items to their carts.
Bid+
When you are a seller, you are looking to get the #1 ranking keyword in your business domain in no time. For manually targeted Amazon ad campaigns, the Bid+ button can be helpful. It enables you to bid up 50% more than your default bid in a campaign when ads are eligible to appear at the top of search results.
BISS
Business Industrial and Scientific Supplies. A category on Amazon focused on sales to industrial and academic clients.
BL
Big Lots is a discount store that multiple FBA sellers often visit.
BM
Brick & Mortar Store is used for purchases at a physical location shop.
BOGO
Promotions like BOGO are among the perfect solutions for launching new items on Amazon and ranking immediately. Citing the "Buy one, get one" promotion, BOGOs enable you to offer a couple of products for the price of one to draw attention to a new product or get your current clients to purchase differently.
BOL
A Bill of Lading refers to a delivery proof type. The delivery person requires it upon receipt.
BOLO
Amazon acronym for "be on the lookout." It is usually used for a bargain item that you can find in stores nearby.
BOPIS
Buy-Online-Pickup-In-Store. Depending on the source, BOPIS may be called click and collect; buy online, pick up at the curb (BOPAC); reserve online, pick up in a store (ROPIS).
Brand
It is a product manufactured by a specific company under one name. Building a top brand requires learning advanced product research strategies.
Brand Analytics
A dashboard for brand owners signed up with the Amazon Brand Registry to understand the broader performance of their brand (not account) on the platform.
Brand Registry
This Amazon program helps you protect your registered trademarks on Amazon and create an authentic and trusted customer experience. In addition, navigating through the Amazon Brand Registry gives you access to advanced brand content options.
Brand Store
Amazon-branded stores are built using a free self-service tool to create a customized brand experience on Amazon. They can feature logos, products, and experiences that best represent a particular brand.
Browse Nodes
These are numeric codes to identify Amazon product categories. Nodes can be top-level and have many subcategories. In addition, sub-cats often change. Amazon uses thousands of these numbers for each locale, unique to each region (i.e., the UK and US numbers are different).
BSR
It is Amazon's designation based on an internal algorithm that reflects past and present sales of a product. Therefore, BSR can be used to estimate the number of sales of a product.
BTS
Back to School is the season when Amazon sellers often buy items from retailers and charge them up on Amazon.
Bundle
A group of complementary goods sold as one ASIN unit.

CA
Canada. It is the abbreviation for the Canadian market.
CAGR
Compound Annual Growth Rate.
Category
It separates Amazon products based on common characteristics and usage. Products can be placed in a broad category (also called departments) or one or more subcategories.
CCC
CamelCamelCamel.com. An online site where shoppers can see a product's price and rating history.
CCR
Counterfeit Complaint Rate
CD
Continuous Deployment.
CM
Change Management.
COGs
The accumulated sum of all costs used to create a product or service that has been sold. For example, an Amazon private-label product can include the cost of materials, packaging, shipping, duties, and others. Fortunately, several tools help you quickly calculate your product's profitability.
Coupons
Using Amazon marketing services is the key to a successful new product launch. As an Amazon seller, you can use the Amazon coupon program to offer discounts on your products.
CPC
Cost Per Click. A payment model related to paid advertising. It is the amount that Amazon charges a seller or supplier when a buyer clicks on their ad. For example, when using the CPC model, ads are displayed for free, but the seller is charged every time the buyer clicks on the ad. The calculation is the total cost of an ad click.
CPI
An advertising method refers to the price you pay each time 1,000 people view your ad.
CPM
Cost per thousand impressions refers to the price of showing an ad a thousand times (known as "impressions").
CPT
Critical Pull Time. The time during which the order may not be delivered. It may occur due to the termination of delivery to the customer.
CRAP
Can't Realize a Profit. If a product is considered CRAP based on Amazon's algorithms, that means there is a reason it will not make a profit: shipping costs, too much inventory, pricing issues, and others can lead to that designation.
Crowdfunding
It is the practice of financing a project or enterprise by collecting multiple small amounts of money from many people, usually on the Internet.
CS
Customer Service.
CTI
Category Type Item.
CTR
Click Through Rate. It is a metric that measures the number of clicks per ad impression.
CVR
Conversion Rate is the number of orders to the number of clicks. So, CVR is the number of your clicks converted into sales.
CX
Customer Experience.

DDP (Delivered Duty Paid)
The supplier is responsible for arranging transportation and delivering the goods to the specified location, clearing customs for import, and paying all applicable tariffs and duties.
DEA
Delivery Estimate Accuracy. In relation to Amazon FCs.
DOTD
Deal of the Day. On the Amazon Gold Box or Deals page, a discount on a single item or a small set of closely related items is valid for one day only.
DP
A Detail Page, also known as a product details page, is the page on Amazon that contains all the information about the product that the buyer sees. It includes product images, details, descriptions, prices, vendors, and shipping options.
DPMO
Defects Per Million Opportunities.
DPV
Detail Page Views. It is a metric that shows the number of impressions per detail page.
DPVR
Detail Page View Rate.
DS
Dropshipping refers to a fulfillment method where the company does not store products. Instead, when a customer purchases an item, the store buys it from a third seller and then ships it directly to the customer.
DSP
Demand Side Platform. Amazon's display advertising program.
DTC
Direct-to-Consumer means bypassing traditional practices such as selling through resellers and controlling the customer experience from the beginning of the sales cycle by selling directly to your customers.
Duty Tax
The government levied a tax on imported and exported goods and services.

EAN
European article. A 13-digit numbering system for identifying retail items in Europe.
Early Reviewer Program
An Amazon program that encourages buyers who have bought a product to leave credible reviews of their experience.
EBC
Enhanced Brand Content is a detail page where the product description has rich content and branding, including graphics and images embedded on the page. In the past, EBC content was explicitly targeted at merchants. As of 2020, EBC was deprecated and replaced by A+ Content.
EDI
The ability to exchange documents electronically has many benefits. These include increased efficiency through transaction automation, reduced errors in manual data entry, and content validation (using EDI standards and retrieval software) to confirm that transactions contain everything required to ensure proper processing, traceability, cost reduction, and faster processing.
EFN
European fulfillment network. An execution option that allows you to sell in other regions of the EU while logistics and delivery are carried out in your home country.
EOD
End of the day. Usually refers to the close of that specific business day.
Export
It is the process of sending goods or services to another country for sale.
EXSD
Expected Ship Date.
EXW (EX Works)
EX Works. The seller is responsible for all door-to-door shipping. (This is when you have to use the forwarder to intervene).

FBA
Fulfillment by Amazon means Amazon is responsible for storing your products in Amazon fulfillment centers. FBA means that Amazon will collect, package, ship, and provide customer service for these products.
FBM
Fulfilled by Merchant is also known as MF (Merchant Fulfilled). Unlike Amazon, it refers to the self-delivery of products to the final customer.
FC
Fulfillment Center is related to one of Amazon's warehouses/fulfillment centers.
FCA (Free to Carrier)
It means that the seller is liable as soon as the goods are in the hands of the carrier.
FFP
Frustration-Free Packaging. Amazon program to eliminate redundant and hard-to-open packaging.
FNSKU
Fulfillment Network Stock Keeping Unit. An Amazon Product ID for products that Amazon runs.
FOB (Free on Board)
Free on Board. It refers to Amazon's direct import model, whereby suppliers are responsible for all costs until the item is on board the ship at the designated port.
FPY
First Pass Yield.
Free Shipping Promo
An Amazon promotion template allows you to offer a limited-time free shipping offer for a subset of your catalog.
Freight Forwarder
A third-party delivery service will contact your supplier to arrange all delivery details. Whether you're shipping your Amazon products by sea or air, a freight forwarder can help.
FS
Financial Statements.
FT
It is a balanced look at the stock for Amazon. To qualify for the fast-track offer, ASIN must be in stock and win a Buy Box. In addition, ASINs with fast track usually have a higher conversion rate and accelerated Offer Views/Total Views​.
Fulfillment Fee
The cost that Amazon charges for picking, packaging, and shipping your product through the FBA service.

Gated Category
A section of restricted products blocked for sellers without Amazon's prior approval.
Giveaway Promo
A promotion template that allows you to offer free products to generate traffic and build social media followers.
GLN
Global Location Number. A unique identification code for a physical location.
Gross Profit
Gross profit is the profit a company earns after deducting the costs associated with producing and selling its products or the prices associated with providing its services.
GTIN
Global Trade Item Number (GTIN). A 14-digit code that uniquely identifies products, goods, and services.
GV
Glance View. The number of ASIN views. It is calculated at the child ASIN level; parent ASINS do not generate lookup views.

Hazmat
Hazardous materials. Refer to flammable, toxic, or pressurized items that must be handled with extreme care to protect employees' and customers' health.
HBA
Health & Beauty Aids can be either part of the beauty or health and personal care category.
HTF
Hard to Find is often associated with a BOLO message and comes into play when an item is quite rare in stores.

IDQ
Item Data Quality. Refers to the status of product information, such as whether the product has markers and images.
IL
InventoryLab is a service to help with accounting and analysis related to your Amazon business.
Import
It is bringing goods or services into a country for sale.
Impressions
It is a measure of views or ad views determined by the number of times the page is found and loaded.
Incoterms
These are the standard terms in international shipping agreements. They describe who is responsible for moving your products from point A to point B.
Inventory
These are items that are listed and available for sale.
IP
Intellectual Property.
IPI
Inventory Performance Indicator. The Amazon IPI score aggregates sales, inventory levels, and costs over the past three months into a single rolling metric. When the IPI falls below a certain threshold, sellers are subject to storage limits, which may prevent them from adding new inventory or creating new products.
IRDR
Inventory Record Defect Ratio.
ISBN
International Standard Book Number. A 13-digit identification number is assigned to individual books by standard book numbering agencies. Until 2006, the ISBN consisted of 10 digits. ISBN, SKU, and ASIN can be used in listings on Amazon.
ITK
Item Type Keyword is a set of search keywords selected by the provider from a list maintained by Amazon that shows the ASIN in the search when the client searches for any word(s) in the ITK string.

Jooble

KPI
Key Performance Indicator. A measurable value that shows how effectively you achieve your business goals.

Landed Cost
The price for a single item (price per unit) plus transport and customs fees.
LBB
Lost Buy Box is the clicks on the details page where the retailer has given the Buy Box to 3P merchants.
LD
Lightning deal. Limited stock on Amazon for a short period. Lightning deals are available per customer until the offer expires or until all available inventory is claimed.
LSA
Lock Screen Ads is a part of an ad console currently only available in the US that allows you to target product ads to Kindle users on lock screens.
LTH
Long Term Hold is a storage of stocks for subsequent sale. For example, you can buy Christmas lights on December 28 and wait for their sale until the upcoming December.

Manually Targeted Ads
These are ad campaigns where you can select the individual keywords you want to target.
MAP
Minimum advertised price. Most often, this happens with bulk purchases. It is the price you agree not to list below when purchasing a product from a wholesaler/ distributor.
Marketing Funnel
It is a model that illustrates the customer's journey to a product purchase.
MCF
Multi-Channel Fulfillment. A service that allows brands to use Amazon warehouses to store and ship items sold outside of Amazon.
MCI
Multi-Country Inventory allows FBA sellers to choose countries to send their inventory and complete orders with a local fulfillment center.
MF
Merchant Fulfilled refers to sellers delivering goods directly to the final customer.
MFN
Manufacturer Fulfillment Network. Amazon's third-party sales model, where sellers manage their inventory, picking, packaging, shipping, and customer service, or a third-party logistics company handles it. It is also referred to as FBM or Fulfillment by Merchant.
MOQ
Minimum Order Quantity. Describes the minimum amount that Amazon must order.
MSRP
Manufacturer's Suggested Retail Price. It is the price for which the manufacturer offers to sell their products. For example, this is shown above the selling price on Amazon when the price of a product is less than the manufacturer's suggested retail price.
MTD
Month to Date.
MWS
It applies to Amazon Marketplace web services where you access your API/MWS (Application Programming Interface) keys.

NAFN
North American Fulfillment Network. Sellers in North America (US, Canada, and Mexico) can find their products shipped to any of these countries using Amazon's fulfillment channels.
NDA
Non-Disclosure Agreement.
Net
Actual profit after payment of operating expenses which is not included in the gross profit calculation.
NIS
New Item Setup. Creating a new product on Amazon.
NP
A new product refers to a newly listed product.
NR
Non-Replenishable. A product that is not in stock.
NTB
New to Brand. An Amazon advertising metric determines whether an existing customer made an ad-related purchase or a brand product was purchased on Amazon for the first time in the previous year. In addition, NTB provides advertisers with campaign performance metrics such as total new brand purchases and sales, new brand purchase rates, and cost per new brand buyer.

OA
Online Arbitrage. Businesses that buy goods at lower prices resell them online at a higher price to make a profit.
OB
Obsolete. It is the restocking date indicating that the item has been discontinued.
ODR
Order Defect Rate. Percentage of orders that received a negative review, A to Z warranty claim, or credit card chargeback. Order Defect Rate allows Amazon to measure overall performance with a single metric.
OEM (Original Equipment Manufacturer)
It is a company that manufactures parts and equipment that another manufacturer can sell.
OOS
Out of Stock. It refers to an out-of-stock item in a retail store or an item out of stock on Amazon.
Ops
Operations.
OS
Off-Season (Vendor Central Replenishment Code). Seasonal or out-of-season items are found in Brand Analytics and the cost table.
OTC
Over the Counter.

P&L
Profit and Loss.
PA
Process Assistant. Amazon warehouse job as a supervisor for the Area Manager.
Pan Eu
If a seller is actively selling on Amazon's European marketplaces, PAN EU is an option that allows them to ship their items to a single fulfillment center. Amazon then sends the goods to its fulfillment centers across the continent.
PCOGS
Product Cost of Goods Sold. The formula is units shipped * cost price.
PDA
Product Display Ads. A type of display ad where product ads appear on Amazon on category and product pages.
PDP
A Product Detail Page is a web page on an e-commerce site that describes a particular product.
PED
Prime Exclusive Discount. A limited-time deal only available to FBA sellers on Amazon for items that qualify for Prime. There may be a discount on the amount or percentage.
Performance Notifications
A page in Seller Central that offers information about how you feel about Amazon customer satisfaction.
PL (Private Label)
It is a product manufactured or packaged for sale under the name of the seller and not the manufacturer. Many resources explain how to get ideas for your product if you go down this path.
PM
A price match or private message usually refers to other sellers' price comparisons or a private message if you see it on a Facebook group.
PNOV
Preliminary Notice of Violation.
POD
Proof of Delivery. When Amazon has not received an item sent by a supplier and needs proof that a delivery man delivered the item.
PPC
Pay-per-click is also known as cost per click (CPC). This type of promotion charges the seller of a product every time someone clicks its ads.
PPE
Personal Protective Equipment. Often required to work in certain positions at an Amazon FC.
PPM
Pure Product Margin. Formula for calculation: (Revenue – PCOGS) / Income.
PPV
Product Price Variance. When a supplier issues an invoice, the product price there differs from the one in the Amazon system.
PQV
Product Quantity Variance. When a supplier submits inventory to Amazon, the amount they have sent differs from the amount Amazon has received.
PR
Planned Replenishment (Vendor Central Replenishment Code). It is a standard code indicating that the product will be reordered automatically. The code can be found in the Brand Analytics reports on Vendor Central.
Prime
Amazon's free shipping subscription service also entails services like Amazon Music and Video.
ProbRec
Problem Receive is the percentage of units received at an Amazon warehouse with a problem that needs to be resolved.
Promotions
A series of discounts and freebies that are offered to Amazon sellers to drive sales and social media growth.
PVR
Provisions for Receivables. These are temporary credit notes, i.e., provisions that Amazon places in a wholesale account in connection with projected accounts payable to Amazon.

Q1
First quarter. Jan-March of any given year.
Q2
Second quarter. April-June of any given year.
Q3
Third quarter. July-Sept of any given year.
Q4
Fourth quarter. Oct-Dec of any given year, well-known for Black Friday and the holiday shopping season.
QA
Quality Assurance.
QB
Quickbooks is a service for assistance in managing accounts.

RA
Retail Arbitrage. Businesses that buy products at lower prices resell them at a higher price to profit.
Referral Fee
It is a percentage cost per sale on Amazon.
Replen
Replenishable product. A product that the seller can replenish from the supplier and sell constantly. This term can be used in almost any search method.
RepOOS
Replenishable Out of Stock are clicks on a detail page where retail products are unavailable, as a % of all clicks.
RoAS
Return On Ad Spend. Used to determine the effectiveness of an advertising campaign. It tells you how many dollars you get for every dollar spent on advertising.
ROI
Return on Investment. A performance metric to measure the success of an investment relative to cost.
RRP
Recommended Retail Price

Sales Page
The page was created to encourage viewers to make a purchase.
Sample
A single product is shipped to a customer to demonstrate the quality, service, and competence of a manufacturer, supplier, or wholesaler.
SB
Sponsored Brands. Keyword-targeted ads promote a brand with a logo, creatives, and product mix. Sponsored Brand Ads increase awareness and help discover your brand and product portfolio with customizable advertisements that appear in Amazon shopping results.
SBC
Simple Bin Count.
SC
Seller Central. Some Amazon marketplace sellers use a web interface to manage their Amazon Pro or individual seller accounts. These sellers (FBA and FBM sellers) are considered third-party sellers.
Seller Feedback
Reviews about the seller of the product, not about the product itself.
SEO
Search Engine Optimization is the process of maximizing the number of visitors to a particular website by ensuring that that website ranks first in a search engine. You can increase your sales by knowing how to perform persuasive search engine optimization.
Sessions
A single session is a group of interactions/views/page downloads a single user makes on a website over time. It is a helpful metric for shopping or customer habits on Amazon.
SFP
Seller Fulfilled Prime. A program that allows FBM sellers to display the Prime badge in their listings.
SIOC
Ships in Own Container.
SKU
Stock Keeping Unit. Machine-readable codes that identify a particular product, usually for purchasing goods.
SLA
Service Level Agreement.
SLAM
Shipping Label Auto Manifest.
SnS
Subscribe and Save. This Amazon service allows customers to automatically order delivery of certain products at a reduced price regularly. In addition, signing up to "subscribe and save" is now automatic for sellers.
SP
Sponsored products are part of the ad console and advertisements that appear in search results and show your product with the "Sponsored" mark above it.
SPN
Service Provider Network refers to the network of over 300 professional service providers trained and certified by the platform.
Sponsored Ad
A pay-per-click advertising solution that allows you to promote the products you sell with keyword-targeted ads (manually or automatically) appearing in top-notch placements on Amazon.com.
Squeeze Page
It is a landing page designed to capture the email addresses of potential subscribers.
SRP
Suggested Retail Price.
SS
Seller Support is customer service for Amazon sellers.
Storefront
Amazon's service that allows vendors and merchants to create their own branded stores on the platform and deliver an immersive virtual shopping experience to their customers. As a result, you can scale your Amazon business.

TIA
Thanks in Advance. Often used in groups when someone asks a question. One will finish with the TIA to thank you for any answers you can provide.
TOS
Terms of Service.
TOT
Time Off Task. A fulfillment center term that is used to determine the duration of a task.
TRU
Toys R Us is a retail store favored by many Amazon FBA sellers.

Unverified Reviews
When an Amazon.com user leaves a review on a product without purchasing the related product, it is considered an "unverified review." However, unverified reviews carry less weight when Amazon averages reviews for a given product, so sellers should know how to get product reviews without being promoted.
UPC
Universal Product Code is a 12-digit number displayed with a barcode on most retail products.
UPH
Units Per Hour.
Upsell
It is a sales technique where a salesperson convinces customers to buy more expensive items and upgrades to make more profit.
UX
User Experience.

VA
Virtual Assistant. It is someone who usually provides administrative assistance when working remotely. Virtual assets tend to be contracted and can also provide accounting, data entry, research, and more.

Variable Closing Fee
These are fixed fees on certain products from Amazon.
VAT
Value Added Tax refers to products sold in the UK and the EU.
VC
Vendor Catalog.
Verified Review
Feedback received from a genuine buyer of the product in question.
Vine
Amazon's review generation program that is offered to 1P suppliers.
VIR
Volume Incentive Rebate. Higher sales volumes result in a more considerable discount, making this scenario beneficial for both the seller and the supplier.
VIS
Video In Search offers advertisers a content-rich environment to connect directly with Amazon customers via video in mobile search results.
VLT
Vendor Lead Time is the average delivery time in days between the placement of a purchase order and the date of receipt at the Amazon warehouse.
VM
An individual or company that sells goods or services to anyone else in the economic production chain.
VNHO
Virtual New Hire Orientation.
VPC
Vendor Powered Coupons are Amazon Coupons available to both Vendors and Sellers. These offers appear on the product detail page as digital coupons, including percentage discounts, dollar discounts, BOGO, giveaways, free shipping, or social media promo codes. Sellers should have a professional seller account, a good reputation, and a seller review score of at least 3.5.
VPN (Virtual Private Network)
Virtual Private Network. Encryption technology that allows information to be transmitted securely over a less secure connection.

WOS
Weeks of Supply. The number of delivery weeks to determine coverage. The Amazon Replenishment Team will decide on the number of delivery weeks for wholesalers. Marketplace sellers are responsible for managing their inventory. Available inventory plus the number of incoming/ average units sold per week.
WS
Wholesale. The process of selling goods — in large quantities and at low prices — to others, who then resell them, either in brick-and-mortar stores or online, on sites such as Amazon and eBay.

YMMV
Your mileage may vary is regularly seen on Amazon-linked Facebook groups associated with irrelevant posts to all readers. For example, an offer may be available in a specific region, and the advertiser is not sure if it is available nationwide.
YOY
Year over the year is a method of evaluating two or more measurable events to compare results for one time period.
YTD
Year-to-date is often used when exchanging sales data or a specific metric since the beginning of the calendar year.
Final Word
We constantly get asked by our customers and partners what Amazon terminology means. Therefore, we have created a practical guide with all the terms and lingo used in the marketplace.
We may have missed some, so if you believe some jargon should be added to our Amazon abbreviations list, let us know in the comments, and we will add them.
TIA!