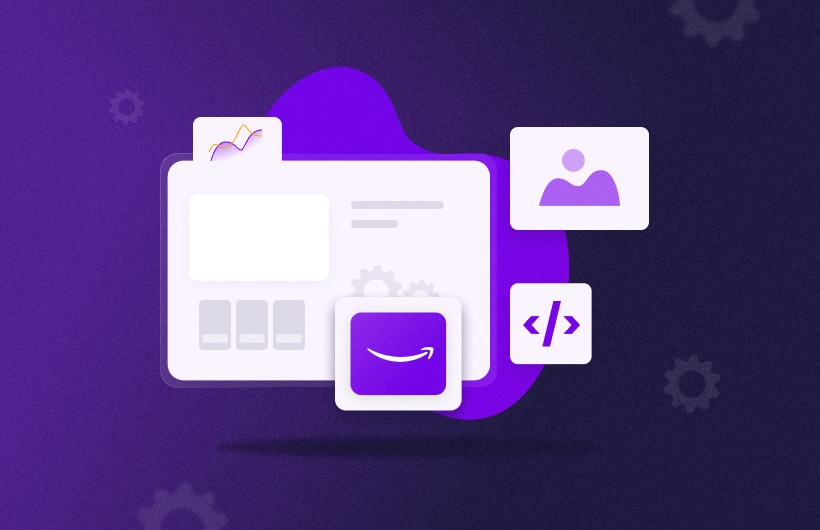 Are you looking for the best Amazon PPC software? Then, you are in the right place since we have prepared a carefully sorted list of Amazon PPC management software.
Amazon PPC software helps you efficiently manage your Amazon PPC campaigns. As a result, it will help you save time and money. In addition, multiple PPC management tools will let you surpass other significant players in the market depending on your target audience.
You will undoubtedly face competition from many sellers unless you have a unique product. Therefore, Amazon sellers must find a way to stand out on the platform. All serious sellers should advertise their most relevant keywords. That is why there is a burst of Amazon ads tools and PPC management software available to merchants. It allows them to place bids and gain an edge over the competition.
We have listed the top Amazon advertising tools and software to help you decide what is best for you in the long run.
Table of content:
What Is Amazon PPC Software?
PPC software, or pay-per-click software, is a tool that allows companies to manage, modify, and track the performance of their campaigns. The software enables users to create their campaigns with bid sizes and budgets. The software also allows users to post PPC links on Facebook or Google Ads.
Some Amazon PPC tools below use AI to analyze PPC campaigns in real time and make essential adjustments to decrease ACoS and increase RoAS.
The Features to Consider in Amazon PPC Software
There are seven features that the top Amazon PPC management software should have.
Robust Keyword Research Feature – keywords are a significant factor in your Amazon PPC campaigns' success. Only if you know what your prospects are searching for and if you optimize your campaigns for relevant keywords, your ads will show up for the correct search terms and have a high conversion rate.
Broad Marketplace Availability – the Amazon PPC tool must also be available outside amazon.com, i.a., on European or Asian marketplaces. If you decide to expand your Amazon business in Europe, you can keep using this tool.
Comprehensive Metrics Dashboard – you should keep track of your key metrics in the ever-changing Amazon PPC world. Any prominent Amazon PPC tool has a well-organized dashboard where you can quickly check your KPIs and see how well your campaigns perform. If your ACoS is high or your RoAS is low, you should be able to see it instantly so you can quickly take measures.
Automation Capabilities – whether you are manual-based or AI-driven, Amazon PPC tools should be able to take the manual work off by automating workflows like keyword management or bid adjustments.
Reliable Support – if you encounter issues with the tool, you will need committed technical support to help you solve the problem quickly.
Trial Period – every reputable agency usually offers the option to test the software first. A 7-, 14-, or 30-day trial period or a generous refund is a must.
Free Resources and Training – all outstanding Amazon PPC software companies offer free online training and resources in webinars, demo videos, and in-depth blog posts. They are intended to help you understand the tool and its features and learn how to use it to its full potential.
Why Is It Essential to Have a Powerful PPC Management Tool or Software?
It is next to impossible to keep up with your competitors' Amazon PPC strategies these days unless you work with a PPC management agency or have the right software to help you manage your campaigns.
Begin With Learning Amazon PPC
Before considering which tool to use, you must first understand what Amazon PPC is and how it works. It includes, for example, knowing the most critical metrics, such as ACoS, RoAS, or CTR, and the difference between broad, phrase, and exact match.
Top 5 Best Amazon PPC Software
Profit Whales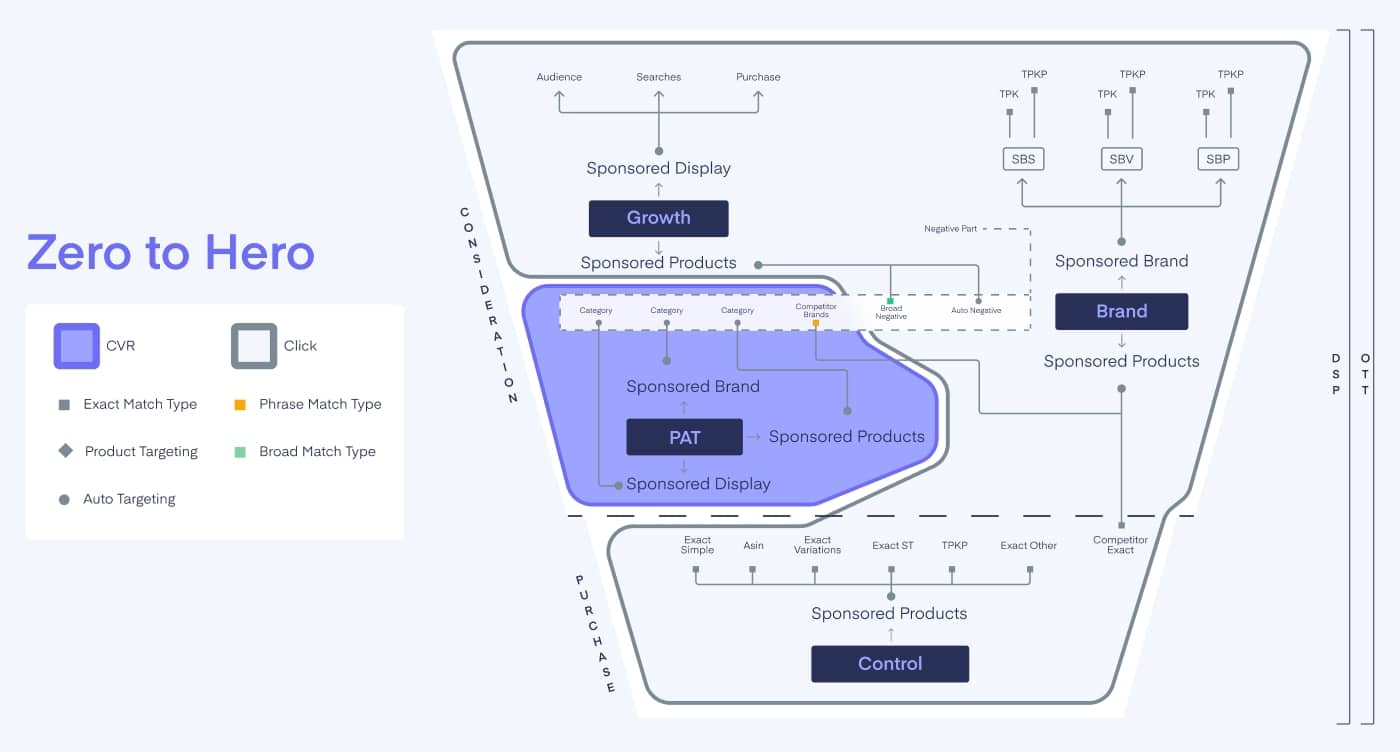 A full-service marketing agency for eCommerce brands, well-known for scaling them on Amazon and beyond via a cross-channel approach. Also, such significant players as Pinterest, TikTok, Google Ads, and Teikametrics are among our partners.
We use our software to work with and collect all data on and off Amazon. Also, our unique and time-tested Amazon PPC campaign structure allows us to achieve a competitive advantage. And the software enhances advertising campaigns' creation, optimization, and analytics.
In 2018, Profit Whales developed and launched its unique PPC structure – Zero-to-Hero. And in 2019, we released our software solution and became AWS trusted partner. Finally, in 2020, we changed the model to merge human and AI solutions. Besides, we added an external traffic approach and DSP.
We have also established a SaaS agency, Sponsoreds. Today, our company has grown into a marketing agency to not only set up PPC but also help with scaling, combining this channel with others, and personalizing the needs of our customers. Contact us to check your ready-made PPC campaigns and to conduct a PPC audit.
Profit Whales is an Advanced Amazon Ads partner. Our innovative campaign structure allows us to isolate keywords, diversify budgets, manage bids, and give the company complete control over Amazon Ads. Increasing sales, boosting organic ranking, and growing the brand are the results we achieve.
SellerApp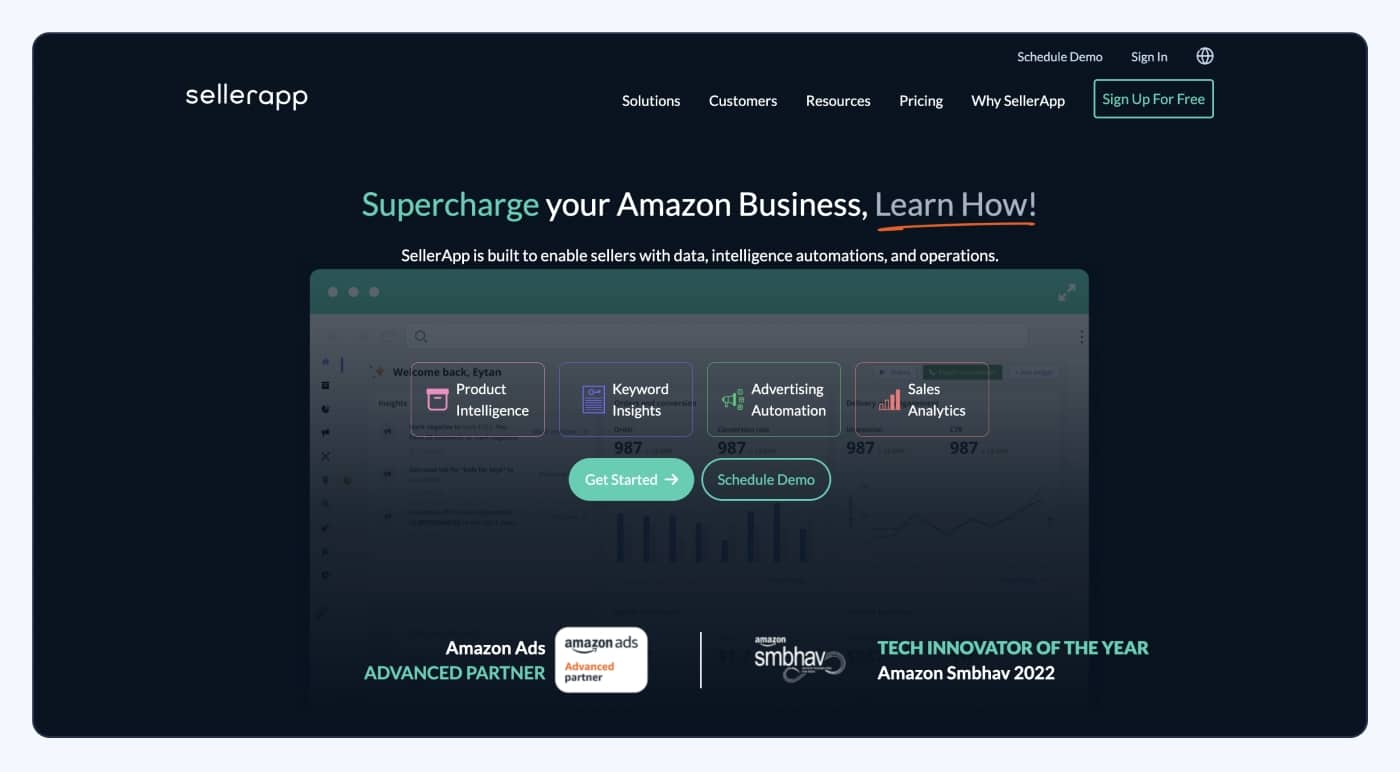 SellerApp integrates your marketing, sales, and operations for your Amazon store into one platform to drive growth and success. One crucial instrument is SellerApp's PPC Analyzer.
SellerApp's Amazon PPC Optimization Tool allows you to streamline and optimize your Amazon PPC. It offers next-generation machine learning tools built to raise your Amazon ad revenue. The platform improves profitability by delivering precise and unbridled control over all aspects of your ad campaigns. It includes Amazon ad automation, negative keyword optimization, one-click keyword harvesting, and advanced analytics.
Sellics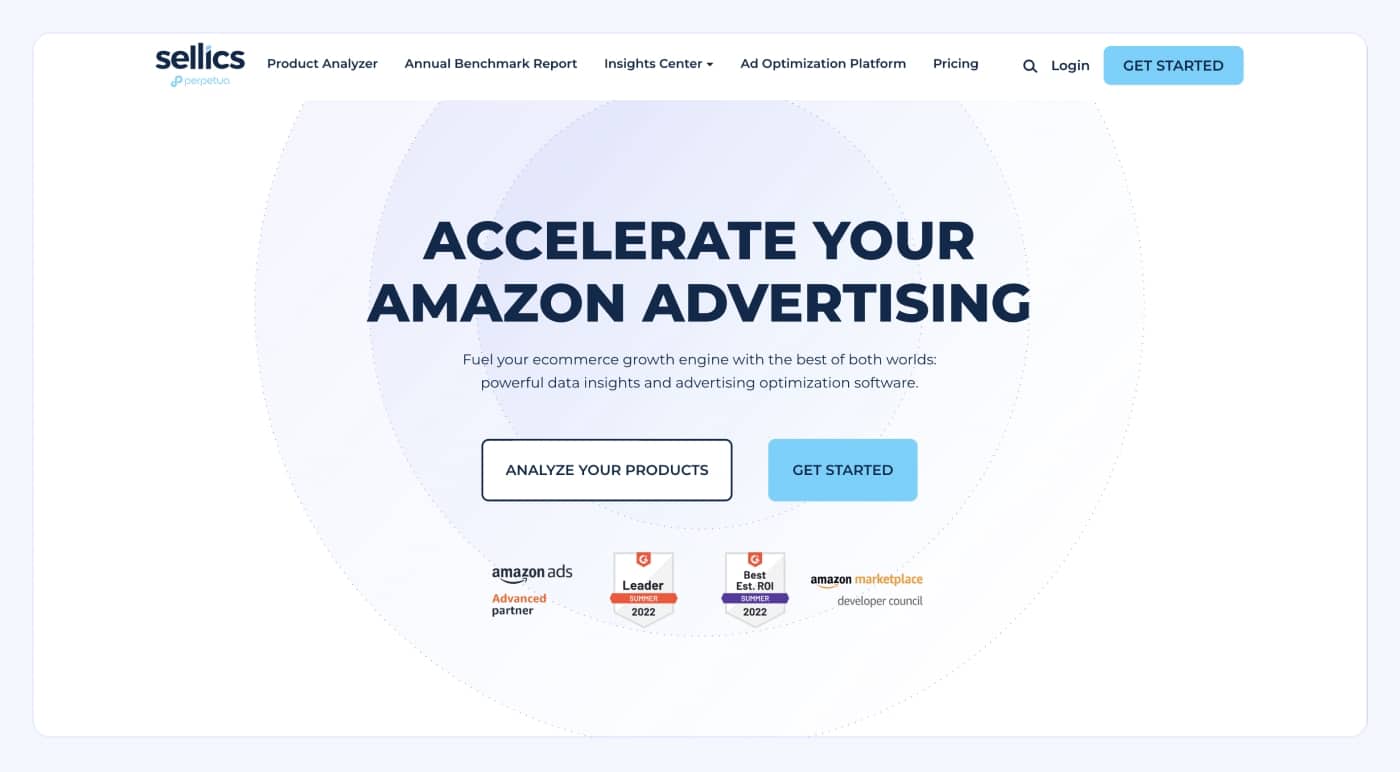 If you want to succeed in advertising on Amazon, Sellics is a perfect solution since it is among the most requested tools online. It enables campaign management automation based on the rules you set, or you can leave it to AI. You get multiple features like ACoS targeting, smart ad placement scheduling, bid management automation, and complex keyword research.
Sellics' proprietary AI algorithm quickly evaluates sales and peak keyword clusters and manages your campaigns based on different metrics. You may observe your competitors with Sellics and compare the effectiveness of your campaigns with those of your competitors. Besides, it lets you access some extra features and review management tools.
Perpetua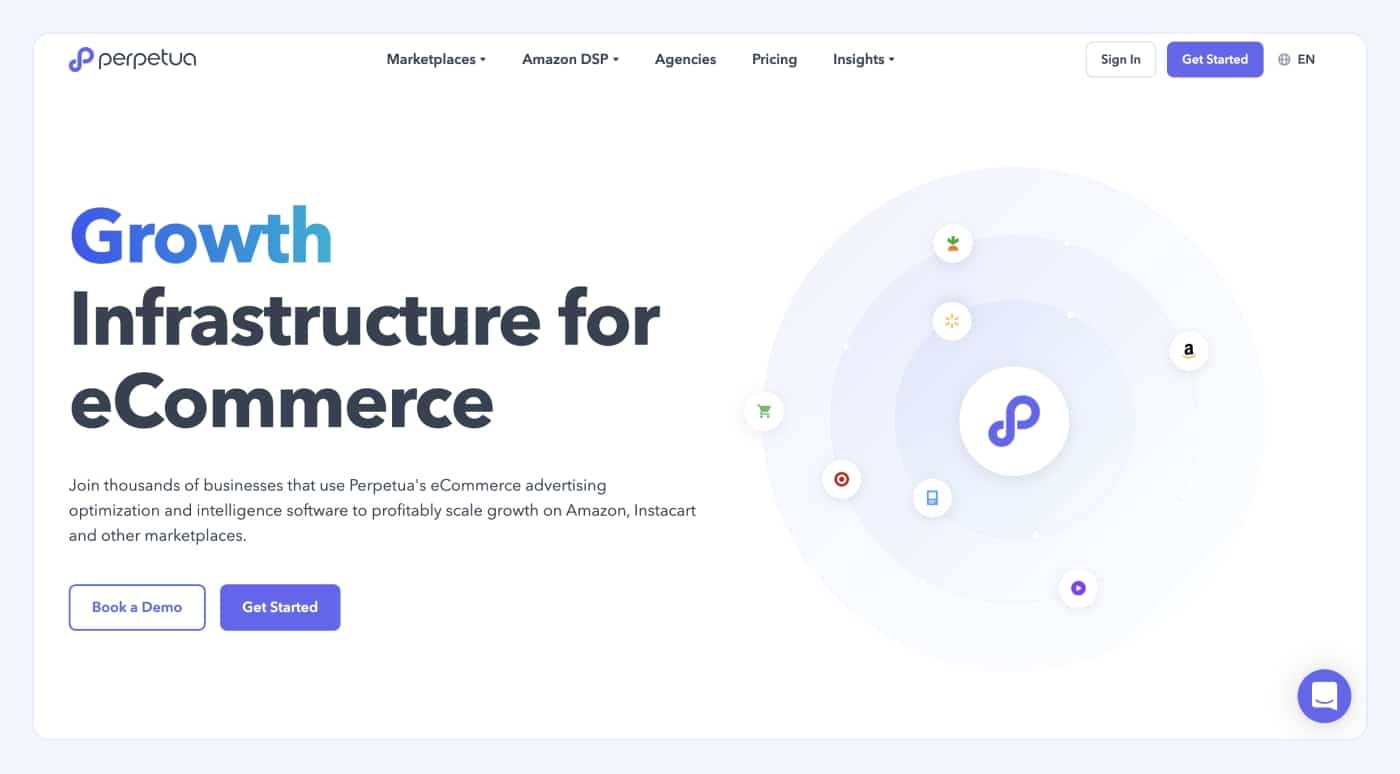 Another excellent PPC tool you need to consider. It is an omni-channel tool for eCommerce businesses, which means it is practical for managing Amazon ad campaigns and other marketplaces like Walmart, Target, and others.
Its automatic creation, optimization, and execution of campaigns also save you time. You need to specify your campaign goals, like profitability, growth, awareness, and brand protection, and let the Perpetua advertising engine handle all the rest. It offers marketplace ad optimization, video ads, display ads, and market intelligence reports.
PPC Entourage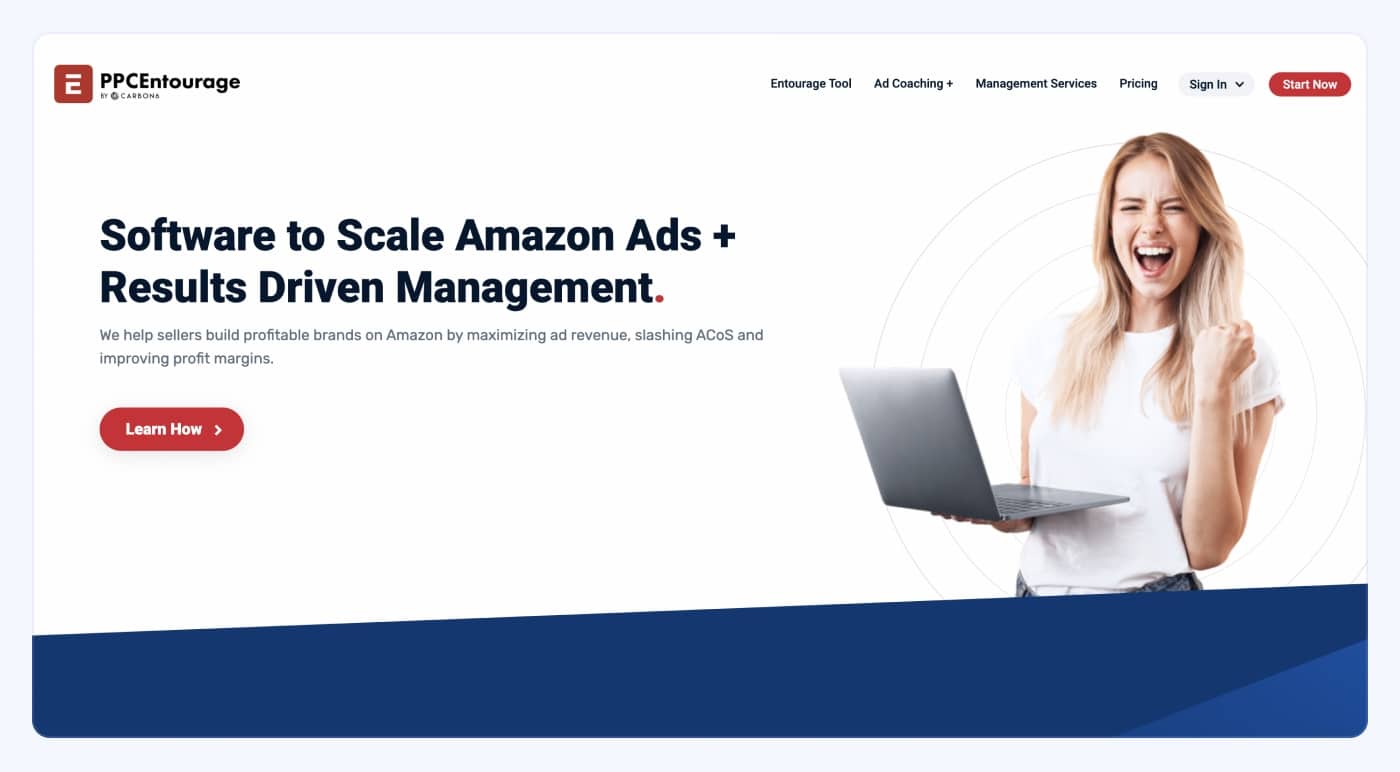 One of the best Amazon PPC software is PPC Entourage, which has a broad spectrum of features and cutting-edge customer and tech support. This tool simplifies keeping track of your Amazon campaigns, setting budgets, and creating custom alerts, which lets you stay in control of your business.
PPC Entourage features an automatic bidding system. You should set a target ACoS, and the automated bidding system adjusts bids correspondingly.
Besides, this tool features advertising coaching and management services. And it has quite an exciting offer: they will refund your money if the software does not help you grow a leading brand.
Final Word
All the software solutions help you save manual work time, automate campaign management based on rules or AI-driven algorithms, and provide more or less the same features.
Nonetheless, what kind of software you implement should be thought out. Which one is perfect for you depends on a specific case. Picking the tool that best satisfies your needs essentially comes down to three primary steps:
Firstly, you need to clearly understand what features the tool should have and what other aspects are essential to you, like user-friendliness or a customizable dashboard. Then, as soon as you figure out what you need, check off the tools that promise exactly that, and finally, in the third step, do one thing: extensive testing.
As an Amazon FBA seller, you need your products to be seen by buyers, or you will not be able to generate any sales. The primary way to achieve this is via Amazon PPC advertising, also known as Sponsored Product advertising.
Amazon PPC advertising campaigns are what Amazon sellers spend most of their money on, after inventory.
So how well your Amazon PPC campaigns are optimized impacts your business significantly: by growing or smashing it.