Company Background
The medical product brand we will talk about today started on Amazon in December 2021. The brand sells medical products and equipment exclusively. The company was young and had just started its business, so it decided to turn to Profit Whales to help it get off the ground.
The Challenge
They faced several problems because they did not have enough time and did not understand how Amazon PPC worked. Consequently, they couldn't scale their brand to keep up with their significant competitors on the market. The brand's team implemented automatic ad campaigns. As a result, they could generate some sales volume in the short term but did not render much movement from it.
The Solution
We started our analysis by performing deep research when the medical product brand came to us for assistance, which is something we typically do. We analyzed the outcome that each of the ad campaigns brought for each of the products. Based on that data, we determined the base seed keywords first. Once we had solid ground, we assembled a sizeable semantic core. 
We monitored and tracked the listing's performance to ensure our seeds received the relevant traffic and maintained relevance.

Outcomes
By adding costs continuously, the conversion rates stay the same, and advertising became an excellent method of growing the business. We have maintained this growth with our Growth part and remain in control of positions with the help of the Control part – both are the components of our unique Amazon campaign structure setup.
The Growth part comprises Sponsored Products and Sponsored Display, while the Control part solely consists of Sponsored Products. Sponsored Products is the most complex ad campaign bringing in 50-70% of all traffic and, if run properly, generates actual conversion rates. 
Our unique approach to structuring a PPC campaign for Amazon sellers is well depicted in the graph below.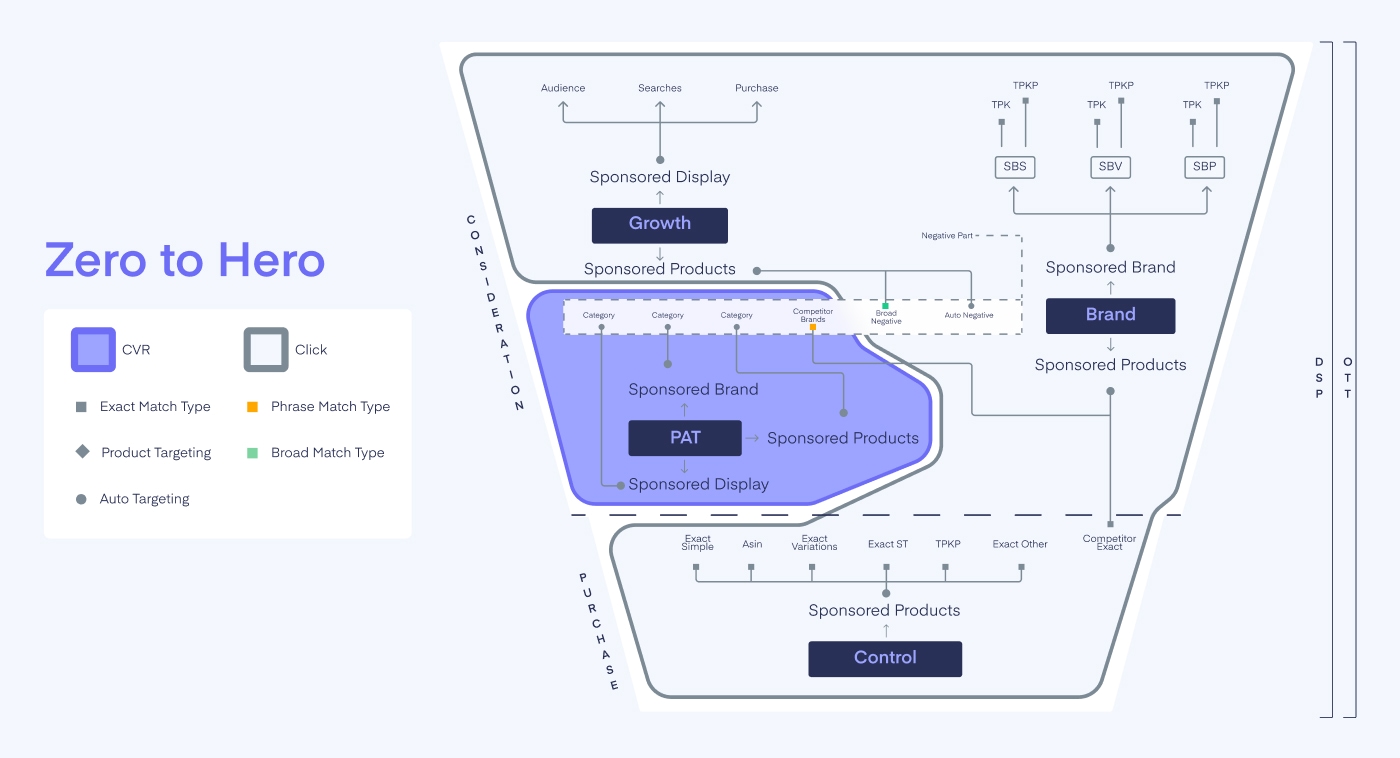 Helping New Amazon Sellers Grow Their Businesses
Amazon is the second-largest world retailer, and to compete, Amazon sellers must implement unique PPC campaigns. The problem is that understanding Amazon PPC is highly confusing. Besides, new sellers face an entirely new world of challenges with buyer psychology, shipping logistics, pricing, product selection, and dealing with all of Amazon's best practices, like single-sourcing and search ranking.
But these challenges can be overcome with the help of an accurate and effective PPC campaign setup. If set up correctly, the Amazon PPC structure can be a cornerstone of your digital advertising strategy.
Running a multivariate online advertising campaign has experienced unprecedented success in recent years and has become one of the fastest and most effective ways to obtain new clientele. The key to building a successful Amazon PPC campaign is to write killer ads and prioritize your keywords in a personalized fashion. The Amazon PPC campaign structure developed by Profit Whales makes it easy to determine our clients' goals and set parameters for each ad.