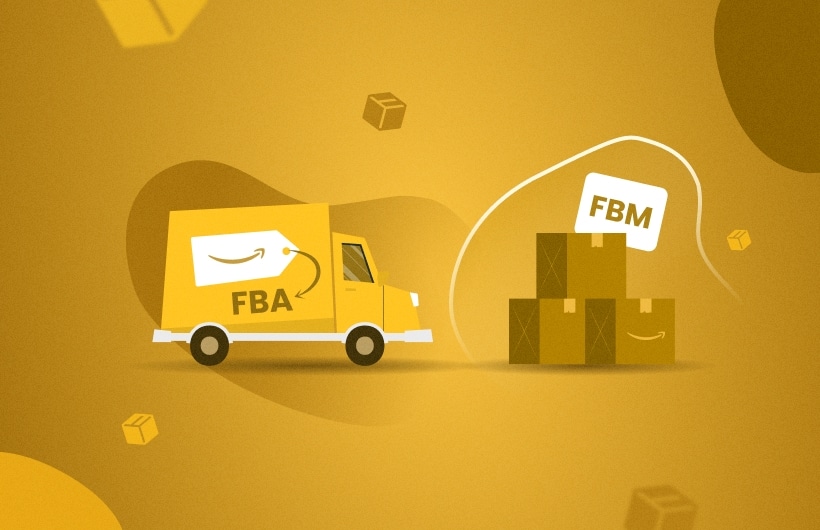 If you have come across this article, you are probably in the middle of choosing a suitable fulfillment model. And you are not alone there: Amazon has over 1,9 million active sellers, with 3,700 new ones joining daily; and each of them faces a choice: FBA or FBM. There is a belief that beginners go for FBA, and FBM is better for mature and experienced companies. But is it so?
Stay tuned to find out the pros and cons of each fulfillment model, the main differences between them, and cost calculation methods. You will also learn which fulfillment type is more profitable and faster and what Profit Whales professionals recommend.
Table of content:
FBA vs FBM: Amazon Fulfillment Models
Amazon FBA: Pros and Cons
Amazon FBM: Pros and Cons
FBA vs FBM Calculator
Difference Between FBA and FBM
Amazon FBA vs Merchant Fulfilled: What to Choose?
Final Word
FBA vs FBM: Amazon Fulfillment Models
Let's start our FBA vs FBM comparison guide by giving definitions.
FBA (Fulfilled by Amazon) is a fulfillment model which assumes that sellers deliver goods to the Amazon warehouse, where the marketplace manages order processing, packaging, and delivery. Amazon charges a fee for these services.
FBM (Fulfilled by Merchant) is a fulfillment method where the seller is fully responsible for all stages — from stock holding to order delivery. The sellers can do it themselves or with the help of third-party logistics (3PL).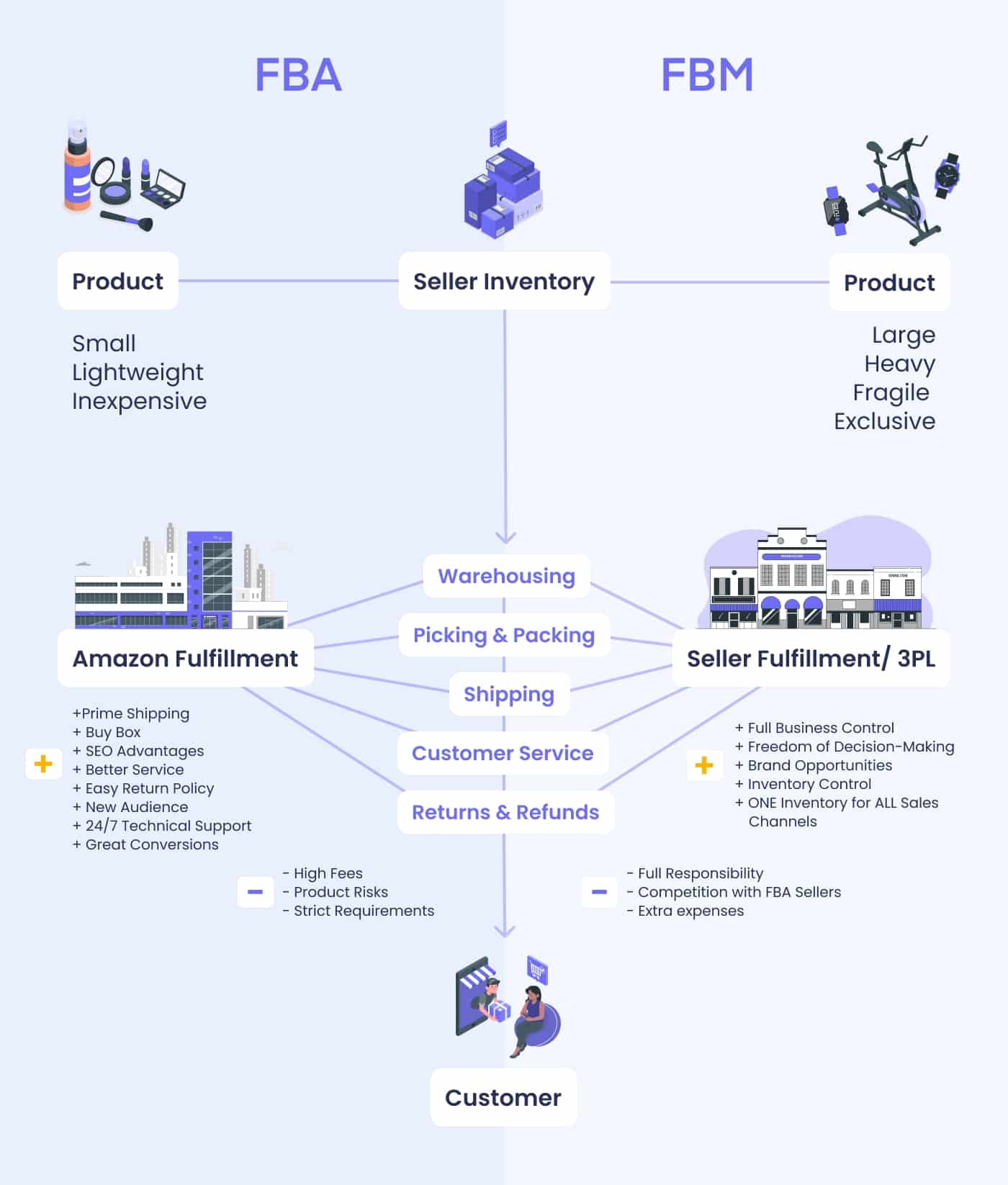 FBA vs merchant fulfilled: how the choice of fulfillment model has changed over the years.
Let's check how the fulfillment situation has changed from 2020 to 2022, according to Statista:
FBA sellers' share has increased from 57% to 68%
FBM sellers' share has slightly increased from 9% to 11%
The share of sellers who combine FBA and FBM models has dropped from 34% to 21%.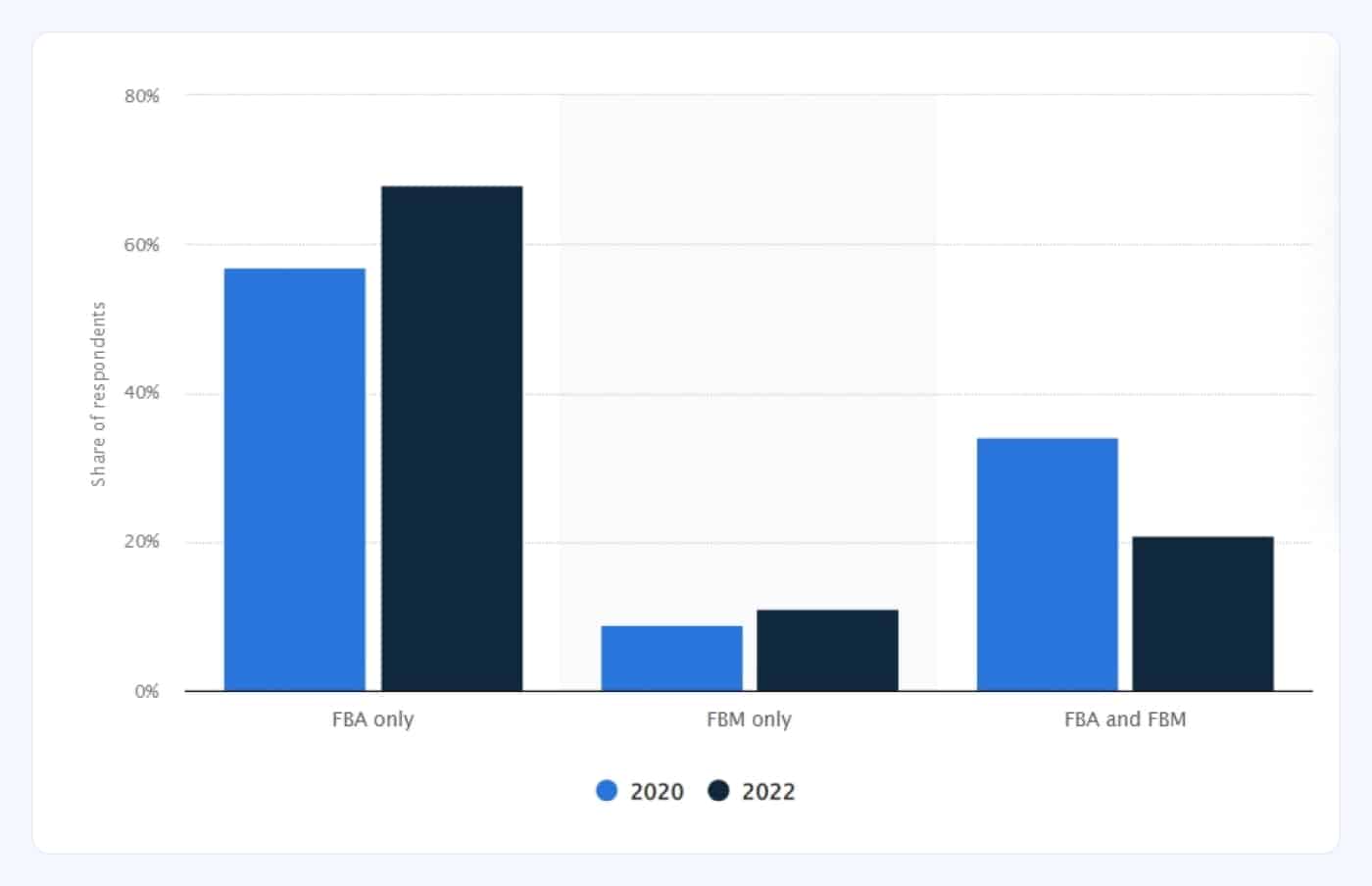 Amazon FBA: Pros and Cons
FBA is the most popular fulfillment model on Amazon. So you should understand its pros and cons to determine if it suits your company.
What Is Good About FBA
There are many reasons why most companies choose FBA:
Prime Shipping
By using FBA, you get access to Prime shipping, where customers can get your product within 1-2 days and for free. In addition, it helps make your product stand out, as Prime subscribers want to get it as soon as possible.
Just imagine what opportunities it opens up if the number of Amazon Prime members is 200 million and 153 million live in the US.
Buy Box
The Buy Box is a desired feature for any retailer, providing premium product placement with a simplified order form — "Add to Cart" and "Buy Now" buttons. Moreover, only one seller gets it at the moment.
The algorithm for winning a Buy Box considers many factors, one of which is fulfillment. So, FBA sellers have a much better chance than FBM sellers. However, 85% of sales are made through the Buy Box, so you should really fight for it.
Task Priorities
You can always handle inventory tracking, hiring and training warehouse staff, packing, shipping, and return processing on your own. However, why would you waste your time on this when Amazon already has a supply chain established for years? Instead, focus on finding reliable suppliers, creating the best product, and marketing.
Moreover, with FBA, you can quickly scale without hiring additional staff or increasing storage capacity.
SEO Advantages
Amazon does not officially disclose how the A9 search algorithm works. But it is no secret that choosing FBA improves your position in search results. Items from non-FBA sellers are classified by price, including shipping, while FBA sellers are ranked by price only, automatically moving them to the top of the search. And the higher the product in the search, the greater the reach and sales.
Better Service
FBA allows you to delegate customer care to Amazon. As a result, it not only ensures a good service quality but also reduces your costs for the customer service department.
Multi-Channel Fulfillment (MCF)
The excellent news for omnichannel sellers is that Amazon can serve your orders from this marketplace and other sales channels, including your website. At the same time, you do not even have to sell on Amazon and can entirely focus on external resources. But, of course, the payment for MCF is higher than for a regular FBA.
Standard Goods
If you sell small and light items, it might make sense to try FBA, as packing and shipping are not expensive.
Easy Returns
As part of fulfillment, Amazon also processes returns and refunds. All returns are marked "Sellable" or "Unsellable." Unsellable products are removed from inventory because of damage or defect. After the proper check, Amazon decides who gets the compensation: the seller or the buyer.
New Audience
With FBA, you can significantly expand your audience — get access to Prime members, and scale your business entering new markets.
24/7 Support
The significant advantage of FBA is 24/7 customer service. As a result, you can sleep peacefully and be sure that no order is lost.
Great Conversions
People trust Amazon because they know they will receive the goods on time and be able to return them if necessary. It has a positive effect on customer intent, increasing sales.
Things to Be Careful About FBA
Is FBA so perfect that all companies can use it? Not everything is so clear. This fulfillment model has some cons, too.
High Fees
With all the positive aspects of FBA, this type of fulfillment has high commissions which you should consider in your margin.
How FBA fees are formed:
Sales plan: $0.99 per item sold on the Individual plan or $39.99 monthly on the Professional plan.
Referral fees: usually range from 8 to 15%, depending on the product category.
Fulfillment fee: several fees, including additional handling charges for weight or size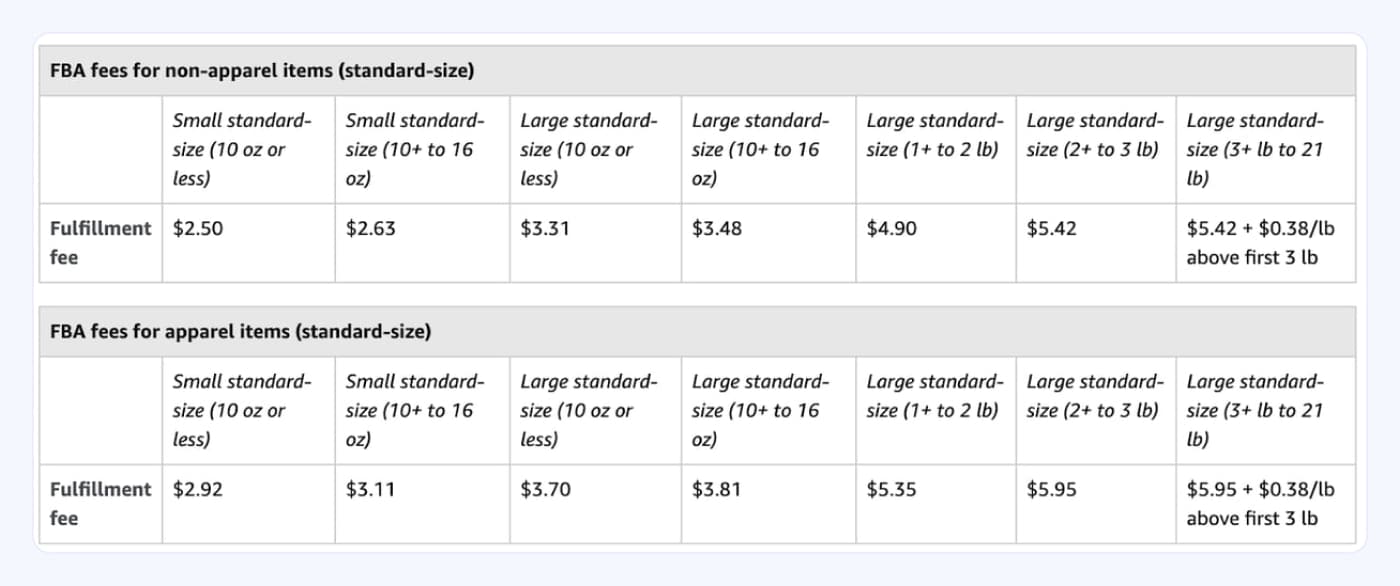 Other costs: costs of inventory storage, order processing, preparation, picking, and packaging.

But it may also happen that fulfilling the items themselves would be more expensive than the FBA commissions.
Product Risks
Since Amazon stores many products from different categories in the same warehouses and racks, there is always a risk that the product will be mixed up with another brand's product, mishandled, or damaged. Quality labeling can be a way out of the situation.
Strict Requirements
FBA has strict requirements for packaging and labeling stocks. If Amazon does not approve the incoming shipment, you will have to spend time and money on inventory re-preparation. An entire service industry — Amazon Prep — helps with this long and tedious process.
Tax Obligations
As an FBA seller, you must understand your tax obligations and remember that Amazon does not automatically collect sales tax. Instead, you must first obtain permits in each state and then provide tax registration numbers in the tax settings in Seller Central.
No Inventory Control
FBA is about unconditional trust. You cannot go to the warehouse to check your products' availability and integrity. So you should hope that Amazon will not lose or damage your inventory.
Amazon FBM: Pros and Cons Overview
With FBM, all the worries related to delivery and orders are on your shoulders. You are in total control of the fulfillment process, with its benefits and drawbacks.
FBM on Amazon: Benefits That Mean A Difference
Choose FBM if the following features are essential to you:
Full Business Control
With FBA, once an item reaches the Amazon Fulfillment Center, the seller loses control over it. What is FBM? Complete control over the packaging and delivery process. For example, you can use branded packaging and include marketing materials, or be more flexible with delivery methods considering the client's wishes.
Good Profit
FBM assumes a much lower commission paid by Amazon as you do not overpay for long-term storage, returns processing, and stock removal. Accordingly, you increase your profit if your execution costs are lower than the FBA fees. Therefore, it is winning for companies that are just starting on the platform or selling products with initially low margins.
Brand Opportunities
The FBM seller has more opportunities to build a strong brand through communicating with customers, understanding their complaints and wishes, and quickly responding to the information received.
No Unavoidable Losses
Amazon is known for its frequent price changes and fulfillment terms. However, by doing these processes yourself, you can always look for (and find) the best offer for your company.
Less Paperwork
FBA sellers not only pay fulfillment taxes to Amazon but they also do a lot of red tape. Meanwhile, FBM sellers do not have that problem, especially when selling in tax-free states.
Entrepreneur Freedom
With FBM, you can run your business the way you want. With an expansion, you do not have to worry about extra shipping to warehouses and fulfillment centers or higher FBA fees.
Inventory Control
With self-fulfillment, monitoring and tracking your inventory is easy, as it is always within your reach. Also, you can use Amazon's inventory management system to make sure that you stock the right amount of the suitable products.
No Unexpected FBM fees
When you do fulfillment on your own, all your expenses are very predictable, and you are always aware of all finances you handle.
One Inventory
You can store inventory in the same warehouses even if you sell products on different marketplaces and platforms. It applies to both offline and online retail stores — a convenient solution with no extra shipping and delivery charges.
Buy Box Opportunities
FBM sellers can compete for the Buy Box through Seller Fulfilled Prime (SFM). In addition, you receive the Prime badge which improves your position in the organic rankings.
Seller Fulfilled Prime (SFP)
The SFP program allows FBM sellers to participate in Prime Shipping. To do this, you agree to fulfill orders with two-day free shipping for all Prime subscribers.
In addition, you must meet the following requirements:
Ship more than 99% of orders on time;
Have a cancellation rate of less than 0.5%;
Provide same-day handling for orders placed before order cut-off time;
Use Amazon Buy Shipping Services for over 99% of orders;
Deliver orders with Amazon Seller Fulfilled Prime Carrier;
Agree with the Amazon return policy.
These requirements are verified during a 30-day trial period, after which the seller may or may not become a part of the SFP program.
Reasons Not to Choose FBM
What awaits FBM sellers besides reduced Amazon fees and total control over fulfillment processes? Unfortunately, FBM has less meaning for Amazon, so it lacks many FBA benefits:
Less Buy Box Chances
In the fight for the Buy Box, SFP is better than standard FBM but still loses to FBA. So if your product is very competitive, it makes sense to consider another fulfillment model.
No SEO Advantages
FBA is not a magic pill that puts a seller in the top organic search results, ignoring the power of keywords and SEO. Nevertheless, it offers a slight increase compared to the FBM.
Responsibility for Customer Service
With FBM, you do not only have more control but also more responsibility toward your customers. Are you sure you can provide high-quality, fast, and inexpensive delivery? Remember that your products may be lost or damaged, and only you will be in charge. Product returns processing can also become stressful and resource-intensive.
Competition With FBA Sellers
When using FBM, be prepared for tough competition from FBA sellers. Amazon aims to develop its own fulfillment, therefore, in most features, priority is given to FBA fans. Though, of course, FBM sellers have some workarounds, such as joining the SFP program.
To be successful on Amazon, in addition to SFP, you must have exemplary brand marketing, a fantastic product, excellent service backed up by positive reviews, and competitive prices.
Other Overheads
As an FBM seller, you do not pay FBA fees, but what are you charged for? Warehouse rent, utilities, staff salaries, packaging materials, shipping labels, delivery, and other expenses.
Before choosing a fulfillment model, carefully calculate your storage, fulfillment, and shipment expenses.
FBA vs FBM Calculator
Amazon Revenue Calculator allows you to compare FBA and FBM seller costs.
1. Choose your marketplace:
2. Select a product category and specify the Package dimensions and Unit weight. Fill in the Item price and Shipping charge.

3. Now, you can explore spending by category with Amazon fees already filled in. For FBA, you also see Fulfillment costs, while for FBM you have to fill them in manually.
4. Fill in Storage and Other costs.
5. Discover all your expenses, Estimated cost per unit, Net profit per unit, and Net margin. After filling out the Estimated sales, you see the total Net profit.
Be careful as this information is helpful only for deciding on a fulfillment model. You can get acquainted with the current price list on the FBA fulfillment fee page.

Difference Between FBA and FBM
Seller fulfilled vs Amazon fulfilled: which method is more efficient? Finally, it is time to look over statistics.
Amazon FBA vs FBM: Profit
FBA 1:1 FBM:
More than $25,000 per month is earned by 33% FBM sellers and 26% FBA sellers.
Profit margins over 20% are for 37% FBA sellers and 32% FBM sellers.
Amazon FBM vs FBA: Speed
FBA 0:2 FBM:
It took less than six weeks for 51% FBM sellers and 34% FBA sellers to get started on Amazon.
In less than three months, 28%  FBM sellers and 20% FBA sellers received their profit.
Amazon FBA vs FBM: Time
FBA 1:0 FBM
20% FBM and 16% FBA sellers spend more than 40 hours weekly on Amazon business.
Amazon FBA vs FBM: Top Categories
FBA:
Home & Kitchen
Toys & Games
Sports & Outdoors
Health, Household & Baby Care
Beauty & Personal Care
Kitchen & Dining
Office Products
Tools & Home Improvement
Grocery & Gourmet Food
Garden & Outdoor
FBM:
Home & Kitchen
Health, Household & Baby Care
Toys & Games
Sports & Outdoors
Beauty & Personal Care
Tools & Home Improvement
Books
Office Products
Garden & Outdoor
Kitchen & Dining
Amazon FBA vs Merchant Fulfilled: What to Choose?
So what fulfillment model to choose: FBA or FBM? We have summarized what has been mentioned in our blog post in a small table to help you decide: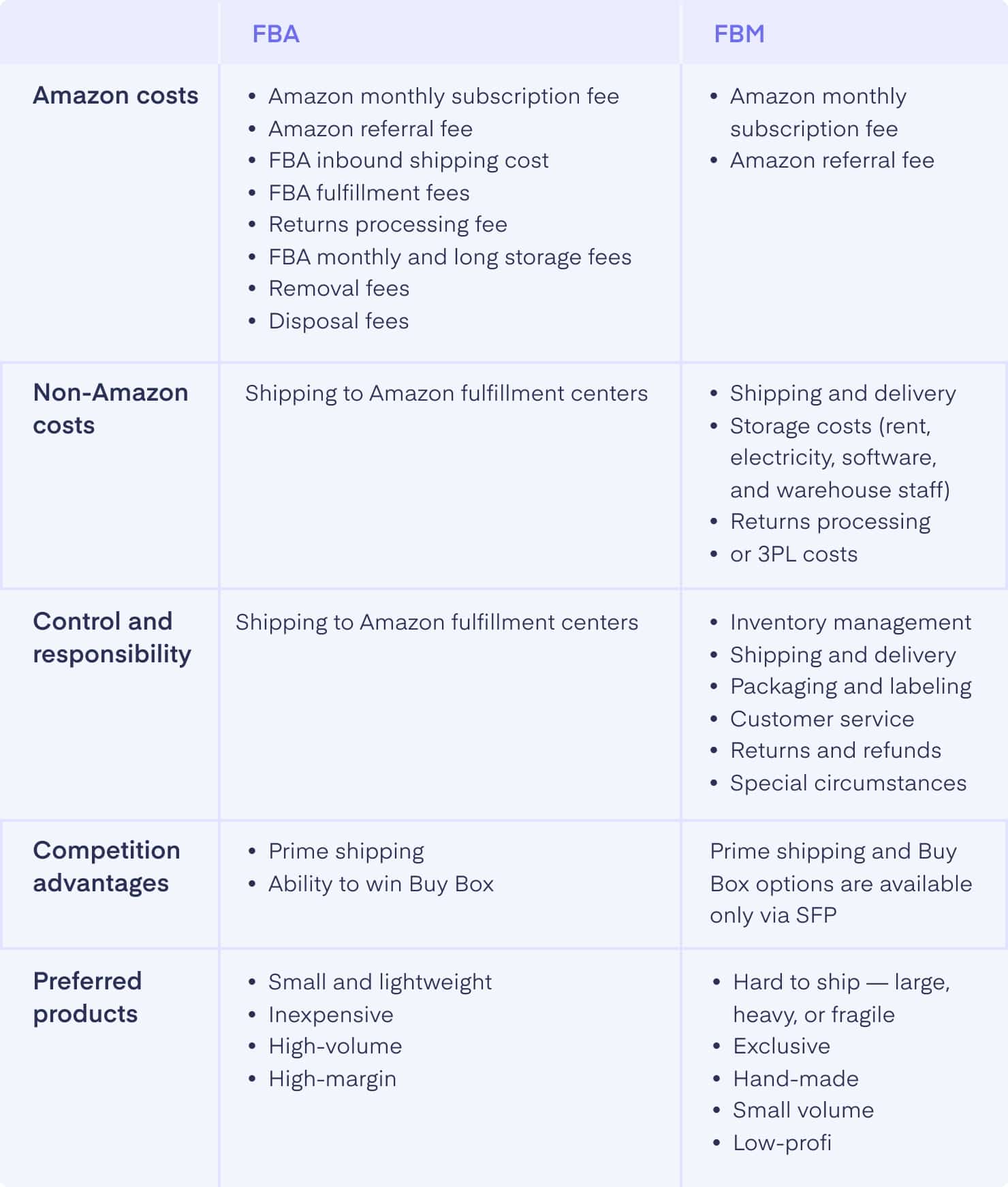 And this is what Profit Whales experts had to say on fulfillment model choosing:
"Is Amazon FBA better than self-fulfillment? Mostly, yes. At least because of access to Amazon Prime. All Prime users see your listing and get fast, free shipping. The visibility of your products and excellent service help you increase sales and strengthen your brand on Amazon."
– Dmitrii Glybin, PPC Team Lead at Profit Whales
"Consider the features of your niche. There are categories where everyone uses FBM. But if 90% of sellers in your niche are connected to FBA, and you use self-fulfillment, it might make sense to change your model."
– Ihor Dubovetskyi, CMO & Co-Founder at Profit Whales
"FBA is more effective in most cases, but there are exceptions, such as large or luxury goods. In addition, some products are dangerous or expensive to keep in Amazon warehouses. So if you do not want to take risks or overpay for storage, use FBM."
– Oleksandr Nyezhnyk, CEO & Co-Founder at Profit Whales
Final Word
Fulfilled by Amazon vs fulfilled by a merchant? Before deciding, sit down and take a sober look at your resources. Ask yourself what business processes you want to deal with and whether fulfillment is one of them. Are the listed FBA/ FBM pros and cons relevant for your company? You may not immediately come to the optimal fulfillment option, which is also okay.
We are ready to support any of your decisions and provide you with boosted sales regardless of the chosen fulfillment model. Contact us to scale your business with marketing tools.
We Have a Solution
to Scale Your Brand