The Results of the Year: What Happened on Amazon in 2021?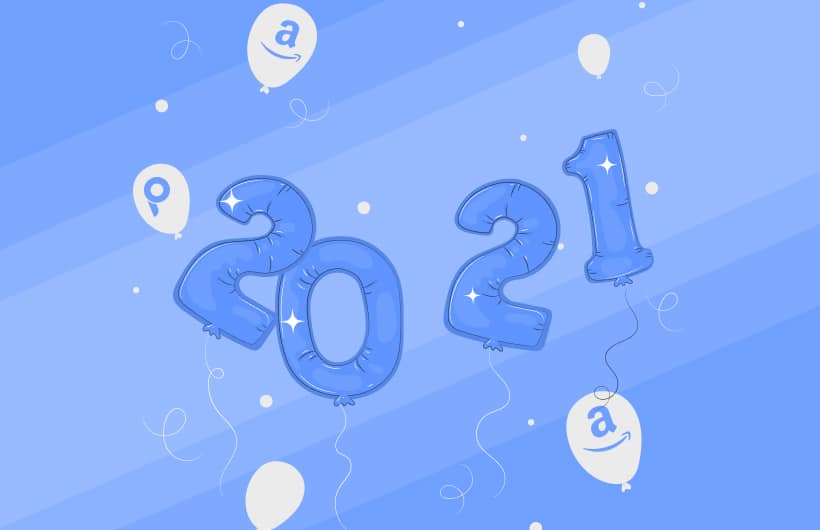 The year 2021 wasn't supposed to be the game-changer for e-commerce. 2020 was the year of unexpected turns. In the second quarter of 2020, U.S. e-commerce grew by 44.5%. The online sales profit increased up to $211 billion when the year before it was $146 billion—it's the fastest growth over the last 20 years. 
Logically, because this year COVID-19 pandemic forced people all over the world to stay at home as well as the previous year, the expectations about accelerated online sales didn't disappear. On the contrary, they only went up.
Yet, the Q3 outcome in 2021 showed that e-commerce turns back to the before-the-pandemic tendency. The e-commerce third-quarter results were 12,4% of total retail spendings, in case the pandemic wouldn't happen it was expected to be 12,6%. According to Marketplace Pulse, the reason why the market share of e-commerce is so similar to the predictions before the COVID-19 pandemic is that offline sales are growing too.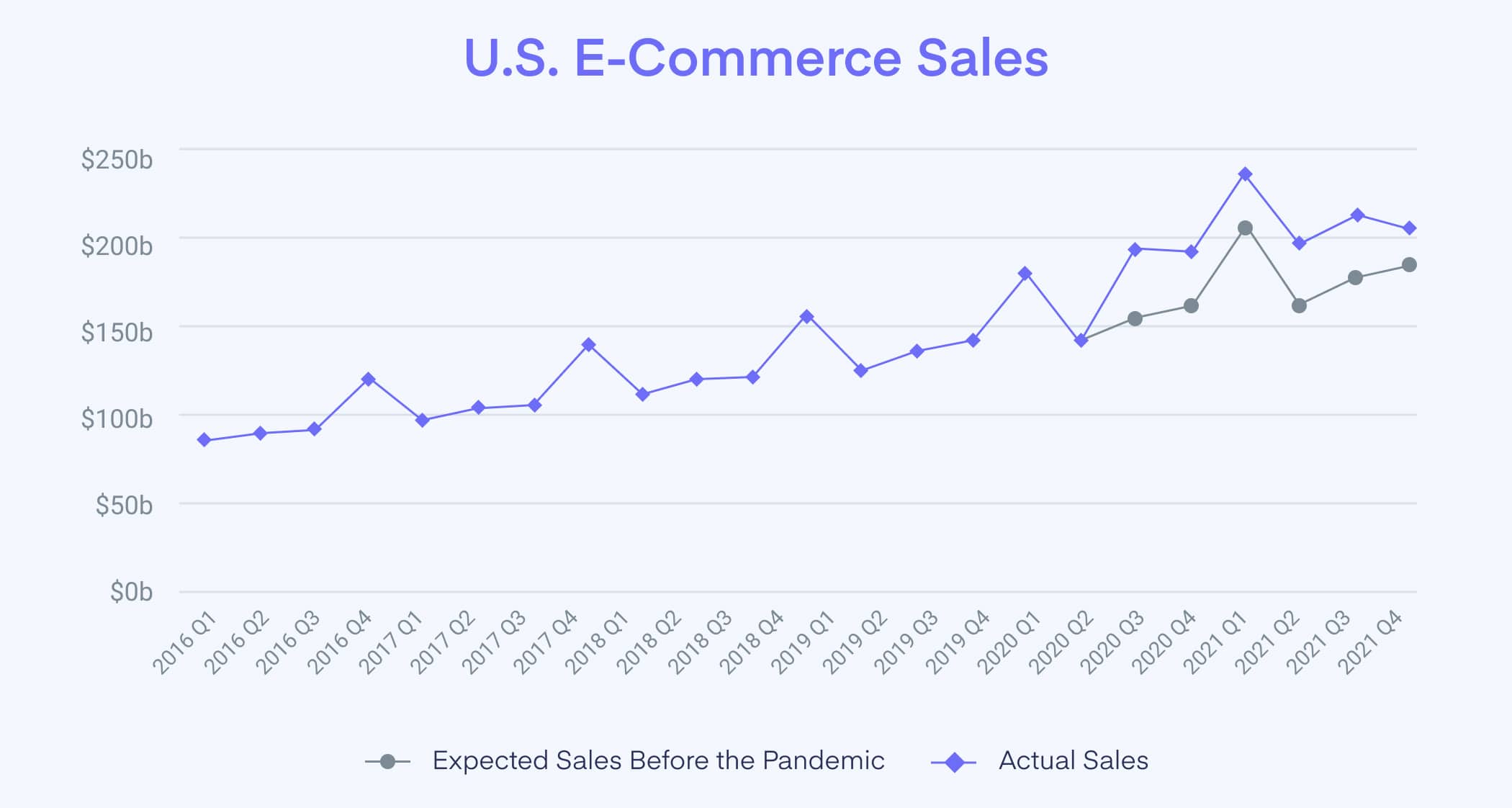 Source: Marketplace Pulse
Amazon Sales Results
The forecasts about Amazon's sales level were also highly optimistic. Unfortunately, the major platform didn't meet high expectations. In the third quarter of 2021, Amazon raised $49.9 billion, only 4% more than was anticipated before the beginning of the pandemic ($47.8 billion). 
In addition, unlike the previous years, Q1, Q2, and Q3 didn't have conspicuous quarter-to-quarter shifts. The time of active online shopping wasn't beneficial for Amazon in terms of sales this year.
Moreover, Q3 until now is the quarter of the lowest Amazon profit. During Q1 was raised $52.90 billion, during Q2—$53.16 billion. 
As usual, Q4 is expected to be the most profitable quarter. Nevertheless, based on collected data from this year, the fourth quarter will bring lower income compared to the pandemic predictions.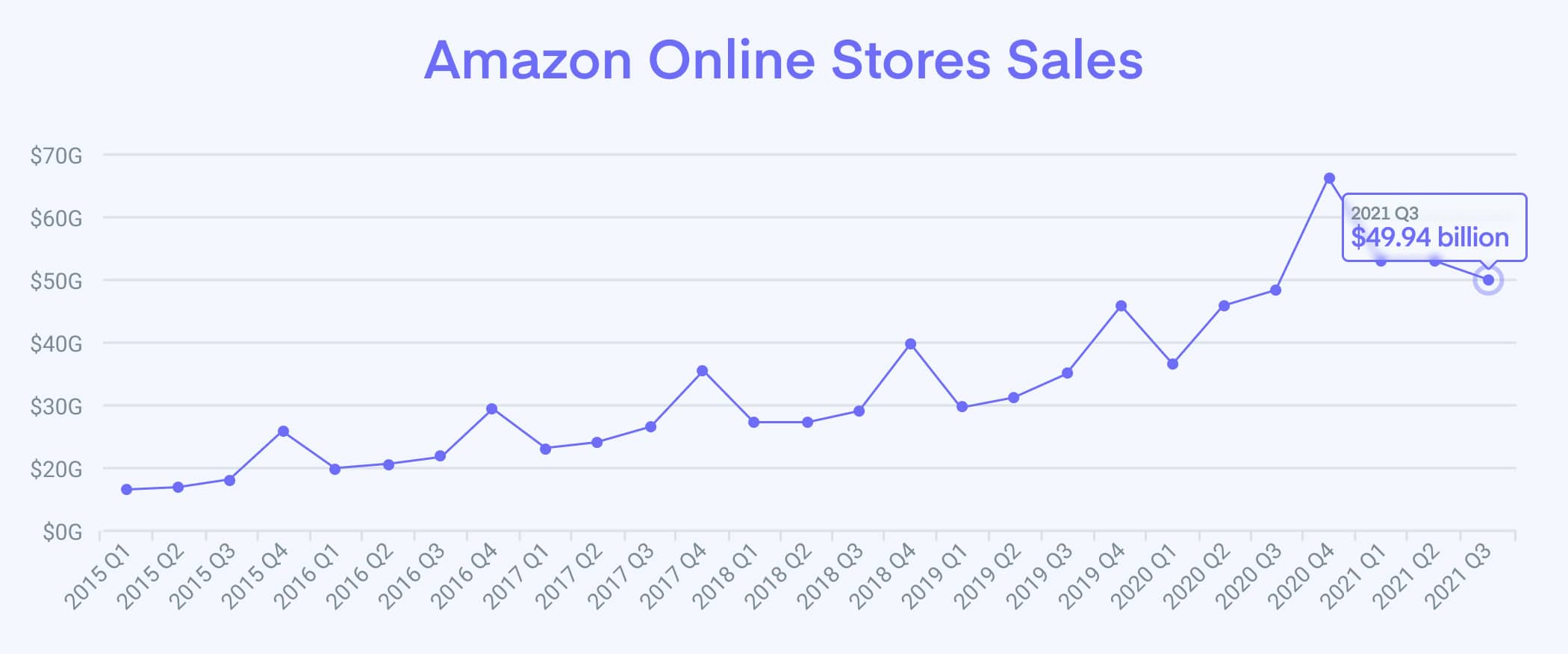 Source: Marketplace Pulse
Amazon advertising sales showed the highest growth in Q3 — $8.09 billion. Q2 didn't lag far behind — $7.91 billion, Q1 — $6.91 billion. In the case of advertising sales, Amazon maintained a quarter-to-quarter rise.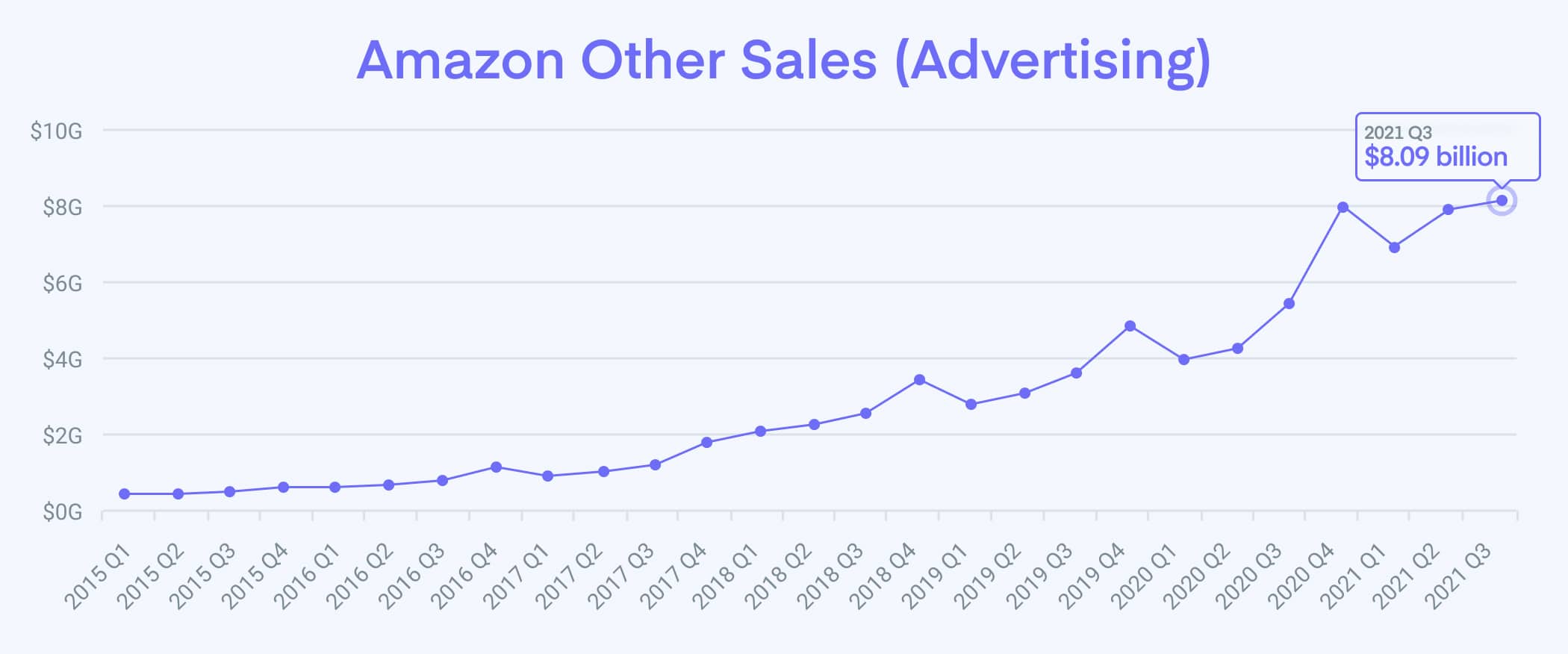 Source: Marketplace Pulse
New CEO of Amazon
Despite the platform's tremendous success reported by Amazon at the end of 2020, 2021 began with sudden news: Jeff Bezos quit his job as CEO of Amazon. 
Bezos disrupted his 27 years long career as CEO and left an e-mail for fellow Amazonians with a pep talk and more detailed explanation of his decision: "Being the CEO of Amazon is a deep responsibility, and it's consuming. When you have a responsibility like that, it's hard to pay attention to anything else. As Exec Chair I will stay engaged in important Amazon initiatives but also have the time and energy I need to focus on the Day 1 Fund, the Bezos Earth Fund, Blue Origin, The Washington Post, and my other passions. I've never had more energy, and this isn't about retiring. I'm super passionate about the impact I think these organizations can have."
Even considering great plans besides Amazon, Jeff Bezos didn't leave the company and stayed as "executive chair." He handed over the reins to a new CEO, Andy Jassy, who, Bezos writes, has his full confidence.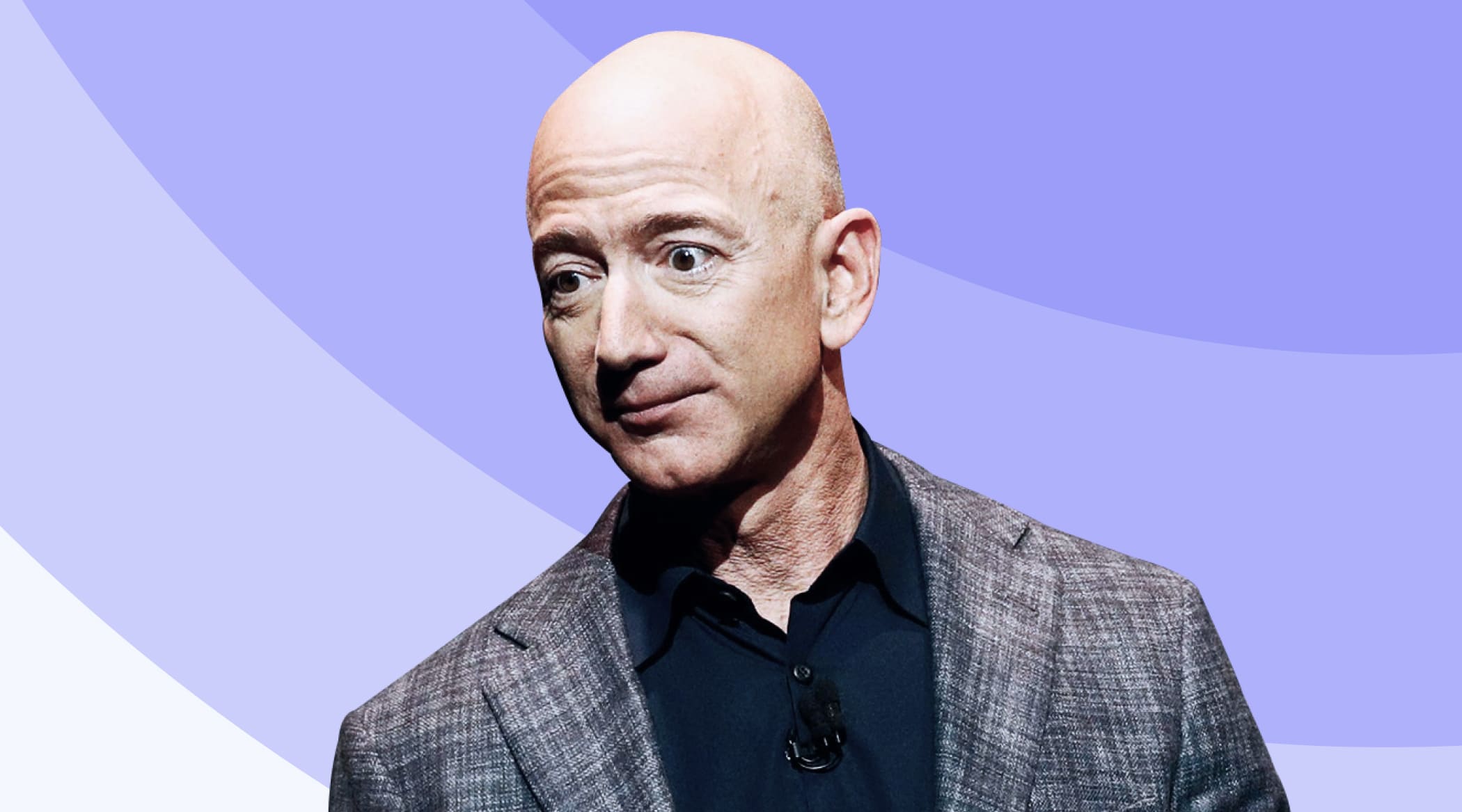 10 Billion Blocked Listings and 50,000 Banned Chinese Sellers
Long-lasting fights against counterfeits on Amazon reached unbelievable sizes during the last few years. Amazon published shocking data in its report on anti-counterfeiting efforts: last year, 10 billion suspicious listings were blocked before any of their products could be sold. The platform spent $700 million last year and had 10,000 people working on this problem's solution. 
But even considering machine-learning technology implemented in work to scan and detect suspicious listings, in 2021, Amazon couldn't win the battle against the law offenders. Amazon had to ban 50,000 sellers from China because of "improper use of review functions," "soliciting fake reviews," and "manipulating reviews by giving gift cards." 
The president of the Shenzhen Cross-Border E-Commerce Association, Wang Xin, disagreed with the fairness of this decision. 
"The way that Amazon has blocked Chinese sellers is unfair. It not only blocked accounts in violation of its rules, but also other related accounts, which could paralyze upstream supply chain and kill the enterprises, is it a penalty decision based on the rules of the platform, or is it a strategic decision? In fact, we see that Amazon itself is also selling products similar to the products of the closed accounts," she told Global Times. 
Among the banned sellers are the ones with annual sales of $1 billion. 
What's more, in February, Amazon and Dutch Blitz filed four joint lawsuits against six companies for selling fake versions of Dutch Blitz products. Also, Amazon and Salvatore Ferragamo had to file lawsuits against seven counterfeits that cooperated in distributing fake items of the famous Italian brand. Truth be told, Amazon had to deal with many more counterfeits this year.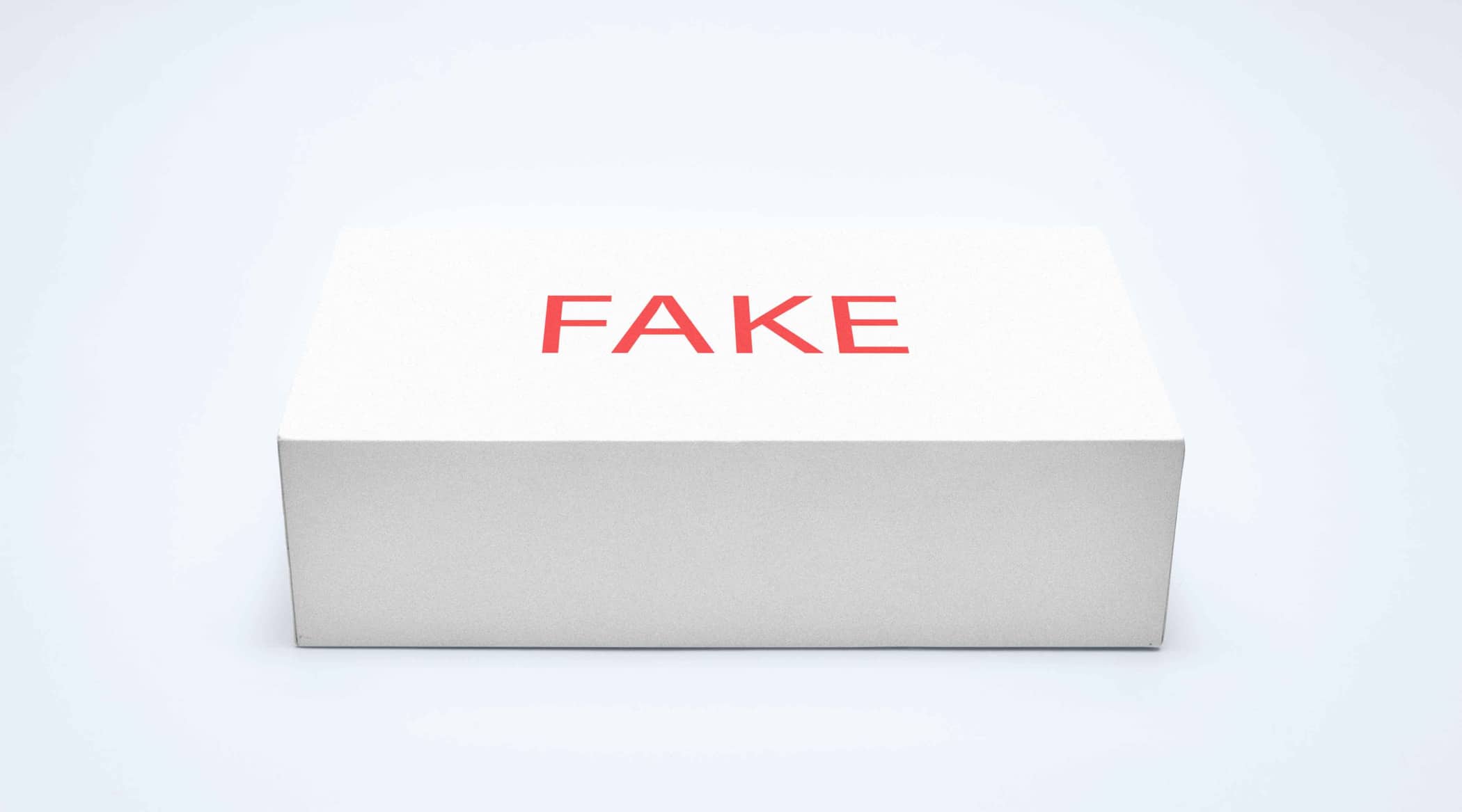 Supply Chain Challenges and Workers Shortage
Throughout 2021 Amazon struggles with great labor force scarcity and interruptions in the supply chain. Such complications are the prerequisites for just an insignificant profit rise in the context of pandemics. Customers maintain interest and are in need of online shopping due to the lower chances of getting infected. However, it's difficult and sometimes impossible to deliver the orders fast enough.
On the other hand, it's much more difficult to attract competent workers because there are high chances of getting infected. To motivate workers Amazon increased wages and bonuses, which should fix the low staffing level. Also, 150,000 temporary workers were hired for the holiday season. 
Many analysts still say Amazon keeps gaining market share from competitors, and the predictions are optimistic considering Amazon's investments in the new warehouses and active work on supply-chain complications.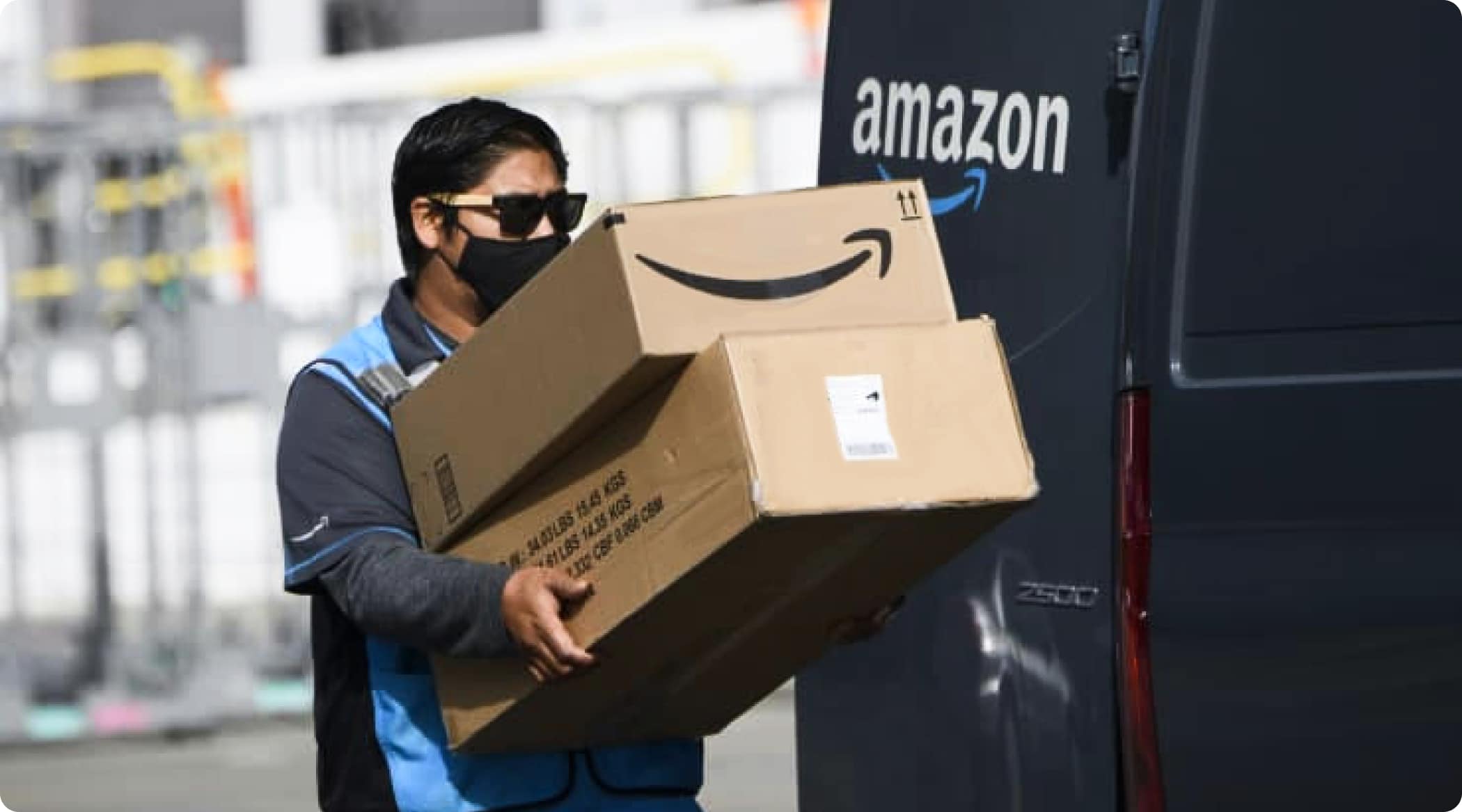 Amazon Business Acquirers Raised Over $12 Billion
Amazon aggregators from 20 different countries raised a capital of over $12 billion this year. In 2020, it was $1 billion. 29 aggregators out of 45 that announced their funding rounds raised at least $100 million. 
Thrasio, Berlin Brands Group, Perch, Heyday, and SellerX are the five top acquirers that raised almost $7 billion. Thrasio alone raised $3.4 billion. The second place takes Berlin Brands Group $1.3 billion. 
The industry emerged in 2020, and already in 2021, the aggregators increased their capital 12 times. A lot of new aggregators entered the market this year. 
As the industry keeps growing and investments keep increasing, more and more Amazon businesses are interested in improving their valuation to maximize the price their business can be sold for. This year a few hundred businesses were acquired, and the following year this number will get bigger. 
Certain criteria have to be met, and mistakes have to be avoided to sell Amazon's business successfully. Read articles "Selling an Amazon Business: why the M&A market is so hot in 2021?" and "Selling Your Amazon Business: Top 8 Things You Need to Know" to learn specialists' opinions about important steps and strategies to sell a business successfully and profitably.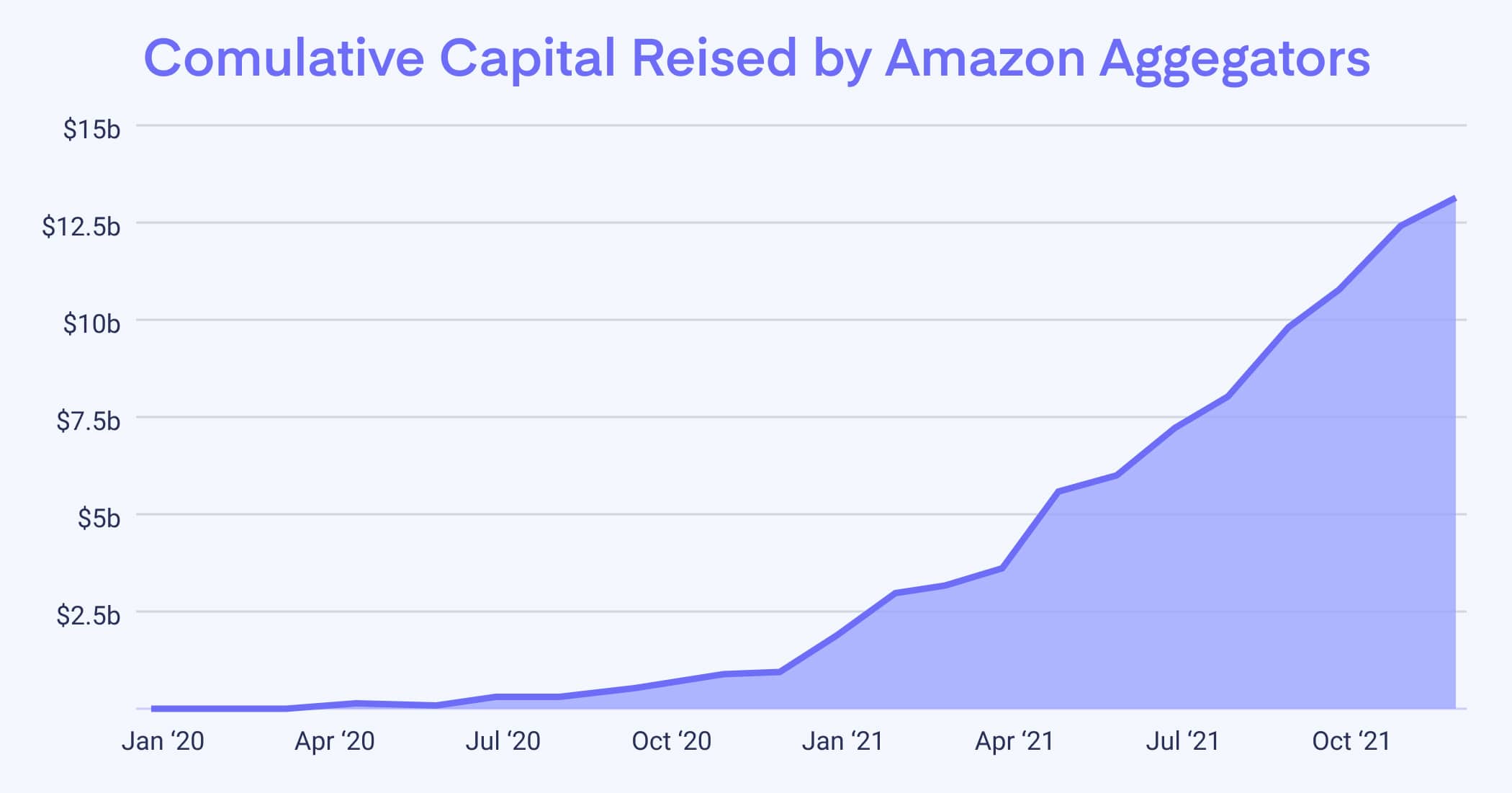 Source: Marketplace Pulse
Amazon Ads Features' 'unBoxing'
At the end of October, Amazon Ads 'unBoxed' eight helpful tools to support sellers in their need of achieving reach, relevance, and results. As consumer behavior constantly changes and evolves, Amazon keeps up with the time and incentivizes sellers to make better connections between their brand and customers through the newly released tools. 
"Ultimately as marketers, we're here to make connections—connections between brands and customers, between business challenges and solutions, and between audiences and the content and services they love," said Alan Moss, VP of global ad sales, Amazon Ads. "If we relentlessly invent and are rigorous enough, these connections add value to our customers' daily lives because they provide utility and are relevant to their real-world experiences—however quickly those experiences are evolving." 
The 'unBoxed' tools are the following: 
Interactive Video Ads: a shopping action that allows using voice or remote without stopping the stream. Advertisers can include call-to-actions to their Streaming TV ads in the IMDb TV app on Fire TV. Also, now ad viewers can request more product details through the new action "Send Me More Info."

Interactive Audio Ads: an additional feature to current 10- to 30-second audio ads. Customers now can ask Alexa, "Send me more information," or "Add to cart" after listening to Interactive Audio Ads. 
It's a new way of connecting brands and customers. Shoppers can receive a notification when a brand is about to stream on Amazon Live and simply follow a brand in a second with the help of the button 'Follow' that Amazon included across Stores, Posts, and Amazon Live.

Sponsored Display in Livestreams on Twitch
Earlier it was already possible to launch Sponsored Display ads on the Twitch browse tab and directory pages. Amazon added an option to integrate these ads in Twitch Livestreams.

Sellers now can upload and query pseudonymized data sets into their AMC instances from their ad campaigns.

New Instructional Query Library
A freshly launched instructional query library allows sellers to find templated analytics queries across different measurements options. Users can access the tool in AMC UI.

It's a self-service measurement tool to help predict Amazon sales based on shopping engagement. This tool metrics makes it possible to measure the long-term value of brand engagement and find out what benefits the brand develop and grow.

Amazon Brand Lift brings actionable insights to understand the brand marketing efforts better. Brand owners can quantify impact for six different campaign objectives like awareness, preferences, and intent.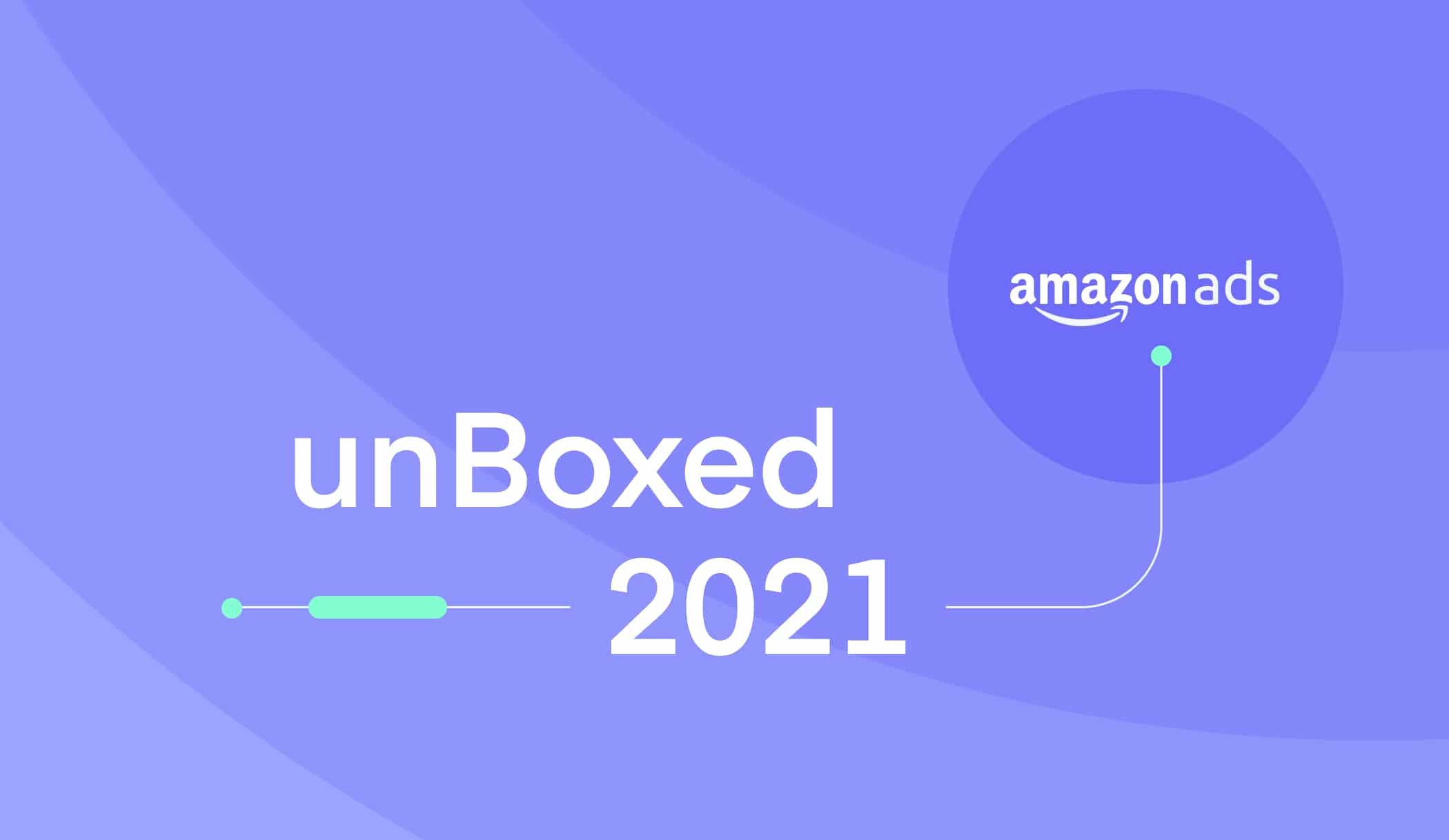 Amazon's Prime Day Result 
Amazon sales total on Prime Day was $11.19 billion. Last year, the platform raised $10.39 billion. Prime members worldwide purchased more than 250 million items during this 48-hour event. 
Amazon Prime Day in 2021 was on June 21 and June 22, when in 2020, the promotional two days happened in October. The sales total on Prime Day in 2021 increased up to 7.6% compared to the previous year. 
In addition to the Prime promotion, to enhance customers' interest in Prime Day and support small businesses, the second year in a row, Amazon provides an opportunity for customers to get $10. "Spend $10, Get $10″ is a promotion for Prime members that bought some product for $10 or more from June 7-20 and got $10 to spend on any products on Prime Day. 
To be able to participate in the promotion, sellers need to have a registered brand in Amazon's Brand Registry and match Gartner's definition of small business. More than 300,000 sellers were eligible for this promotion, and Amazon raised $1.9 billion from it.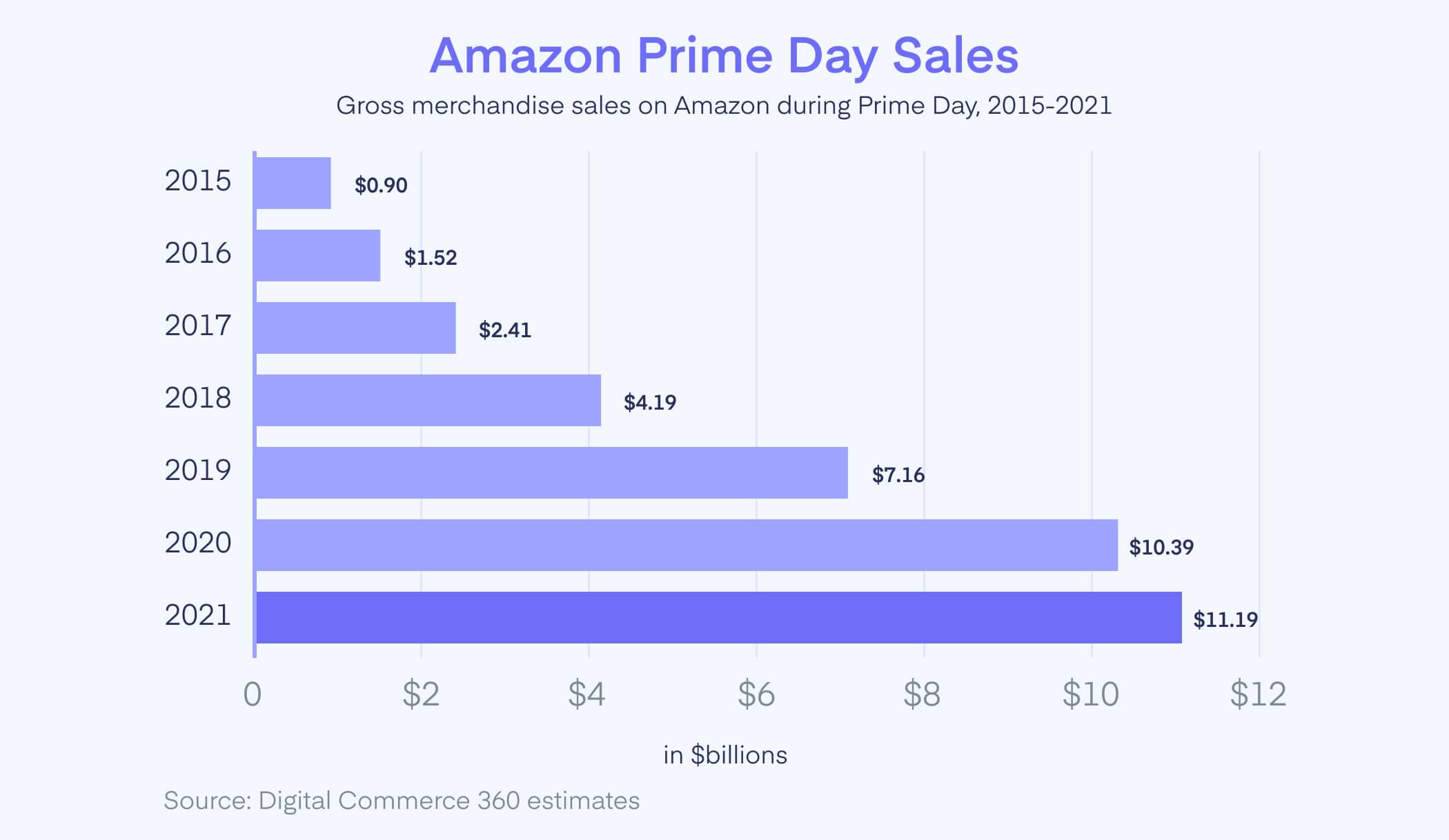 Source: Digital Commerce 360
Amazon Advertising Console Redesign
Amazon Advertising Console became Amazon Ad Console and presented exciting updates and changes to its users as well as the new design. However, not everyone was satisfied with this transformation as it partly became more complicated to find some tabs and pages. 
The new design includes consolidated support resources, changed access to other Amazon tools, and redesigned side navigation menu. Also, new tools were added: Targeting page, Diagnostics tool, and Amazon Attribution. 
While experts are happy with the new tools, they say that the new design will take some time to get used to. Nevertheless, many specialists believe that it's a step in the right direction, and now it will be much easier for Amazon to provide sellers with even more features and tabs.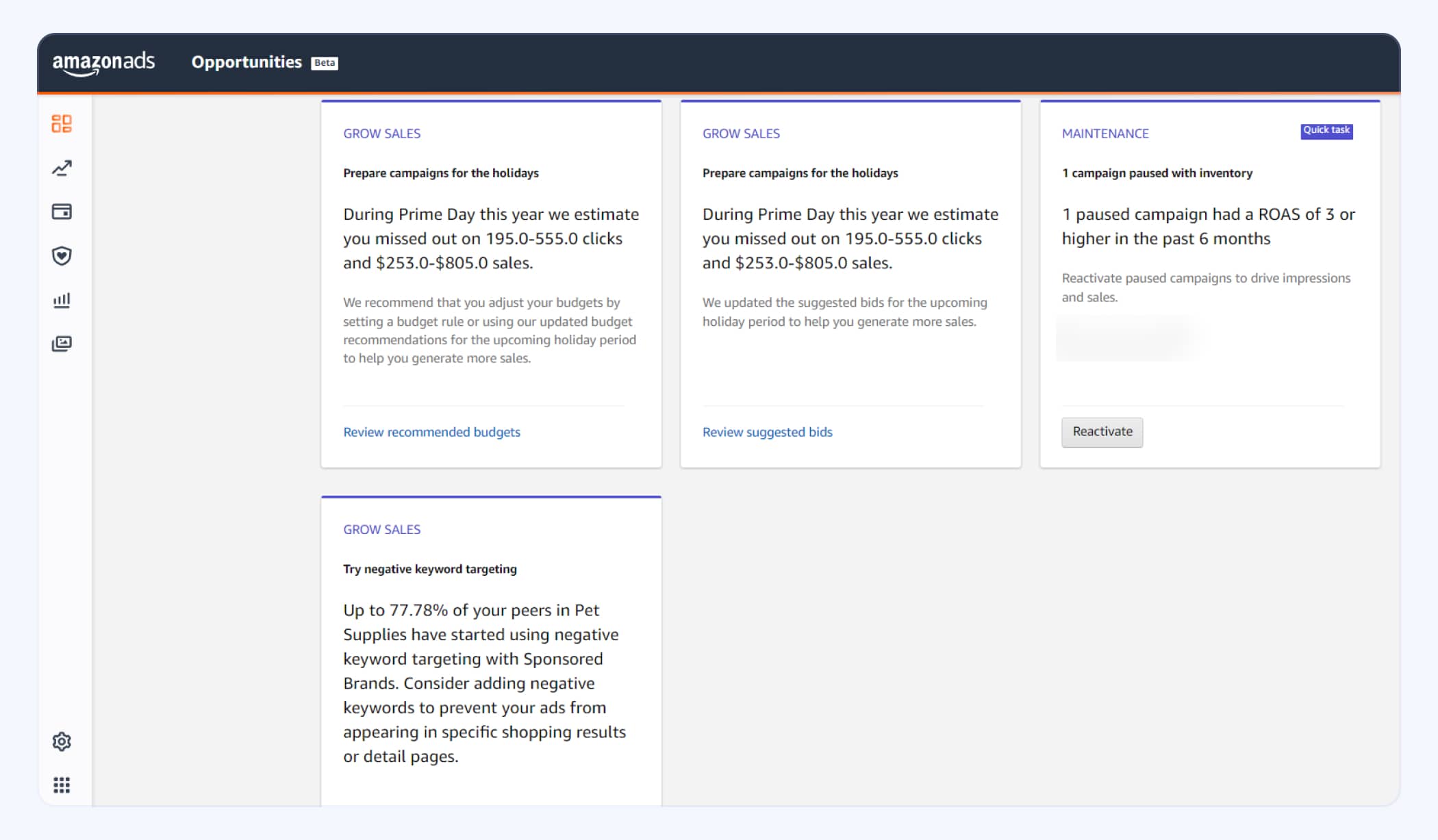 Targeting Tab in Amazon Ad Console
One of the biggest revelations in Amazon's advertising world this year was a release of the targeting tab in Advertising Console. An update that many sellers were waiting for a long time. The importance of this tab lies in the possibility for Ad Console users to manage, analyze and optimize the targets in one place, see the best and the worst performing once to correct the targeting work, and refine budget expenditure. 
The feature is available for an account-level view with a full list of automatic keyword, product, and audience targets for Sponsored Products and Sponsored Display campaigns. 
Since Amazon released the tab, its users can enjoy an organized list of targets and not struggle through the long analysis of multiple reports. Sellers can track essential metrics of each target and adjust bids right in the tab.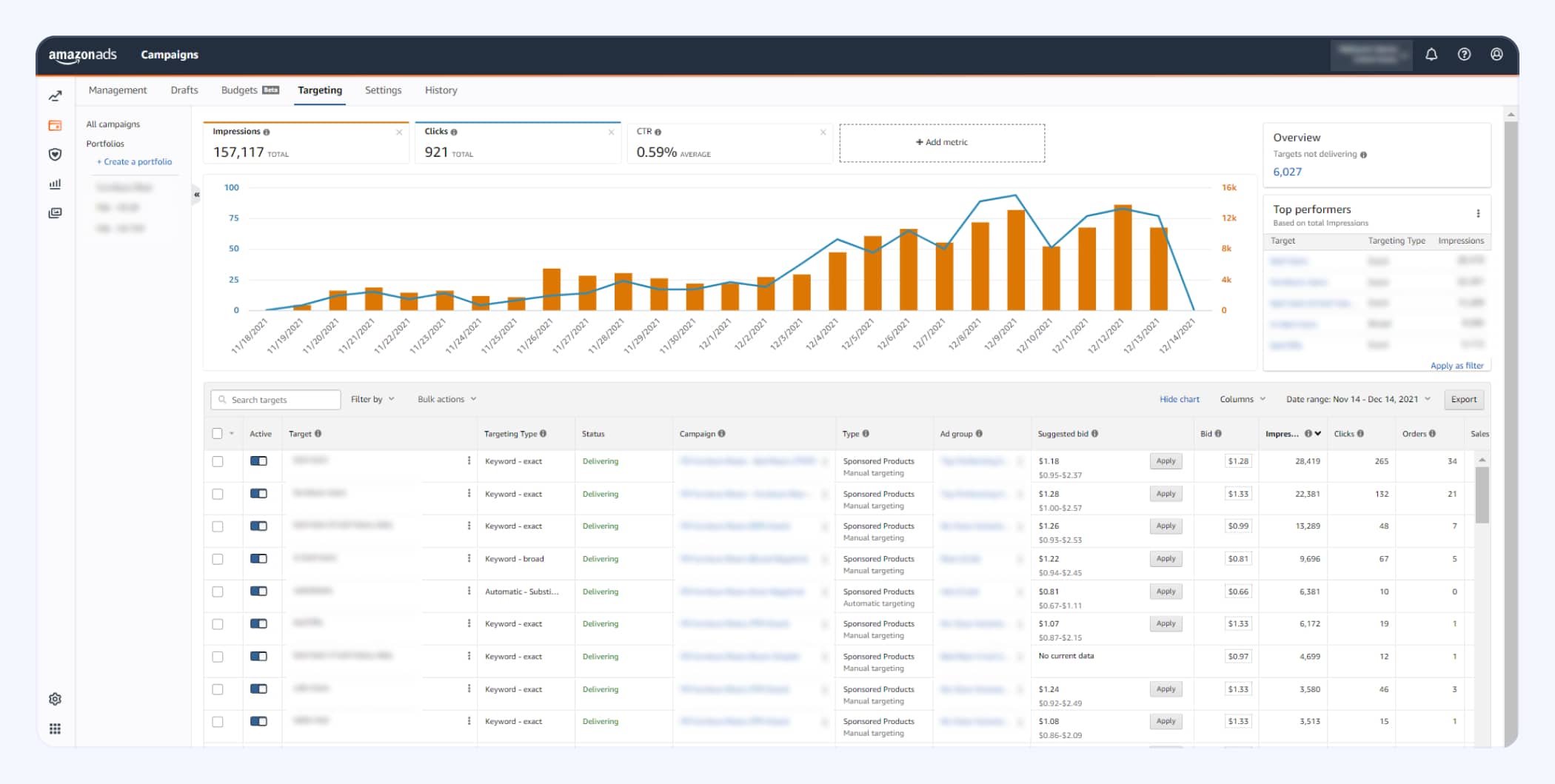 Budgets Tab (Beta) in Amazon Ad Console
The Budgets tab was another great addition to the Ad Console extension in 2021. The tab represents a collection of new metrics: estimated missed impressions, estimated missed clicks, estimated missed sales, the average time in the budget, and also budget recommendations. It can be seen as a tool to control the budgets better, review the missed opportunities and the recommendations for each ad campaign. 
Because it's vital to stay in budget, it's very important to monitor the data related to it.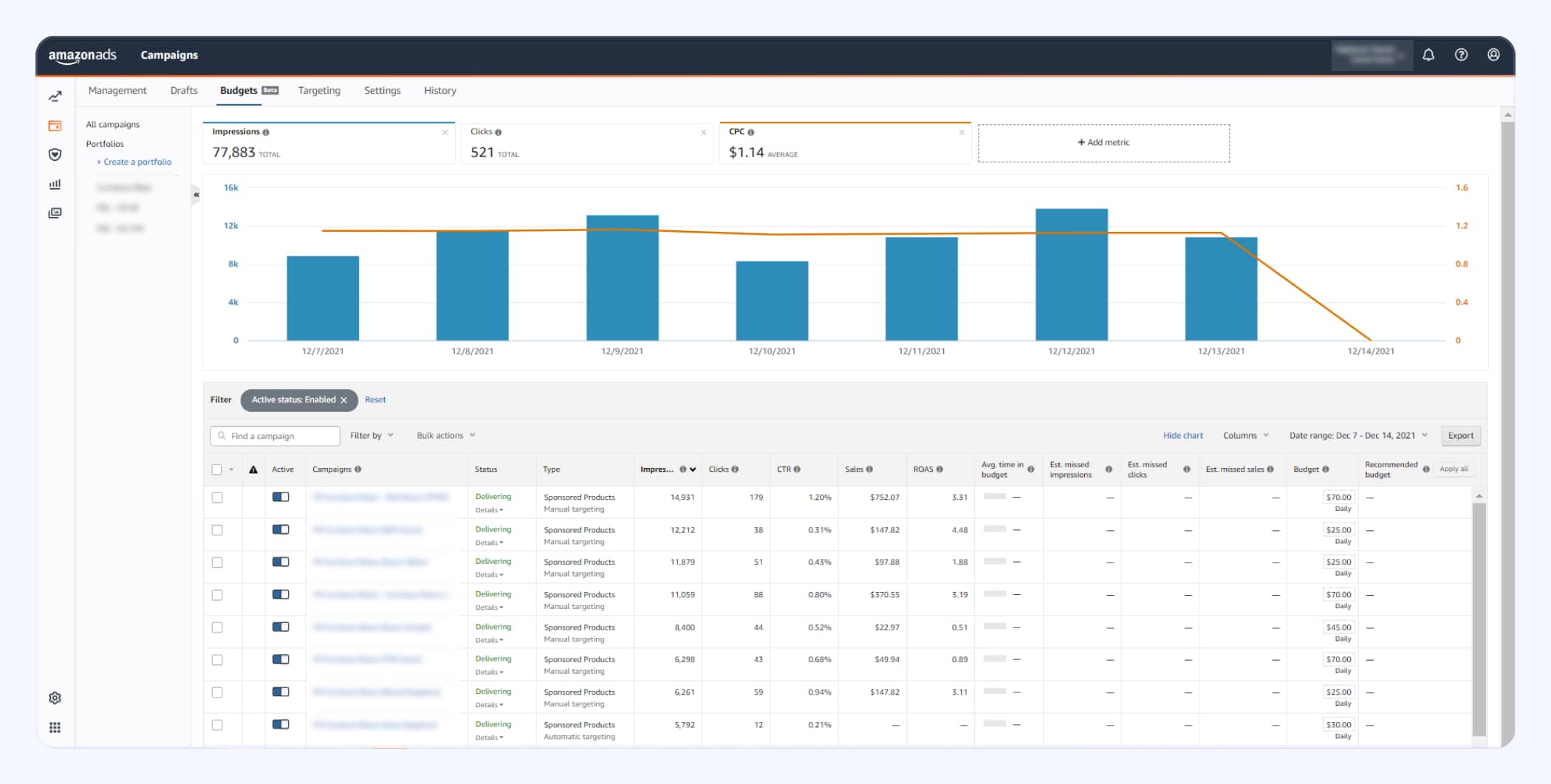 Amazon Brand Referral Program
In July, Amazon launched Brand Referral Program—a bonus that can be earned from non-Amazon marketing efforts. The program is available only for brands enrolled in Brand Registry. To get a 10% bonus from any sale made by customers driven by non-Amazon campaigns, sellers just need to attract traffic to their Amazon listings from third-party platforms. 
Sellers receive the bonus as a credit for a brand's referral fee. It usually varies between 8% and 15%.
Obviously, this update is valid only for Amazon sellers with external advertising, but in 2021 Amazon showed full support to sellers that want or plan to launch ads outside the platform with Brand Referral Program and Amazon Attribution.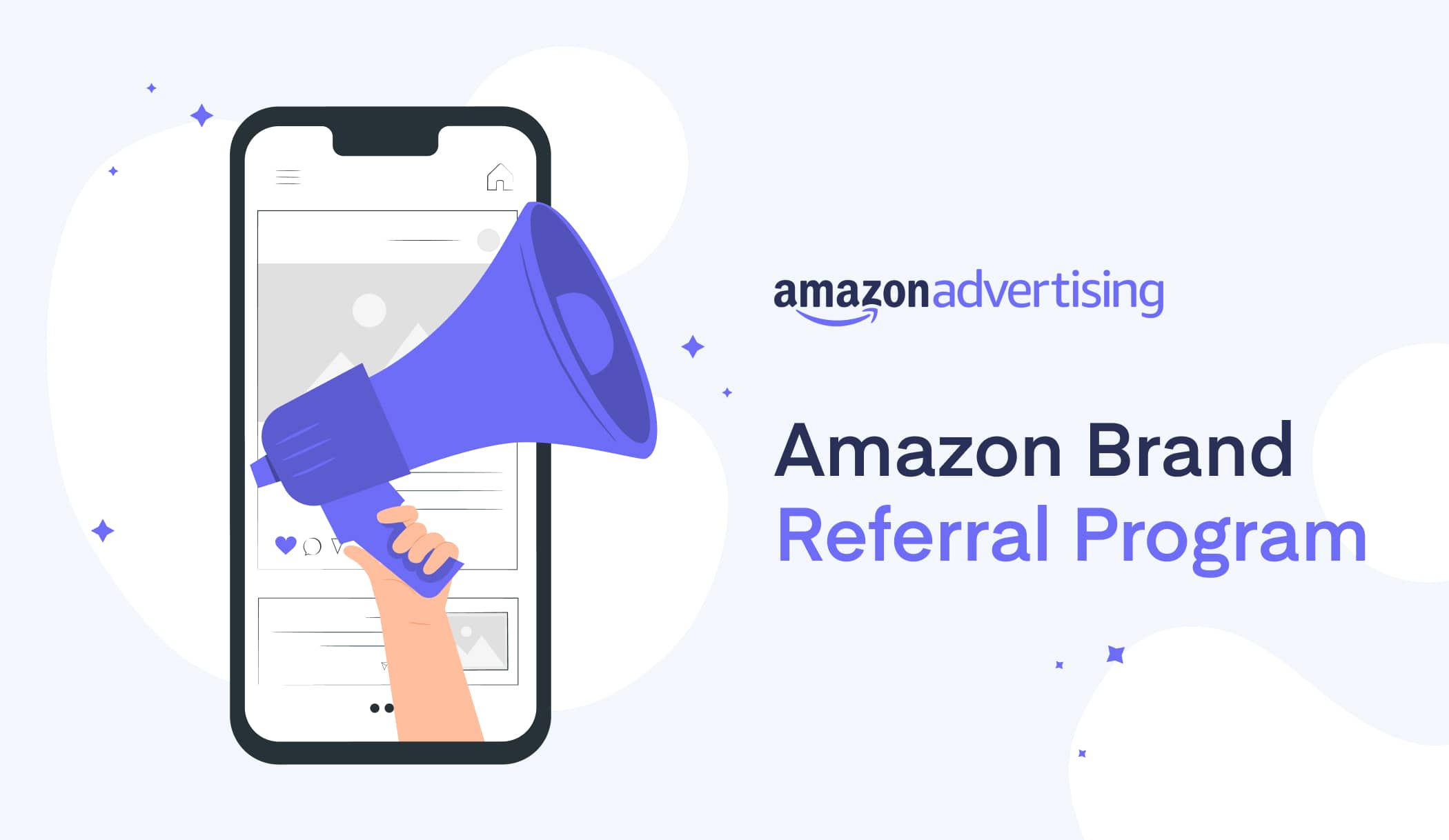 Amazon Attribution in Amazon Ad Console
Last but not least, Amazon Attribution. A tool of great motivation for Amazon sellers to attract and drive more external traffic to Amazon listings. Amazon Attribution provides analytics on how non-Amazon channels impact product performance on Amazon. It's now only available for sellers enrolled in Amazon Brand Registry and vendors that sell products on Amazon in the US, UK, Canada, France, Italy, Spain, and Germany.
One of the feature's advantages—the metrics it allows for tracking. Amazon Attribution includes impressions, click-throughs, detailed page views, purchase rate, add to cart, and total sales. 
Find out more about Amazon updates in the articles "Amazon Advertising Console Redesign: What is New?" and "What are Amazon Posts?".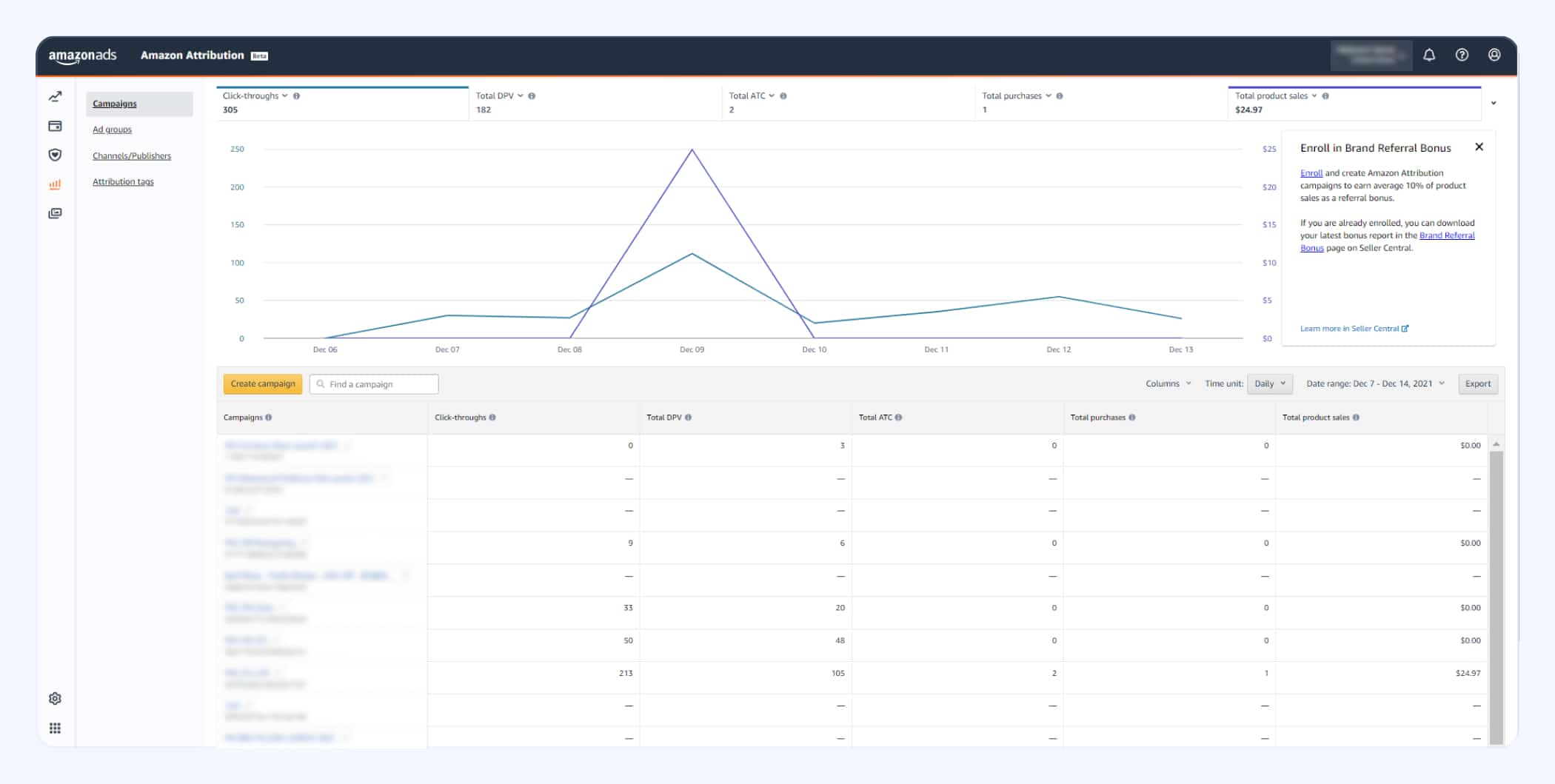 back to articles