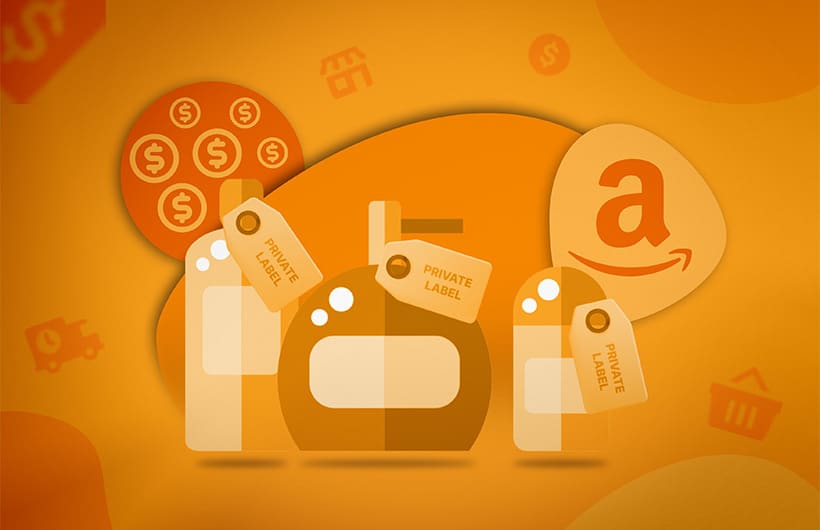 Do you want to have your own brand? This is not as difficult as it might seem at first glance. You can cooperate with the manufacturer and respond to product promotion. Sounds tempting? You are not the only one there.
According to statistics from Jungle Scout, 59% of Amazon sellers use the private label business model. It is one of the most profitable and successful market-selling methods. However, competition is getting fiercer, and old working schemes are becoming obsolete. Stay tuned to learn how to sell private-label products on Amazon in the most efficient way.
You will learn what pros and cons this strategy has, what products you can sell, and what you need to do to become a successful private-label seller in 2022.
Table of content:
What is Amazon Private Label?
What is a private label on Amazon? Let's start with a definition.
Amazon private label is about selling a product manufactured by another company under your brand name. This model is so popular as it does not require any effort during production.
To get a deeper understanding of private labeling on Amazon, let's discover other selling models:
Retail/online arbitrage is buying goods from retail/online stores at a significant discount and reselling them at a higher price. The most considerable difficulty lies in the process of hunting for cheap goods.
Wholesale is purchasing goods at a wholesale price from different manufacturers and selling them at the regular retail price. There is always a risk that your wholesalers will decide to start selling on Amazon themselves.
Dropshipping provides an online storefront for other sellers where you process orders, and sellers are responsible for shipping.
Creating your product is the most labor-intensive business model on Amazon, as you are responsible for product creation and its implementation. On the other hand, you have all chances to stand out and make an excellent profit.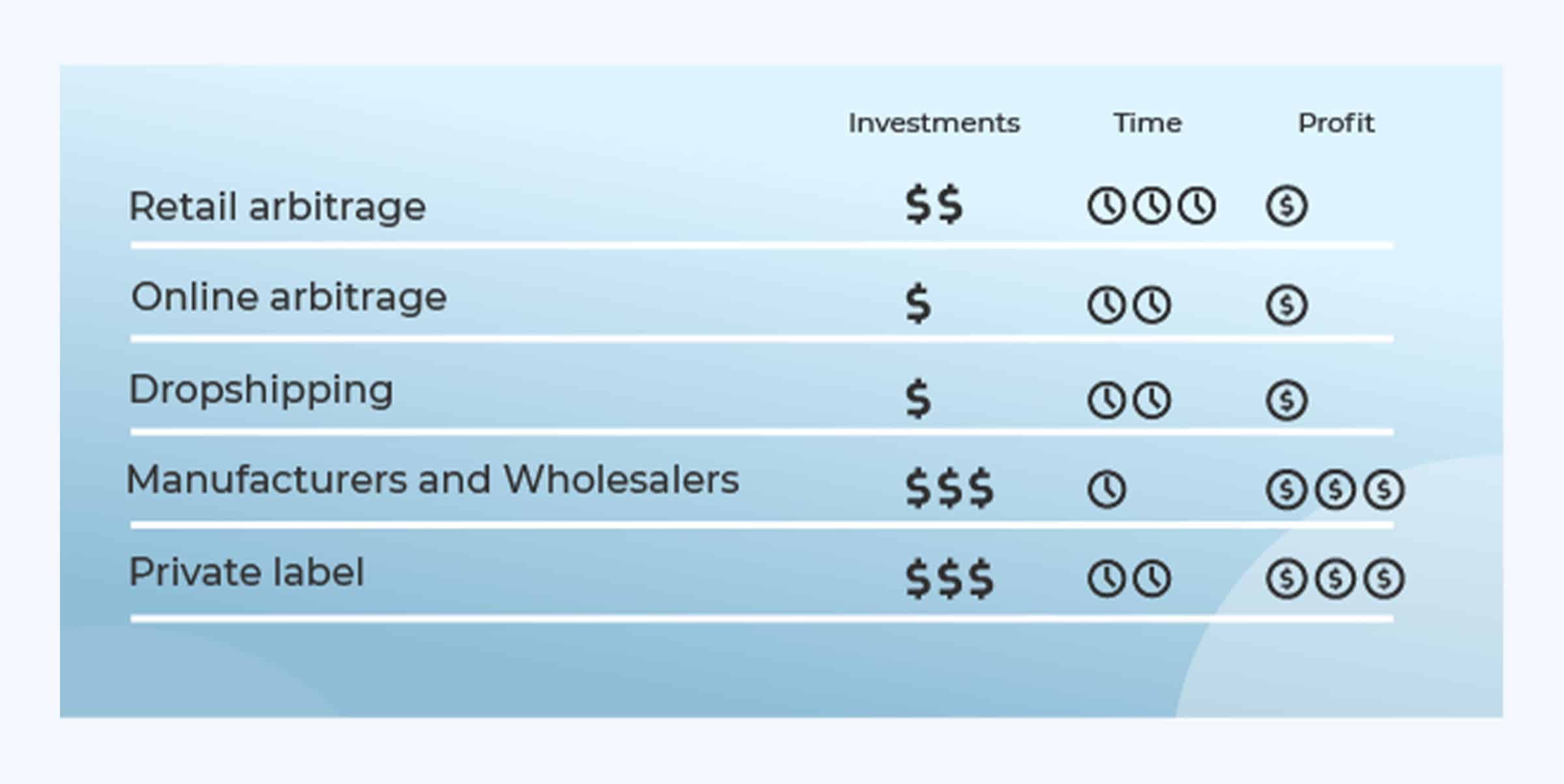 But back to Amazon private label strategy. In this model, the manufacturer creates the product based on your wishes, and you are responsible for its branding and promotion. Of course, making a brand recognizable needs time and resources, though the private label may lead your company to success in the long run.
Why You Should Sell Private Label on Amazon?
So you already know the answer to the question, "what is private labeling on Amazon?". It is time to find out why private label sellers choose this business model.
Own Your Brand
The brand belongs to your company, meaning you make all business decisions independently from other companies, as with arbitrage or wholesale trade. The main thing is to find reliable suppliers and establish relationships with them — and production issues will be closed. Then, you can focus on branding and marketing, strengthening your brand and customer loyalty. In the long term, it gives a powerful impulse to your business, ensuring its stability for many years to come.
Forget About Brand Restrictions
When reselling other brands or some of their products, you may face restrictions. Thus, Amazon and the brands are trying to protect users from fakes. To sell these brands, you must meet specific requirements and obtain a permit. With a private label, you are out of trouble as you sell your own brand.
Get More Opportunities
Amazon rewards private label sellers by giving them access to features such as Brand Registry, Sponsored Brands, Stores, Amazon Live, Virtual Bundles, Amazon Attribution, Amazon Brand Analytics, and others. As a brand, you get more opportunities to stand out, interact with your consumers, and measure performance.
Increase Product Competition
You do not compete with other product sellers; everything is sold under your brand label. You provide unique product characteristics, create branding, and fill the listing with quality photos and copy, not worrying about possible content theft. To protect your copyrights as much as possible, connect the Brand Registry.
Get Buy Box
When reselling items from other brands, you compete for Buy Box with other sellers. You significantly reduce your purchase chances if you do not get a sign, as 82% of assets are made through Buy Box. The private label model allows you to be the only seller and get this advantage for sure.
Customize Your Product
With a private label, you can fully customize your product. Check competitors' product reviews to find your prospects' problems and objections. Work on the mistakes and make a product that will outperform your rivals. And do not forget to create a bright, memorable design to attract the consumer's attention.
Boost Profit Margins
Private label allows you to keep margins high and prices low. It becomes real as you receive goods directly from the manufacturer, without an intermediary, and do not resell offers from other brands. As a result, you do not worry about rising production costs and can change your supplier to a more affordable one. This way, you have a lot of control over pricing.
Enjoy A+ Content
Amazon A+ Content, or Enhanced Brand Content, allows you to complete the listings with rich multimedia content. Such a feature will improve user experience by boosting your sales and organic rankings. According to Amazon research, sales could increase by an average of 5.6%.
Control Your Listing
You can offer a wide range of goods and a large selection of item quality — from affordable to premium. It helps to cover different target audiences and satisfy any requests. Also, you can follow trends by tracking new popular products and adding them to your store.
You are able to change the listing content — images, text, keywords, and prices. If you just resell someone else's product on an existing page, all of this becomes impossible.
Reasons to Avoid Selling Private Label on Amazon
Amazon private label strategy also carries some risks for your business:
Higher Investments
Most manufacturers require a certain minimum order quantity to start working with you. It is simply unprofitable for them to launch their production facilities for a small batch of goods. When you are just starting a private-label Amazon business and want to try a specific niche, ordering big quantities of products can be unreasonable. In addition, inventory and branding expenses increase your initial investment to a few thousand dollars.
Dead Inventory
Not only can the supplier impact you to order too many products. Without a proper market analysis, you can also overestimate consumer demand. As a result, your warehouse will be full of unsold (dead) inventory.
Less Quality Control
For the consumer, you are both a product owner and a manufacturer. Therefore, you are responsible for quality claims, defects, and malfunctions. In case of issues, you not only lose customer loyalty but also receive negative reviews. Of course, you can always change the supplier, but your reputation anyway will be damaged.
Branding Issues
Creating a brand from scratch is quite tricky, but it is even more challenging to make the consumer fall in love with it. People tend to buy familiar products from well-known companies, so you have to put in the effort. The main thing is to draw prospects' attention and satisfy their needs to turn them into regular buyers.
Higher Risk
With a private label, is not only big money at stake but also considerable risks. You invest in buying products and branding without being sure your audience will like it. Also, you spend on a large amount of one product, while in retail arbitrage, your costs are distributed to many inexpensive items.
How to Create Private Label on Amazon?
What steps will help you build a successful Amazon private label business? We have prepared a small guide to highlight all the nuances.
Do a Product Research
Product selection is crucial in setting up your private label business.
First, you need to list the desired product categories and write down everything you want to try in private label Amazon selling. Then carry out a little analysis and keep only what sells well. Understanding what your potential customers are looking for and buying is essential. Without thorough research, there is a risk that no one will need your product.
Try to avoid oversaturated categories, as there is too much competition. It is better to pay attention to new, hot products that have not yet appeared in large retailers' stores.
When selecting private label products on Amazon, study similar positions on marketplaces, focusing on the following parameters:
The price is from $30 to $70;
At least 300 sales per month;
A low rating — 4 or fewer stars — shows there is room for product improvement;
The top 10 products have less than 500 reviews;
The listing quality — from 5 to 7 LQS — shows that competitors' listings need to be improved.
Paying attention to these parameters, you can find products with high demand and low competition.
Test the Market
To check product demand, create an Instagram page where you can showcase it. In the future, you can use it to drive external traffic to the listing and encourage reviews through surveys and direct messages. Use social media to test your marketing hypotheses and refine your strategy.
Find Reliable Manufacturer
Contact several manufacturers to compare conditions.
The cheapest manufacturer does not mean the best for you. Focus on the price-and-quality balance and use lower price quotes. Also, ask about minimum order quantity and quality assurance (QA) process. Be aware of the exchange rate if the supplier is located in another country.
Consider how your negotiations are going on, if the manufacturer listens to and answers all your questions, and whether he is ready to meet halfway. You should feel comfortable. And remember that you have the opportunity to withdraw from the deal at any stage of the negotiation.
Arrange payment conveniently for you. Most producers use PayPal or Alibaba Trade Assurance.
After establishing a connection by phone, arrange a short production tour — you need to understand how and under what conditions your products will be manufactured.
Discuss packaging and branding options together and choose the best one.
Request Product Samples
Ask for a product sample to examine its quality and design. It is not a free option, but that way, you can save time and avoid bad reviews in the future.
Focus on Branding
Branded products have better chances, so invest in a graphic designer. Create a logo and choose brand colors, fonts, and elements to accompany all your products on packaging and listing. A single style is fundamental because each product works for your brand and strengthens other brand products' positions.
On the one hand, the visual style should reflect your company's identity and values and convey the right message. And on the other hand, it should attract consumers' attention and evoke pleasant emotions.
Test several options in a focus group and collect feedback. No matter how fantastic the design is from your point of view, you must make sure that it will work for your target audience.
Create Amazon Listing
Create a compelling listing that will cement your success.
Work hard on your headline to include the most essential information about the product. Do not forget the brand name and relevant keywords. Follow the limits — the headline should contain from 100 to 150 characters.
Make your description as informative and attractive as possible. Break the text into bullets to make it easier to read. Move the most critical information to the top. Add keywords, but not excessively, as you write for people first. Finally, end the text with a call to action.
For the cover, use a product image on a white background. The following photos can show product applications and include small branding elements. Upload images sized 2000 px by 2000 px to get high quality when zooming.
Remember that competitor research always helps sellers find the right keywords, as well as description and photo ideas.
Set Competitive Price
Understanding supply and demand can optimize product price and stimulate sales.
The perfect price for a private-label product ranges from $15 to $50. A product that costs less than $15 will not be very profitable for you. And if it is more expensive than $50, consumers will prefer well-known brands. But first of all, orient at your product category and competitors' prices.
Choose Fulfillment Model
Before selling private label products on Amazon, choose a fulfillment model — FBA (Fulfillment by Amazon) or FBM (Fulfillment by Merchant).
With Amazon FBA private label, you send the goods to Amazon warehouses. And then, for an additional fee, they take care of inventory storage, picking and packing, shipping, customer services, returns, and refunds.
With FBM, you have to deal with everything yourself or with a help of 3PL (third-party logistics). As a bonus, you get complete control over all processes.
Use our comparison table to navigate the fulfillment models and choose the best option for you.
Launch Your Product
And finally, to sell private label products on Amazon, you should build an effective advertising strategy.
You can show ads on social networks, attracting users to your Amazon listing, and use the most efficient PPC formats:
Sponsored Product Ads,
Sponsored Brand Ads,
Sponsored Display Ads.
How to Sell Private Label Products on Amazon: Things to Remember
With a private label, you are not selling a brand but creating one for an existing product. It is important to remember the following:
A private label is like an investment where you buy products and adapt them to your brand. And if everything is done correctly, you will profit well in the foreseeable future.
Aim for a stable income, as it is the key secret of brand growth on Amazon.
When choosing a product, pay attention to the following parameters:
Choose small, light (up to 1-2 pounds) products that are convenient and cheap for shipping.
Think twice before selling some kinds of apparel. Color and sizing issues can lead to negative reviews, returns, and other headaches.
Seasonal products are also not the best choice for starting your business. If you want sales all year round, avoid Christmas products, winter clothes, and anything that loses relevance after a few months.
Top 10 Amazon Private Label Products
If you do not know yet what private-label products to sell on Amazon, let us give you some inspiration. Check out these ten popular and easy-to-enter niches:
Phone accessories — USB chargers, self-charging phone cases, fish-eye clip-on lenses;
Clothing — maternity dresses, rain ponchos, yoga pants, tactical backpacks;
Toys —  dollhouses and play kitchens, soft and cuddle toys, outdoor swings, climbing domes;
Home decor — wall art, backlit frames, artificial flower diffusers;
Workout equipment — ab rollers, resistance bands, yoga mats;
Cosmetics & Skin Care — cruelty-free makeup, natural deodorant, tea tree oil;
Packaged food — keto snacks, matcha green tea powder, CBD gummies;
Small storage products — personalized makeup organizers, glass food containers, monogrammed letter trays;
Notebooks and stationery — watercolor prints, bold text-heavy graphics;
Supplements — creatine supplements, detox teas, coffee replacements, protein shakes, and powders.
How to Sell Private Label FBA
Amazon provides excellent opportunities for FBA private label brands. All you have to do is deliver the inventory to the Amazon fulfillment centers, which will take care of the order processing, packaging, and shipping.
How to sell private label on Amazon? To set up Amazon FBA, follow these four steps:
Register
Now you may wonder how to register a private label on Amazon.
Click "Sign up" if you do not have an account yet. Or click "Get started" if you are already an Amazon seller.
Please note that you must verify your identity and provide company details and bank account information.
If you are already an Amazon seller and just want to change your fulfillment model, click "Add FBA to your account."
Prepare Your Inventory
One of the most critical steps for Amazon private label FBA is inventory preparation.
To get started, make sure that your product does not belong to products that Amazon does not accept:
Shoes without box;
Products that have multiple parts and need to be assembled before shipping;
Too fragile products, collapsing from medium pressure;
Items that are not securely packaged, such as loose sleeves or pouches.
You can learn more about Amazon private label requirements on the Product packaging requirements page. At the end of this page, you will also find links to preparation guides for items such as:
Glass, ceramic, breakable and fragile;
Soft toys;
Sports products;
Liquids;
Paints;
Pellets and granular;
Batteries;
Apparel, fabric, and textiles;
Sharp units;
Jewelry;
Hygienic and topical products.
Also, your products must be appropriately labeled. The following barcodes are used to identify goods:
Manufacturer barcode — UPC, EAN, JAN, or ISBN;
Amazon barcodes — for products without a manufacturer's barcode, with an expiration date, prohibited and dangerous, children's products, and other special categories;
Transparency authenticity codes — to protect brand owners from counterfeiting.
Preparing inventory can be a time-consuming process so if you have extra money, use the FBA Prep Service.
Ship the Inventory to FBA Center
To submit a product to FBA:
1. Go to "Inventory" and select "Manage Inventory" from the drop-down menu.

2. Check the boxes next to each product you want to submit to FBA.
3. In "Actions," click "Change to Fulfilled by Amazon."
To send or replenish inventory, select the relevant products and click "Send/Replenish Inventory."
Amazon usually distributes your inventory to multiple distribution centers, but you can use the FBA Inventory Placement Service to store everything together with a per-unit fee.
To change the delivery plan:
1. Go to "Settings," then "Fulfillment by Amazon," and in "Inbound Settings," click "Edit."
2. Click "Inventory Placement Option" and then "Inventory Placement Service."
3. Next, select "Create a New Shipping Plan" or "Add to an Existing Shipping Plan." Fill out all the required information and follow the instructions.
After sending the parcel, mark it as "Shipped," and within 24 hours after arrival, its status will change to "Delivered." Statuses "Checked In" and "Receiving" mean that part of your shipment has arrived and is already being processed.
On average, you can start private label selling on Amazon 3-6 days after your inventory is delivered to the Amazon warehouse.
Manage Your Orders
With FBA, Amazon takes care of your orders, but you can always check their status on the "Manage Orders" page.
With the status "Payment Complete," everything is clear, and "Pending" can mean that:
The ordered item is out of stock;
Customer payment has not gone through yet;
The split order has not shipped the last item yet;
The order is on hold because the items are combined for free shipping.
To view sales data, go to "Reports" and select the area that interests you.
Final word
Now you know more about Amazon private label products and the steps for a successful product launch. You should note that the lion's share of your effort comes down to marketing — research, positioning and branding, pricing, and of course, promotion.
Contact us if you are looking for a reliable partner to help you with your Amazon advertising. Our expertise and experience will help you accelerate the achievement of your business goals.